As regular readers of Jeffsetter may know, your's truly got his start at this distinguished career fun gig writing guest posts for Mr. & Mrs. J as they planned their trip to Hawaii.  During those guests posts were a lot of dining recommendations, especially for Oahu, one of which, The Pig and The Lady, is where Mr. & Mrs. J met up with Mrs. Island Miler and myself for dinner.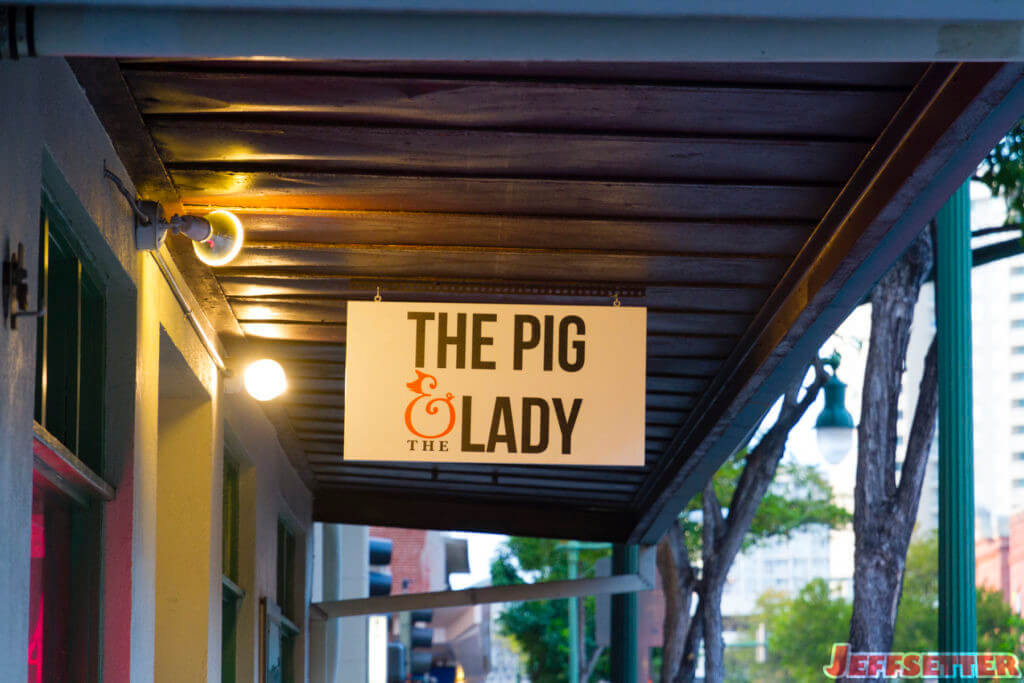 While I didn't take my camera with me for this momentous occasion, the wife and I have been back to The Pig and The Lady many other times.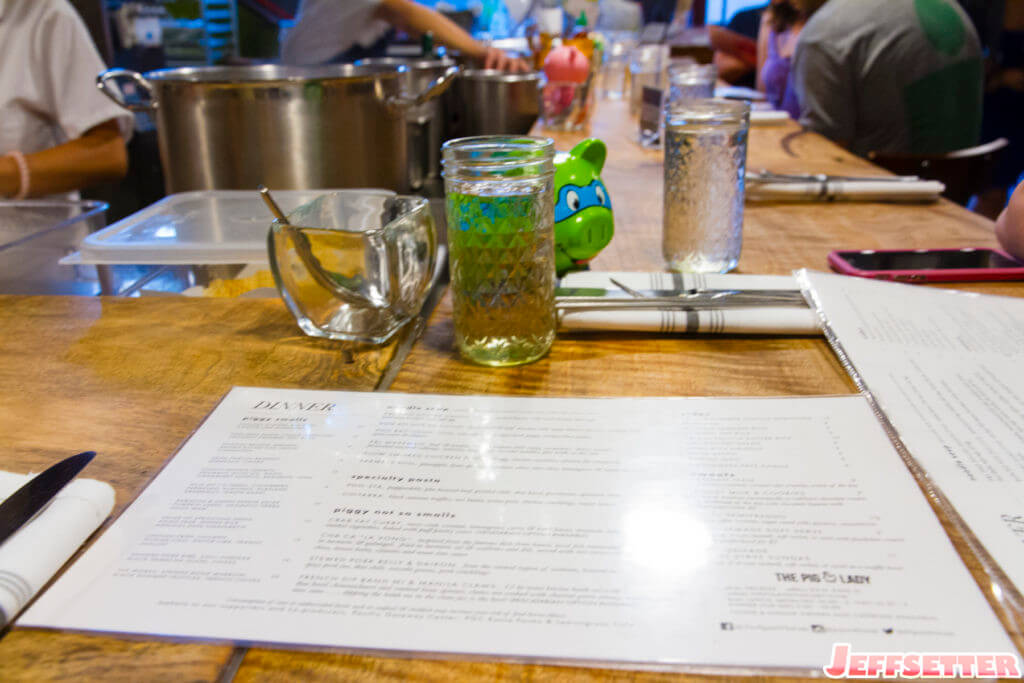 There are three different seating types at The Pig and The Lady: regular tables, the bar, and the dessert bar.  We rarely ever sit at the tables, especially since reservations are difficult to get on short notice, so instead we often end up at the dessert bar.  To us, however, the dessert bar seats are the best seats in the house.  Service at The Pig and The Lady is generally good, but can be inconsistent at times, like anywhere really.
While the food at The Pig and The Lady is the main draw, the restaurant is known for having a great bar program too.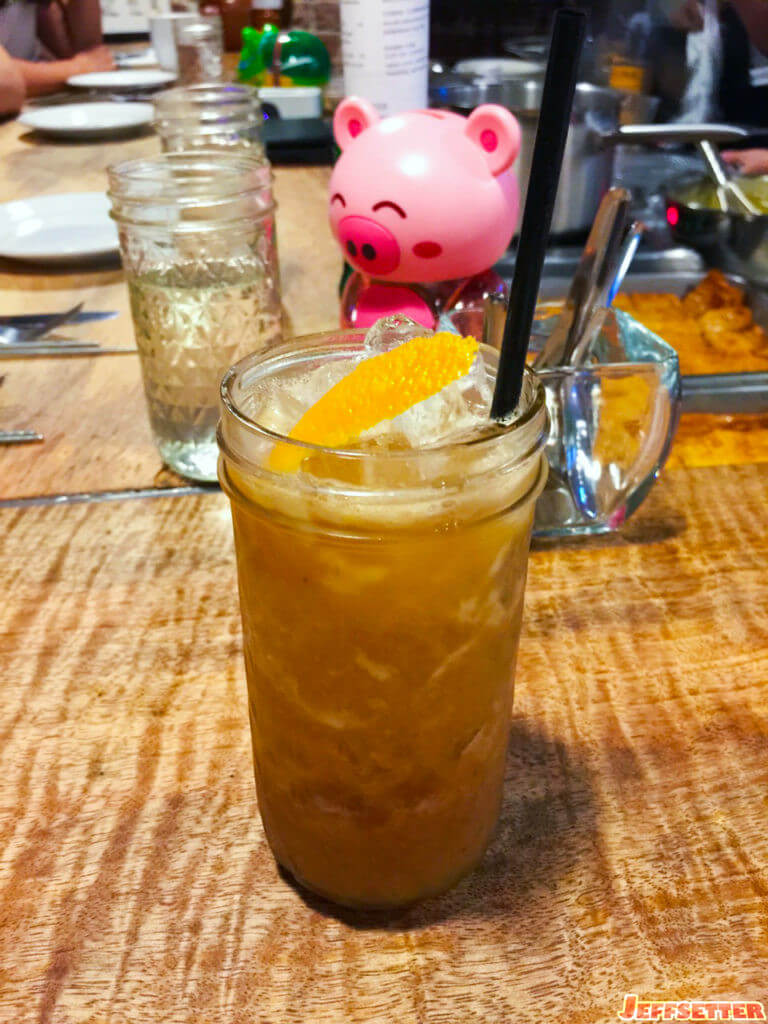 Among my favorite drinks is the restaurant's P&L Sour, their custom whiskey sour.  Originally it was made with P&L's own Knob Creek single barrel bourbon (which has since run out and been replaced with 100 proof bonded bourbon), lime, apricot, and tamarind  It's a great, balanced drink, with wonderfully complex flavors.  The All in The Reflexes is also another favorite made with Kohana Rum Agricole, coconut, lime, chili pepper, and basil.  That's slightly sweet, cold and spicy.  Don't feel like drinking alcohol?  P&L is also known for it's Coconut Horchata, their ginger beer, and shrubs.  The bar menu does change seasonally, so if you like a specific cocktail, you might not see it again on a subsequent visit.
Like the drink menu, the food menu does change seasonally as well, though certain menu items do remain, or reappear in a slightly different format.  So while you likely won't see all of the dishes I post, it'll give you a good idea of the type of foods served by The Pig and The Lady.  Here goes!
Appetizers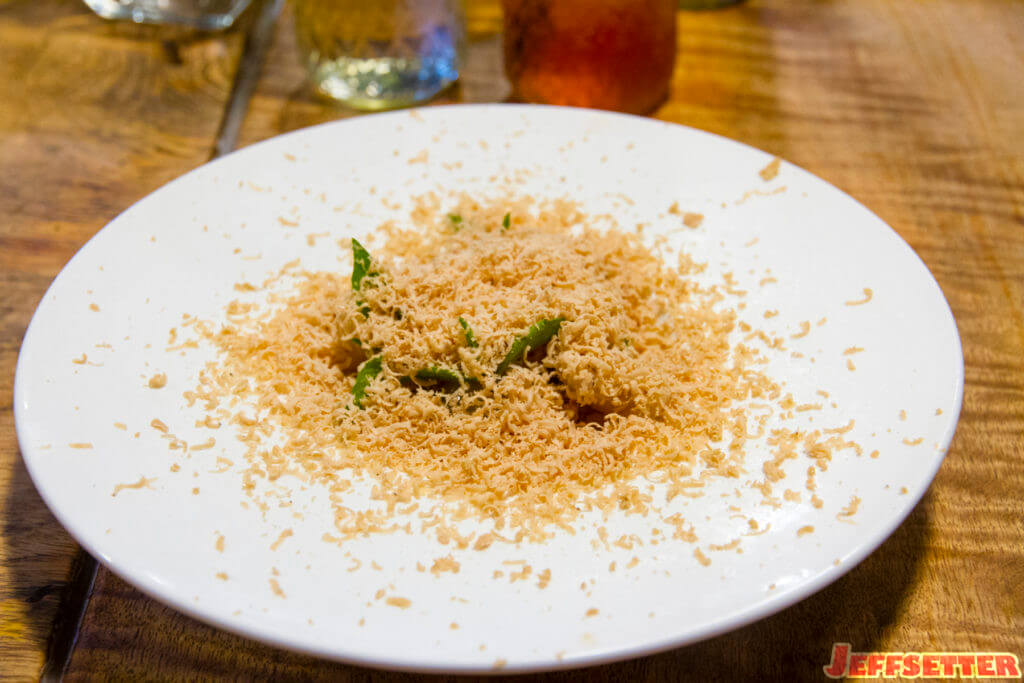 Foie Gras Snow. Coconut crumble, Hawflake, lychee, Thai basil.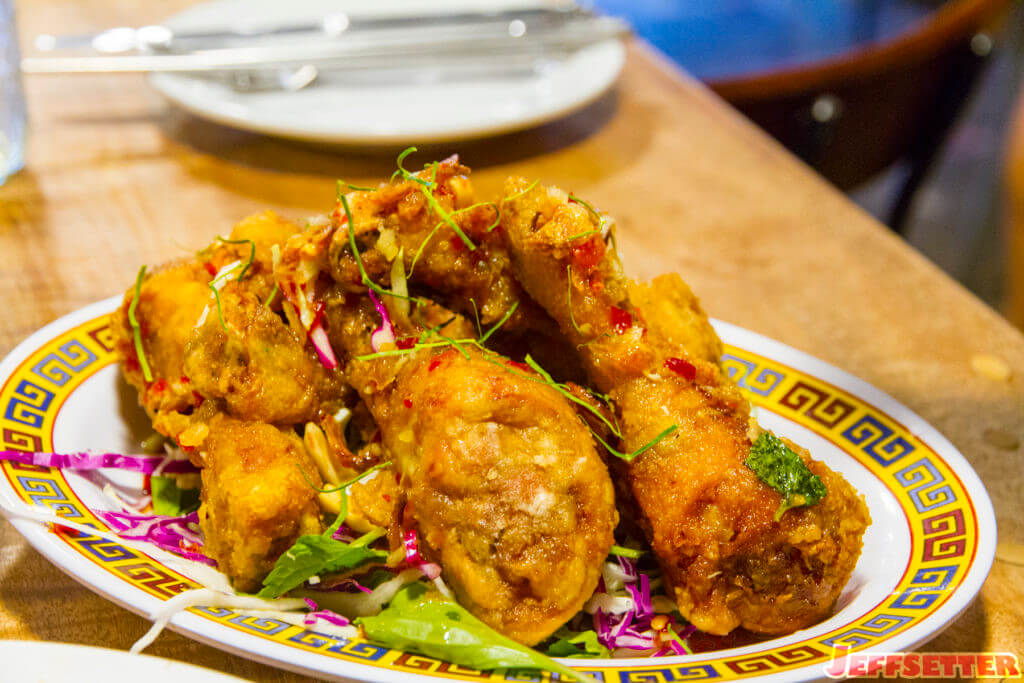 Laotian Fried Chicken (regular menu item).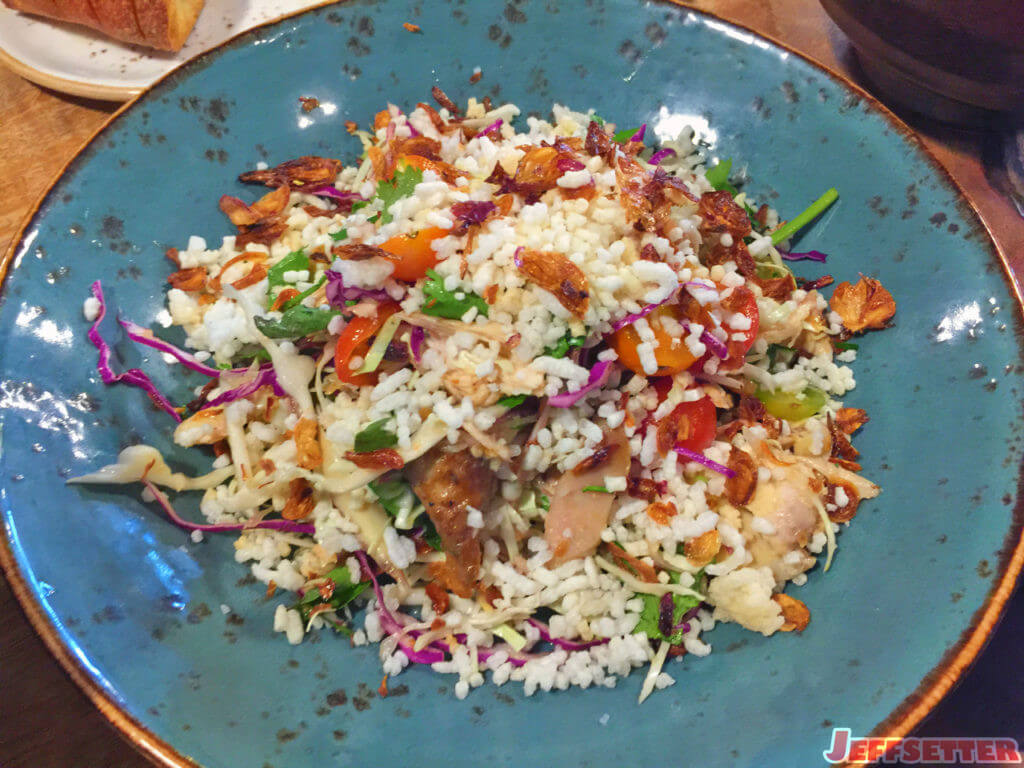 Smoked Chicken Salad with puffed rice.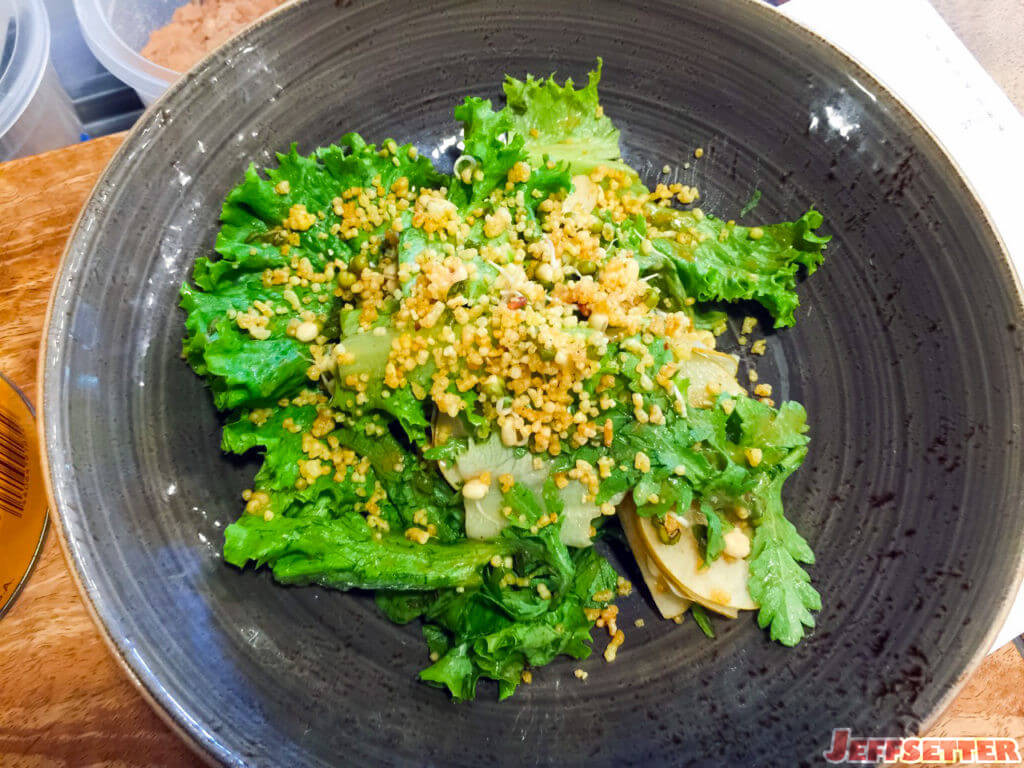 Sprouting Seeds Salad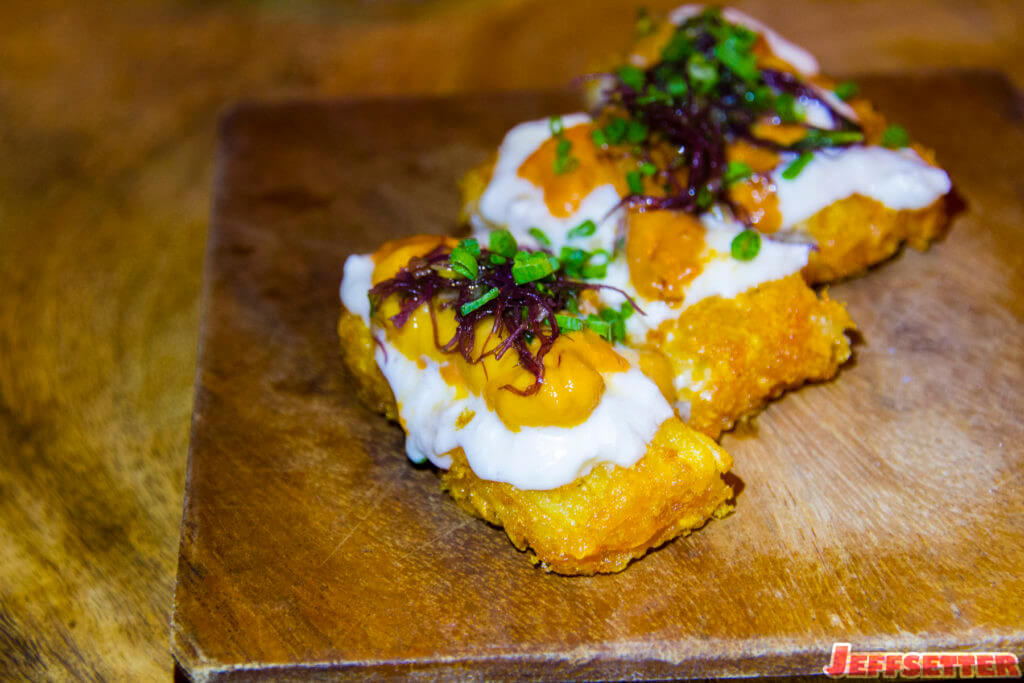 Uni & Buratta hash brown with ogo (seaweed) pistou.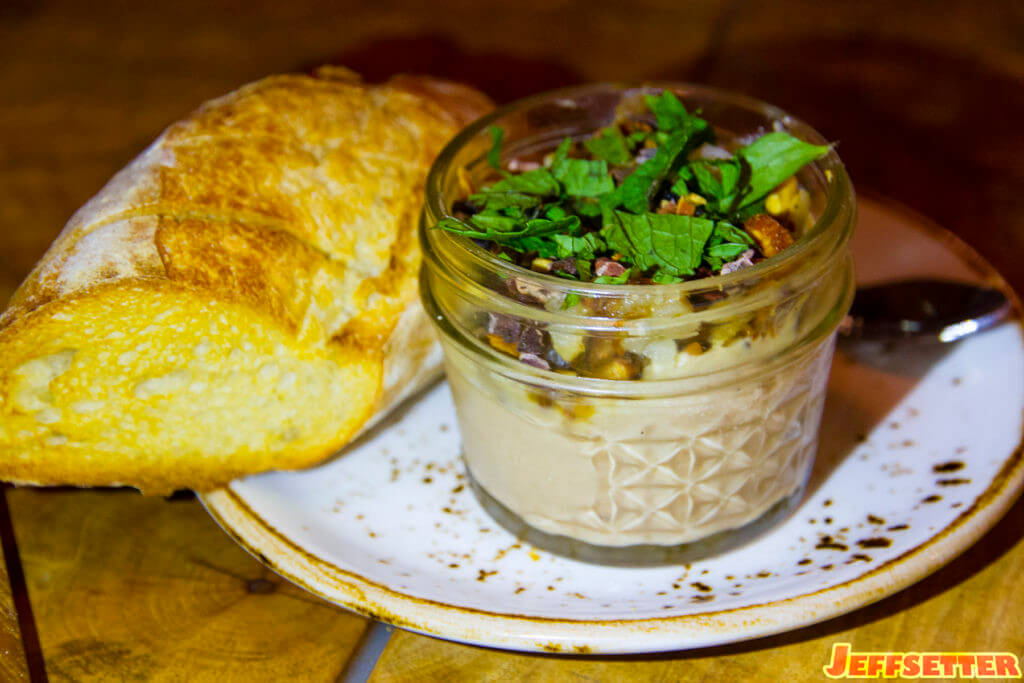 Foie Gras 7-Layer Dip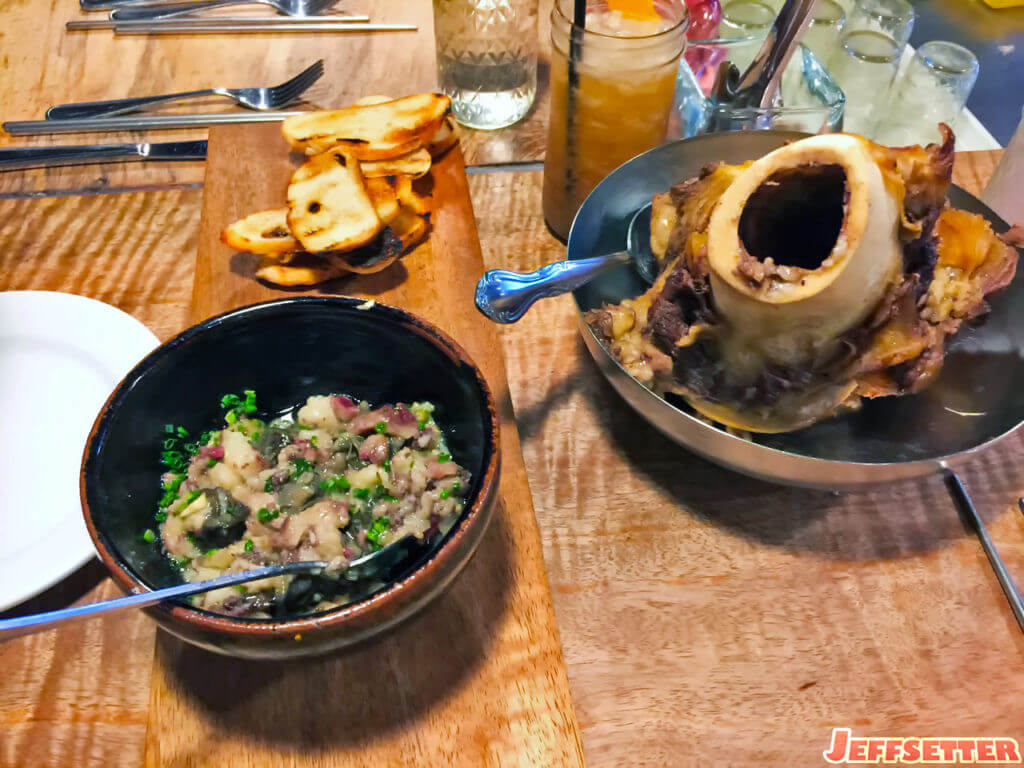 The Works: Bone Marrow + Escargot with toasted bread.
Entrees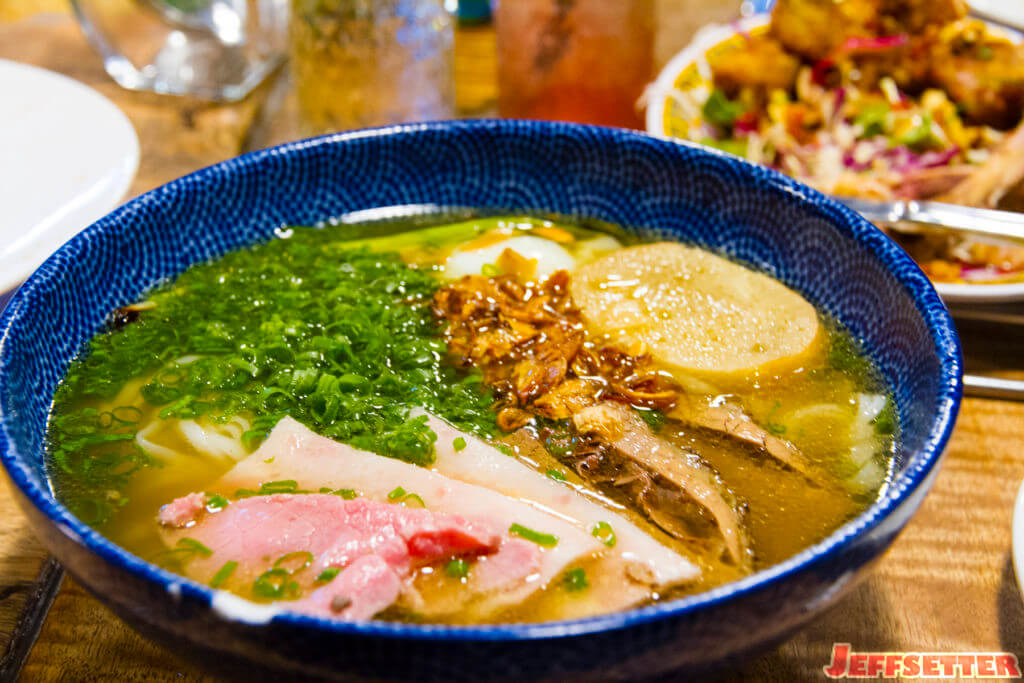 P&L Pho:  12hr brisket, rare beef, smoked bacon, fried shallots, fresh ginger, tokyo negi, sawtooth herb, cilantro, chili vinegar.  This is THE signature dish of The Pig & The Lady and is always available.  If you order one thing, order this!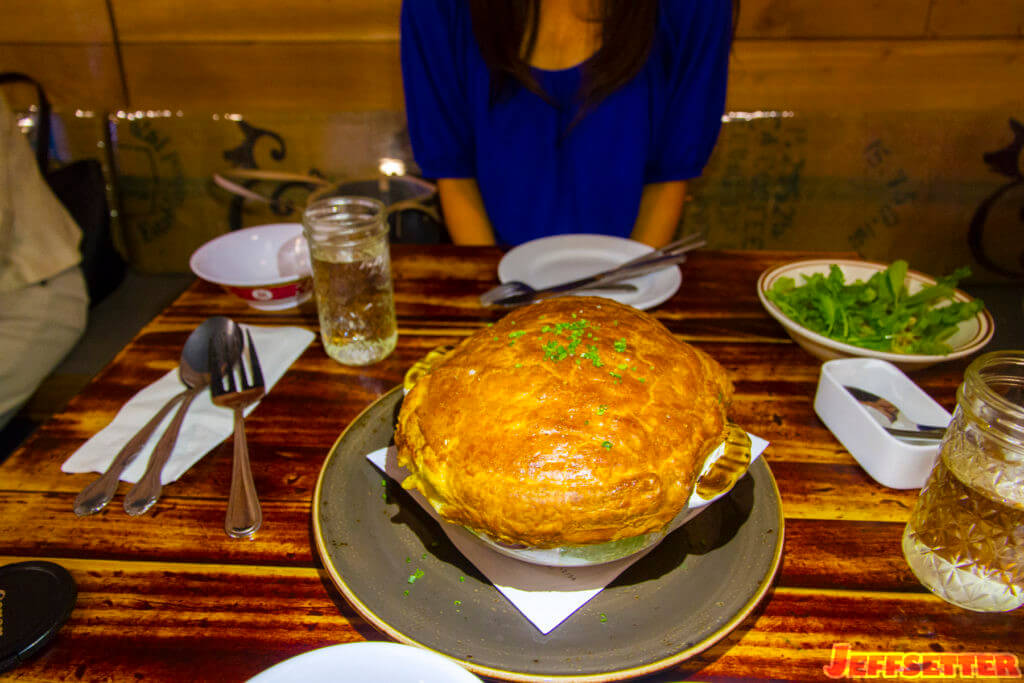 Crab Fat Curry with market vegetables + snow crab meat, in puff pastry shell… Ordered with a side of…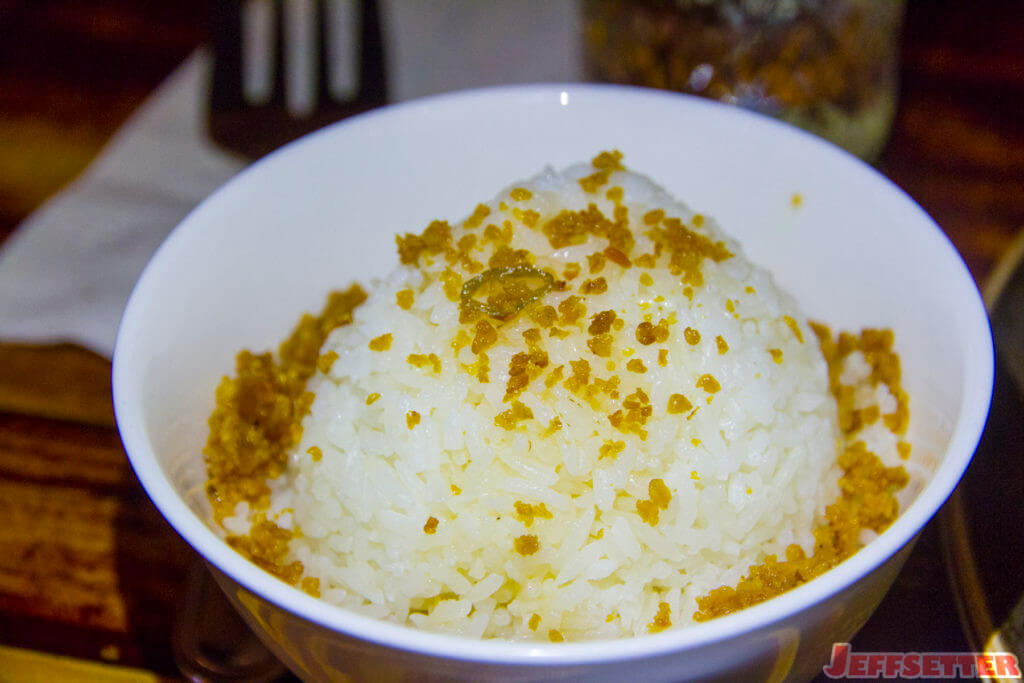 Chicken Fat Rice with chicken cracklins + chicken fat chili pepper vinaigrette.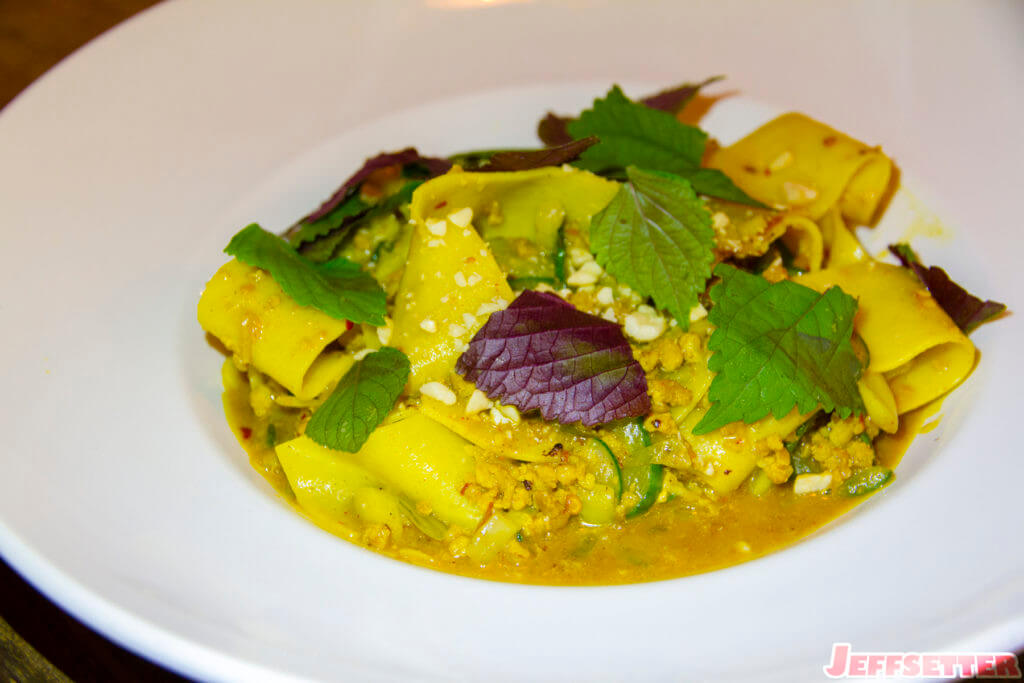 Saigon Pork Bolognese.  Just what it sounds like, bolognese Vietnamese style.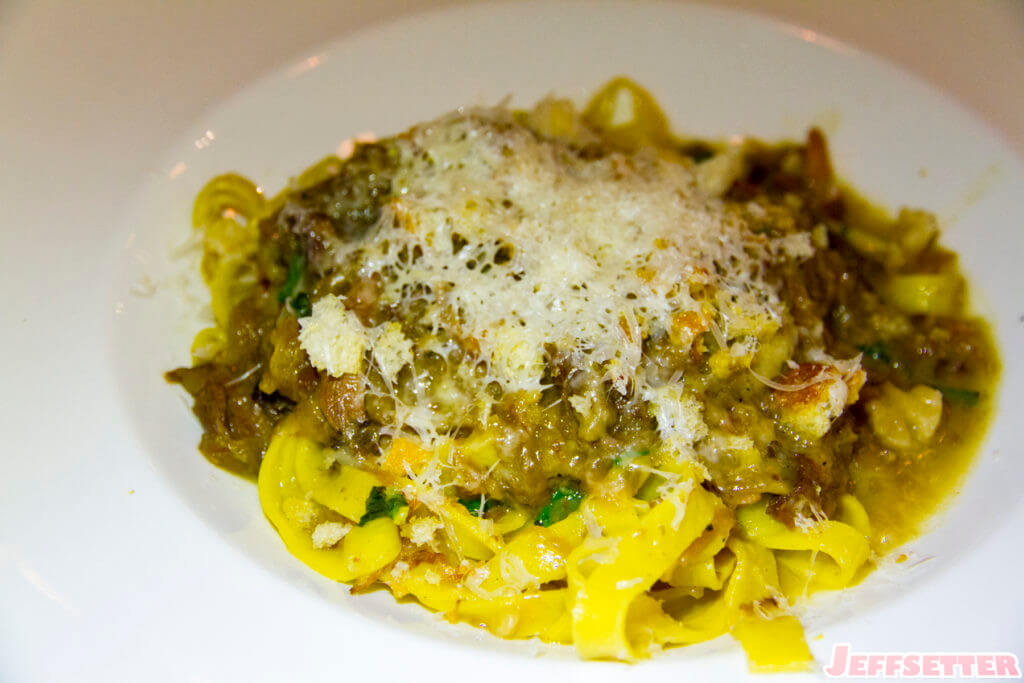 French Onion Pho-Sta.  Think pasta, but made with the flavors of pho.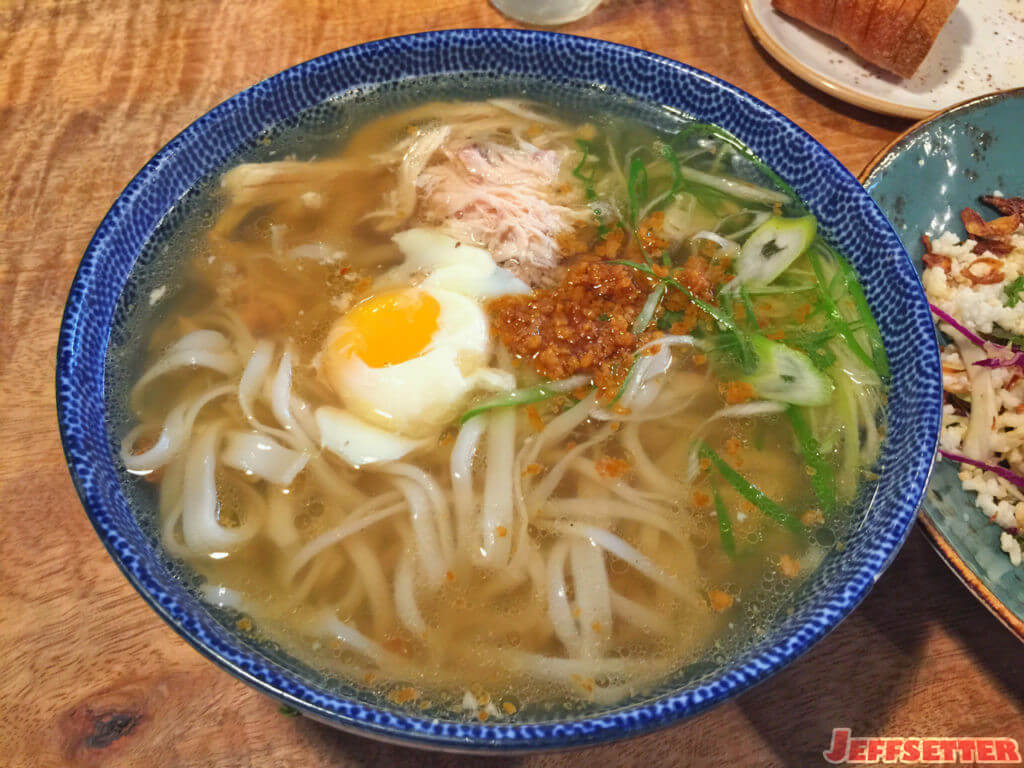 Smoked Chicken Pho with soft cooked egg, chicken cracklins, Tokyo negi.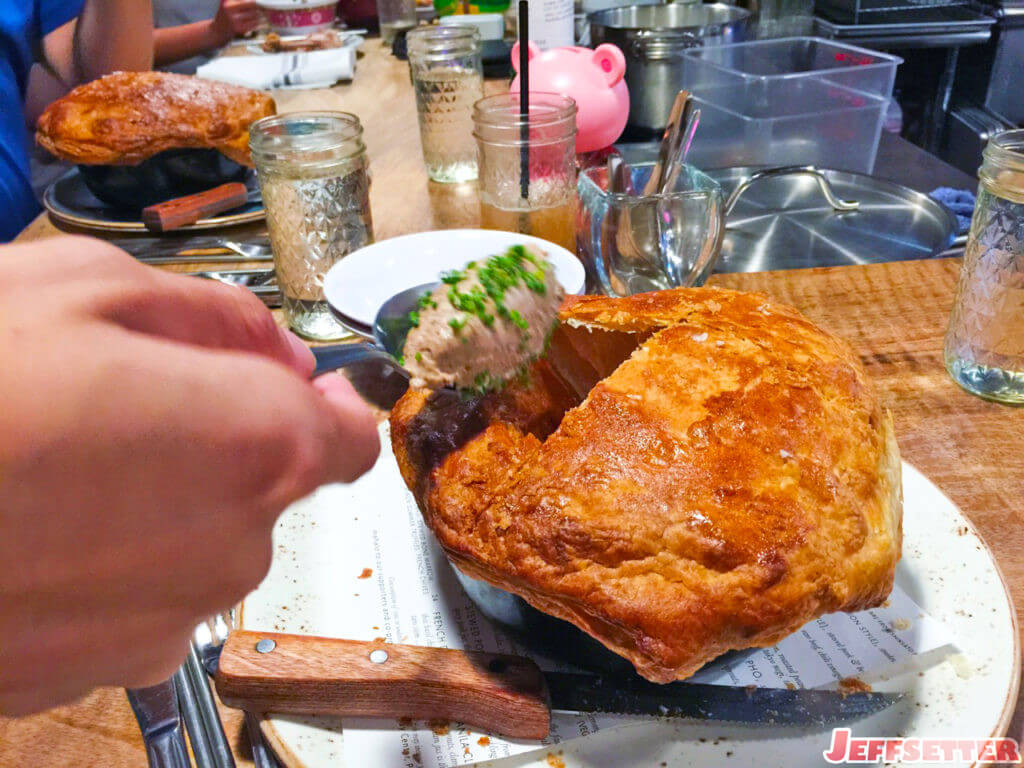 Foie Gras (and duck) Pot Pie.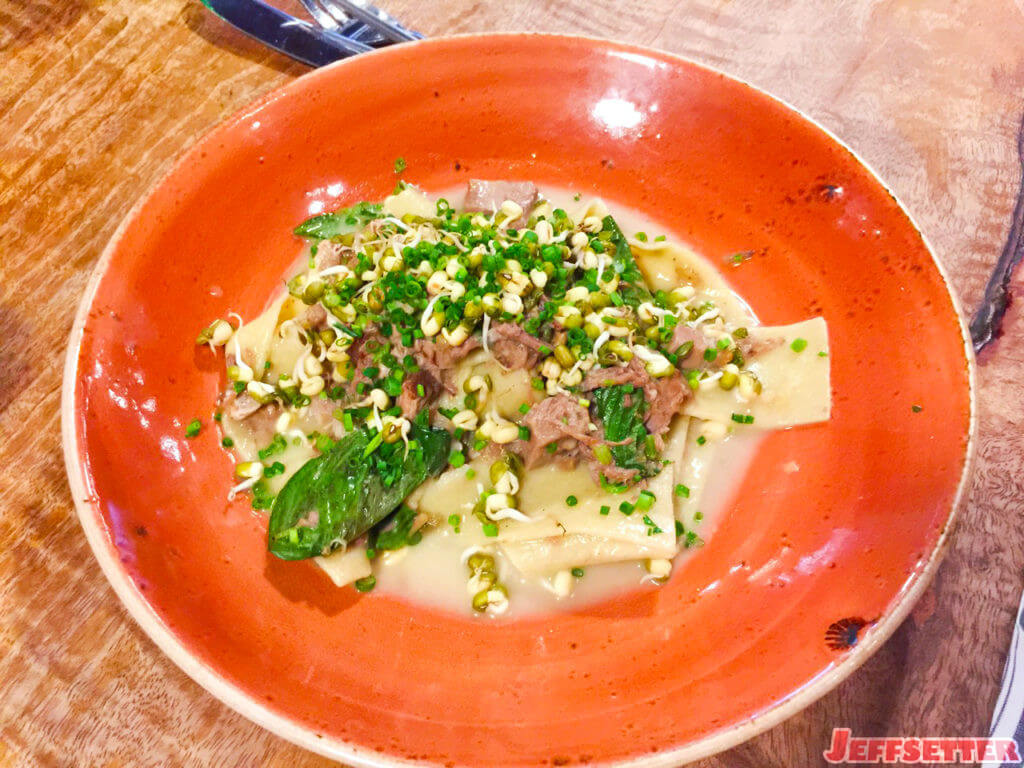 The original Pho-Sta (pho pasta)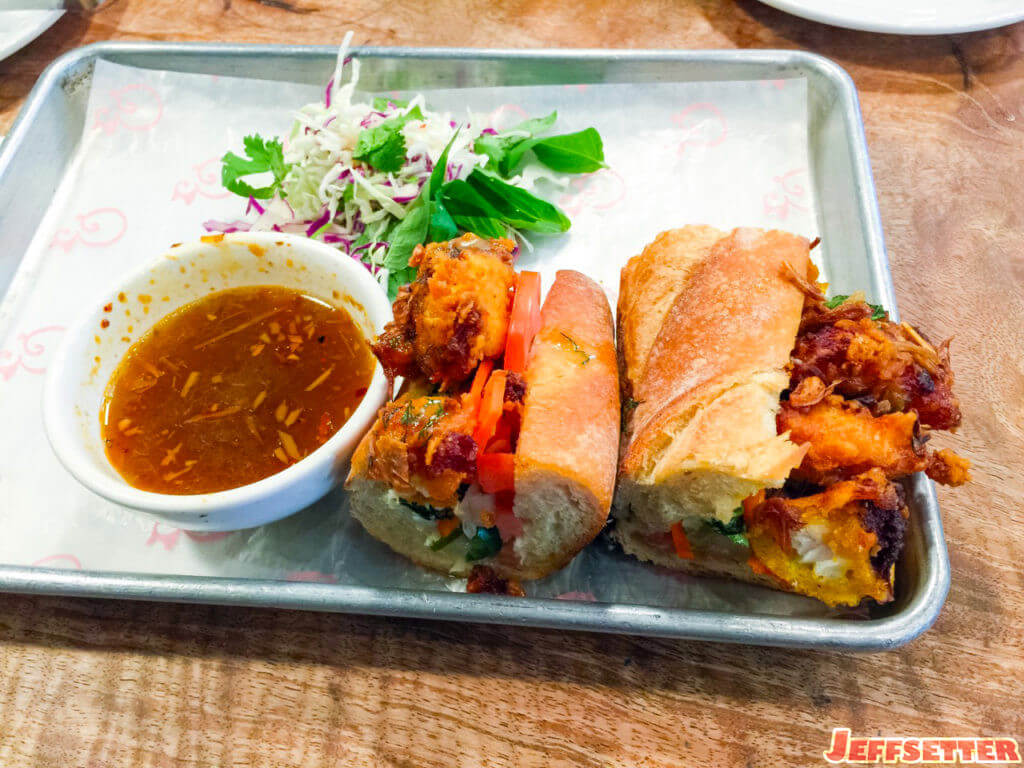 Cha Cha Bahn Mi: tumeric fried fish sandwich.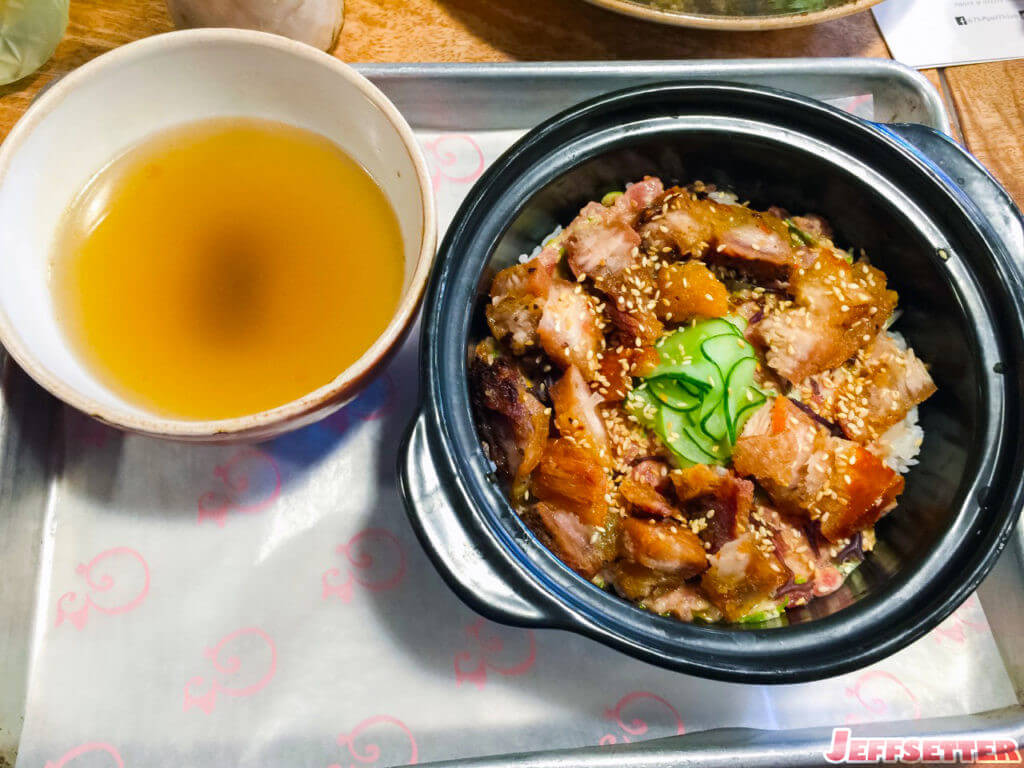 Spicy Ahi (poke) + Lechon (crispy skin roast pork) bowl with pho broth.
Desserts
If you watch Unique Sweets, you probably know that The Pig and The Lady is known for it's highly creative dessert program.  These also change with the seasons, though their fantastic soft serve changes WEEKLY.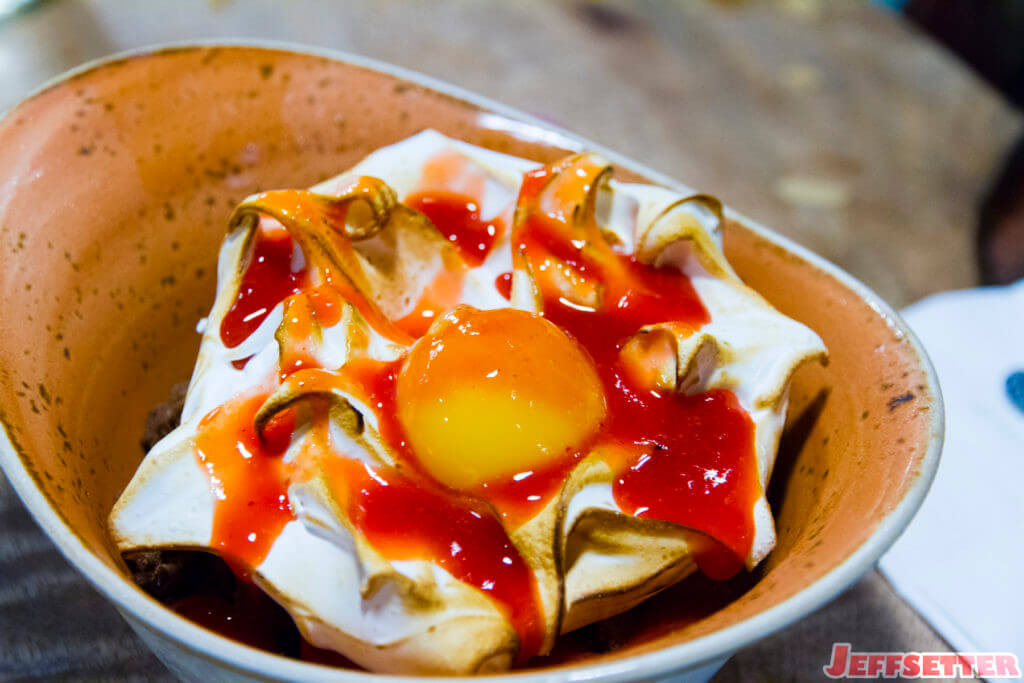 Yuzu Semifredo.  Cocoa coffee crumble, sugar cured yolk, pavlova, strawberries.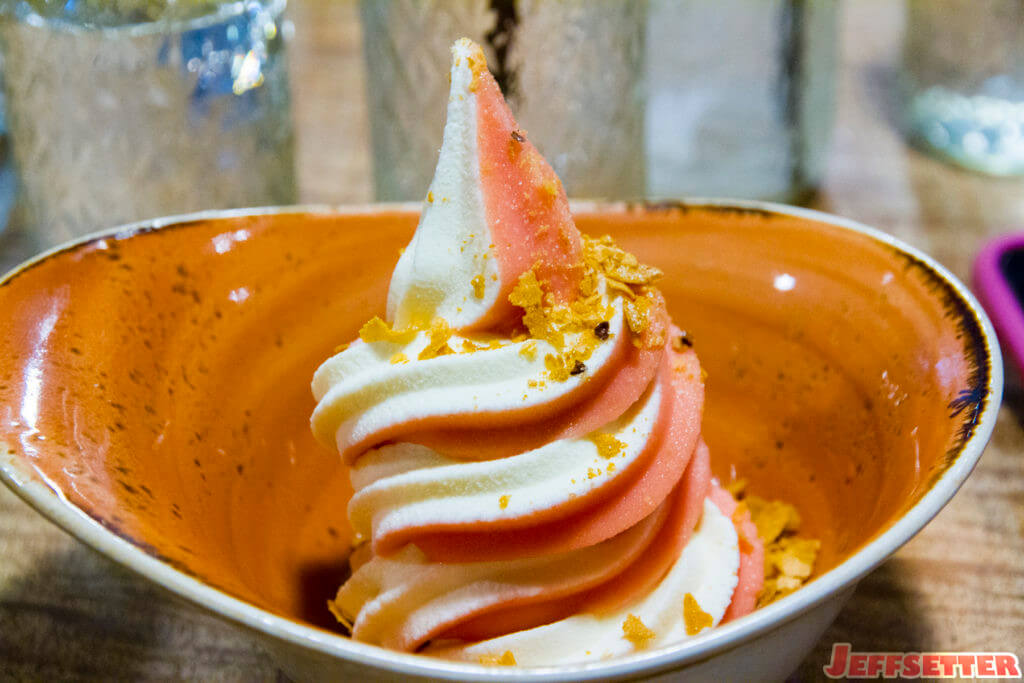 Bacon frozen custard + blood orange soft sorbet with feuilletine crunch.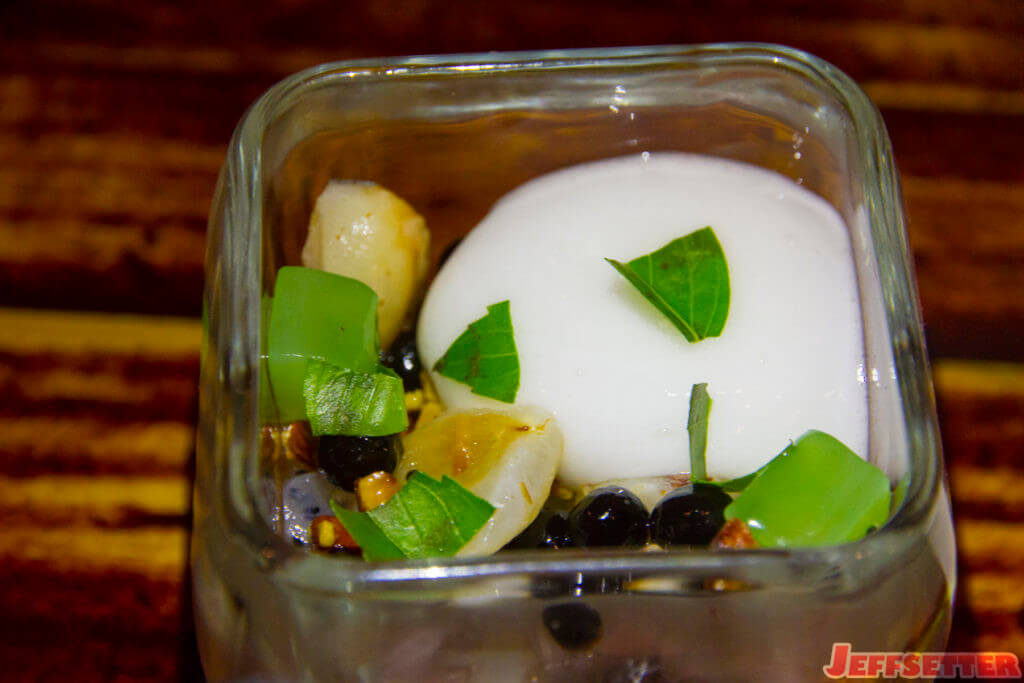 Mid Summers Fruit.  Frozen lychee, dragon fruit, boba, basil, elderflower liqueur, almond wanna cotta.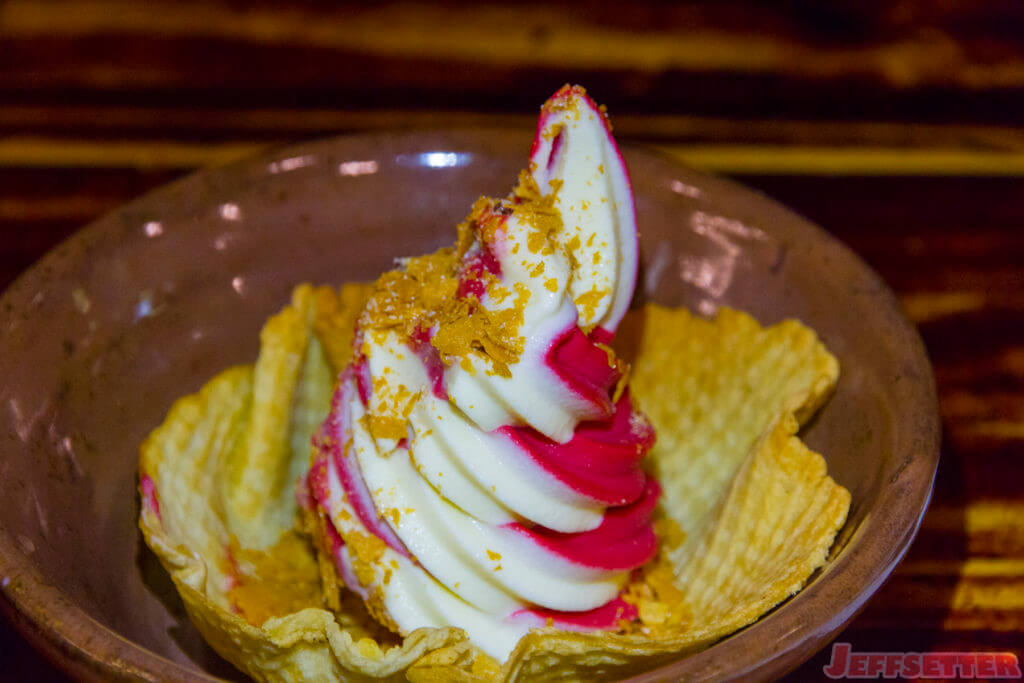 White Chocolate Custard + Raspberry Soft Sorbet.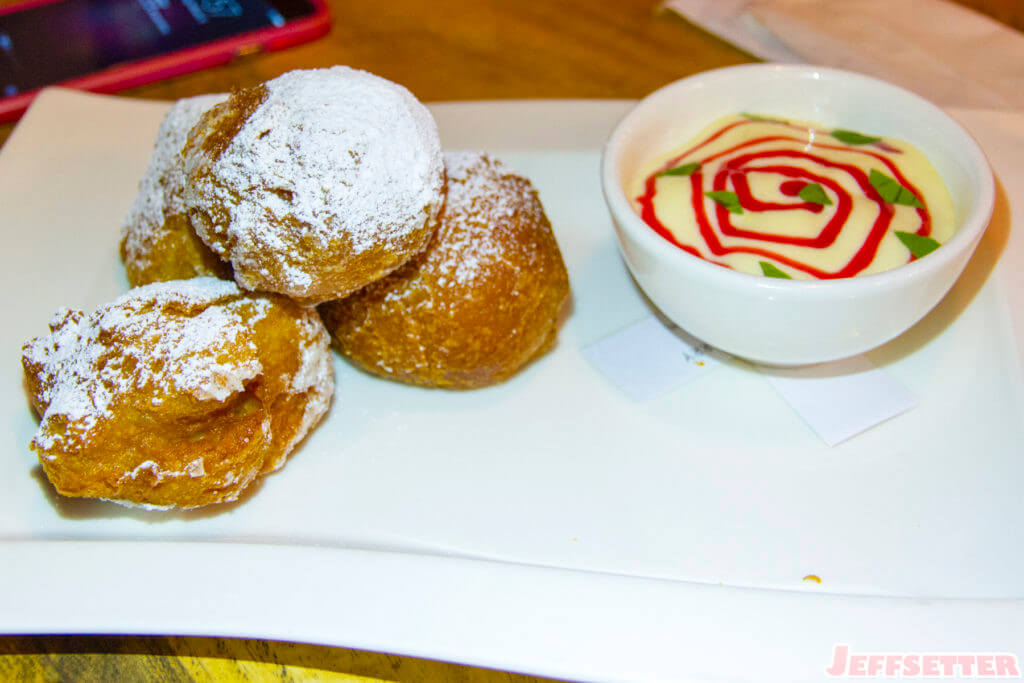 Kaya Beignets with coconut powdered sugar, kana espuma, basil, blackberry gel.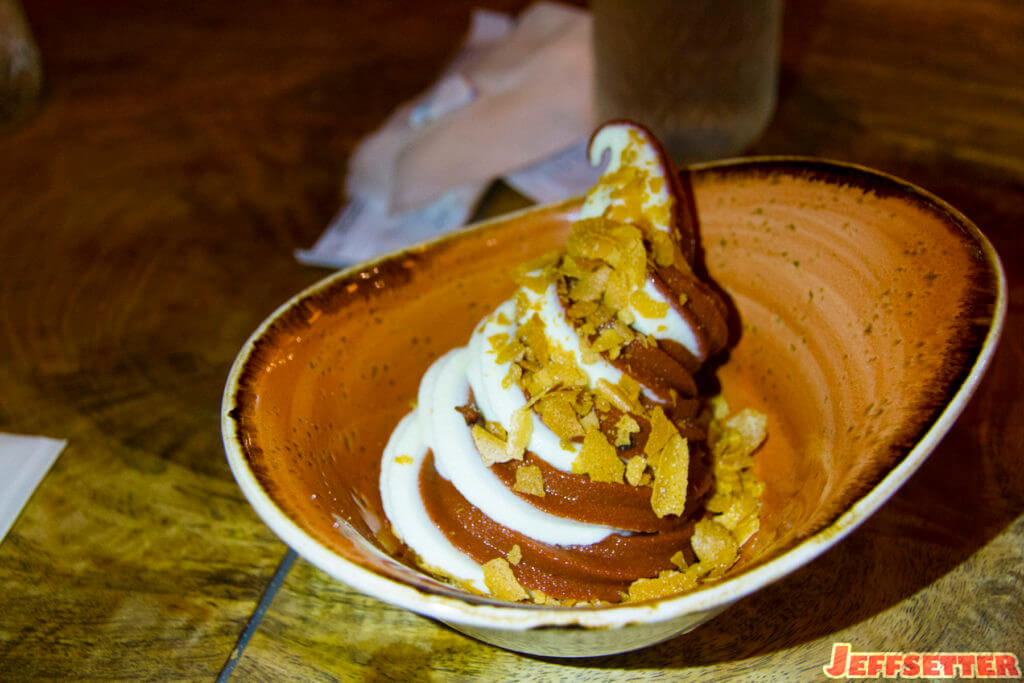 Mascarpone Frozen Custard + Strawberry Balsamic Soft Sorbet.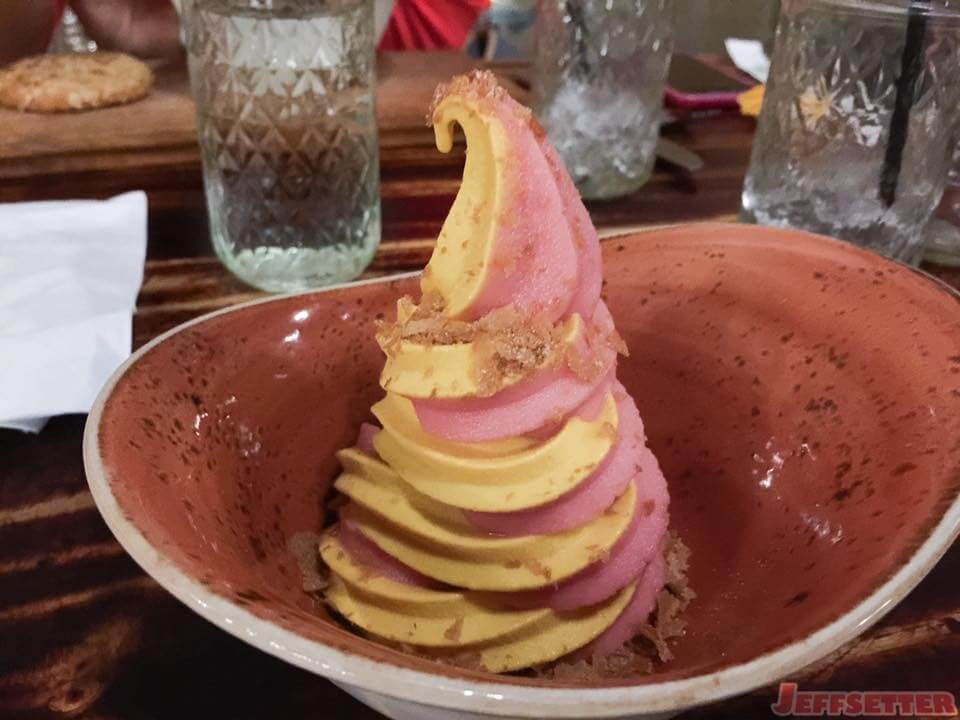 Pumpkin Frozen Custard + Cranberry Soft Sorbet.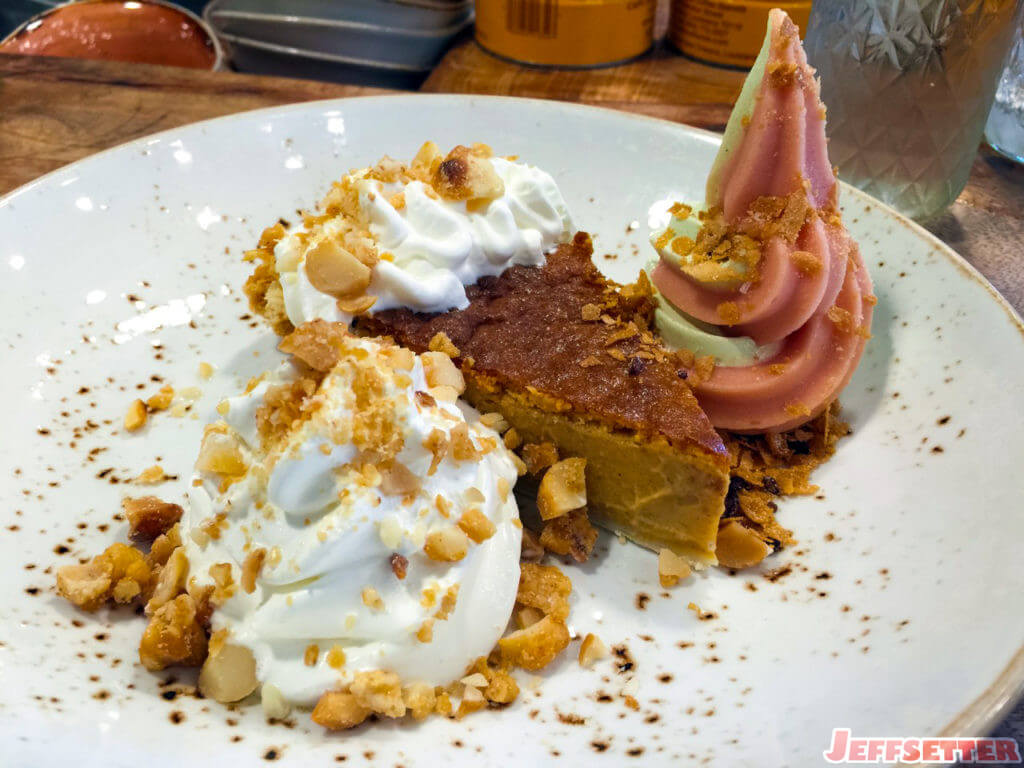 Pumpkin Chiffon Pie, Kaya Honey Vanilla Frozen Custard + Guava Soft Sorbet, Frengelico whipped cream.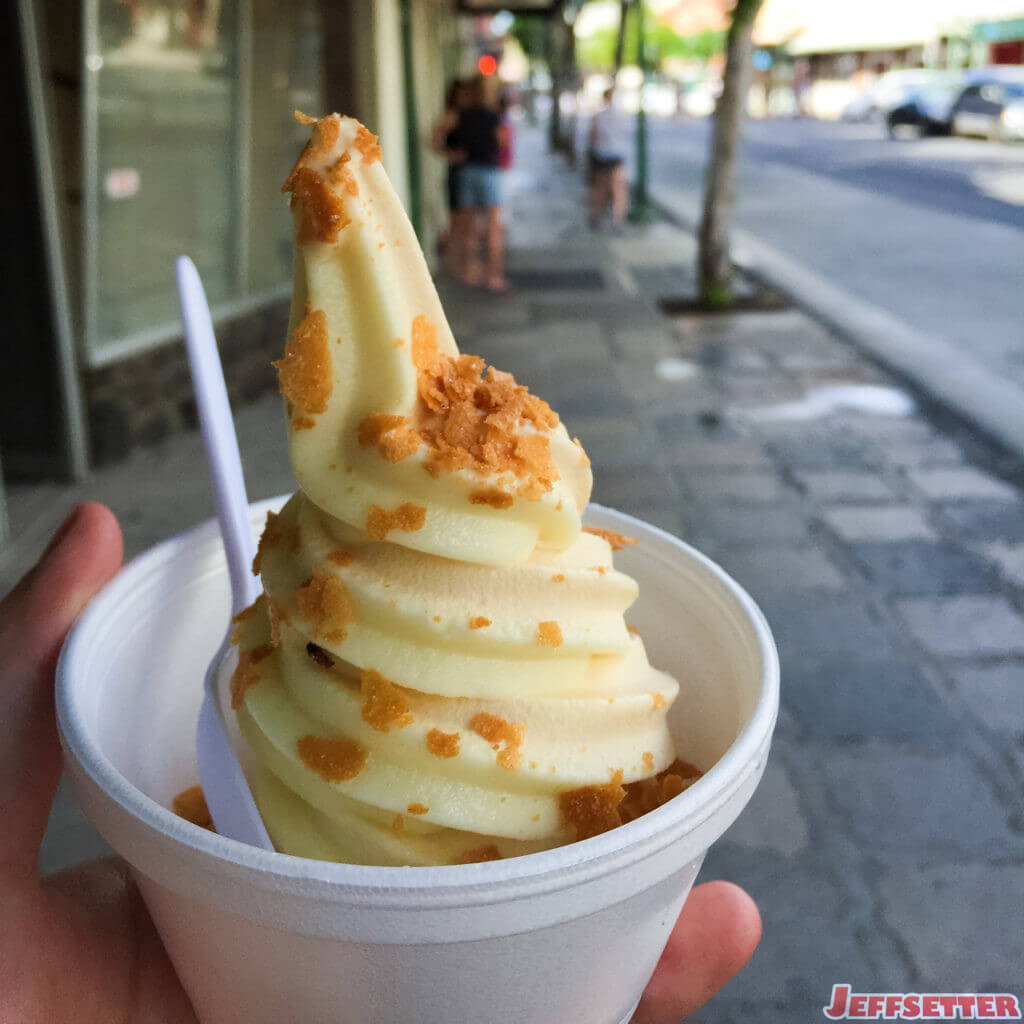 Burnt Cinnamon Caramel Frozen Custard + Pineapple Soft Sorbet.
Can't get a reservation?  Fear not!  The Pig and The Lady attend both the Wednesday nigh Honolulu Farmers Market at Blaisdell Center and the famous Saturday Farmers Market at Kapiolani Community College.  They also attend many festivals around town, such as the Moili'ili Summer Festival and Bon Dance.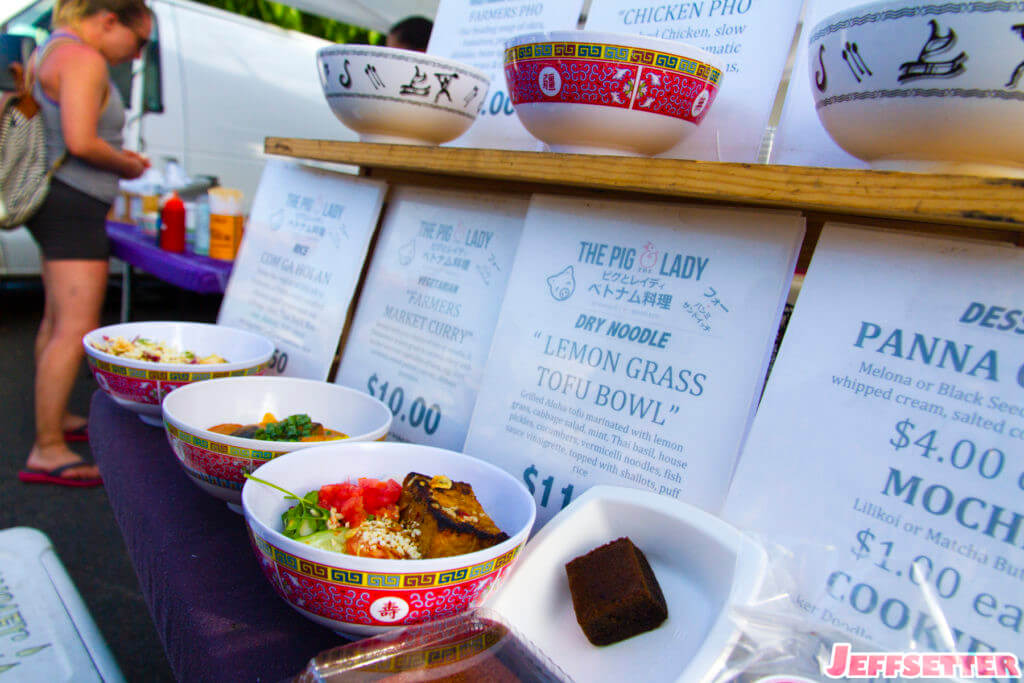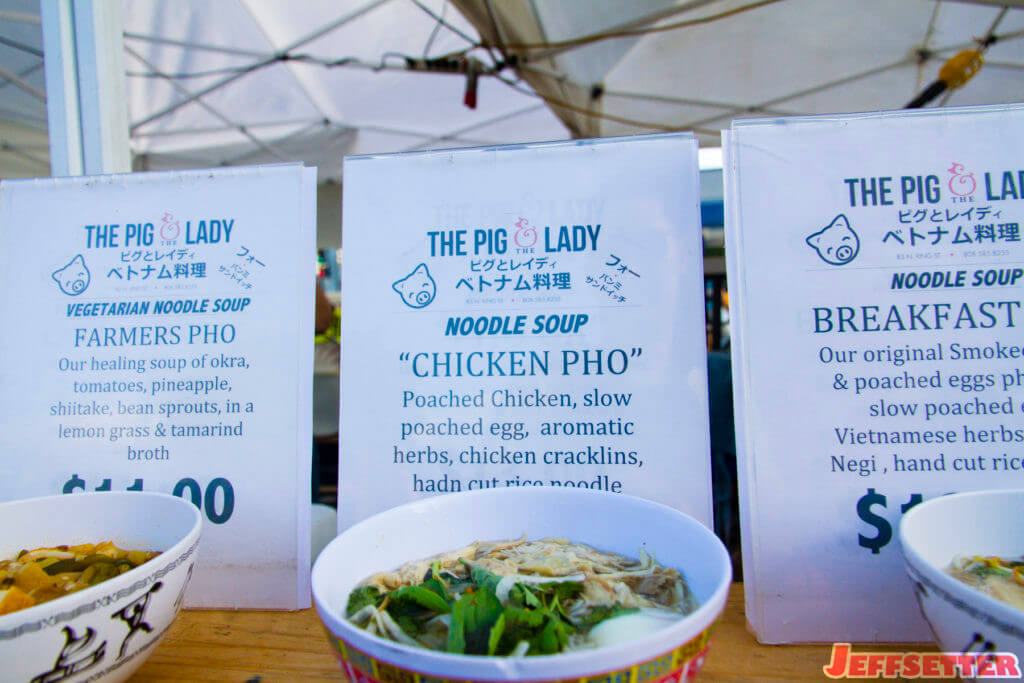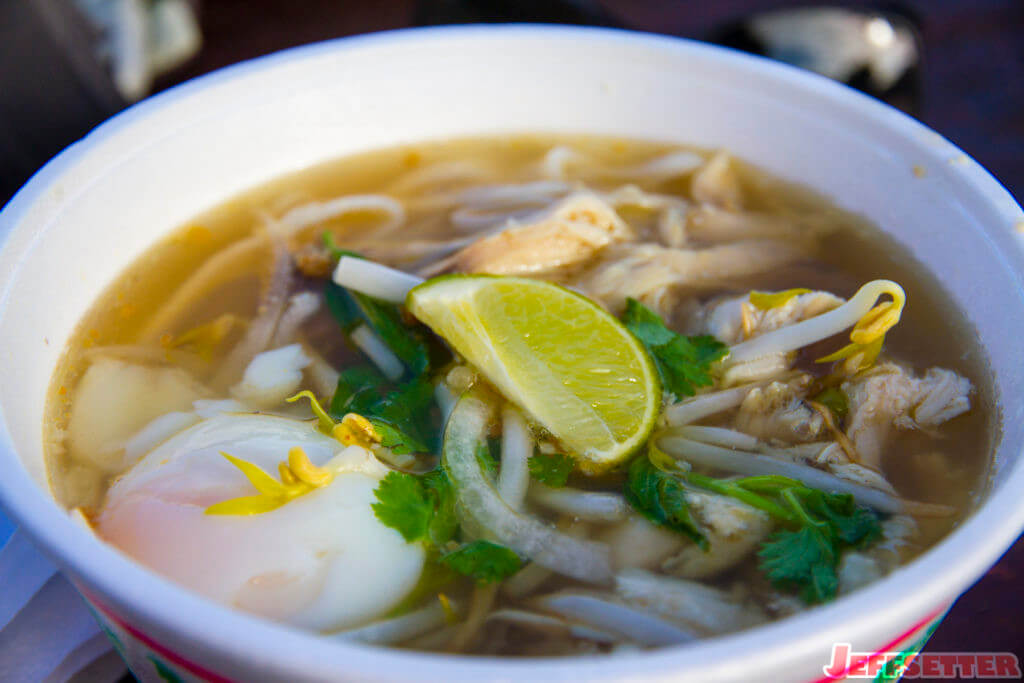 With so many opportunities to give The Pig and The Lady's unique and fun cuisine, I hope you'll give them a try and discover why they're so popular, and have as much fun as we do overtime we pay them a visit.  If visiting the restaurant in Honolulu's Chinatown and you're driving, be sure to park at Harbor Court (municipal lot, enter on Bethel St.), or on weekends, you can park at the Walmart a few blocks away for free (enter on Bethel St.).