There was a point in January when I compared the number of visitors I had on my site to my TripAdvisor page views and they were about the same. While writing that post, I questioned in my mind whether it was worthwhile for me to continue to write my own blog or if I was better off just posting on a forum like TripAdvisor with a built in user base. Ultimately, I concluded that it's always blog first, TripAdvisor second.
Blog first, TripAdvisor second has worked well for me to this point, and even though I get discouraged at times the my visitor numbers to this site (compared to my where I'd like it to be), I keep on trucking. Weekly traffic to the site has risen over 1400% since I wrote that post in January, so I am happy with where things are heading. How did traffic rise? First, I wrote a post on the Hilton Honors devaluation that really started to draw search traffic to my site. This post was one of my favorite posts to write and because I wrote it in such a timely manner, it has ranked well with Google ever since it was posted.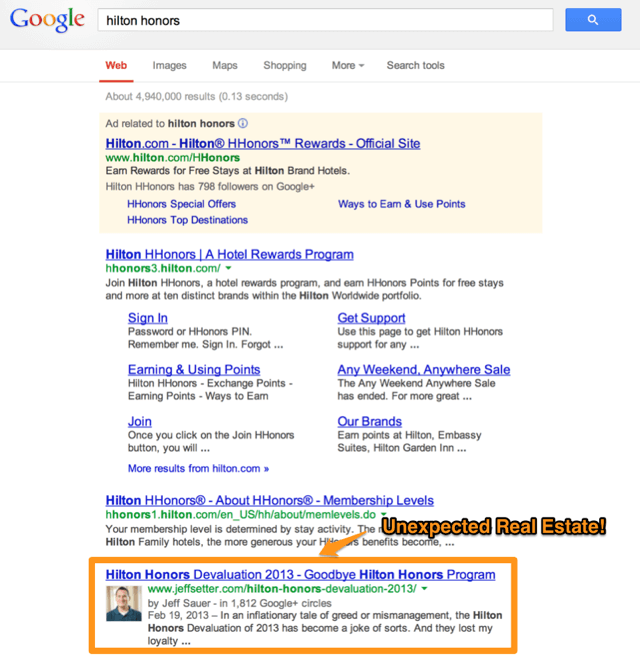 Secondly, in addition to writing posts on the blog, I have started to consider writing blog posts on third party websites in order to build a readership. A few weeks ago my first guest blog post went live on the Venere blog where I covered the 7 Technologies I Can't Live Without Traveling Abroad. Hopefully more guest posting opportunities will come along in the near future as well.
Last, I am mentioning my blog more often in my writing at Jeffalytics.com and guest posts on marketing focused websites. This helps draw a crossover audience from my other interests and helps search engines find me more trustworthy.
Comparing Jeffsetter Travel Blog Traffic to TripAdvisor Review Traffic
How does my travel blog traffic compare to my total TripAdvisor readers? The gap is widening.
Last week I received the following email from TripAdvisor, which encouraged me to revisit my post from January and offer an update. Since January, I have doubled the number of readers of my reviews to over 4,000.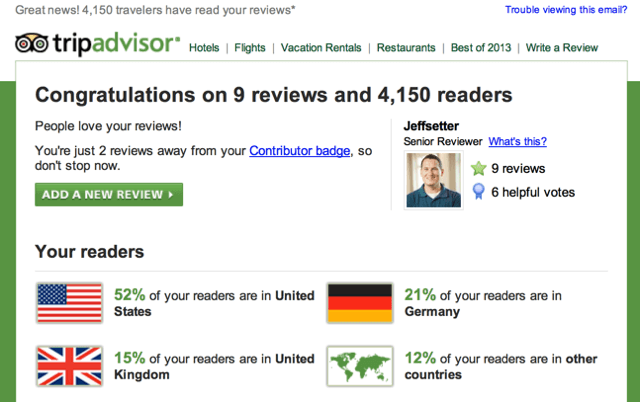 Comparing the TripAdvisor numbers to my travel blog traffic, there is no contest. My blog has twice as many visits and over 3x as many page views as my TripAdvisor reviews. Sounds like I'm doing something right!
The best part is that the traffic curve is starting to look like the "hockey stick" that I always coveted for this site:

With this information, it's obvious that I made the right choice in sticking with the blog when I had my doubts in January and now traffic is starting to take off exponentially. I actually feel like I have been posting less often recently than I had posted when I first started!  Funny how these things work sometimes.
Where to go from here?
Moving forward, my plan is simple: keep on doing whatever I can to make my content engaging, get more visitors and continue to grow an audience. If the current growth pattern continues, I will be ecstatic!
Have any of you experienced similar traffic increases once your site started to mature? Did you ever think about quitting before starting to gain traction? I would love to hear in the comments.