With cases surging around the US and particularly in Hawaii's single largest source of visitors – California, it's no surprise that a Waikiki clinic reports an uptick in COVID cases. And, of course, this is especially true of travelers arriving from California.
Kalihi Kai Urgent Care, which has a clinic in Waikiki, says that it's seeing a troubling trend. In recent weeks, the company reports seeing an uptick in COVID-19 cases – especially in travelers from Los Angeles. In fact, last Thursday, Kalihi Kai Urgent Care reported three cases last Thursday (1/7) from Los Angeles alone. And, over the past two weeks, four other travelers from Los Angeles tested positive too. That means there were as many as five cases from LA in Waikiki over the past week alone.
As reported by Kalihi Kai Urgent Care, the people turning up at their drive-up clinic at the Hawaiian Monarch Hotel mostly tested negative upon traveling to Hawaii. But, days later, they begin to feel symptoms, head to the clinic and test positive. In fact, while the above figures representing Los Angeles travelers is increasing, overall, the clinic says there are more cases. In fact, Kalihi Kai reports they're testing an average of 30 people per day. And, usually, about 10 of those tests per day come back positive. Of course, these cases aren't included in Hawaii's figures, as it only counts Hawaii residents.
What's more, Kalihi Kai Urgen Care states that visitors who test positive are often reluctant to inform their close contacts. They say this is especially dangerous as many visitors say they are here to see others.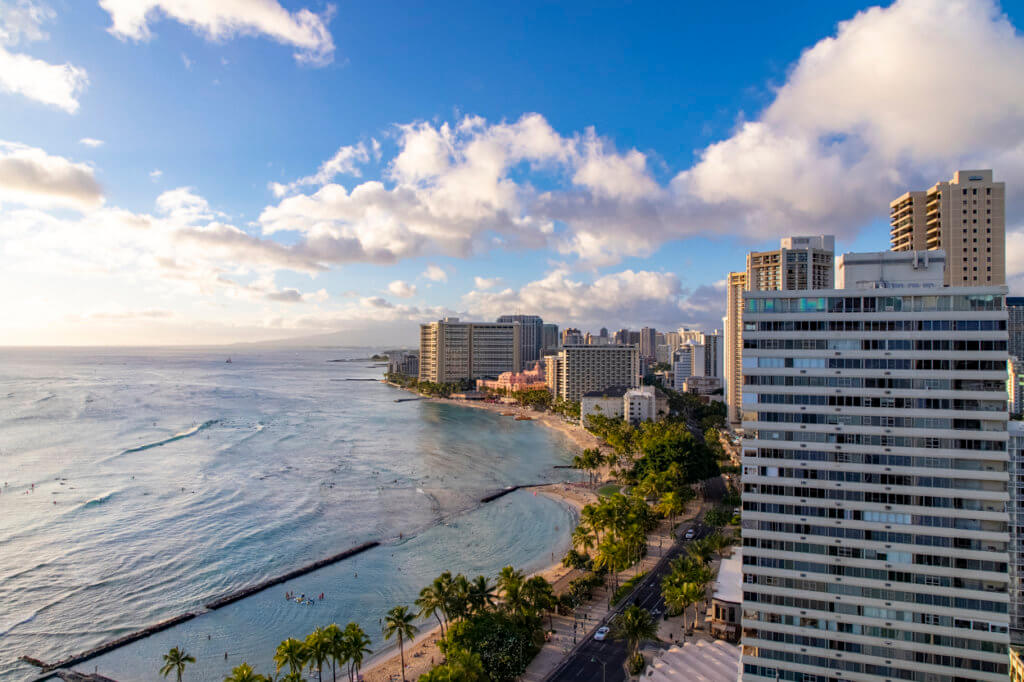 Lt. Governor Green's Response
The Lt. Governor, who is an emergency room doctor, states that Hawaii's overall positivity rate among travelers remains low. What's more, Green goes on to cite the Big Island's on-arrival testing data. Currently, that data shows that 1.2 travelers per 1,000 tested positive upon arrival over the past 30 days. But, the data Green is referencing isn't the same as what Kalihi Kai Urgent Care is reporting at all. In the Kalihi Kai's case, they're dealing with visitors that come to get tested days later – not on the day they arrive. And that's a critical factor since the incubation period for COVID-19 can be as long as 10 days.
It's worth noting that recent CDC models suggest that as much as 59% of all infections come from people that do not have symptoms. Of those showing no symptoms, 35% are usually pre-symptomatic – those that are infected and are not yet showing symptoms but are already contagious. The remaining 24% comes from asymptomatic people – those that never develop COVID-19 symptoms. So, while testing upon arrival might help weed out some cases, it isn't as effective as testing a few days later, which is the model some of Hawaii's mayors are advocating for.
State Representative Proposes Unified Travel Rules
Even though cases are surging in many of Hawaii's important travel markets, State Representative and House Speaker Scott Saiki is proposing unified travel rules. Typically, this would be a good thing – especially since our current rules are confusing many would-be visitors. However, Saiki says his proposal would prohibit exemptions, such as Kauai's recent decision to opt-out of Hawaii's Safe Travels program. That's doesn't seem like a good idea given that Kauai is seeing a resurgence of cases, while the risk of importing more cases remains high. So while we do need more uniform rules, the way they're approaching it is, well, stupid.
Waikiki Clinic Reports Uptick in COVID Cases, Final Thoughts
As of Friday, January 8, Hawaii's 14-day average stood at 156 cases per day, while Honolulu was averaging 114 cases per day. This includes an uptick in cases on islands with the exception of Lanai. True, these numbers are nowhere near as bad as the rest of the nation, but these numbers are far worse than what we've been seeing over the past few months. And remember, Molokai doesn't have a hospital, while Maui and Kauai have just one. In fact, the number of cases on Maui already far outnumbers the total number of hospital rooms on the island. So, it's disheartening to see Lt. Governor Josh Green, a medical professional, continuing to spew bogus information. This isn't the first time he's done so, though, so I'm hardly surprised. What does surprise me, though, is Saiki's callous disregard for the unique needs of each island. Sad.
Oh, and, that system Josh Green claims works? Then how come we're seeing an average of 10 imported cases per day on Oahu? And that's only for those that get tested. How many visitors develop symptoms and don't get tested? How many are asymptomatic and don't get tested? Our imported infection rate could be an order of magnitude higher than what we're actually seeing. And, yes, while community spread has become a big issue for us, that doesn't mean that travelers aren't passing it on when they interact with hotel, restaurant, and retail employees too.