Last month I was in Hungary, speaking at an Internet marketing conference with attendees and speakers from no less than 15 countries in Europe, Asia and North America (and yes, I still need to post trip reports). As is customary with speaking at conferences in my industry, I received a small stipend for speaking and my hotel charges were covered, but I needed to pay my own way to make it to Hungary. Fortunately, I was able to redeem 100k Delta Skymiles to fly to Budapest in Business class. Without using miles to cover the flight, speaking at the conference would not have been feasible for me. I ended up having 6 awesome nights in Hungary and turned it into a mini-vacation while managing to keep my overall expenses neutral.
During my time I met several really cool people and formed new connections that I plan to stay connected with in the future. One of those connections invited me to speak at a conference he was putting on in London at the end of March. Again, this would be for little to no pay and I would need to cover my flight expenses. I told him I would try to make it if I could find a reasonable flight using miles.
I know that there is a direct flight from Minneapolis to London Heathrow on Delta (it's one of a handful of direct trans oceanic flights from MSP), so I figured I would check award availability for the long-shot chance that that they would have a Saver level business class ticket available.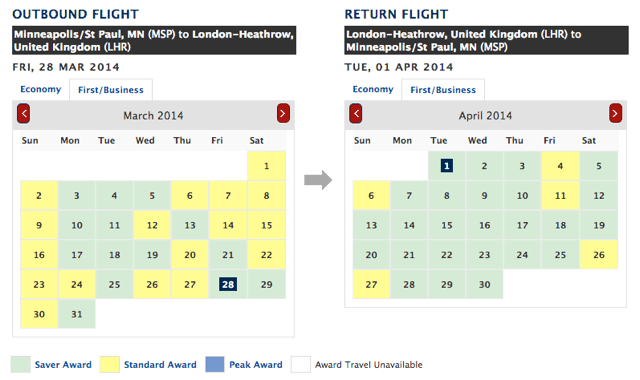 Luckily, there were business class tickets available at the saver level around the dates of the conference, but the outbound flight leaving Friday night would have me arriving at noon on Saturday in London and missing the first half of the conference. There was saver award availability on the nonstop return flight for either day I was looking to come back. After talking with the conference organizer, I decided to go all in and book the round trip flight on Delta for 100,000 Skymiles + $311.60 in fees.
Since it is a direct flight and is operated by Delta, this is probably the smoothest online booking I have ever had for an award ticket with Skymiles. I'm particularly excited because this will be my first time in London and I will have some time after the conference is completed to explore the city!
Now it's time to start researching hotels. Hopefully I will be able to find a great deal staying in London using some of the hundreds of thousands of hotel points I have in my war chest.
This is Why Points and Miles Are Amazing
Without points and miles, I would have had to turn down this opportunity. Furthermore, without points and miles, I would have never had this opportunity in the first place.
As someone who has a serious case of FOMO (Fear of Missing Out), having a large balance of points and miles (in a variety of flexible currencies like Chase Ultimate Rewards and American Express Membership Rewards) affords me many opportunities for travel that would otherwise leave me stranded stateside. This is why I love playing the game.
For reference, a paid ticket to London would have been $1,346.90 in coach and a whopping $6,387.10 in business class.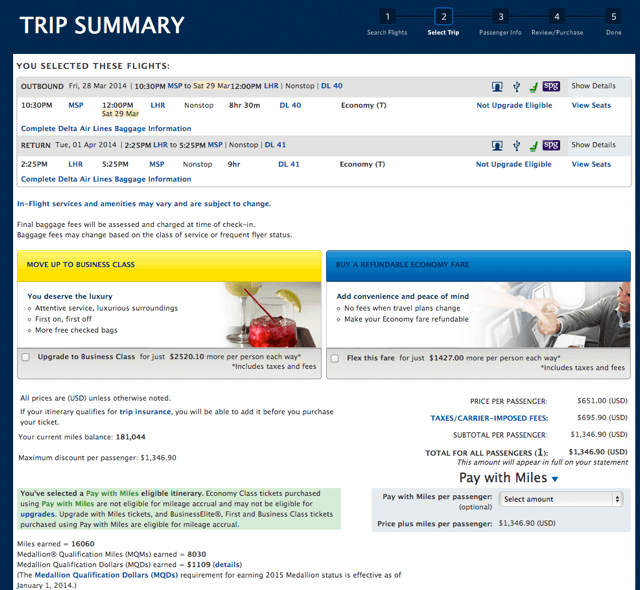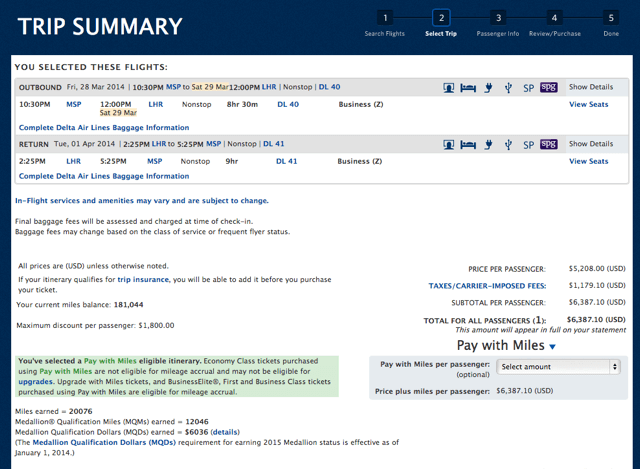 I would not have paid over $1,000 for a coach flight on this trip, let alone over $6,000 for business class! By simple math (and not counting MQMs lost by booking an award ticket), I was able to get 6.37 cents per mile on this redemption. That's a good use of Skymiles if you ask me!
Some trips I do to advance my career, some trips are purely for fun  and some trips I do simply for bragging rights. Regardless of my motivation, it's points and miles make it all possible.