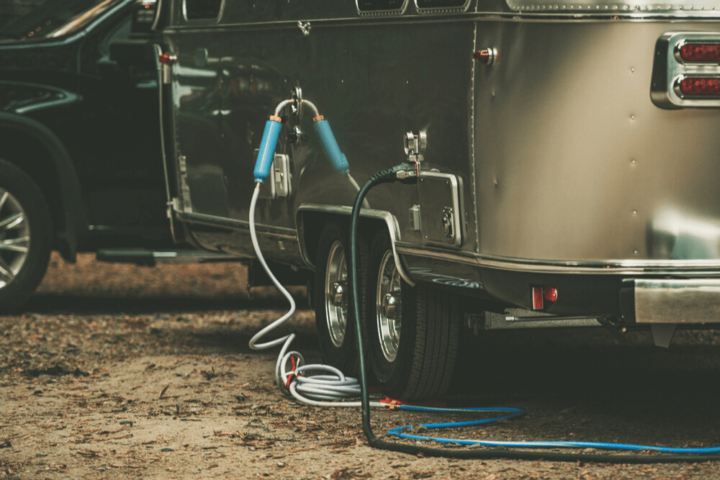 All of our reviews are based on exhaustive research, industry experience and whenever possible, hands-on testing. When you make a purchase using one of our chosen links we'll get a small percentage of the proceeds. This supports the site and keeps Jeffsetter running. You can read more here.
Having everything on board that you need is one of the huge benefits of the RV lifestyle, but if you suddenly start hearing a loud noise every time you use the faucet or shower, you may need to grab your toolkit.
A loud water pump can be caused by many different things and you'll need to get to the bottom of the problem to find the appropriate solution.
So, let's find out why your RV water pump is loud.
There are several potential reasons why an RV water pump may be loud, such as air in the system, a restricted inlet, an issue with the water pump mounting, leaks in the water lines, or unsecured lines that may be too close to your RV wall leading to a lot of noise.
Experiencing a loud water pump is something most RVers will face at least once in their RVing journey, and as long as you get to the bottom of this quickly, you shouldn't have too much of a problem.
That's why we're going to explore the possible reasons your RV water pump is making noise, and how to fix it!
Why Is My RV Water Pump Loud?
The water pump in your RV is a great piece of equipment, but when it starts to make strange sounds and you're not sure why, it's normal to feel anxious and worried about what the cause of the problem may be.
There are many reasons why your RV water pump might be loud, and once you've figured out the cause, you can move forward and carry on with your RV adventures.
Reason 1: Air In The System
Along with a noisy water pump, if you're also experiencing spluttering and spurting from your shower or faucets, the likelihood is there's air trapped somewhere in the water lines. This can happen if you're low on water and the pump tries to suck up water but instead takes in air.
Driving to a campground and filling your water tank up should resolve the problem, and don't panic if water takes a few seconds to flow smoothly out from the faucets, this is completely normal and is just the air making its way out of the RV water system.
Reason 2: Restricted Inlet
Your RV water pump will become noisy if it's activated but unable to pull any water through, and a common cause of this is a restricted inlet.
When filling up your RV with water, make sure there's nothing in the inlet that could block water from going into your system. It's also worth checking your hose is completely straight with no bends or kinks, as this can prevent the flow of water too.
Reason 3: Mounting Issue
Some RVs have water pumps secured to the floor of an RV using screws, and although this keeps the pump in the correct position, over time, the pump can loosen and become noisy when someone attempts to use water inside the RV.
Luckily, a mounting issue should be quick and easy to fix by using longer screws or inserting some padding underneath the pump.
Reason 4: Leak In The Water Line
You should only ever hear a faint hum from your water pump, and it should only activate when you use the faucet or shower in your RV. If there is a break in the water line somewhere and a leak is present, you'll likely hear your water pump kicking in and out at random intervals.
A leak in your water lines or a damaged check valve can lead to further problems, so if you suspect a leak, it's best to get to the route of the problem as quickly as possible.
RVing can be a relatively cheap lifestyle, but water leaks can cause expensive damage and if left, can even lead to issues such as mold and mildew that can spread into other areas of your RV.
One of the tips I've picked up from RVing is that it's a good idea to use your fresh water tank and not always rely on a city connection. If you have a leak somewhere in your RV water system, you'll likely experience a drop in water pressure, or run out of water quicker than usual. These issues will help indicate there is a problem, so you can find a leak quickly.
Relying solely on a city connection for your RV water supply means you may be less likely to spot a leak, and it may worsen over time. If you're concerned about a potential leak, it may be worth taking a closer look at your RV's water system and even pressure testing your RV for leaks if you haven't done so in a while.
Reason 5: Unsecured Water Lines
Water lines vibrate when you use the faucet or shower in your RV, and if the lines are not secure or too close to the walls of your rig, you may hear a banging noise when your water pump engages. Although this isn't an issue with the water pump itself, the vibration noise can be disruptive and even get worse over time.
Adding some padding behind the lines can help quieten the sound, but if you're still experiencing problems, you may need to change around some of your plumbing and reroute the water lines that are too close to the wall.
How To Fix A Loud RV Water Pump?
Driving out into the wilderness and finding a scenic park-up in nature for your RV is an awesome experience, but a loud water pump can interrupt the peace and be very frustrating.
There are a few different ways of fixing a loud RV water pump, and you may need to try a couple of different methods depending on the cause of your noisy water pump.
1. Use A Vibration Pad
If the noise coming from your RV water pump is caused by vibrations, it can be useful to use a vibration pad or rubber pad so there is a surface the vibration can be directed towards.
This should help stop the vibration sounds and if needed, extra padding can be added to help dull the noise too.
2. Install A Pump Silencer Kit
A quick and easy method for fixing a loud RV water pump is to install a pump silencer kit. As this method could easily mask another problem in your water system, it's wise to thoroughly check for leaks first and ensure there's no air or a blockage in your system causing problems.
Pump silencer kits are inexpensive, and if you're confident to fit one into your water pump, you may find it helps greatly with the noise of your water pump.
3. Clear Air From Water Lines
Air in the water lines is a common cause of a loud water pump, and if this is the answer for your noisy pump, you'll want to clear out as much air as possible.
Turning on the shower along with all the faucets in your RV is one of the most effective ways to get rid of air in your system. When the water starts flowing out smoothly from the faucets and shower, it's a sign the air has been cleared from the system.
4. Insulate The Pump
Wrapping your water pump with insulation may sound odd, but it's a cheap and simple way of reducing the noise from the pump. It's important to check for leaks and other potential problems before going ahead and wrapping your pump in insulation, as there could be something else going on that needs to be investigated.
5. Replace The Water Pump
There are so many different types of RV water pumps available, and each one may vary in size, shape, style, and even noise! Unfortunately, some RV water pumps are simply louder than others, and if you've ruled out every other cause of your loud pump, it may simply be that your pump is a loud one.
It's possible to replace your current water pump with a different, quieter one, but be sure it fits your system correctly. Getting rid of 100% of the noise your RV water pump makes is very difficult as the pump will naturally vibrate with each water use.
The video below, however, has some great tips to help make your pump quieter, so you won't be disrupted by a loud gurgling grumble anymore!
As you can see in the video, repairs for making your water pump quieter are relatively simple and easy to do. Having the patience to get to the bottom of what's causing your RV water pump to be loud means you won't accidentally miss a leak or crack in the water line.
Closing Thoughts
RV water pumps are fantastic when they work, but if you start to hear strange noises coming from your water system, it may be a sign there's an issue somewhere in your plumbing, or that your pump is damaged and in need of replacing.
If you're dealing with an RV water pump that's loud, you'll need to take a detailed look at your water system to try and get to the bottom of the issue.
If there's no leaking present and no air throughout your water system, you may need to replace the water pump with a quieter one. Although this isn't ideal, a quiet water pump is far more pleasant and also means no one gets woken up in the middle of the night when someone needs a glass of water!