Last updated on April 3rd, 2023 at 06:07 am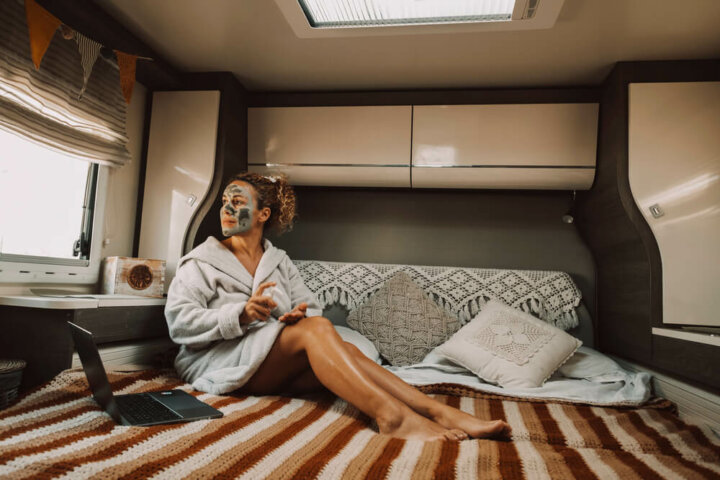 All of our reviews are based on exhaustive research, industry experience and whenever possible, hands-on testing. When you make a purchase using one of our chosen links we'll get a small percentage of the proceeds. This supports the site and keeps Jeffsetter running. You can read more here.
When you venture into the world of full-time RV living, it's normal to have a hundred things running through your mind about what you may or may not need to carry in your camper. The key to a smooth transition into full-time RVing is to be well prepared and prioritize between what you want and what you actually need.
So, how do you prepare for full-time RV living?
You need to consider many things when preparing for full-time RV living, like cutting down on belongings, having a remote job and mail address, accessing the internet in your RV, and getting both health and vehicle insurance are just some of the things you need to prepare for life on the road.
There's an increasing number of people choosing to live the RV lifestyle full-time, but with so many seemingly perfect 'van life' pictures shared across social media, it's easy to forget about key things you need to prepare for full-time RV living.

So, let's see what those key things are!
How to Prepare For Full-Time RV Living?
The idea of living full-time in an RV may seem crazy to some, but the freedom of parking in the heart of nature with modern comforts and practicalities on board is a feeling like no other. More people are turning to alternative living and it can be tempting to jump straight in, buy an RV and move your life inside.
This may not be the best idea, however, as living in a considerably small space can be challenging if you're not prepared. Let's take a look at some of the important things you'll need to do before you hit the road, as well as handy tips to keep you happy when you transition to living full-time in an RV.
1. Cut Down Personal Belongings
Over time, it's easy for belongings to accumulate, and before you know it all the closets upstairs and downstairs are full to the brim. Even if you have an impressively large Class A RV, you will still need to cut down the number of things you own, or consider renting a storage locker to hold sentimental items you just can't part with.
When I first moved into my campervan 3 years ago, I went above and beyond with what I brought with me, and quickly realized that I didn't need all 12 jumpers and 5 pairs of jeans! Something full-time RVing will teach you is that it's possible to thrive in life by owning far fewer things.
2. Find a Remote Job
Unless you're retired or taking some time off from working, you'll likely need to think about how you will make an income on the road. This can seem daunting, but with technology ever changing and the focus shifting more to the online world, finding a remote job to support your RV lifestyle is arguably easier than ever before.
Even though RVing tends to be considerably cheaper than living in a house or apartment, there are still costs to consider such as gas, RV parks, and groceries. Having a remote job will allow you to journey far and wide in your RV, whilst having the security of a regular income.
3. Use a Mail Address
Finding somewhere to get your mail delivered when you move into an RV is essential, and you may be able to use a friend or family member's address as a care-of address. Laws on mail addresses may vary so it's best to check what's permitted in your area.
For parcel deliveries, many stores have drop-off or collection zones where you can pick up items bought online. These facilities can come in useful if you need to replace something in your RV or need to buy a last-minute birthday gift for a friend!
4. Source Internet
Although RVing is all about spending more time in the natural world, it's useful to still have access to the internet. Being able to contact loved ones or send important work emails is a must for many, and moving into an RV doesn't mean you have to leave the internet behind.
There are many ways to source internet when you live full-time in an RV, but if you work remotely and require high-quality internet, purchasing a dongle or remote Wi-Fi unit can be beneficial.
5. Get Insurance
Spending time in an RV is comforting and relaxing, but it doesn't mean you can forget about getting health insurance before you hit the road full-time. Just like any other day, it's possible to still get ill or injured when you're out in your camper, so it's best to have insurance and prevent any problems or delays later on.
It's also important to have suitable vehicle insurance for your RV and its contents. Knowing you're covered if anything goes wrong provides great relief, allowing you to enjoy the time in your RV and not make any regrets!
6. Budget
One of the hardest parts of initially moving into an RV is working out a budget. Having a rough idea of how much money needs to be coming in to cover costs will avoid any hidden surprises and help keep expenses down.
One of the advantages of RV living is if you have a big outgoing month, you can travel minimally for a few weeks until things are steady again. It can be hard to budget, but it has great results and can help highlight unnecessary spending and where money can be saved too.
7. Learn Important RV Maintenance
With a kitchen, bathroom, bedroom, and lounge area in most RVs, it can be easy to forget that your camper is a vehicle and still requires regular maintenance, just like any other mode of transport. Knowing simple things like how to change the tires and use antifreeze in the system can help save you stress further down the line when maintenance needs to be carried out.
I also find it useful to have a piece of paper with the measurements and weight of my camper. This is useful information to carry onboard as if you ever need to be towed, you'll likely have to provide these pieces of information to the tow company.
8. Manage Expectations
When you first head out in your RV bursting with energy and excitement, it's hard to think the novelty will wear off. Full-time RV living isn't a vacation, it's a lifestyle, and although having the freedom to take your home to the beach or the forest is awesome, nothing is fun about cleaning your black water tank or unclogging a blocked vent.
Remaining realistic about RV living will ensure you don't suddenly become deflated when you have to fix something on your camper, or when the weather turns and you're stuck inside for days.
9. Build a Routine
Unless you're still working a 9-5 job on the road, it's likely you won't have much of a structure to your days. This can be great as it means you can choose what you want to do when you want to do it, but also means you won't have much of a routine day-to-day.
When I first moved into my camper around 3 years ago, I initially didn't have much of a structure to my days, however, I quickly realized that I needed a routine as there were still plenty of things to fit in each day.
I now have a routine that works for me and dedicate mornings to my remote job, afternoons for adventuring and traveling, and reserve one day a week to typical RV chores like filling up with fresh water and dumping gray and black waste.
10. Enjoy the Slower Pace
Full-time RV living naturally has a slower pace, and the best thing to do is to embrace it! Often we are racing around trying to get as much done as possible, but living on the road teaches you that not everything can happen all at once and that is perfectly okay.
Take time to enjoy your first coffee of the morning sitting out in nature, and learn to love the slower speed limit of your rig as it means you can take in more of the scenery when you're driving down the road.
Tips For Full-Time RV Living?
Transitioning into full-time RV living can be intimidating, but knowing a few tips about life on the road can help you relax and feel at ease as you spend your first few nights away in your RV.
If any friends or family members have spent an extended period in their RV, it can be useful to ask them about their experience and for any advice they'd be willing to share. If not then here are some of my tips!

1. Try Boondocking and Wild Camping
Campgrounds are ideal places to empty your gray and black water, fill up with fresh water, plug in for electricity, and even do laundry. However, using campgrounds regularly can quickly rack up to a substantial amount of money, so balancing out visits by boondocking and wild camping can save a lot.
Spending your first night in the depths of nature will likely feel exciting and nerve-wracking all at once, but remember, one of the joys of RV living is that you can simply move to a different spot if you feel uncomfortable. After your first couple of nights, you'll start to lean into the environment and won't want to leave the peace and serenity of nature behind.
2. Don't Let Wastewater Tanks Overflow
It's not the end of the world if your gray and black tanks overflow, but it can result in a stinky mess inside your RV! Knowing how to tell if your gray and black tanks are nearly full will help save you from guessing how much room is in the tank and will help prevent any spills inside your camper.
After a few weeks of full-time RV living, you'll get into a routine of emptying your tanks and filling them up with fresh water. It can be useful to make a note on your phone or calendar of when you last emptied the tanks so you know when you'll need to start heading to an RV dump station.
3. Keep Fresh Water Topped Up
Running out of fresh water isn't a good idea, especially during the summer months. How often you have to fill up with water will depend on the size of your tank and your water usage. Simple things like limiting showers, not flushing the toilet every single time, and generally being conscious of your water usage can help make it go further and last longer.
4. Eat Balanced
Living on the road full-time means you may regularly come across fast food restaurants and gas station food choices. Although these are tasty treats now and again, consuming them regularly will eat into your budget and isn't the healthiest choice either.
RVs are kitted out with kitchen facilities, and some even have ovens and decent-sized refrigerators, so it's easy to cook up delicious food from scratch. Having a balanced diet will also mean you are packed full of the nutrients needed to fuel your adventures and make you feel your best.
5. Be Aware of Your Surroundings
Safety is often a big concern when it comes to full-time RV living, and it's wise to take precautions and help prevent your RV from being broken into. Being aware of your surroundings and remaining vigilant is a good way to keep on top of any unwanted interest people may take in your RV.
If you feel uncomfortable or unsafe, you can jump into the driver's seat and head off to a different spot. Although a break-in isn't likely, it can be useful to install security cameras and an alarm system for when you leave your RV for a few hours.
It may feel like there's so much to consider when moving into an RV, but as long as you prepare, stock up on essentials, and try to stay grounded, you should be fine! Don't forget you'll likely meet plenty of other full-timers on the road and they too will have plenty of tips and tricks to share with you.
In the video below, several full-time RVers answer questions about their experience and what they wish they'd known before starting out. Listening to different perspectives about full-time RV living can help paint an accurate picture of what life on the road is like.
Arguably the hardest part of living full-time in an RV is those first initial days when you are getting used to the camper and creating a routine. Once you've found a rhythm, everything else will fall into place and you'll be comfortable in your rig in no time.
So, What Is It Like to Live Full-Time in an RV?
Living full-time in an RV is a way of life suited well to those who enjoy spending as much time as possible in the natural world and don't want the restrictions that often come with stationary living in a house or apartment.
Every RVer will have different opinions about what it's like to be full-time on the road, but there are some common thoughts many RVers often share.
1. Exciting
Finding new park ups every few nights, watching sunrises and sunsets from the comfort of your RV, and learning about different cultures and ways of life make the RV lifestyle exciting.
Nothing beats the feeling of pulling up to a wild camping spot for the night and being greeted by utter peace, stunning scenery, and hopefully a level parking spot!
2. Rewarding
Learning how to live with less is a humbling and rewarding experience as it teaches gratitude. The stories you'll hear from fellow RVers when you're traveling in your RV will help inspire your future adventures, and you may learn a thing or two as well.
3. Challenging
Full-time RV living requires you to be conscious of many different things from water and electricity usage to gas and heating. This consciousness is part of the magic of RV life and after a while, you will hardly see these things as a challenge.
Some RV maintenance is more fun than others, and unclogging a blocked toilet or replacing patches of flooring if they've gone spongy can be challenging. There may be moments when you question your decision to move into an RV full-time, however, try and remind yourself of how freeing the experience is and how beautiful it is to sleep under the stars every night and things may not seem too bad!
Closing Thoughts
Preparing for full-time RV living is the best way to get yourself set up for life on the road, and limits any surprises further down the line. Simple things like having the internet in your RV can help relieve some stress and means you can keep in contact with family and friends easily too.
Leaping into full-time life on the road in your RV is an exciting time, and once you've put your foot on the gas and hit the road, you'll be ready for the adventures to begin.