Last updated on March 13th, 2023 at 06:38 am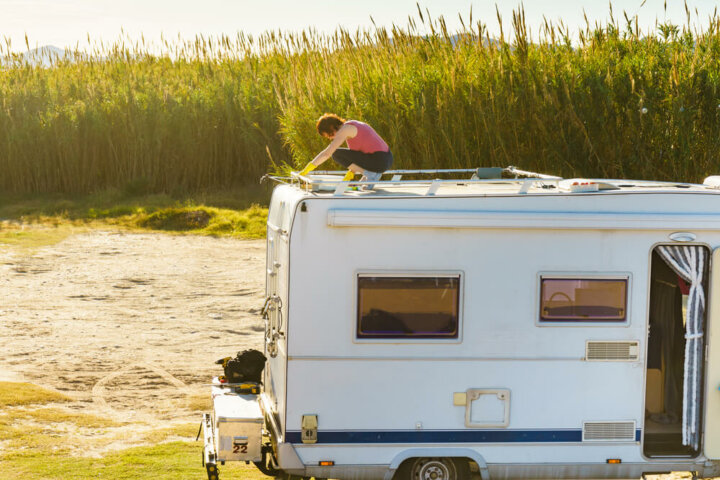 All of our reviews are based on exhaustive research, industry experience and whenever possible, hands-on testing. When you make a purchase using one of our chosen links we'll get a small percentage of the proceeds. This supports the site and keeps Jeffsetter running. You can read more here.
RVs are great rigs for traveling, wild camping, and even living in! One of the most frustrating things when it comes to RVs is leaking.
Leaks can happen when water gets into the RV from the outside, but leaks can also occur internally if there is a split or crack in the water piping. Pressure testing an RV for leaks is a way of checking if there are any leaks present so you can fix them quickly.
So, how do you pressure test an RV for leaks?
Pressure testing an RV using air is an ideal way to check for leaks. By increasing the air pressure on the inside of the RV and covering the outside of the camper in a soap solution, bubbles can easily be spotted where leaks are present and the air is escaping.
Pressure testing an RV, for many, is part of RV seasonal maintenance. Checking your RV for leaks a decent amount of time before the next camping season begins is a good idea. That way, if there are any leaks, there's plenty of time to fix them and get your RV back in good shape.
How Do You Pressure Test an RV For Leaks?
Pressure testing an RV for leaks can be done by creating a higher air pressure on the inside of the RV, compared to the outside. That way, the air from the inside will be forced out through any cracks or leaks in the RV.
To easily identify the points where it's leaking, the exterior of the RV needs to be covered with soapy water. If soapy bubbles start to appear, you'll know that's the location of the leak. Be sure to check for bubbles all over the RV, including the roof as sometimes there can be small leaks you didn't even know existed!
Step 1: Replace the Vent With Sealtech System
Usually, the process of pressure testing an RV for leaks is done at a dealer or RV repair shop, but some avid RVers have had success using their own DIY system.
With Sealtech, the front section of an open roof vent is replaced with a device that attaches to the vent, allowing the air inside the RV to become pressurized. Even smaller leaks can be detected using compressed air making it a reliable option.
Step 2: Spray Soap Solution Over the RV
Now for the fun part, the next step is to spray a soap solution over the entire exterior of the RV, focusing on areas where anything is attached such as windows or vents. If there are any leaks present, bubbles will start to form so you can easily locate the exact points that are leaking.
Step 3: Fix Leaks and Repeat the Process
Once you've found the points where water is leaking into your RV, you'll need to take action and fix the leaks before they get worse and cause further damage.
Below is a video of the Sealtech method in action, using a soap solution to help identify any leaks. As you can see in the video, it doesn't take long to set up the Sealtech, and once a soap solution has been applied all over the exterior of the RV, it's easy to spot leaks with air bubbles being created where the air from inside is escaping.
Pressure testing your RV for leaks is the ideal way to find the exact areas where water can get inside the RV. The process shouldn't take too long and it may be worth repeating it after the repairs are made to double-check that all the leaky points are fixed.
How Do You Test an RV For Internal Leaks?
It's also important to check the RV plumbing system for leaks as a cracked or split pipe can cause a lot of damage to the interior of the RV. Compressed air can be used to check for leaks throughout the freshwater system. The pressure of the air being pushed through the water system will result in air being forced out where there is a leak.
Using air to test for leaks is reliable and convenient as there is no mess involved, it's relatively low cost, and if there are large existing leaks, it saves further damage that might be caused by pushing water through the system.
Step 1: Turn the Water Pump Off and Release the Pressure
Before going ahead and starting to blow compressed air through your RV plumbing system, you'll need to remove the screen on the city water inlet that helps filter out impurities.
The RV water pump can then be turned off and the faucets can be opened to drain out any water sitting in the system. Once all the water has drained out, the faucets can be turned off and any low-point drain valves can be closed too.
Step 2: Attach Test Device
To get the best results from a leak test, you'll need to use a specific fitting on your pressure test device that will hold open the check valve in the city water inlet. Keeping the check valve open will ensure that even if there are small leaks of less than 5 PSI, they can still be located and repaired.
Step 3: Start Blowing Air into The Water System
It's wise to not bypass the water heater, as there may be leaks within the heater itself that you're not aware of. The valve on the test device can be opened and compressed air can be blown through the system at a suitable PSI that's enough to force air through the lines but not enough to cause any damage.
Step 4: Watch The Pressure Gauge
Allow the air to flow through the lines for several minutes and keep an eye on the gauge to see if there's a pressure drop. If the pressure remains constant, there are no leaks in the RV plumbing system.
However, if there is a drop in pressure, it's worth examining your plumbing system to check for points where the air is being pushed out. A soap solution can be sprayed on the piping so you can easily spot bubbles being formed in leaky areas.
Step 5: Fix Any Leaks and Repeat
As soon as you've located a leak, it's time to get started on fixing it! Depending on the severity of the leak, you may be able to fix it at home with the tools and equipment you already have. However, if there is a significant leak, you may need help from a professional.
How Do You Prevent RV Water Leaks?
It's best to keep on top of every aspect of your RV maintenance, and this includes checking for leaks. If you take precautionary measures, you can help prevent leaks and save time and money further down the line.
There are several ways to help prevent RV water leaks, so it's wise to try and do a few things to give your RV the best chance on rainy days. Although it can take a bit of time and effort to help weatherproof your RV, it's the best thing to do to avoid problems such as mold growth, damaged electrics, and a rusty chassis.
1. Cover the RV
To give your RV some extra protection, an RV cover can be used. Using an RV cover in winter can be useful to protect against rain, snow, and things that may get kicked up and blown against your RV in poor weather. Some RV covers can also be used in summer to help protect against UV rays that over time can cause damage to seals on the roof and discoloration.
If you already know leaks are present on your RV but you don't have enough time to fix the damaged areas, an RV cover can be a good last-minute option. It's essential to choose a cover that's the right size for your RV, as one that's too small won't cover the entire rig, and a cover that's too big may get lifted off in windy conditions.
2. Keep the RV Clean
Cleaning your RV is a great opportunity to check for any splits or holes on the camper that you would only notice close up. It can also help prevent build-ups of dirt and grime that over time can cause damage to the exterior of the RV.
If you think water is getting into your RV from somewhere it's worth first pressure testing the RV for leaks as otherwise, you could end up with water on the inside of the RV if cleaning it with a pressure washer.
3. Repair Any Damage
RVs can be prone to damages such as tears, holes, and rips than can all eventually allow water to leak into the RV. If you notice any damage on the exterior of the RV, it's best to repair it as soon as possible before it gets any worse.
Mold thrives in an environment with moisture, so if water has leaked through to walls or the ceiling, you'll need to get the damage fixed and parts replaced otherwise it may start growing.
4. Use Sealant
A weatherproof sealant can be applied to the exterior of the RV to help prevent leaks. A common area for RVs to leak is the roof, so it may be wise to use a protective layer of sealant or wax across the entire roof to help protect it when the weather turns.
The type of sealant you'll need to use will depend on the type of roof you have on your RV. Roofs on RVs can be made from various materials, and each type may require a specific sealant. Using a sealant that isn't well suited to the material of your RV roof can result in damage.
5. Store RV Indoors
When storing your RV for an extended period, it may be worth parking it indoors. Storing your RV indoors will protect it from all weather conditions and help keep it fresh and ready for next season's camping.
RV storage may be an investment, but if you're not going to be using your RV for quite some time, it might be a good option. Not only will keeping your RV in storage protect it from the weather, but it also provides security to keep your camper safe when it's not in use.
Closing Thoughts
RV maintenance is constant, and there's usually always something to clean, repair, or replace before next season's camping begins!
Pressure testing an RV for leaks is a surefire way of knowing if and how water is getting to the inside of your RV. The process may seem intimidating at first, but using the correct PSI and taking things slowly will help get the best results, even if it's your first time.
Incorporating a pressure test into your usual RV maintenance routine is a good idea, especially if you use your RV regularly and it comes into contact with a considerable amount of rain. A pressure test may seem like an initial investment, but it's far cheaper to fix small leaks than allow them to worsen and cause expensive damage to the inside of your RV.