It's been nearly a year since Southwest Airlines entered the Hawaii market. And with them came a whole new world of award travel options. So, here's why you, and Hawaii residents especially, should get a Southwest card now.
Last year, I took my first-ever flights on Southwest Airlines. I found the experience to be pleasant enough for my island-hopping adventures, and have since decided to use Southwest for most of my intra-Hawaii travel needs. A big part of this is thanks to Southwest's superior award costs as compared to Hawaiian. As you'll recall, inter-island flights normally price somewhere between 5,000 to 8,000 points roundtrip per person. That's in comparison to Hawaiian's 14,500 miles per person.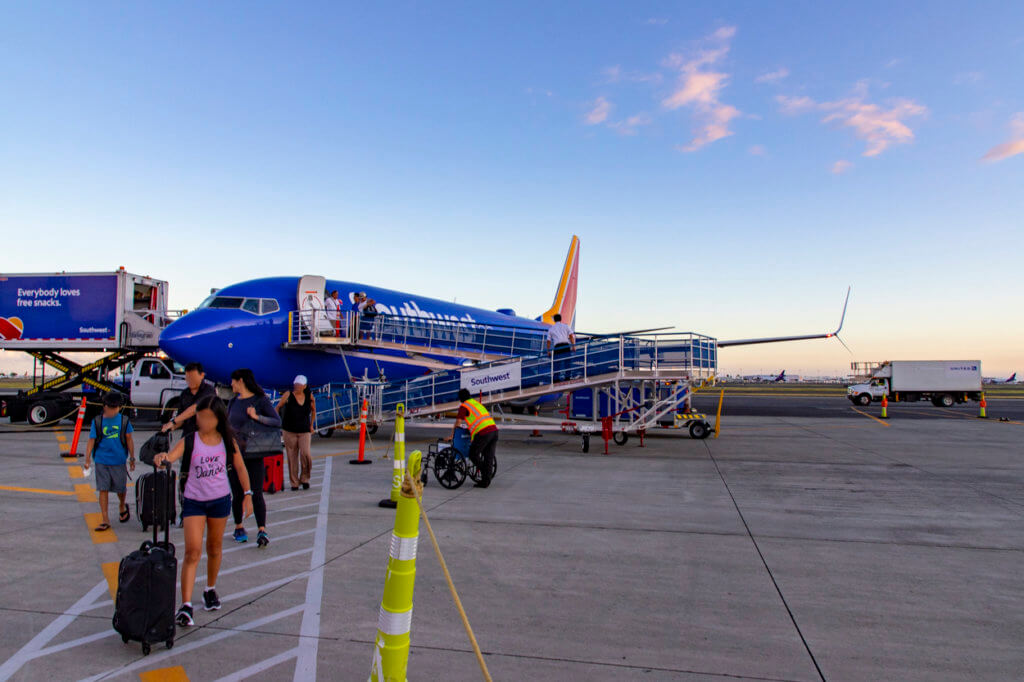 Now, my current strategy for Southwest Rapid Rewards is to transfer points directly from Chase Ultimate Rewards. But, Southwest does have its own co-brand credit cards with Chase. And, when you run the numbers, they're a pretty good deal too. What's more, three of the cards currently have a fantastic sign-up bonus!
Southwest Rapid Rewards Priority Credit Card
The Southwest Rapid Rewards Priority Credit Card is probably the best card to get, even if you travel infrequently. Yes, the card has a $149 annual fee, but that's more than offset by its benefits. Those benefits, by the way, include:
$75 annual Southwest travel credit
7,500 points annual anniversary gift
4 upgraded boardings per year when available
2x points on Southwest purchases, 1x on everything else
Earn 1,500 tier qualifying points per $10,000 spent up to $100,000 or 15,000 points – counts towards status
No foreign transaction fee
Up to $3,000 in lost luggage reimbursements
Baggage delay insurance of up to $100 per day for 3 days on delays of 6 hours or more
Extended Warranty
Purchase Protection
If you're going to fly Southwest anyway, the $75 travel credit is easy to use and will buy down the annual fee to $74. Further, Southwest Rapid Rewards points are generally valued around $0.012 to $0.015 apiece. That places the annual 7,500 points anniversary gift's value around $90 to $112.50. As a result, the net annual fee for the Rapid Rewards Priority is, effectively, $0.
The sign-up bonus for the Southwest Rapid Rewards Priority Card is 40,000 points for spending $1,000 within the 3 months of account opening. However, for a limited time, Chase is offering an additional 35,000 points if you can hit $5,000 in spend in the first 6 months – which equates to a total of 75,000 points. That's good for at least 9-ish roundtrip inter-island tickets within Hawaii. That many points can potentially get you at least one or two of roundtrip award flights between Hawaii and the Continental U.S. too. Of course, it's worth reminding that Southwest dynamically prices its award flights. As a result, award ticket costs are directly tied to cash rates and are subject to change at any time.
Southwest Rapid Rewards Premier Credit Card
The Southwest Rapid Rewards Premier Credit Card offers basically the same benefits as the Priority, with these difference:
No annual travel credit
6,000 points annual anniversary gift
No boarding upgrades
$99 annual fee
The value proposition of the card is a little less than the Priority version, with the 6,000 points being worth around $72 to $90. But, the annual fee is also a third lower than its Priority counterpart.
This card is also eligible for the 75,000 points sign-up bonus.
Southwest Rapid Rewards Plus Credit Card
The final Southwest Rapid Rewards Credit Card type is the Plus version. It's by far the least rewarding of the bunch, but also has the lowest annual fee. Here are the ways in which the Plus differs from the Priority:
No annual travel credit
3,000 points annual anniversary gift
No boarding upgrades
$69 annual fee
3,000 points are worth somewhere between $36 and $45. Again, that's not as great a value as the Priority but does represent the lowest possible annual fee. That said, I'd rather pay a tad more ($75) and get a Companion Fare with the Alaska Air Credit Card instead.
Oh, and, even this card is eligible for the 75,000 points promotion.
Why You Should Get a Southwest Card Now, Final Thoughts
To all my Hawaii friends, it's worth reminding that Southwest includes two free checked bags in all its fares. Also, there are no change or cancellation fees. Plus, award flight costs can be dramatically lower than what Hawaiian Air charges. So if you've been taking advantage of these benefits lately, you might want to seriously consider one of the above cards. Especially right now with the elevated signup bonuses.
And, no – I do not have a relationship with Chase, nor am I an existing Rapid Rewards cardholder. I receive no benefit from you clicking the links I embedded above and applying. They're public links for your benefit.