We recently stopped back in the US (for Thanksgiving) after months of traveling around the world.  As a reader, you know this, and you may have noticed many of our travel stops involved wine.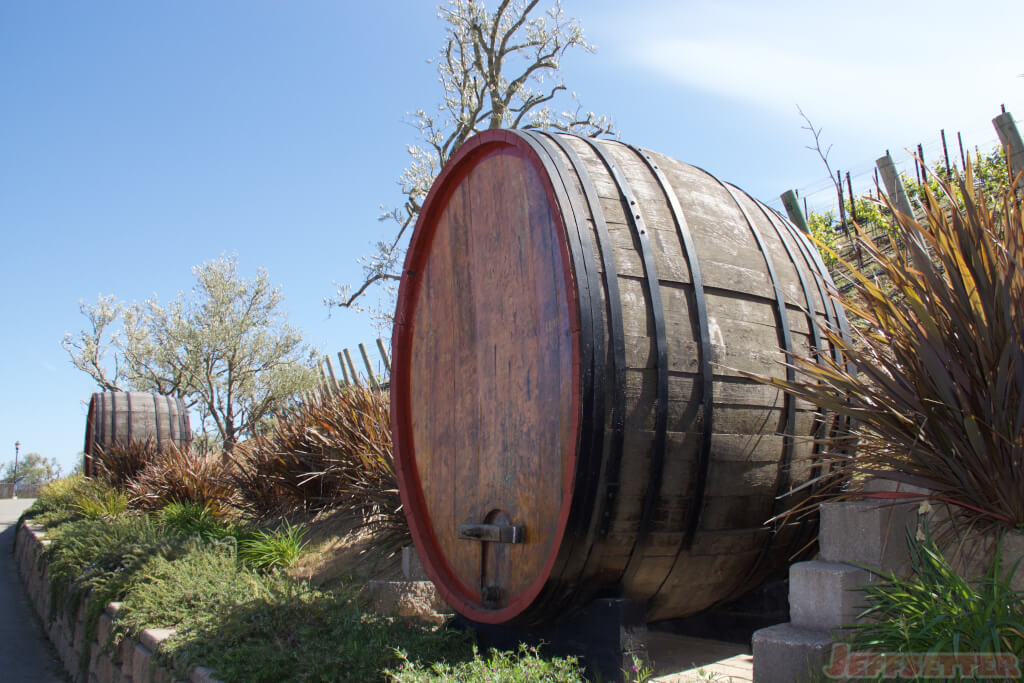 One of our friends pointed out that we have essentially done a world wine tour, and that we should do a post on the wineries we visited.
Bam! your wish is granted.
Actually, this will likely be a series of posts.
Disclaimer: We are by no means experts in wine. We enjoy learning about wine, the beauty of rolling hills covered in vines, and drinking the succulent fruits of the vines.
Stop 1 – Del Dotto Vineyards
Background
One of our favorite wineries in Napa Valley, California is Del Dotto Vineyards. As we started out on our one way never ending, we made one last stop at Del Dotto Vineyards.
Our first visit to Del Dotto was in the fall 2010 on our second trip to Northern California (ever).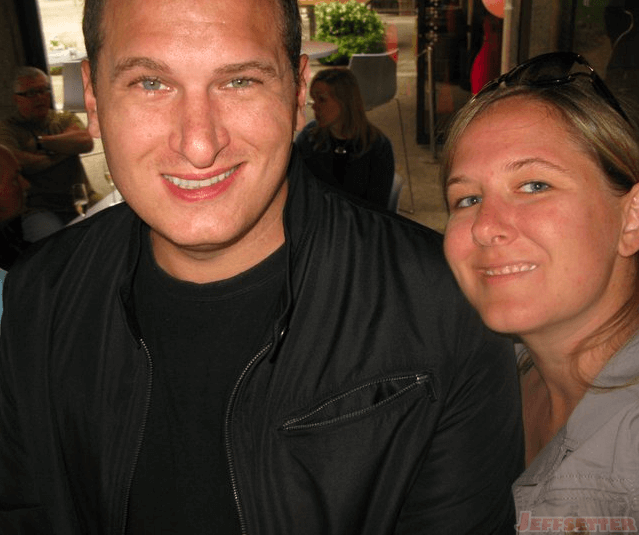 On that first visit we enjoyed our very first cave tour and barrel tasting at Del Dotto.
New to the wine scene, we loved every minute of the experience.
We still have a bottle of 2008 – 887 Cabernet Sauvignon from that first visit. Our plan is to enjoy that bottle on our fifth wedding anniversary with an amazing steak.
Each time we return to Del Dotto we feel a bit of nostalgia, like we are going home for a visit.
Location: Napa Valley, California
Del Dotto has two tasting locations (and a new location is under construction).
The Napa Historic Winery and Cave location: Just outside of Napa near the Silverado Resort. Our first experience with Del Dotto was at the Napa Historic Winery.
This location is a real cave dug into a hill. The atmosphere is rustic, but elegant.
I love the intimacy and historic feel of this location.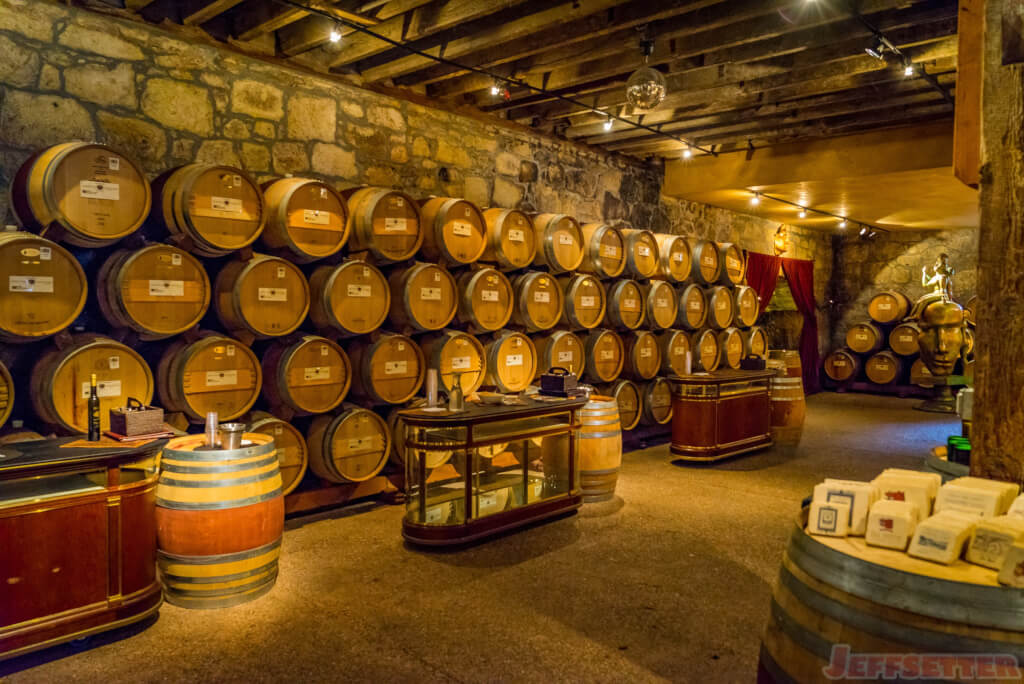 The St. Helena Estate Winery and Caves: Just outside of downtown St. Helena. This location is modeled after a Venetian Palace. The estate is over the top decadence.
Definitely worth seeing in my opinion. The decadence extends into the caves with mosaics, Italian marble and great wine of course. Just beautiful!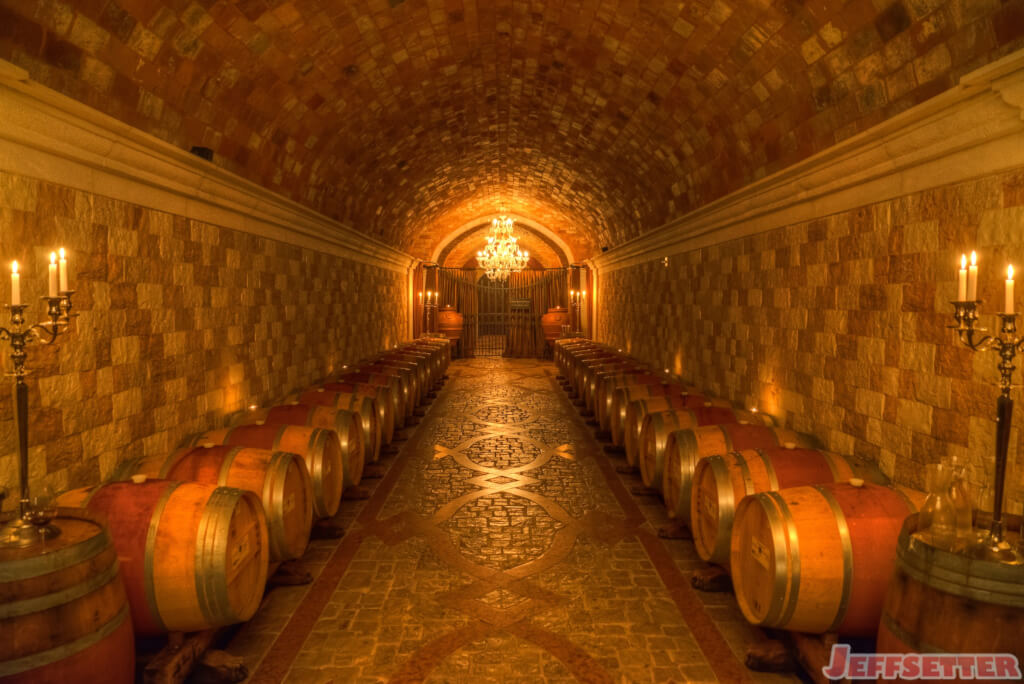 The winery is in the process of building a new tasting room for their top label, the Villa del Lago.
Tastings and Tours
Each location offers two tasting options which you can book online or by calling the winery.
Bar tasting: This is the typical wine tasting experience that you see in Napa Valley. You stand at a bar and chose five wines to try for $45 (USD). The tasting includes a small cheese plate, breadstick crackers, and chocolate. If they are not busy, sometimes you can peak into the entrance of the cave just for a quick look.
Cave and barrel tasting: A guide takes you into the wine caves and you taste currently aging wines straight from the barrel. As you taste up to 10 different wines, you learn about the vineyards, varietals and barrels. The tasting includes a cheese and meat plate (sometimes a mini pizza).
Del Dotto is sometimes referred to as "Delblotto" because they are not stingy with their tastings or their pours.With a cave tasting fee of $60, the generosity is appreciated.
If you visit in the afternoon, the people watching can be phenomenal or potentially annoying depending on your mood.
I have loved every single tour guide we have had at Del Dotto.
Events
The winery offers many great events from tasting lunches to formal masquerade balls.
We attended one of the Barrels and Beast dinners. The Del Dotto family does not disappoint.
Varietals
Del Dotto has a small (by Napa Valley standards) production of several different varietals from several different appellations.
Rather than getting into wordy details of geography, I put together a summary for you including our favorite wines.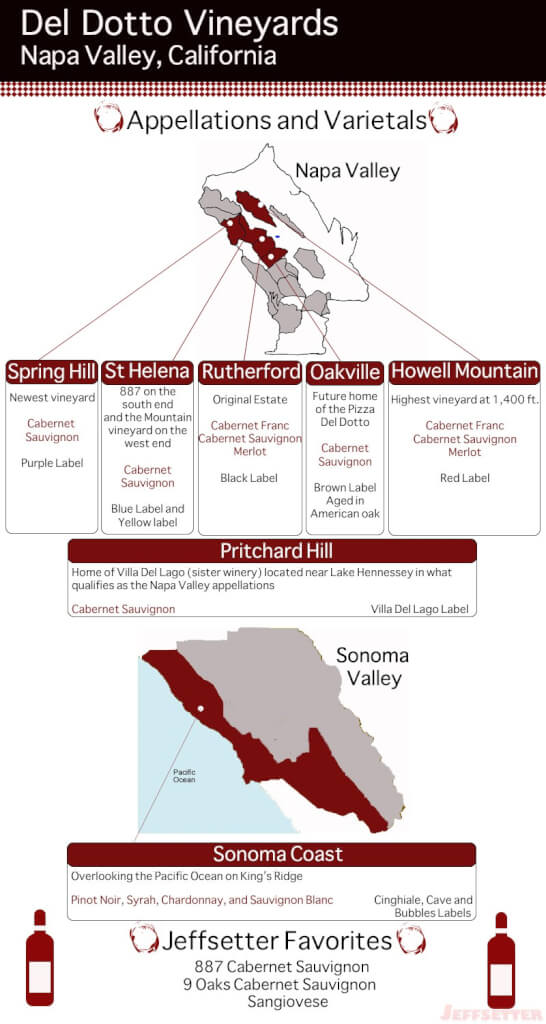 The wine may be the best part of Del Dotto. Many of the wines have received awards.
Robert Parker has consistently rated several of the wines of various vintages in the 92-98pt range. A couple of wines have even received 100pts (St. Helena Mountain).
To me, the Del Dotto wines are full bodied and new world style. However, I think this depends on the vintage (e.g., 2012 was a very juicy year, I am pretty sure that is a technical description), the varietal and the barrel.
To me, French oak is more suave than American oak, but my oak preference alternates depending on the day and grape.
During a barrel tasting at Del Dotto, you can do a side by side (same varietal and appellation, but different barrels) tasting to note the difference created by the different types of oak.
Even oak from the same country, but different forests change the taste composition of the wine.
For example in one of my side by side tastings, American oak from Minnesota brought out notes of coconut (which is just odd, but so interesting), and American oak from Missouri brought out notes of bacon, kind of a smokey maple with a hint of salt.
What?! Amazing.
Visit if you have a chance!
If you have never done a barrel tasting, then I highly recommend you check out Del Dotto at either of their locations. The price is comparable to other barrel tastings and longer tours.
Del Dotto uses several different barrels to make their wine (French oak, American Oak, grooved, charred, etc.) As I noted, I am amazed each time how the barrel brings out different flavors of the grape.
The Cave Barrel Tasting really showcases the barrel impact on the wine by using the same grape varietal from the same appellation but different barrels.
The staff and Del Dotto family are fabulous; friendly, professional and passionate about the wine.
I think I like the Napa location a little bit better, but both offer a unique experience.
I always find a bottle of wine that I love, but I have consistently loved the 887 Vineyard every year I have tasted it. Nothing like a good cab with a delicious cut of steak.
If you are in Napa Valley, I recommend giving Del Dotto a try.
Next stop on the winery tour Zenith Vineyard followed by Maui Wine.