Who doesn't love grilled meat on a stick? Yet, the art of Japanese yakitori is so much more than that. To do it well is an art form. So if you're looking for the best in Honolulu, make sure to enjoy some yakitori at Tori Ton Hawaii.
Even before the pandemic, Tori Ton Hawaii has been on my radar. Not only do they have a full menu of yakitori classics, but they have a healthy menu of delightful izakaya fare, classic Japanese food, and more creative interpretations. It's an excellent spot to hang out with friends and is a supremely popular neighborhood hangout.
Tori Ton Hawaii Location
Tori Ton Hawaii is not far from Waikiki. In fact, this little hole in the wall is in the heart of the old Honolulu neighborhood of Mo'ili'ili, across the street from the old Honolulu Stadium. It's a 10-minute drive from central Waikiki or, if you're so inclined, about a 30-minute walk. A word of caution – parking here is tight. Tori Ton shares a small lot with a few other restaurants in the area. If you can't find parking in the lot, you'll need to find street parking. So either arrive with ample time to hunt, or save yourself the trouble and catch a rideshare.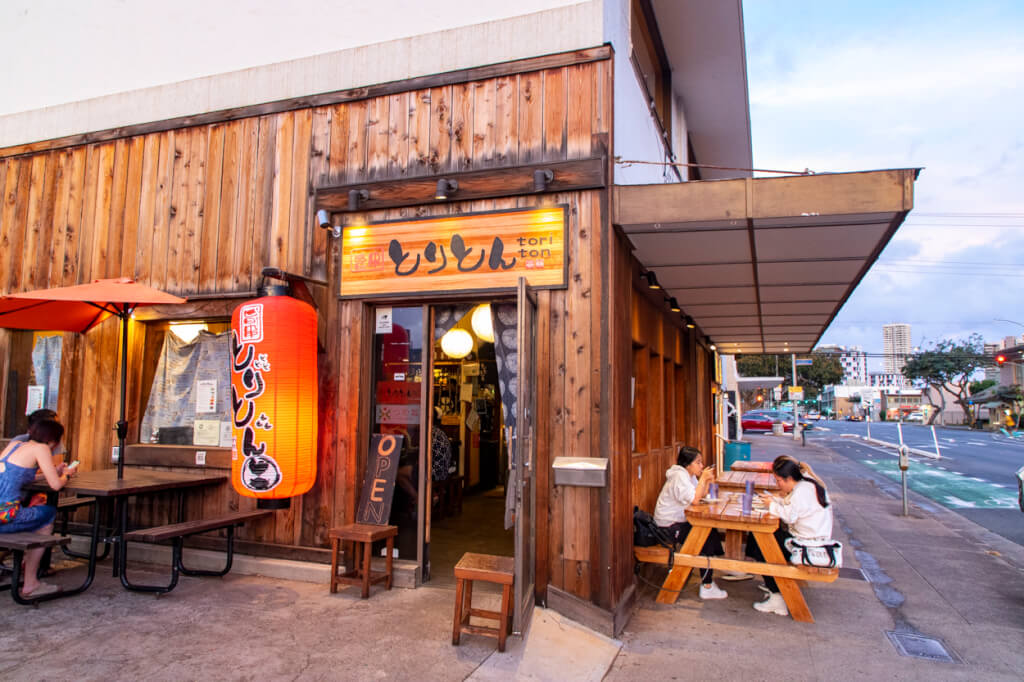 Ambiance + Service
Tori Ton Hawaii is a very tiny shop. There are around half a dozen tables available inside and about four outside. The restaurant has a lively atmosphere that can get a bit loud, though we didn't find it bothersome. Spacing is kind of tight, though, so don't come in with a lot of stuff.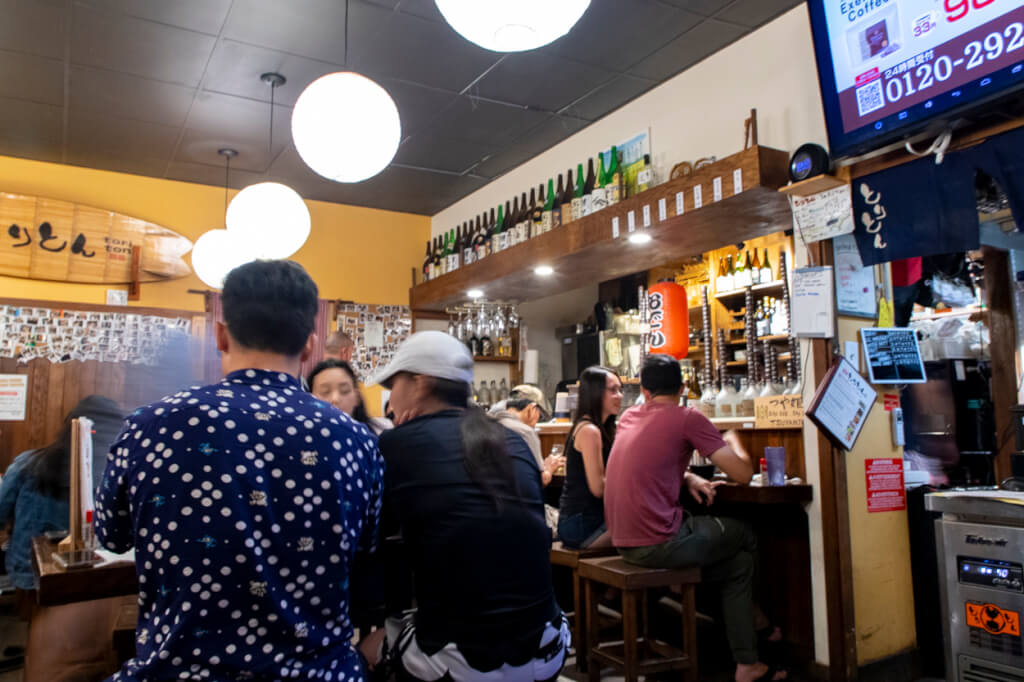 As you'd expect from a Japanese restaurant, the service is very friendly. Be aware, however, that you may wait a while for your food, especially if they're really packed. But that's just the name of the game in a tiny spot like this.
Tori Ton Hawaii Menu
For such a tiny restaurant, Tori Ton Hawaii has a massive menu! Just their drink menu is four pages long and includes a grand selection of beers, wines, sakes, shochu, chu-hi's, umeshu, and more! On the food side, their menu extends a mind-boggling nine pages! The first few pages are entirely comprised of izakaya fare. Think gyoza, fish & chips, wagyu beef skewers, fries, salads, and more. Page four is entirely devoted to oden – either chef's choice or build-your-own. The fifth page features more salads and some fish-centric dishes. Page six is where you'll finally see the yakitori section along with pork skewers and other skewers. The remainder of the menu is comprised of chicken dishes, rice options, noodles, kamameshi, donabe, and a small dessert section.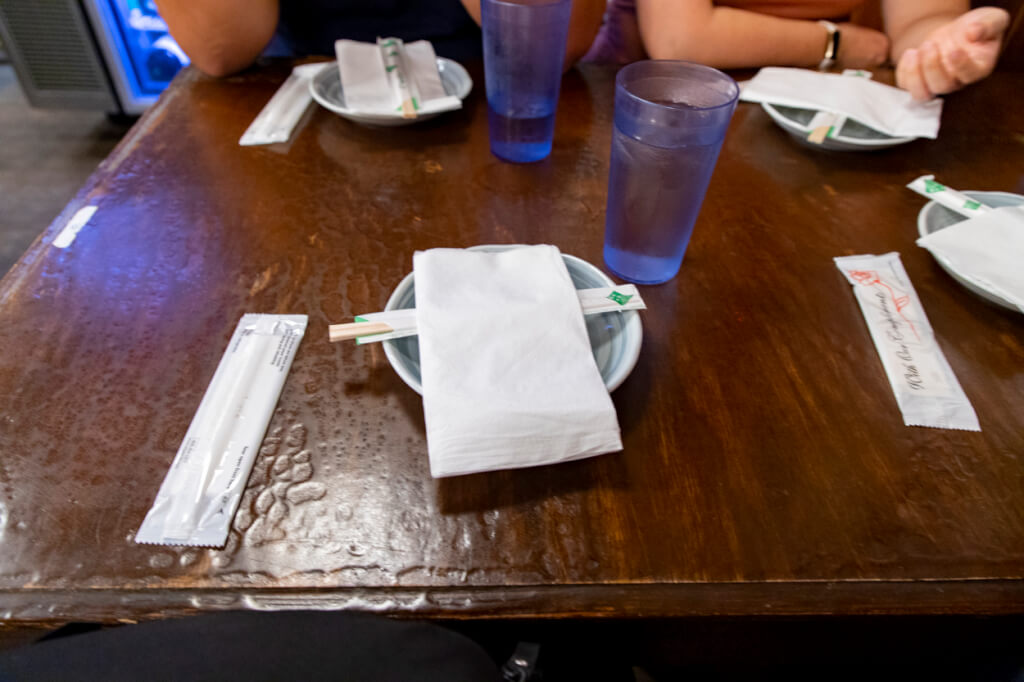 What We Ordered
The main focus at Tori Ton Hawaii is the yakitori. However, with so much goodness going on, we couldn't order just their signature dish, right?
Deep-Fried Gyoza
To start, Mrs. Island Miler and I split an order of Deep-Fried Gyoza with Housemade Spicy Pepper Sauce. These came out piping hot and crispy-crunchy on the outside. While I wish they included more ginger and green onion in the filling, these were tasty. The pepper sauce was also good, providing a counter to the heaviness of the dish, though it's barely spicy – I could eat it, after all.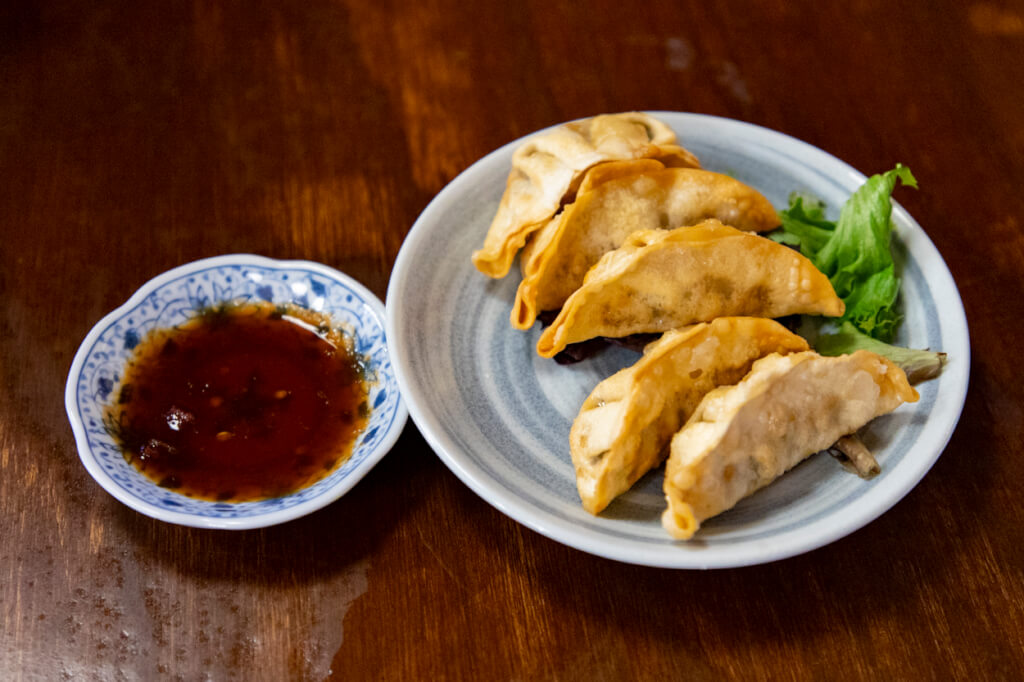 Dashi-Marinated Avocado
Yep, it's half an avocado marinated in dashi. Plain and simple. They use slightly under-ripe avocado here to retain a firmer texture. Though it sounds weird, it's a delish, light dish. The dashi itself adds much-needed salt and an umami punch to the rich, creamy avocado.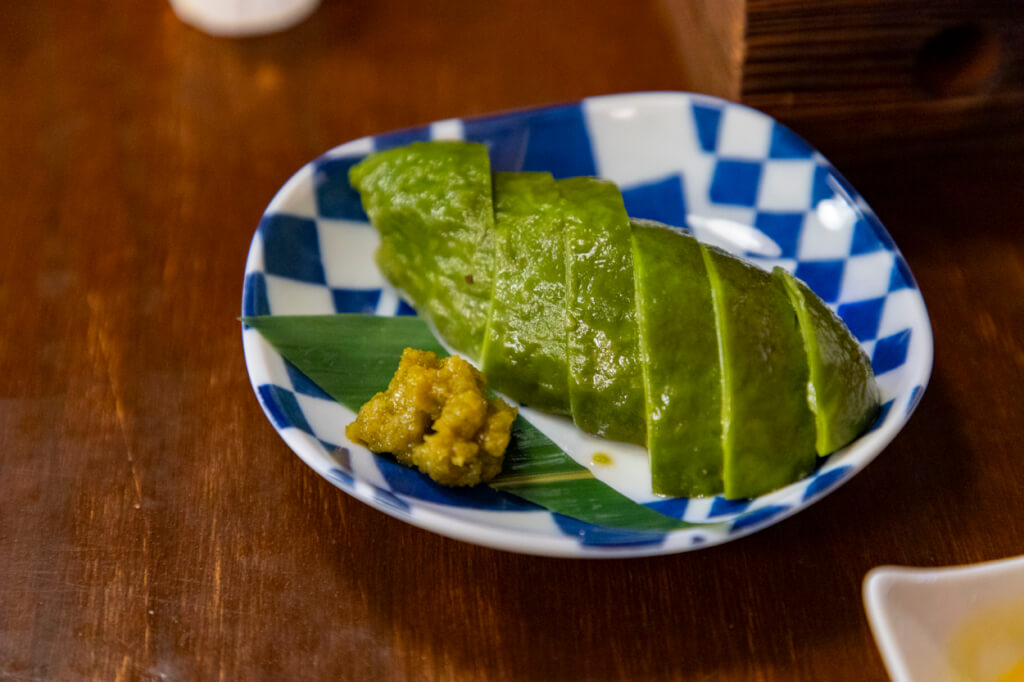 Seared Mentaiko
For the uninitiated, mentaiko is spicy pollack roe. Originally hailing from Korea, mentaiko is the spicy version of Japan's tarako. Both are delicious and are among our favorite foods. Here, they manage to lightly char the outside while keeping it entirely raw on the inside. It's served with a dollop of mayo that is entirely unnecessary.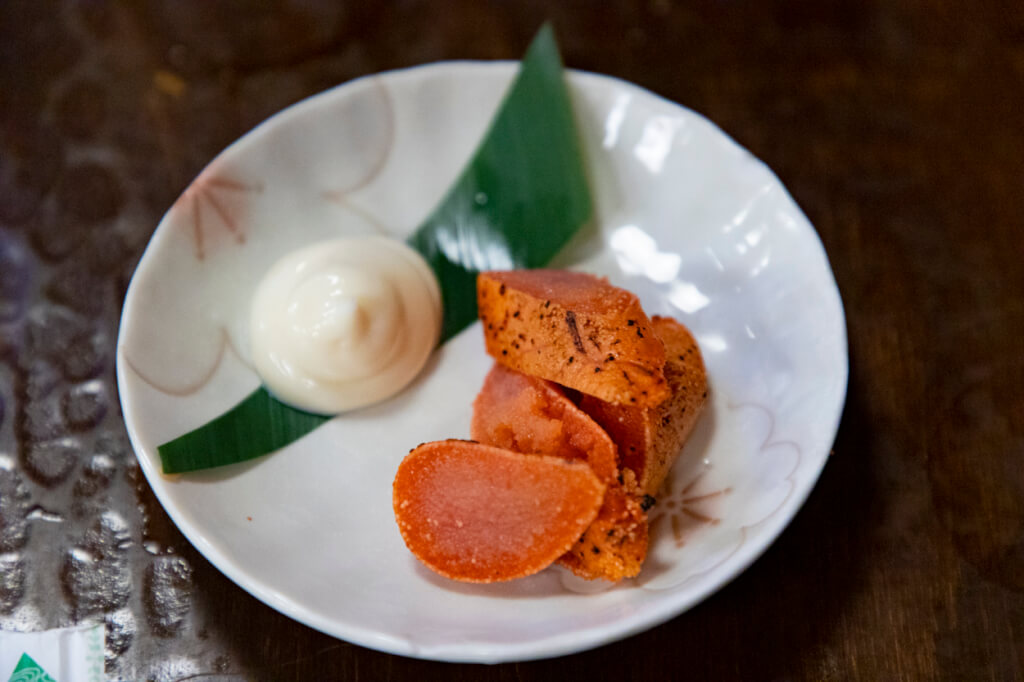 French Fries with Housemade Anchovy Butter
I like fries and I like anchovy butter. Together the two work fiendishly well. The anchovy butter adds a wallop of umami without being fishy and a good amount of salt. My one complaint is that, even without the butter, the fries are kind of soggy.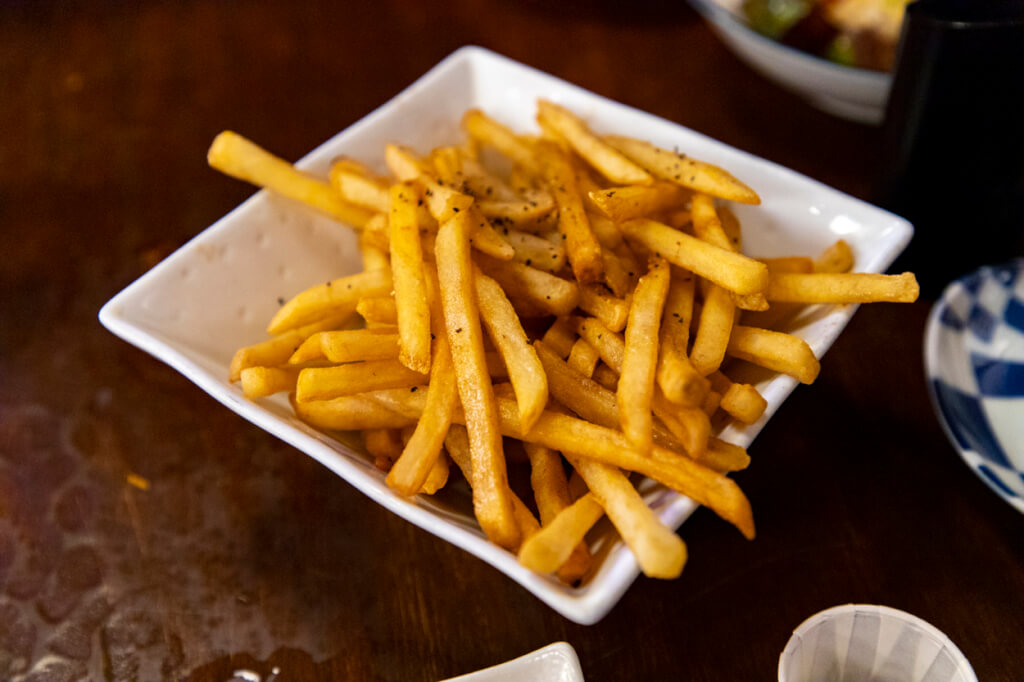 Premium U.S. Wagyu Skewer
A5 Miyazaki beef this is not. As such, don't expect the melt-in-your-mouth butteriness often associated with high BSM Japanese wagyu. Instead, expect something that splits the difference between the high-end Japanese stuff and a USDA Prime cut of steak. Cooked to a nice medium-rare/medium with an appropriate level of salt, these are good, yet hefty little bites.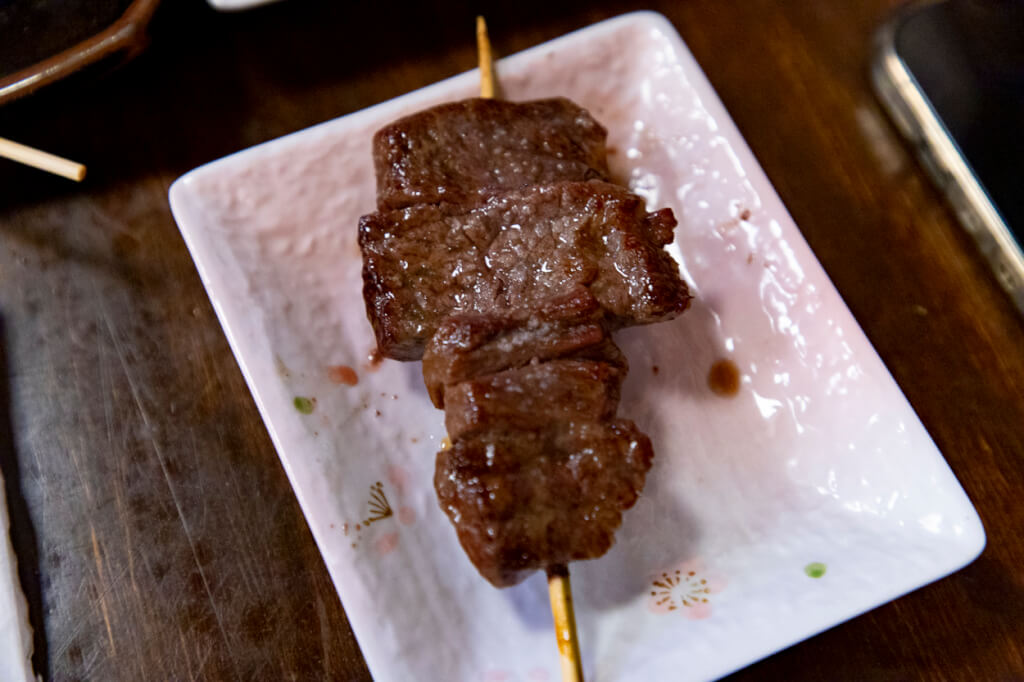 Yakitori + Other Skewers
As is usually the case, Tori Ton Hawaii gives you a choice of salt or sauce (tare) for your yakitori. I kind of lost track of how much I ordered of what, but I did order here's what I went with: tail with salt, tail with sauce, skin with salt, thigh + green onion with salt, thigh + green onion with sauce, wing with salt, and heart with sauce. I also got the pork-wrapped Japanese rice with egg yolk, pork-wrapped quail eggs, and a tako (octopus) skewer.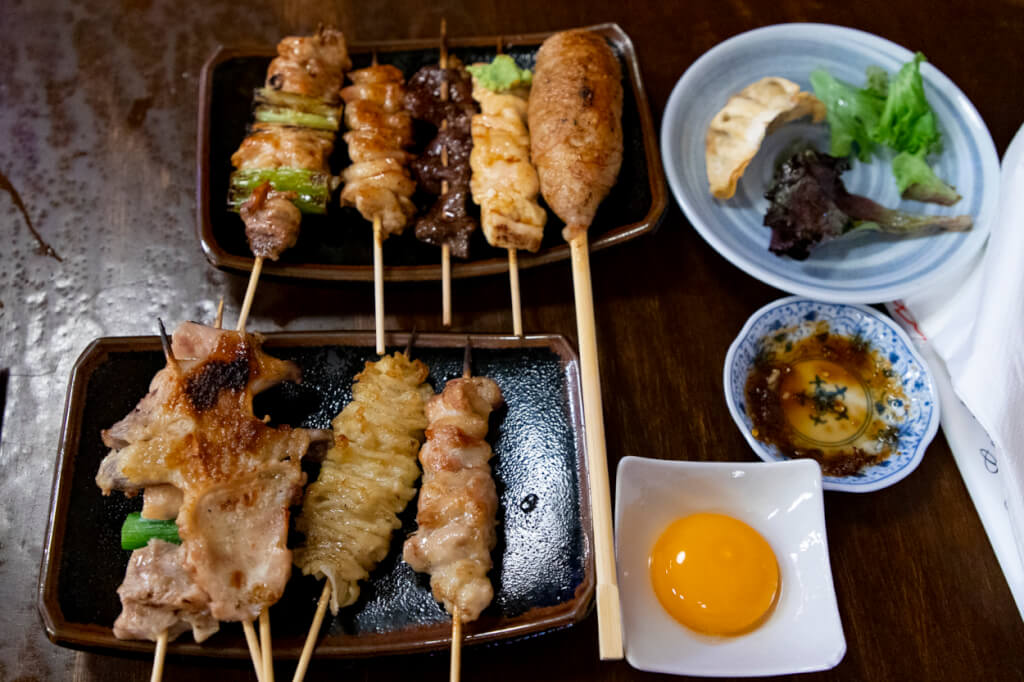 Mrs. Island Miler got mostly the same items as I, though she sauced everything and got the breast with wasabi and shishito peppers.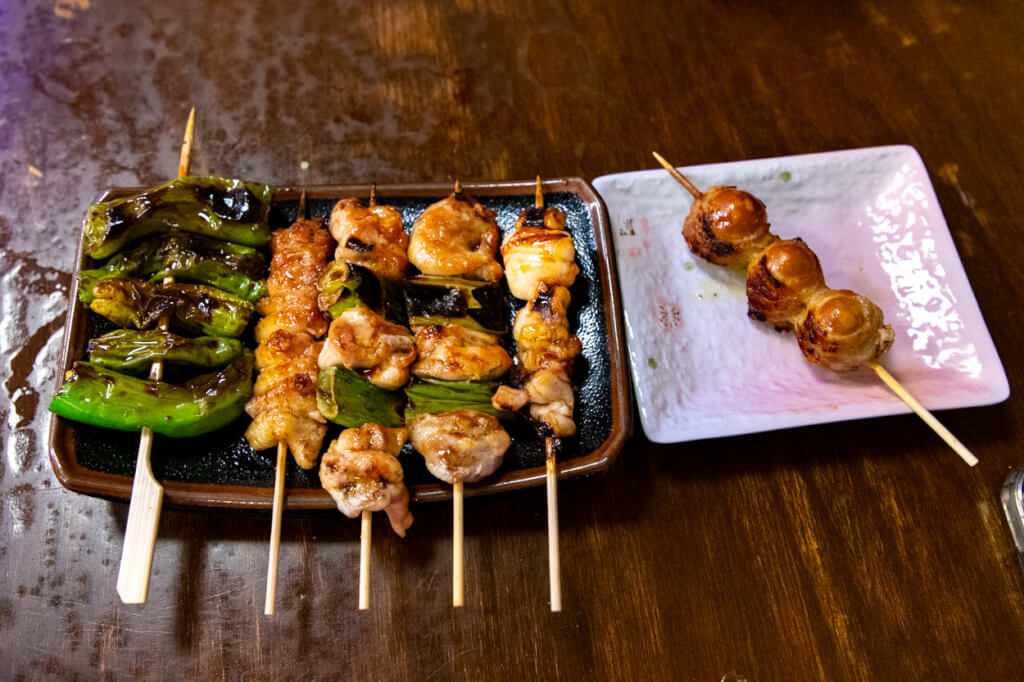 Everything was perfect. All of the chicken was nice and juicy while still being completely cooked. Even the quail eggs were perfectly hard-boiled, despite being recooked over the coals with the pork. The tako too was really, really tender.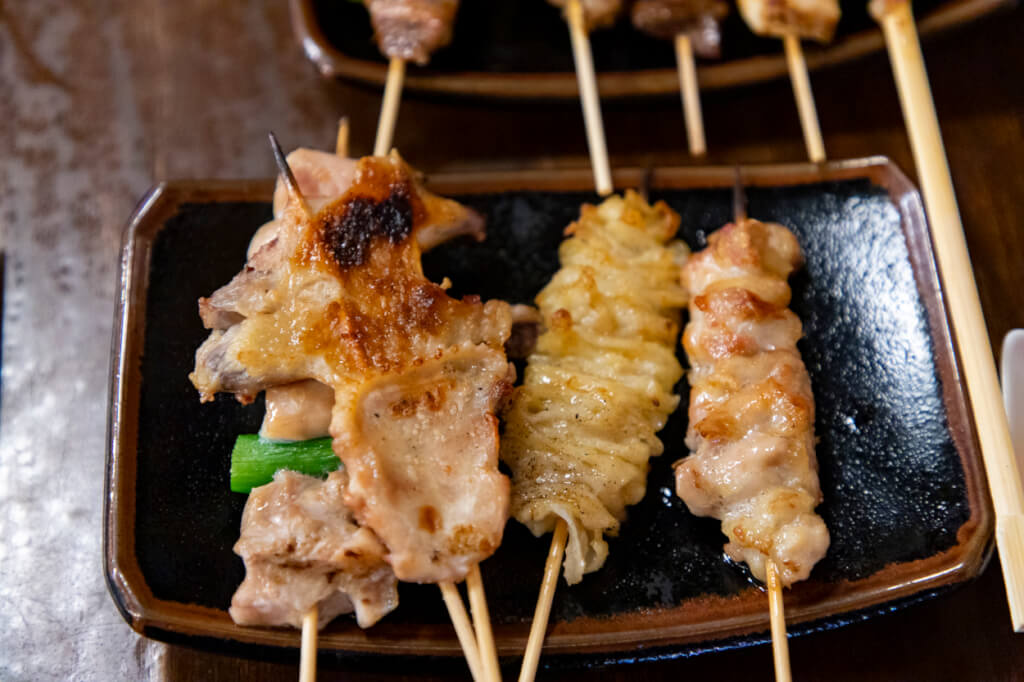 Of all the skewers we ordered, the tails, heart, quail eggs, and pork-wrapped rice were my favorites. Chicken tails, if you've never had them, are literally the tail. They're little nubs of meat, fat, and skin that are incredibly bad for you but are oh-so-delicious. Anthony Bourdain said he and his brother Chris would fight over the tail at family dinners. The heart is gloriously meaty, tender, and has no trace of irony flavors whatsoever.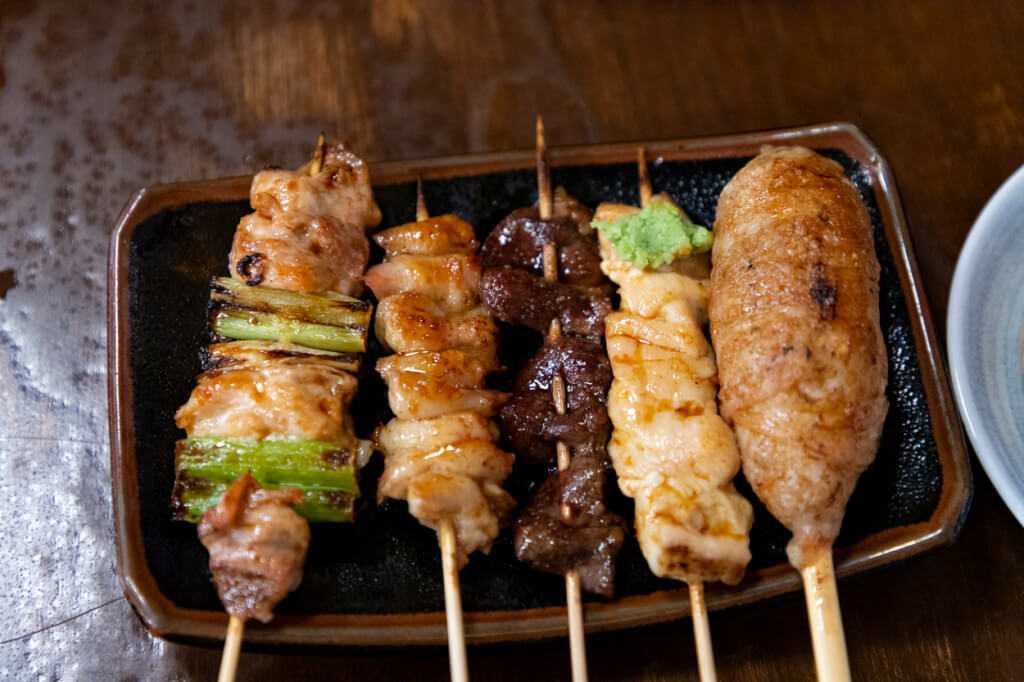 The quail eggs are something I hesitated to order. I've had them before in Japan, though I didn't like that version. These, I liked. Kissed with sauce, these deeply savory, slightly sweet, smokey, crispy, and creamy little morsels are divine. The pork-wrapped rice is also fantastic, especially with the rich egg yolk serving as a dip. How the hell they make this dish, I have no idea.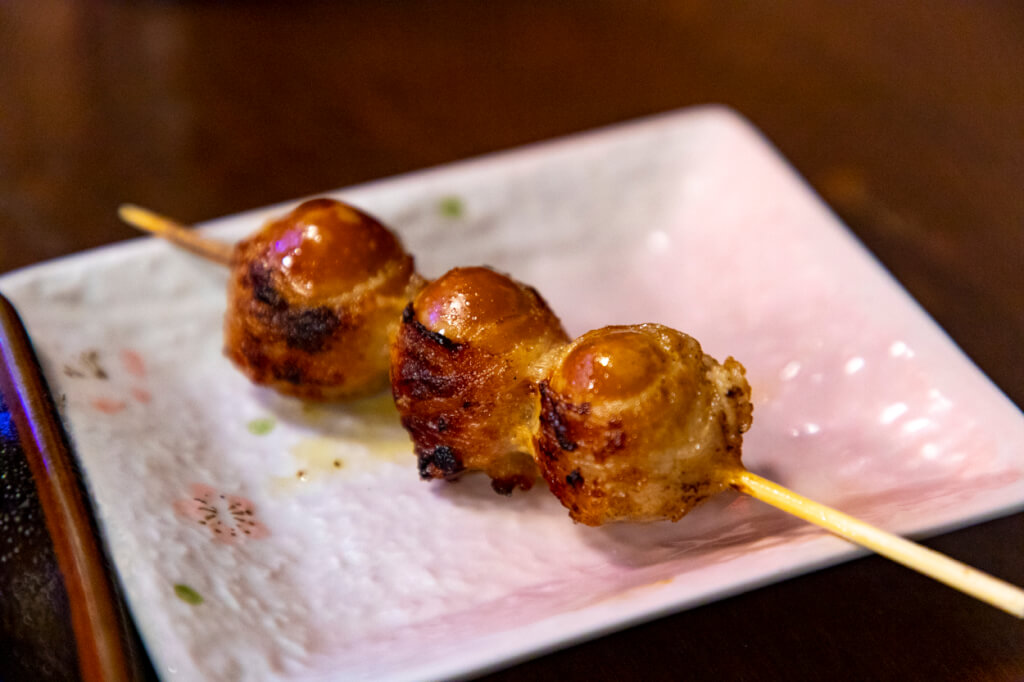 My one complaint is that the skin skewer wasn't crispy at all – it was more rubbery and chewy. The flavor was still good, though.
Tarako Kamameshi
Kamameshi isn't a dish you see often in Hawaii. It takes time to prepare, so few places do it. However, Tori Ton offers five different versions! For this visit, we went with the tarako because, why the hell not? It comes out in a little pot with a wood cover, a small pat of butter, and, in our case, a Mickey Mouse rice paddle. Inside, you get enough rice to fee two with tarako, aburage, and little pieces of gobo (burdock). The tarako perfumes the rice as it cooks, as does the other elements. It's a nicely balanced dish that retains the flavor – but no the saltiness – of the tarako and compliments our other dishes nicely. Be aware, however, that it takes 30 minutes for them to make any of their kamameshi. Donabes are even worse at about an hour.
Matcha Warabi Mochi
We closed out the night by splitting an order of matcha warabi mochi. It's a slightly different take of the classic, delicate Japanese confection, though replacing kinako with matcha powder in this preparation. It was a nice, light, bite to end the night.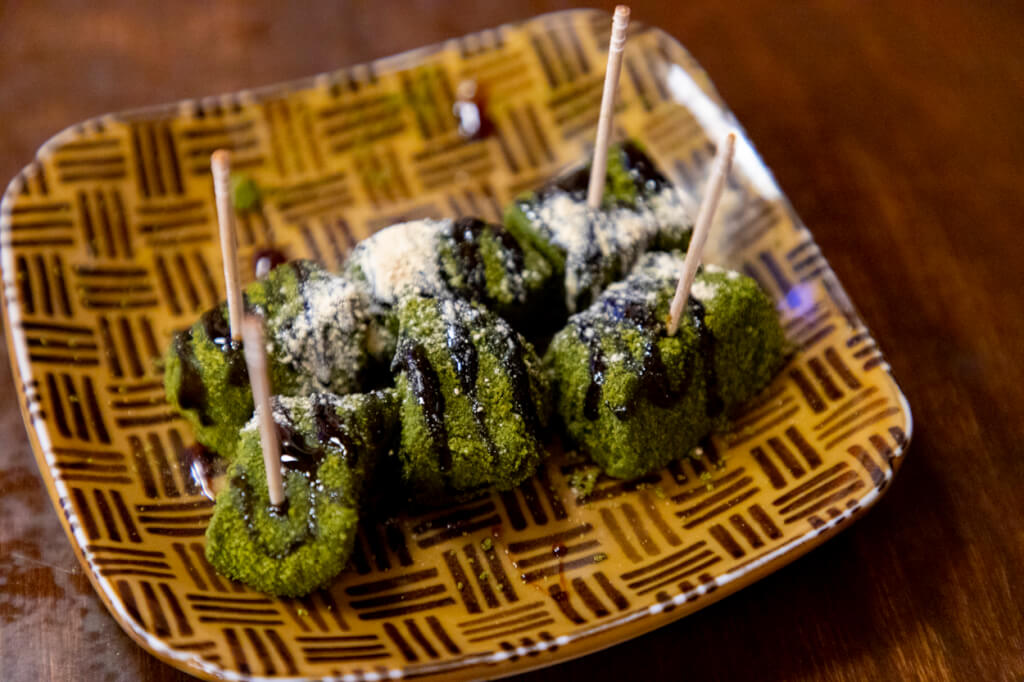 Final Thoughts
I knew this would be the case going in, but Tori Ton Hawaii is now my favorite yakitori spot in the islands. That's not to say the others are bad – I still like Torikyu and still want to try Ando, Hachibei, etc. However, Tori Ton is easily my go-to spot. Do keep in mind that you MUST have reservations. You can walk in if it's particularly slow, but that's rare – especially on weekends. Also, try to come on the earlier side. They do run out of items! In fact, they were out of a few items when we arrived at 7 pm and were out of nearly half the skewer menu about an hour and a half later.
Price-wise, Tori Ton is a good value. Our marathon of food ended up costing us around $100. Sure, that's not an inexpensive dinner, but we felt that we got an excellent value. Oh and, if you want a really quick bite and don't mind a smaller selection, check out their food truck Tori Ton Matsuri.