Several days after I declared my departure from the Hilton Honors program, I received an email from Hilton. They obviously must have read my break up post and wanted to make it up to me by setting the record straight about their proposed changes, right?
Obviously, the important message they wanted to send was that the 2013 Hilton Honors Devaluation was just an April fools joke played a little early to keep us on our toes.
I mean, I never officially got a message from Hilton that stated they were making the devaluation changes that have their loyal members up in arms, so surely it was just a dream or a sick joke, right?
Well, all hope of that being the case was thrown out the window last week when HIlton sent an email to their HHonors members, stating that they had "important changes" to their program. This couldn't be good.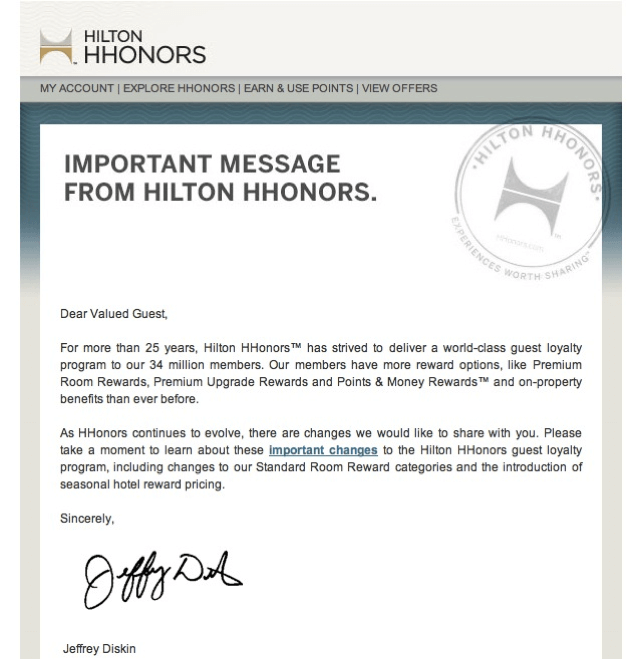 Sure enough, when you follow the link in the email, it confirms what I wrote in my previous post: Some HHonors redemptions have gone up 90% and the points are now worth much, much less.
Rather than beat a dead horse any further, I have decided to simply re-write the letter from Hilton in a much more realistic manner. Some of you enjoyed the way I did this in the previous Hilton post, so here it goes again!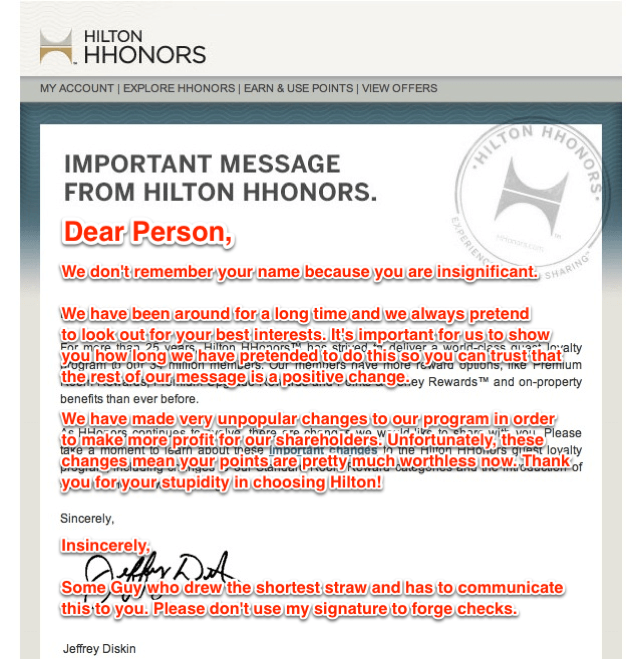 Maybe I am being overly harsh with Hilton for this change, but I think it is justified when you raise your prices 90%. It's unprecedented in this industry and most others that a sweeping change like this would be made without a backlash.
I must stress that my discontent is aimed at the corporate loyalty program managers and bean counters at HIlton and not at individual hotel properties. I understand that most individual properties are independently owned and that they are ultimately reimbursed by Hilton HHonors for rooms that are paid for using points. These hotels are likely to suffer just as much as loyal travelers will suffer due to the devaluation. They will be seeing many fewer guests from HHonors as a result of this change.
I can even empathize with the folks at Hilton a little bit with this change. If the Conrad in the Maldives is normally going for $900 in a night and we can redeem a free night with only 50,000 points (points that are worth on average $.006 each (6 tenths of a cent), they are paying ~$900 to the hotel using a currency with an exchange rate that provides only $300 in value.
With that said, raising rates to 90,000 points so they can salvage $540 on the night still likely puts them in the hole with that room redemption, so why not gradually make yourself more competitive with other programs? You can increase your rates annually by 20% indefinitely and most consumers will hardly notice the change.
Or, better yet, you can stop the devaluation of your currency by preventing overinflation of their value. Your points don't need to be with $.006 each! Hyatt and Starwood points were already nearly 4X as valuable as HHonors points, and the gap is now getting even wider.
For these reasons, I feel it is justified to continue to be critical of Hilton's HHonors program and the decisions they have made. They have entered a downward spiral that will be difficult to recover from in the near future.
If you are looking for even more perspective on the topic, here is a must read piece by Hack My Trip: Hilton Free Night Certificates Are Not More Valuable