Surprise! A new airport lounge opened in Honolulu the other day. However, unlike most other lounges at HNL, this is not an airline lounge, nor is it a contract lounge. So what is it, and how do you gain access to it? Let's discuss.
The Daniel K. Inouye International Airport is home to a surprising number of lounges. They include:
American Airlines Admiral's Club/Japan Airlines Sakura Lounge
China Airlines Dynasty Lounge
Four Seasons Resort Lanai Guest Lounge
Hawaiian Airlines Premier Club
Hawaiian Airlines Plumeria Club
HIS Lea Lea Lounge
IASS Lounge
Korean Air KAL Lounge
Qantas Business Lounge
United Club
Admittedly, none of these lounges is anything special save for the new ANA Lounge. I did, however, enjoy my visits to both the Delta Sky Club and Admiral's Club/Sakura Lounge. But aside from these two and the bleh Hawaiian Premier Club, I haven't visited any other lounges at HNL. True, there's the IASS Lounge and Hawaiian Plumeria Club that are part of Priority Pass. But, the IASS Lounge is garbage, and the Plumeria Club is rarely open when I fly out of HNL. So, yeah. And this new lounge isn't going to help at all with that. Why? Because it has the most in common with the Four Seasons Resort Lanai Guest Lounge.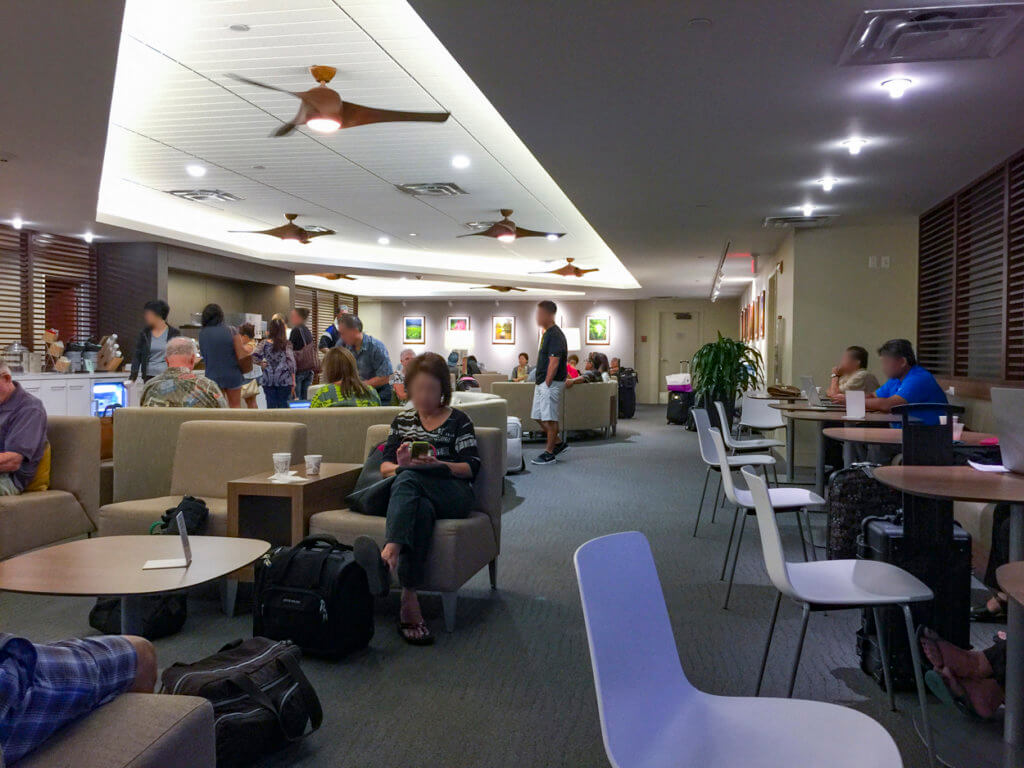 Four Seasons Resort Lanai Guest Lounge
For those of you not familiar with what was one of Honolulu's newest lounges, the Four Seasons Resort Lanai Guest Lounge is a lounge made available exclusively to guests of the two Four Seasons resorts on Lanai. This is a nice touch for these $1,000+ per night resorts as virtually all guests will be transiting through Honolulu. And it doesn't matter what airline you fly from Honolulu to Lanai; the lounge is still available for your use. What's more, aside from the usual services, the Four Seasons Resort Lanai Guest Lounge allows guests to check into their hotel room while there. So it's a really similar concept to resort lounges at Male Airport in the Maldives.
If you want to check out that lounge in more detail, check out Lucky's review from back in 2017.
Honolulu's Newest Airport Lounge
With that out of the way, would you like to guess the name and purpose of Honolulu's newest airport lounge? I'll give you a minute.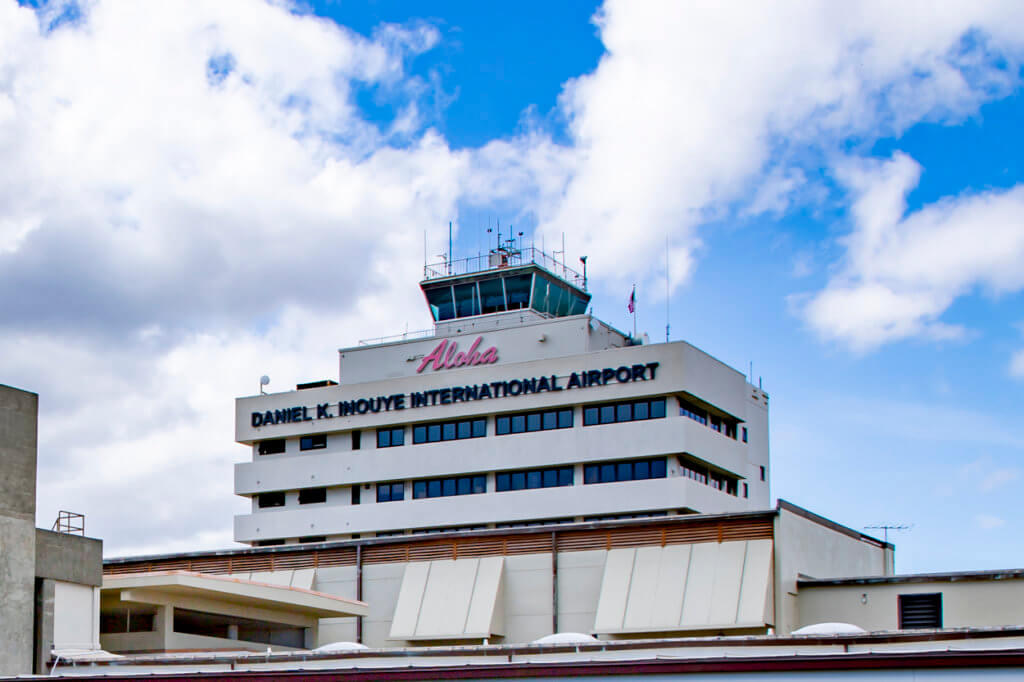 If you guessed that this new lounge is called the Ko Olina Club Lounge, then you're absolutely right!
Now, little information is provided about the lounge and its services. Ko Olina Resort states the lounge is available for resort guests to make travel more comfortable while also offering concierge services. Complimentary secured Wifi and charging points are also available in the lounge, while soft drinks can be purchased if you please. Oh and, don't expect any tarmac views here. Like the IASS lounge and a few other airline lounges at HNL, the Ko Olina Lounge is on the first floor of Terminal 2, which encircles the (lovely) Japanese Garden.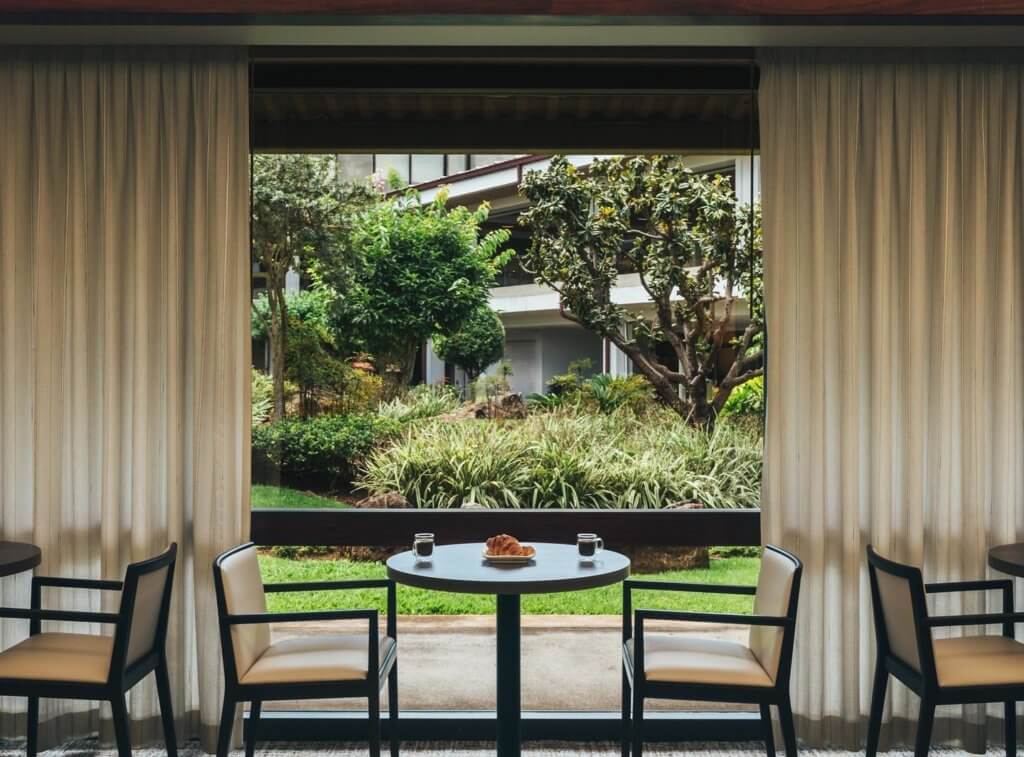 As far as access goes, the lounge is available exclusively to guests and (timeshare) owners with confirmed reservations at Aulani, a Disney Resort & Spa; Beach Villas at Ko Olina; Four Seasons Resort Oahu; or Marriott's Ko Olina Beach Club. Residents of Ko Olina Resort are not allowed access at this time.
The lounge is open daily from 11 am to 9 pm, which, unfortunately, doesn't really work for the plethora of late-night and early-morning flights out of Honolulu. You can, however, use it both upon arrival and prior to departure. However, you do have to make arrangements in advance to use the lounge by visiting koolinalounge.com.
And, at least for now, there is a party size limit thanks to COVID-19. Masks are also required at all times in the lounge unless actively eating or drinking.
A New Airport Lounge Opened in Honolulu, Final Thoughts
It's neat to see the growing diversity of lounges at HNL. This lounge, like so many of the others, though, is not one I picture myself using. Ever. There's one time back in 2015 I probably could have since we arrived back from Seattle and went straight to Aulani. But, that was a rare occurrence and we've since sold our ownership interest in Aulani. That said, this is a nice perk for off-island Ko Olina guests and it certainly looks like a nice place to be. I only hope that they'll add additional features post-pandemic.