As most of you have likely already heard, a new ANA lounge is coming to HNL.  The location of this lounge, though, is intriguing.  And based on current gate usage, I wonder how operations will change at the airport in the near future.
ANA is getting ready to commence its special Airbus A380 service (Flying Honu) to Hawaii next year.  And part this prep work includes prepping the airport facilities for the new aircraft type.  After all, Flying Honu will be the first such service for HNL, so no gates have three jet bridges at this time.  Now, though, we get a glimpse of ANA's plans for its A380 gate and new lounge at HNL.
Location
Flying Honu service will operate out of Gate C4 in Terminal 2, which was Gate 29 in the Ewa Concourse.  And while international flights do operate out of this area today, the primary users of this terminal at the moment are American, Alaska, and Hawaiian.  ANA and Japan Airlines primarily fly out of D and E Gates, which were known as the Central Concourse up until last week.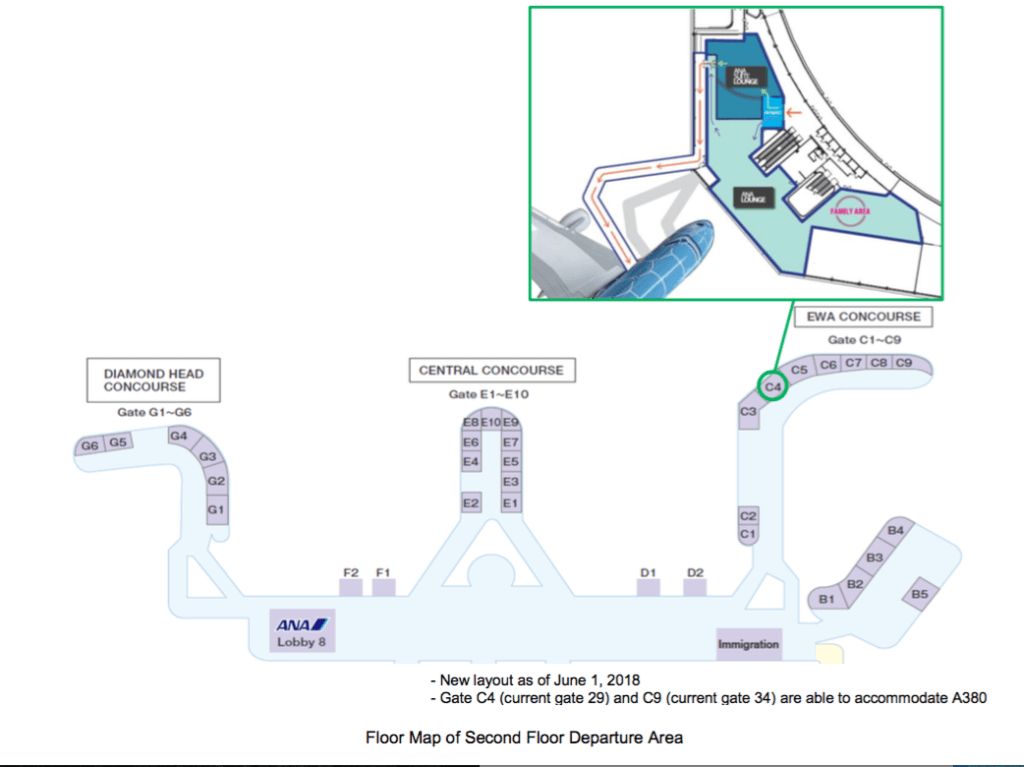 Gate areas at Honolulu aren't all that big, and a full flight on Hawaiian's A330-200s (278 passengers) already fill-up gate seating.  And, thus far, it doesn't seem like the State of Hawaii will be making any changes to the waiting area.  So it'll be interesting to see how the airline and airport will coupe with up to 383 economy passengers in the area.
Lounge
For those not flying economy, though, ANA will have a lounge experience somewhat similar to Emirates.  The new ANA Lounge at HNL will be on the level above the main terminal and will have its own jet bridge, as can be seen in the images above and below.

The lounge itself will be divided into three different sections: the family area, the ANA Suite Lounge, and the ANA Lounge.  The ANA Suite Lounge is the exclusive first class section of the lounge and is also available to Diamond Service members.  The ANA Lounge is available to the above, plus business class passengers, premium economy passengers, Platinum Service members, Super Flyer members, and Star Alliance Gold members.
The inspiration for the lounge design comes from both Hawaii and Japan.  The family area, for example, takes its inspiration from tide pools.  Likewise, the ANA Lounge will depict the sky, sea, and trees of Hawaii.  And it looks like the main lounge area will have excellent floor-to-ceiling windows with fantastic views of the apron.
New ANA Lounge is Coming to HNL, Final Thoughts
Though we're getting a clearer picture of ANA's Flying Honu service, many questions remain.  For example, it'll be interesting to see how HNL juggles gate assignments as a result of this change.  And, it'll be interesting to see how the airport handles the enormous capacity of these aircraft.  Perhaps the biggest question remains, though, how ANA will utilize all three A380s.  Even if they serve Honolulu only with the A380, just one will have more seats (520) than both of the Airlines 787-9 flights today (492).  So, I'd think operating two or three flights daily would be out of the question, especially on such a crowded route.  And there's no way any other airport in Hawaii could handle the whale.
2019 will be an interesting year for aviation in Hawaii.  There are more flights operating to the islands than ever before, and this trend will continue for the foreseeable future.  And while much of the attention is on Southwest's impact to travel between the Continental U.S. and Hawaii, travel between Japan and Hawaii will be just as interesting.  After all, we now have Hawaiian and JAL as codeshare partners, AirAsia X is increasing its frequencies, there's Scoot, and soon we'll have ANA's A380.