The past few days have been a flight booking bonanza for me and Mrs. Jeffsetter as we fill out our one-way neverending trip.
For those of you just reading this blog for the first time, here are our ground rules for full time travel:
The #1 rule of our trip is that we can only take one-way flights to our next destination.
The #2 rule of our trip is that we want to spend as little cash as possible on flights. That means burning more points than cash in certain instances. Our focus is less on value per point and more on value of cash saved.
The #3 rule of our trip is that if a flight is over 5 hours, we will fly business class. If it is less than that, we will fly economy. Of course, this rule is the most likely to be broken.
The #4 rule of our trip is that we need to average less than $100/night for lodging.
So far, these rules have gotten us booked to the following locations for $1,010 + 277,700 miles burned per person.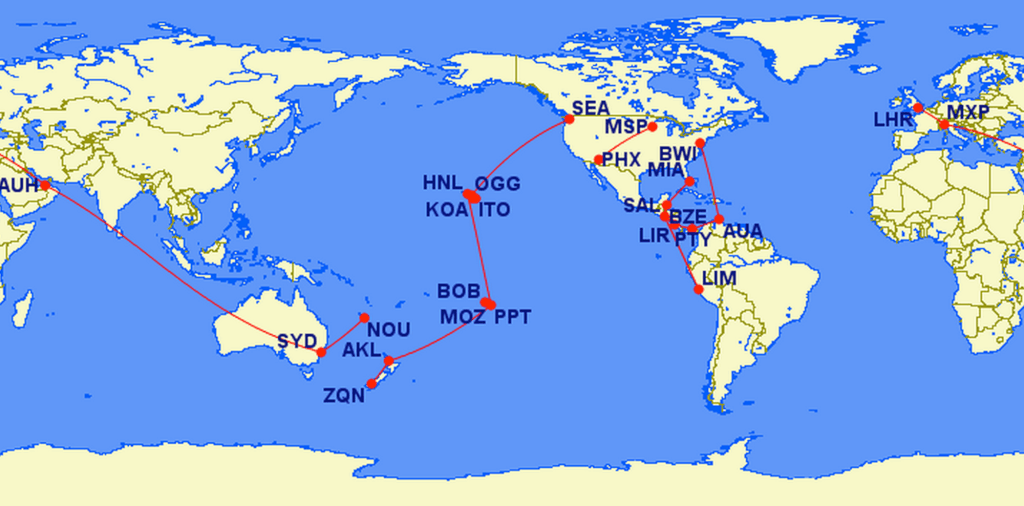 We just started this journey on July 5th of this year, and have travel scheduled through March 2016. Not every continuous flight segment we need has been booked, because our schedules are in the air or we are waiting for points to post. But that map gives a general idea of what we are dealing with.
Yesterday I booked the Latin Hopper from AUA-PTY-LIR-LIM-BZE for 20,000 United miles each. There might not be a better value in travel than 20,000 miles to visit 3 destinations + overnight in Panama City. Fees will vary for a latin hopper, but ours were $134.06/each, which will be reimbursed by BarclayCard. So basically for free, we have booked flights and destinations for December, January and February on the same ticket. More on this in a future post.
Should I use AAdvantage Miles or British Airways Avios for my Next Flight?
Today I am looking to book a flight from Belize City to Florida to visit my parents in March. This will be our first visit to Belize, so I started with Wikipedia to find the only direct flight from Belize to Florida is to Miami International on American. Wikipedia is my favorite travel "tool" when it comes to researching new airports.
As far as I can tell, there are two direct flights from BZE-MIA on American Airlines each day. Nearly every day these flights are available as saver awards.
Pricing this out on the site, it is 15,000 per person for a one-way flight +$35 in charges. As AAdvantage personal credit cardholders, we would also get a 10% rebate on points used.

This is actually quite reasonable on all fronts. Especially when compared to the cash price.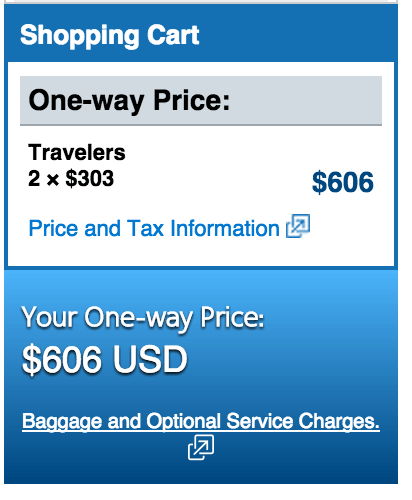 We could spend $35 + 13,500 points (after rebate) instead of $303 per person, for a value of 2 cents per point. Not as great as redeeming American miles for premium classes on long-haul flights, but we are generally taking shorter flights to get to our destinations.
This would be a perfectly acceptable redemption, but there is an even better option. Even for our cost conscious needs.
British Airways Avios for half the miles and only $21.50 more/person
It has been known for years that using British Airways Avios on short-haul flights is a great deal with their distance based award chart. This is especially true for economy tickets (business and first class are far less useful after the devaluation).
Searching for the same dates on British Airways brings up the same flight options.
Only this time, it is 7,500 Avios + $56.50 per person.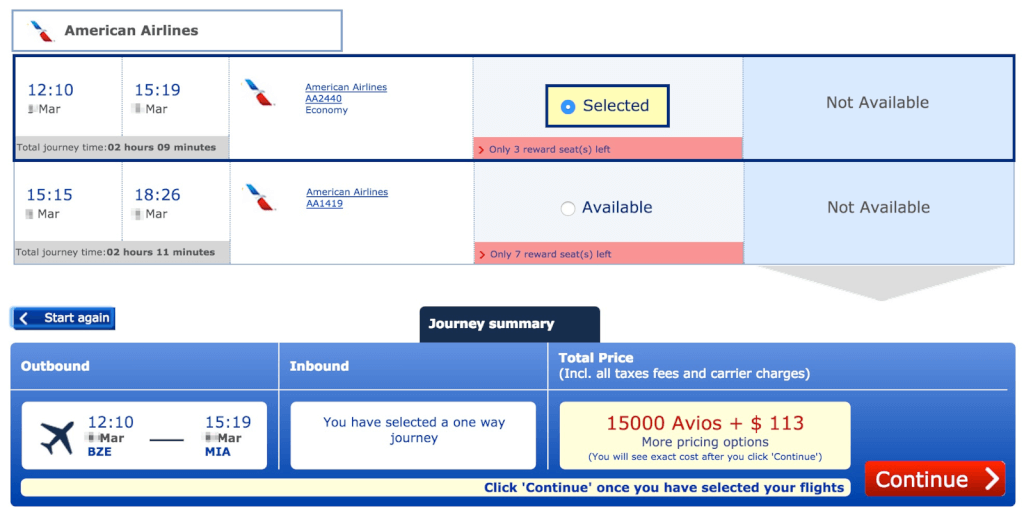 Basically it is only ~$20 more for a flight and half of the miles required.
Even better, I can transfer to British Airways from my American Express Membership Rewards account, which has a healthy balance right now. This would be a valuable redemption at 3.3 cents per point PLUS I get to keep my American miles for long-haul premium class flights, where they are most valuable.
Another Option: Citi ThankYou Points with Prestige Card
I suppose there is another option, for those looking to earn miles on the flight. You can use your Citi ThankYou points to book the flight as a revenue ticket on American. With the Prestige card, you get 1.6 cents per point with American/US Airways. If you truly value elite status, then this would be an option. It would also make the flight completely free.
Since I do not have the Citi Prestige card at the moment nor status with American, I did not consider this option for my own travel. In all but the most specific scenarios, I would not consider this option, even if I had the card.
Saving cash is important, but only when it's in significant amounts
Our one-way neverending trip includes so many destinations, yet costs very little cash. In order to make this work, there were times where I chose to save cash over getting the highest point redemption value.
One example is flights to Bora Bora. Air Tahiti is the only airline flying to this destination, and there are no transfer partners.
The best point options are using ThankYou Points or Chase Ultimate Rewards to pay for the ticket at 1.25 cents per point value (or 1.33 if you have the Prestige card).
Conventional wisdom says that this is not the best redemption of these miles. We could get 1.8 cents per point or higher on other redemptions.
While I agree that I did not maximize point value, I have no regrets on using the points here. As I wrote about two weeks ago, I would much rather have $450 in my pocket than 36,000 ThankYou Points.
Continuing with bad redemptions, my worst redemption is kind of embarrassing. We used 7,500 membership rewards points from Mrs. Jeffsetter's work Amex (that was tied to corporate overlords who closed it when she quit) + $5.60 to book a $78 domestic flight in Hawaii.
At less than 1 cent per point, I wish I could take that one back. But then again, we saved quite a bit of cash for points we were going to lose!
The lesson here: Weigh your options and create your own rules
There are good uses of points and bad uses of points for air travel. The only real bad uses are when you book something without comparing at least two options.
Much like getting a quote from a contractor on your house or bargaining in a South African bazaar, you should never just accept the first offer thrown at you. You should gather information and understand your options. The hobby This game is all about getting the first opinion (i.e. the cash price of a flight) and then shopping around for a better offer.
My process often looks like this:
Open wikipedia to see what airlines fly into your airport of choice, and the cities serviced
Think about what alliances serve that airport
Think about what points you have available for that alliance, both in your mileage account or in a transferrable currency like bank points or SPG points. Feel free to include points you are earning in the near future in your calculation
See if your points will actually be enough to get you a flight between your destinations
Figure out the "all in" points + cash expense of the award flight you hope to take
Search for the cash value of a flight on Google Flights or airline website
Do a comparison of how much you value the cash vs. how much you value the points
Attempt to book the award flight, understanding the rules for:

Checked baggage fees
Change fees
Refunds
Other policies that may affect you

Book the flight and throw it into TripIt
Start daydreaming about this awesome destination, even as you sit in your current awesome destination (I am writing this from Maui).
Do it again!
That process should be a blog post in itself.
Completing this case study
For 95% of all travelers, Avios is the best choice. Why?
It is easier to transfer/earn points into Avios than it is to the AAdvantage Program due to the number of transfer partners available
It costs half as many Avios to book the flight
The cash difference is only $21.50/person, which won't break the bank for most people
The flying experience ends up being the same in the end for a 2 hour economy flight
ThankYou Points would be a good option if you need the elite miles to reach status or simply want to earn miles from the flight. But it's not the best value.
Like this type of post?
Hope you enjoyed this look into my booking process. If you noticed a flaw in the logic, please do let me know.