For our final jump home, Mrs. Island Miler and I took a more traditional Alaska flight aboard Alaska Airlines 893 SEA-HNL in Premium Class. It was also our first encounter with Alaska's post-merger catering.
Given the distance from our departure gate at the North Satellite, we left the Centurion Lounge Seattle about an hour before the 5:13 pm scheduled boarding time. After all, we had to walk back to D Gates and jump on a tram to the North Satellite. Besides, I wanted to catch some photos of the airport and the amazing sunset happening that evening.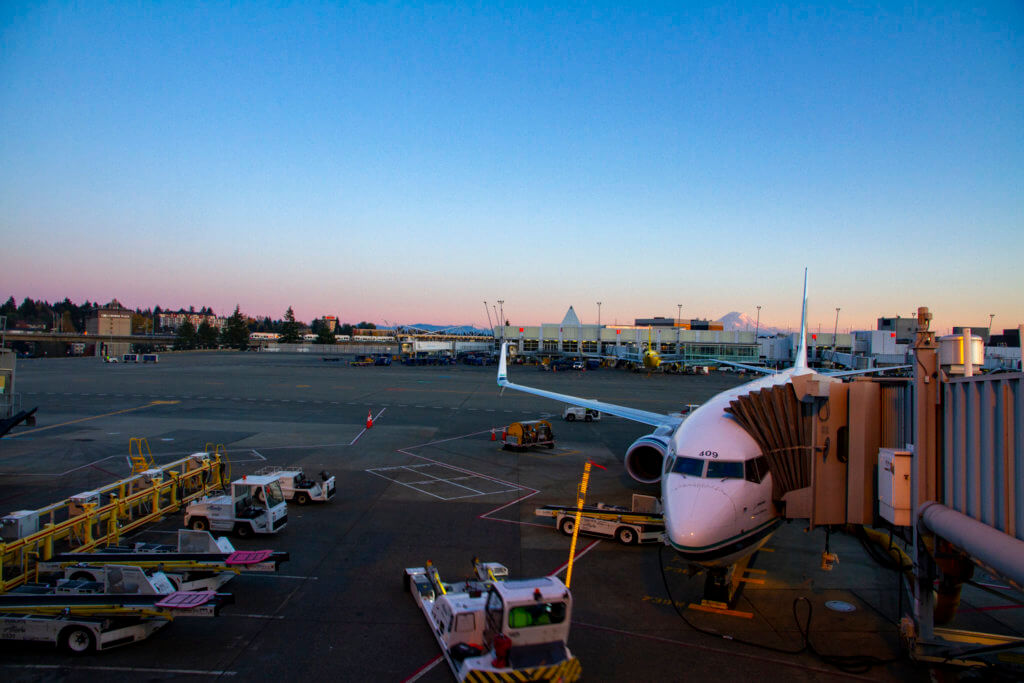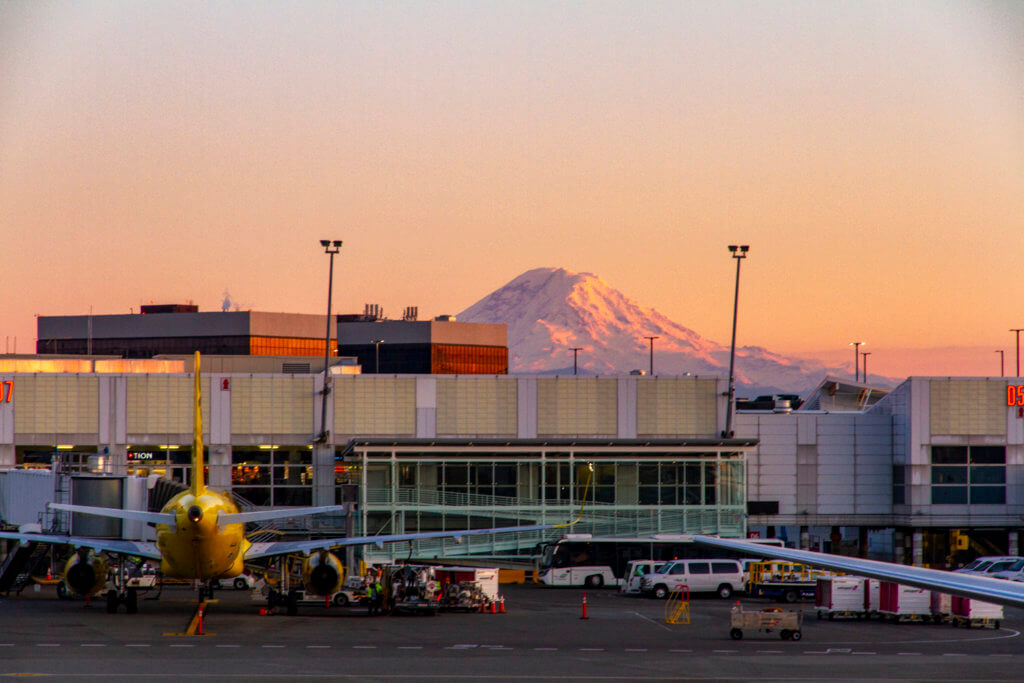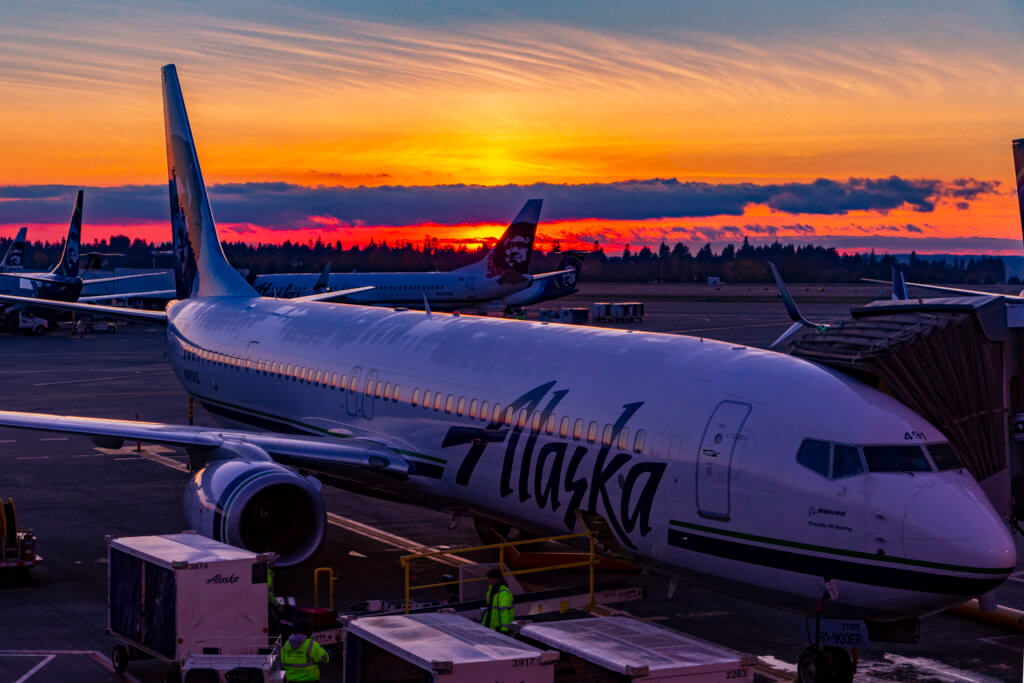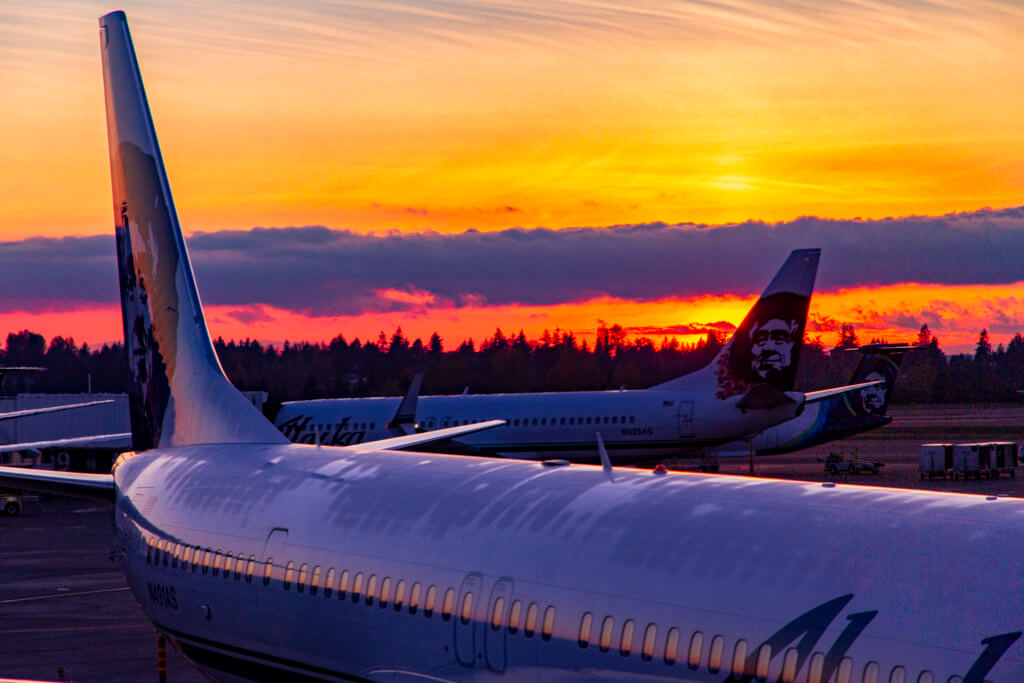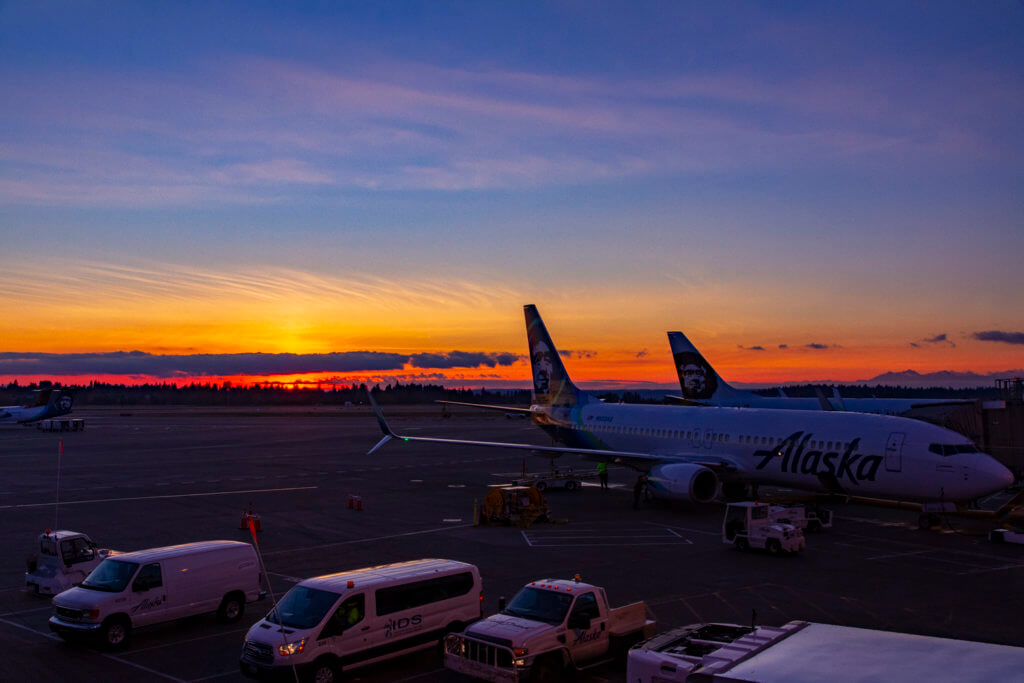 Boarding + Departure
On that evening, the aircraft operating our flight was N536AS, the Russell Wilson jet, arriving at our gate at 4:45 pm.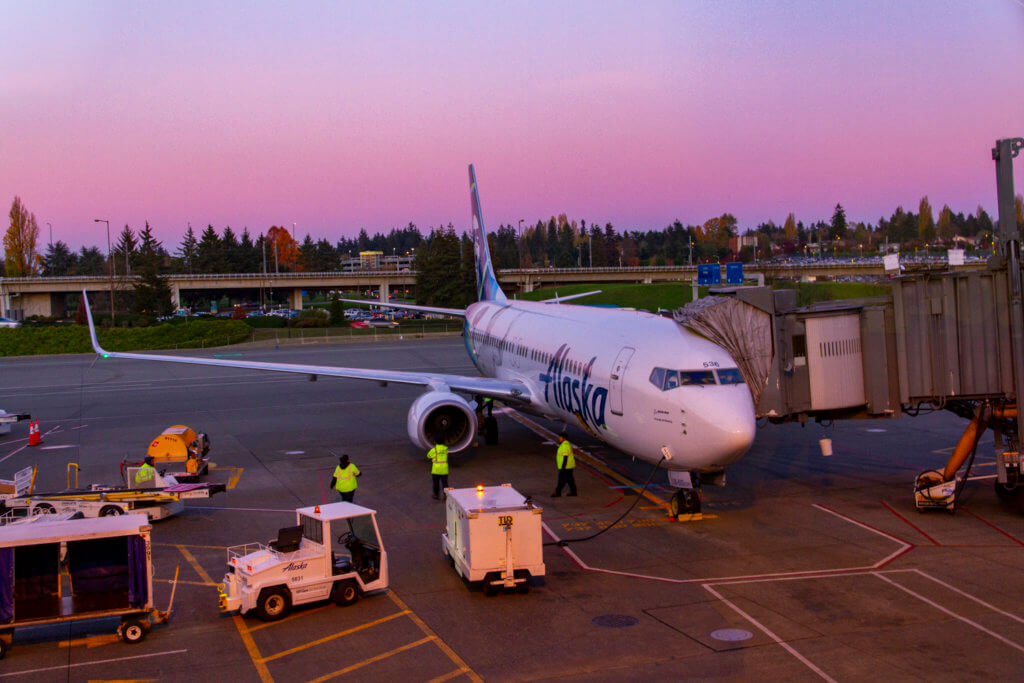 Uncharacteristically for Alaska Airlines, our boarding time came and went due to a maintenance issue. Then, at 5:23 pm, pre-boarding began, followed soon after with first class at 5:27 pm. The call for Group A came at 5:28 pm, with our boarding group at 5:29 pm.
Our particular jet had a newer interior, and as a result, has reserved overhead bin space for Premium Class passengers. And, somewhat surprisingly, passengers generally complied with this restriction.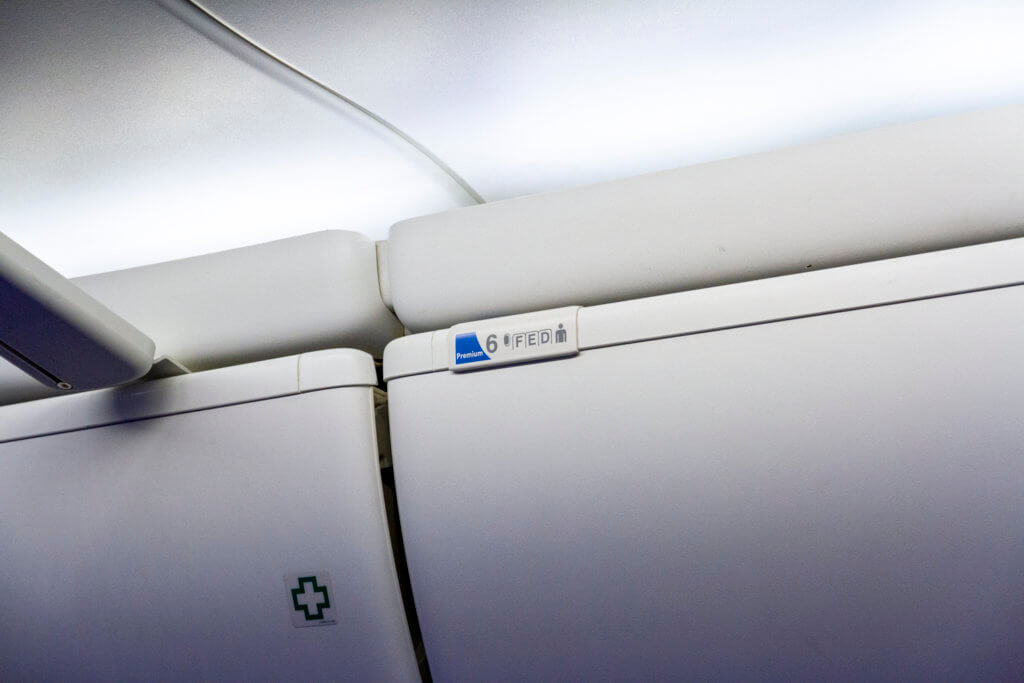 Boarding wrapped up in just under 30 minutes at 5:51 pm, two minutes before our scheduled departure time.
At 6:01 pm, we pushed back from our gate eight minutes behind schedule. An estimated flight time of 5 hours and 56 minutes, though, should get us into Honolulu on-time. And after a short, 15-minute taxi, we began our takeoff roll at 6:16 pm.
Service
We passed 10,000 ft quickly, and just seven minutes after departure, flight attendants came through the cabin offering water. That was followed shortly after by entertainment rentals 15 minutes later, and our first full service at 6:55 pm. What was interesting about this flight, though, was that full WiFi was available free of charge while we were in range. But, let's face it, that doesn't last long on these flights.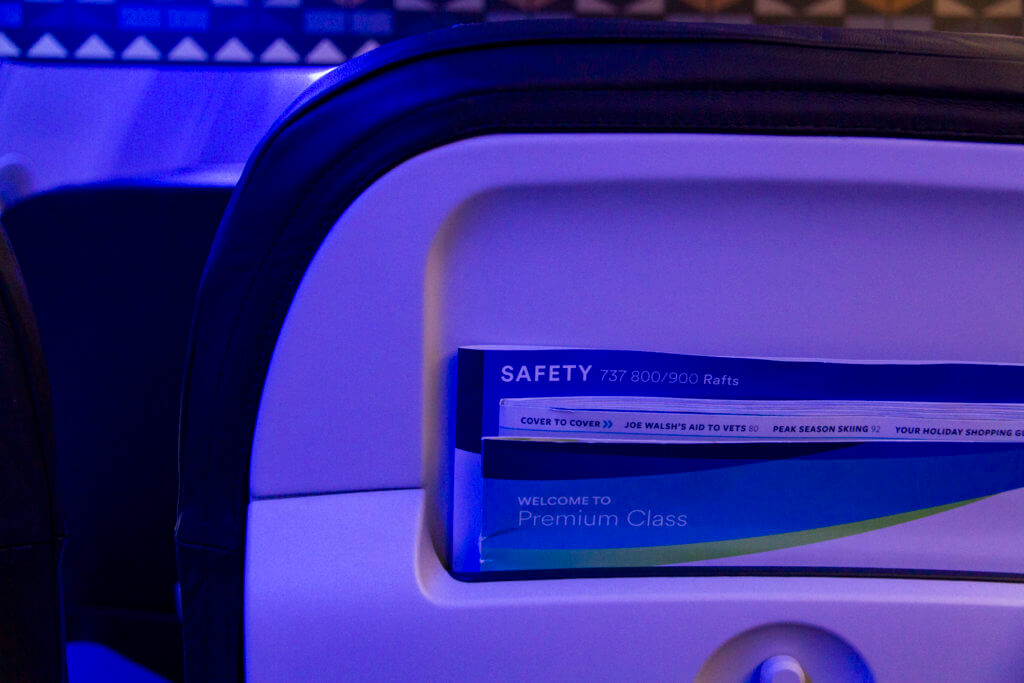 For our return flight, I reserved a Turkey Artichoke Baguette and West Coast Cobb Salad for us. At $9.50 each, these items aren't cheap, but they're are pretty damn good. I've certainly had worse on the ground!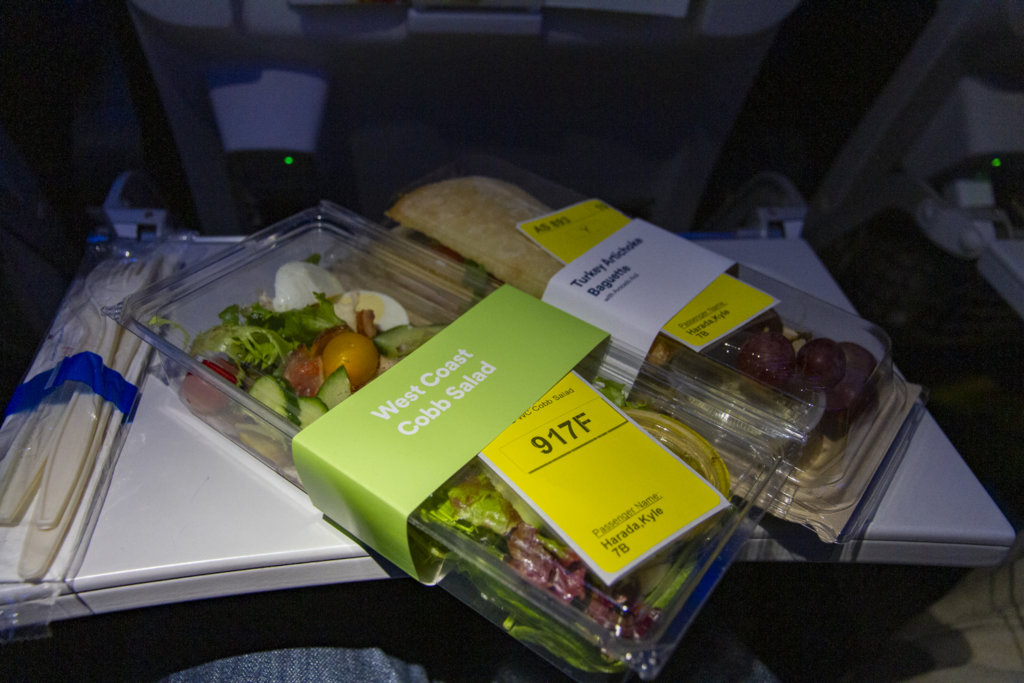 Because I'm such a lucky guy, Mrs. Island Miler split both items with me so we could try them ourselves. As you can see below, the Turkey Artichoke Baguette is a pretty basic sandwich. But, there's a generous portion of turkey cold cuts and cheese inside, along with tomatoes, arugula, and a side of artichoke aioli. And while it's not warm like Hawaiian's version, it tastes better and is more substantial.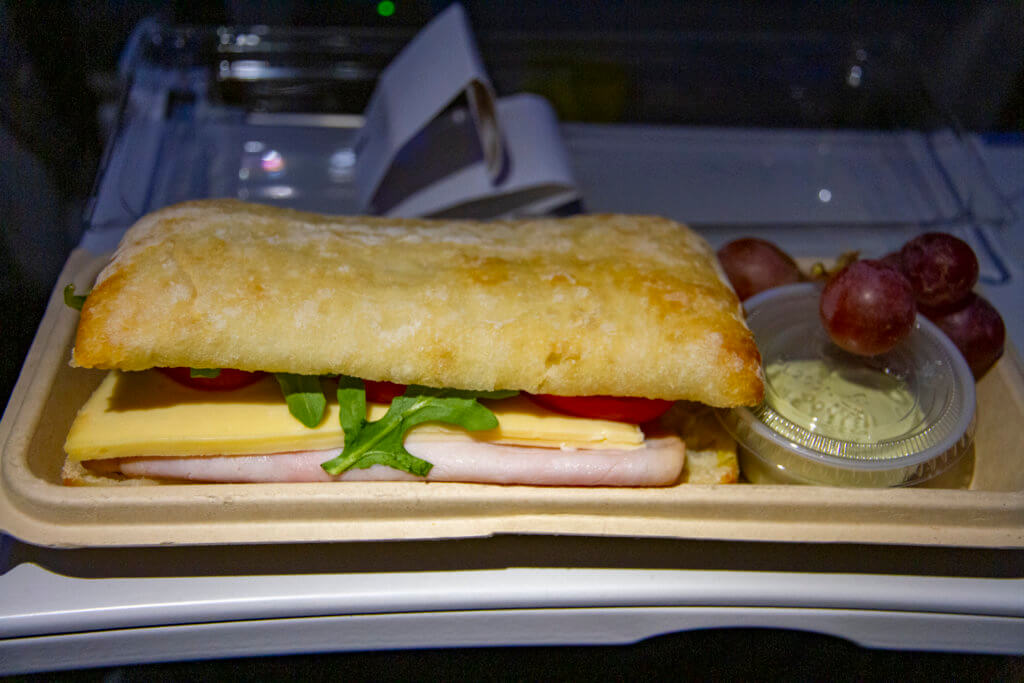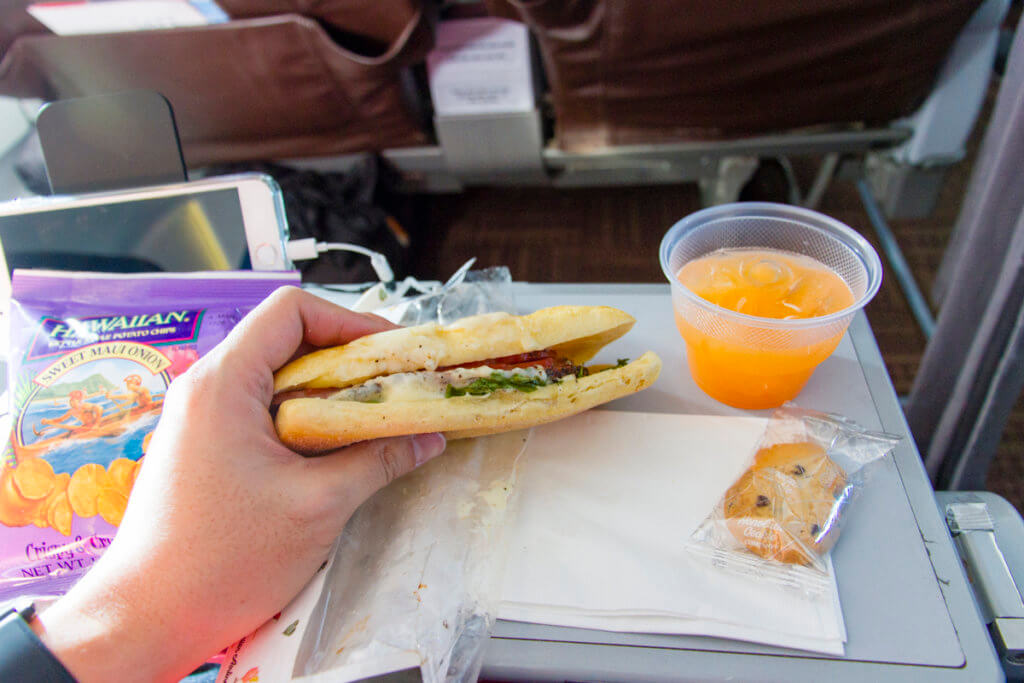 The real winner here, though, is the West Coast Cobb Salad. It's a filling mix of spring mix, cucumbers, tomatoes, hard boiled eggs, and crispy bacon with a citrusy vinaigrette.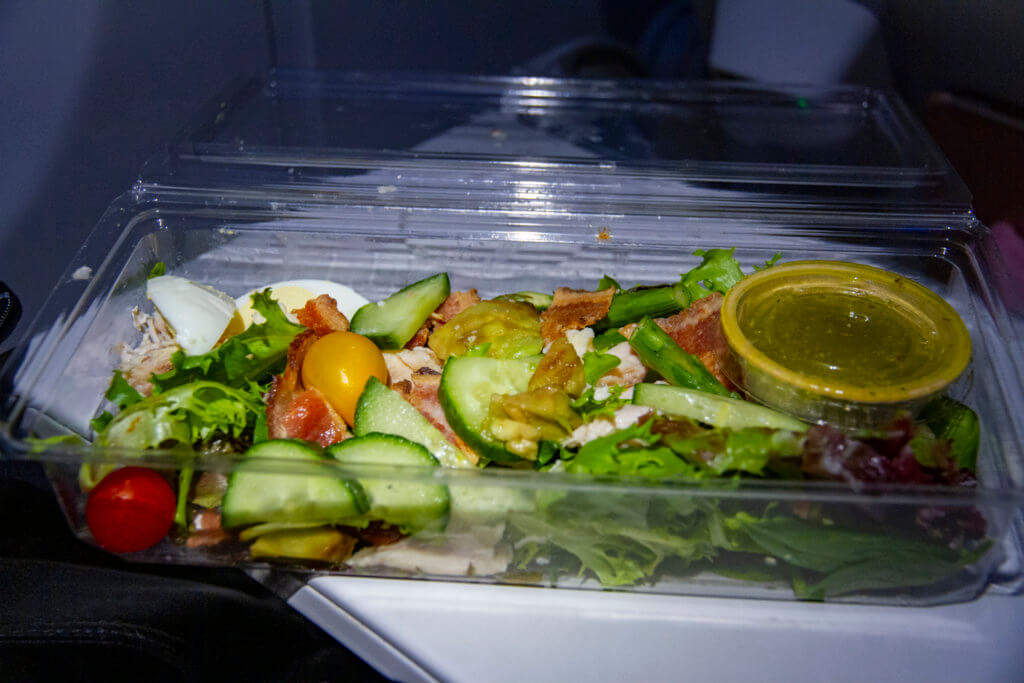 The rest of our flight was pretty uneventful. Being later in the year, we did experience mild to moderate chop from the midway point on. Then, about an hour and twenty minutes before landing, the crew came around to do their final beverage service.
Arrival
At 9:53 pm HST, we began our initial descent into Honolulu. Then, at 10:18 pm we touched down at HNL, arriving at our gate six minutes later. That's one minute ahead of our scheduled 10:25 pm arrival time, even though we left Seattle eight minutes behind schedule.
Alaska Airlines 893 SEA-HNL Premium Class, Final Thoughts
Our final flight for 2018 was certainly a good one. And while I'm not happy about Alaska going from hot to cold food onboard, I can understand why they made the change. Even better, I'm satisfied with their offerings. The initial menu shown above was good stuff. How the current dinner menu is, though, I'm not sure. Doesn't really seem like my kind of thing. The current breakfast menu is good, though, but more on that later.
A Gourmet Adventure Through Northern California
Alaska Airlines 893 SEA-HNL Premium Class