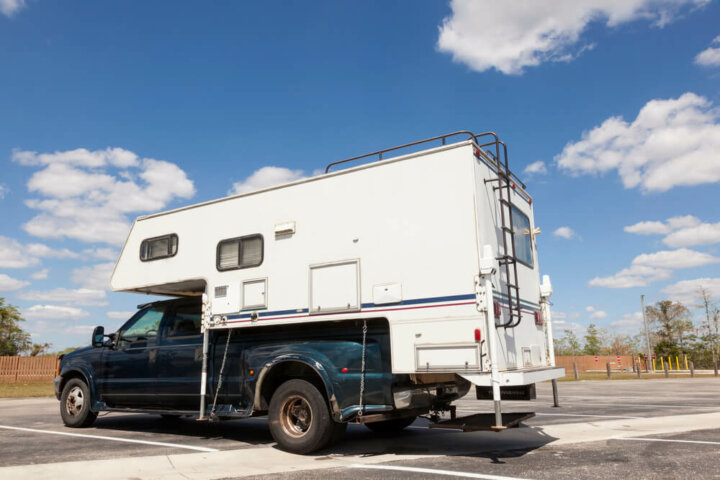 All of our reviews are based on exhaustive research, industry experience and whenever possible, hands-on testing. When you make a purchase using one of our chosen links we'll get a small percentage of the proceeds. This supports the site and keeps Jeffsetter running. You can read more here.
There are plenty of reasons to get a camper shell installed on your truck bed. It's more secure, it can act as a camper, and it changes the overall look of your vehicle.
There are also plenty of reasons why you might want your shell removed from time to time. You might need to haul something that won't fit in your truck bed with the shell installed or you've gotten tired of the SUV look and want to go back to having a pickup look.
But if you've never done this before you are probably asking yourself:
Are camper shells easy to remove?
Camper shells are easy to remove if the shell is removable. You can detach the shell alone by using rails to support the weight of it, but it's easier to do with one or two people helping you. After removing your camper shell it's important to store it if you plan on eventually reinstalling it.
This article will help you understand how to remove your camper shell with and without help. It will also help you think through any modifications you might make to your shell if you want it to be removed and how to store it if you do choose to take it off.
Are Camper Shells Permanent?
Many camper shells are not permanent. They are after-market add-ons that can be removed. However, some shells might require drilling into the rails of your truck bed at the time of installation, which can make them more difficult to remove. That being said, some extra tools and elbow grease should still get the job done.
A camper shell might not be removable if you have made modifications to it. In previous articles, we've discussed how to insulate your camper shell, and the process includes some modifications that might make removing your shell a bit more difficult.
That's why it's important to keep in mind how you want to utilize your camper shell before making any changes to its interior or exterior. If you need a more versatile vehicle than can still be a pickup truck, you don't want to make changes that will make it impossible to remove your camper shell.
Removing your camper shell is typically a two-person job, but with proper preparation and safety precautions, it can be done alone.
The removal process will be dependent on the manufacturer of your camper shell, and you should consult an owner's manual for instructions in addition to the steps laid out in this article.
Some camper shells are installed with screws and others with adhesives. If your camper shell is installed with adhesives, you might not be able to remove it without damaging the shell or possibly your truck.
Before purchasing your camper shell, make sure that you know if you'll need to remove it often or if you would like it to remain on your vehicle until you choose to buy a new one or sell it. There are some manufacturers that will recommend you install your camper shell only once and leave it and others who made removal and reinstallation as easy as possible. Doing your research will help you end up with one that works for you.
How To Remove a Camper Shell
While camper shells are not universal, they are typically very heavy, weighing in at a couple of hundred pounds. That's why you'll want a buddy to help you out with the removal process. Having assistance with removal makes the process easier and safer for everyone. Not only do you not want to cause damage to your truck or the camper shell, but you also don't want to cause damage to yourself.
Following the steps below should help you successfully remove your camper shell. It's a relatively easy process, but the weight and size of the shell can make it tricky. If you aren't confident in your ability to remove the shell, you can contact a professional and have this done for you.
That being said, if you are going to need your shell to be removed and reinstalled regularly, then you might want to save yourself some money and learn how to do this process yourself.
I'll go over modifications for how to remove a camper shell alone later in this article. Generally, I would recommend having two or three people involved in this process. A camper shell can weigh upwards of 200 pounds depending on its size and the material it is made out of, so lifting it alone is not going to be possible for most people.
You should have a rack or storage solution ready for where you plan to put your camper shell once it's removed unless your plan is to just store it on the ground. Additionally, you should wear gloves and take safety precautions while removing the shell, this could mean you wear safety glasses as well, a hard hat, or steel-toed shoes. All of these things can prevent injury if something goes wrong.
Disconnect the Wiring
There will be wiring going to your third brake light. To access it, open the rear cap window and the tailgate of the truck. Most of the time, this connection will be in a plug form and it should be very easy to remove. If there is no plug, then you will need to use wire cutters to disconnect the wires from your truck.
Removing the Clamps
The camper shell is likely attached to your truck bed with clamps. You will want to remove all of these clamps in order to detach the camper shell. It's also possible that your camper shell is attached to your truck bed with hooks, screws, or another device.
However it is attached, you will want to unhook the hooks or unscrew the screws, etc., in order for the camper shell to be taken off. This is where it might be useful to consult your owner's manual. There should be instructions in there about how your camper shell is installed.
Lift the Camper Shell
This is where having friends will come in handy. You and your buddies will have to lift the camper shell from the back of your truck bed and carry it to the racks or wherever you plan to store your camper shell.
An alternative method to removing the camper shell that requires assistance would be to use a kind of pully system. If you can back under a beam in a garage or a strong branch, you can hoist the camper shell off of the truck bed. Once hoisted, you can simply drive the truck out from underneath the shell.
If you use this method, please make sure the beam, branch, and/or rope you are using is strong enough to handle the weight of your camper shell.
How To Remove a Camper Shell Alone
If you are planning on removing your camper shell alone, you'll need to follow the steps above to detach the camper shell, but modify the lifting or pully system part of the process.
Your storage racks will be necessary for this to work. Racks are a pair of sawhorses that are placed at the same height as your pickup slides. With these, you can safely remove your camper shell by yourself. You will also need a pair of two-by-four cross bases or a couple of long wooden rods.
Starting with your tailgate up and you in your truck bed, you'll want to slowly lift the camper shell off of the rails. You might have to be crouched down for quite a bit, so make sure your knees can handle it. Start by lifting the part of the shell that is towards the front of the truck.
At the front of the truck, lifting the camper shell let it slant towards the back. Use a wooden stick to provide support and make sure everything is sturdy.
Slide the first cross base or rod at the elevated part of the camper shell. It should not actually touch the camper shell.
Once this is done, place your racks on either side. Place your cross brace on the racks and drop the camper shell slowly. The rack should be holding all of the weight of the front of the camper shell.
Using the same technique, you'll need to lift the back of the camper shell now. The support needs to be at the back this time around.
Your camper shell should not be resting towards the front and the back should be elevated. Side the second brace on the racks and then remove the support that is holding the back of the camper shell. The rack should now be supporting the full weight of the camper shell.
At this point, the camper shell should not be on your vehicle at all and should be resting on the racks. The final step is to get in your truck and slowly drive it forwards, leaving your camper shell steadily on the racks.
Before starting this process, make sure that your racks are tall enough that you will be able to safely drive your vehicle out from underneath them without any problems.
The video below will show you how this process is done.
How to Replace the Camper Shell?
To replace your camper shell after removing it, you essentially follow these steps in reverse. Be prepared for installation to take a bit longer than removal since you need to make sure you get all the connections in the right place.
Make sure your camper shell is secure before trying to drive your vehicle after reattaching it. Take extra care to ensure the third brake light is hooked up and working before taking it back on the road.
Should You Store Your Camper Shell?
If you plan on reusing or even selling your camper shell, then you will want to make sure to store it properly after removal.
Camper shells are not small items, so you'll need to make sure you have a designated space for them to be stored like a garage, shed, or even barn. You can purchase storage solutions or build them relatively easily at home.
Storage racks are probably the most common method of storing your camper shell safely. They are typically made of wood and should be about 3 feet off of the ground to keep your camper shell away from any critters or flooding that might occur while the shell is in storage.
You might also want to use a cover to keep it extra safe while in storage.
Conclusion
Most camper shells can be removed, but there are some out there that are made to be permanent. Make sure you know what kind you have before attempting to remove it.
Removing a camper shell is a relatively simple process as long as you consult the owner's manual and take your time while doing it. It's easier to manage if you have one or two people helping you out, but not impossible to do alone.
Making sure to store your shell properly is important to keep it in good condition if you plan on reusing it again in the future.