Last updated on June 23rd, 2023 at 08:57 am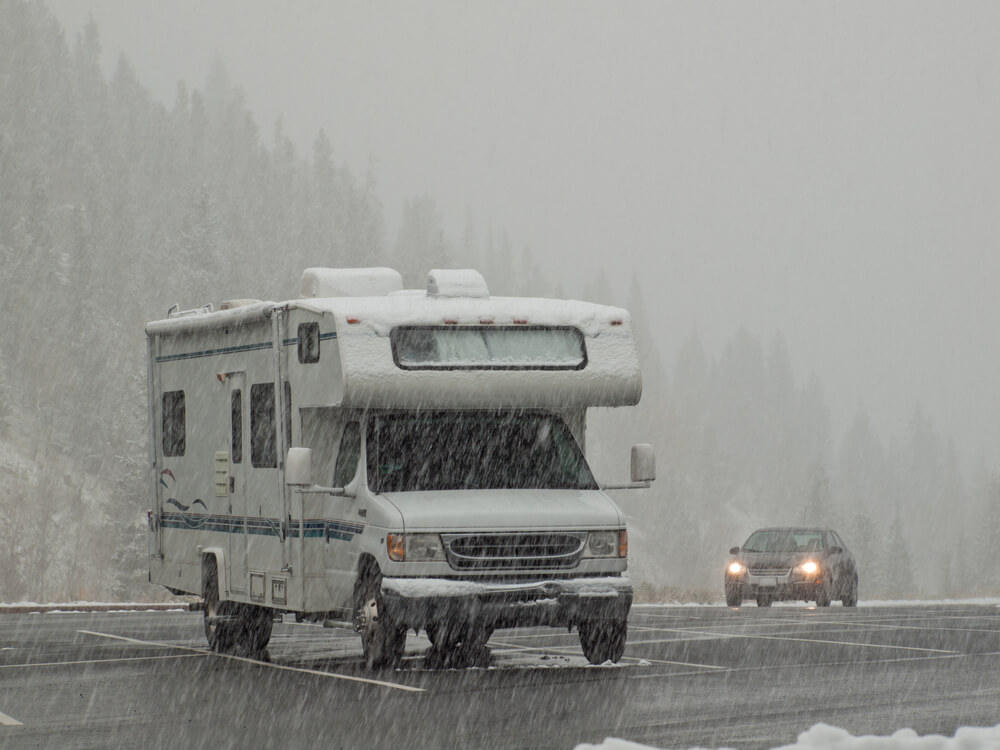 All of our reviews are based on exhaustive research, industry experience, and whenever possible, hands-on testing. When you make a purchase using one of our chosen links we'll receive a small percentage of the proceeds. This supports the site and keeps Jeffsetter running. You can read more here.
You've had another great outdoor season with your RV but now it's too cold to be camping anywhere.
Time to put it away for next time the weather's nice, but where is it best stored? Should your RV be covered once winter weather settles in?
Just like most things in the RV community, covering your RV is a hotly debated topic.
So, should you cover your RV in Winter?
Using an RV cover is an ideal way to give your RV better protection during winter and summer. It's essential to use an RV cover in winter that's suitable for your rig, as a cover that's ill-fitting may allow moisture or pests to enter your RV, leading to damage you'll have to fix come spring!
But not all covers are created equal, and there are many tips and tricks out there from long-time RV owners and full-timers. Let's take a look at some of the clever things you can do to protect your RV from the winter chill and weather!
Should You Cover Your RV In Winter?
Covering your RV in winter can be very beneficial, especially if you're used to hailing, snow, ice, and all the madness harsh winter weather can bring! There are many different types of RV covers available, and depending on your winter climate, different covers may be more suitable than others.
You may be wondering what covers will work best for your rig. No matter what type of RV you have- Class A, B, or C, travel trailer, fifth wheel, etc.- there's a cover for it! However, there are different types of covers and options depending on your needs as well as your budget.
RV covers are typically made from polyester, polypropylene, acrylic, or polyethylene materials. It's best to purchase a cover that fits your RV perfectly and is suited to the climate where your rig is leveled and stored during certain times of the year such as winter.
What Are The Pros and Cons Of Covering An RV In Winter?
Like everything in life, there's usually an upside and a downside, and the topic of covering your RV in winter is no exception. There are a few pros and cons for RV covers, and it's best to explore them all before making a final decision and purchasing a cover for your rig.
Pro: Seals, RV Paint, And Decals Are Protected
It's no secret RVs aren't the most aesthetically pleasing creation, but nothing beats an RV for delving off into the wilderness and having everything you need on board like a bathroom, lounge, kitchen, and bedroom. Painting an RV and personalizing it with decals is a great way to bring some personality and add some of your own creativity to your home on wheels!
However, the weather can play havoc with paint, decals, and also seals throughout an RV if it's not sufficiently covered. Therefore, keeping your rig hidden away from UV rays, ice, hail, and wind, can help prevent all of your hard work painting the rig from going to waste!
Pro: Moisture Is Kept At Bay
Oh, mold. You cause so many issues in RVs! Mold, mildew, and bacteria thrive in warm, moist environments, so it's best to try and keep your rig as dry as possible. It's simple to get rid of a little patch of mold if it hasn't penetrated through materials or spread throughout an RV, but large patches can lead to some serious issues. RV covers help keep moisture at bay by sealing the rig so any rain or snow outside can't make its way in.
Pro: Additional Security
It's a sad fact that RVs are often broken into, therefore, I like to take extra security measures where I can to help prevent a break-in from ever happening in my rig. When storing an RV on the roadside and not in a garage or locked facility, you'll want to make sure it's locked and protected from potential thieves. An RV cover can act as a useful deterrent, as many of them completely seal the RV and cannot be accessed without removing the entire cover, successfully acting as an additional barrier of security.
Con: Repeated Friction May Cause Minor Damage
As I mentioned earlier on, RV covers have sometimes been known to cause damage to RVs, however, a correctly fitting cover, made of durable, high-quality materials shouldn't damage your rig. A common way scratches and marks appear on RVs after they've been covered all winter long is repeated friction from certain parts of the cover rubbing on the rig in the wind. This can be avoided by ensuring the cover fits your rig super well, so none of it gets whipped around in the wind.
Con: Poorly Fitting Covers Won't Work Effectively
We've all been there. You look around online for a product to purchase for your camper, and you order something blind, only to find when it arrives that it doesn't work for your rig. Well, RV covers are the same. Buying a cover that's too small for your rig will leave areas uncovered and unprotected from winter weather conditions.
Similarly, purchasing an RV cover that's too big can also cause some issues. It will likely be very baggy in areas and could get blown around on particularly windy days, leading to dents and scratches.
Con: Some Covers May Be Difficult To Install
Installing an RV cover can be a nightmare, I've had to phone the cavalry to give me a hand in the past! Even with equipment such as step ladders and poles, RV covers can be an absolute task to install, and since installation is key, it's imperative to get it right, as talked about in the video below:
Once you've measured your RV, purchased the best-fitting RV cover for your rig, and are ready to cover it up for winter, I'd advise getting some friends or family members to give you a hand! Safety is paramount, so invite some loved ones over and have an RV-covering bash!
What To Consider When Buying An RV Cover?
Another big consideration for what to cover your RV with has to be your local weather. Winter weather is why we cover our RVs, but what weather you have to contend with will influence what type of cover you need. The top weather considerations for you to think about when shopping for a cover include:
Rainfall

Snowfall

Hail

High winds
I recently put together a list of my favorite RV covers, specifically for winter. So if you're leaning towards a cover this winter, you can see my favorites by clicking here.
UV Rays
You may have never considered covering your RV if you live in a mostly dry climate in the wintertime. Likewise, if the sun is shining for you most of the winter, why cover your RV? After all, these rigs are made to be outside, and some of them are made for all four seasons or other extreme temperatures!
You'd be surprised at the many benefits that come from covering your RV in the wintertime, similar to covering your rig in the summer. UV rays can be incredibly damaging to your exterior paint, they can dry out your sealants, and your tires can suffer the most from UV rays.
Getting a UV-resistant cover can be incredibly beneficial for your RV, even if you only get covers for your tires. Those of you who live at higher elevations know the risks of sun damage and UV rays better than others. Chances are, you also battle snow every winter if you live in the higher-elevation mountains!
Snow and Ice
Snow and ice are the trickiest parts of winter for most people. RVers who live in snowy climates know this better than most. In fact, snow and ice have been known to weigh down RV roofs enough to permanently dent them!
So what is the best solution when it comes to storing your rig in very snowy climates? A breathable fabric cover may do just fine, but many RV owners who can afford to do so opt for a metal roof bay to keep their RV in, or another sort of covered garage or storage area.
Having a roof over your RV but not directly resting on it is the best way to go. No damage will come to your RV, and you won't have to worry about snow resting atop it all season long!
However, dedicated RV bays and other covered buildings may not be in your budget or your building codes may not allow it. While it may be the best chance of protecting your RV, a breathable cover will still do the job better than nothing!
Rain
If you happen to live where it simply rains and perhaps hails on occasion, any number of fabric covers will work just fine for you. But having something that encourages the evaporation of moisture is important. Hence the need to look at breathable covers; these are designed to do just this. Your RV roof can get mold and mildew damage quickly, especially if you reside in a particularly rainy place!
There are some tips and tricks further down in this article that may assist you when it comes to storing your RV under a cover in damp environments. However, there's no better alternative to a totally covered garage or bay when it comes to rainy or snowy conditions.
Breathable covers are the most popular choice for RV owners and come in a variety of sizes and weights. Since covers are taking the brunt of Mother Nature for you instead of passing it onto your RV, they are not designed to last forever. While a metal or otherwise permanent RV bay will stand the test of time, fabric RV covers usually have a lifespan of 2-4 years.
This is something to consider if you are worried about elemental damage to your RV. Is it worth it to pay the RV fabric cover price every few years ($300-$800), or do you have the space and budget for a more permanent structure? It all depends on your needs!
Do RV Covers Cause Damage?
The ultimate argument against RV covers is the idea that RV covers can actually cause damage to your RV. But is this strictly true? If purchasing a fabric RV cover, keep in mind that you usually get what you pay for. Skimping on an RV cover can sometimes do more harm than good!
Cheaper RV covers are notorious for damaging the exterior of your RV if not designed well. Cheaper covers don't often take high winds into account, as well as being made of weaker, nonbreathable fabrics. These covers are known for ripping, scratching exteriors, and even creating mold and algae underneath, promoting growth both inside and outside your RV!
Tarps are an easy and cheap purchase to make if there's a huge storm and your rig's roof starts leaking. However, most tarps are not ideal to use in the long run, as their durability is suspect as well as most likely to damage your rig. Tarps are often made with metal grommets as well as made with moisture-trapping plastic material. Tarps are the number one cover option to cause damage.
If your RV cover is improperly installed it may also cause damage to your RV. A loose cover can flap in the heavy winter winds, leading to the potential of scratching or even denting your rig. Many higher quality RV covers include wind flaps to promote wind passing through your cover easily, but installation is key. Keeping your cover tight and close to your rig will help during those big wind storms!
How Do I Keep Moisture Out Of My RV In Winter?
Moisture is the RV's worst enemy, and if you own an RV you know how difficult it is to keep your RV totally dry! What will you do come winter, when rain, snow, and condensation are at their peaks?
If you are planning to camp in your RV during the winter months, condensation and moisture inside your RV can be extreme. If you are hoping to be warm, your heater will cause every window to fog up. This doesn't even count the amount of moisture caused by cooking and showering! Your RV's interior will be damp for quite some time.
What can you do in the winter and still enjoy your camping trip? There are a few things you can do that won't disrupt your trip too much!
Purchase A Dehumidifier
Dehumidifiers can do wonders for your RV, and thankfully it's a small enough space that you won't have to break the bank to buy one! These little machines are compact, lightweight, and do wonders for moisture in small spaces.
You shouldn't have to worry about dehumidifiers using too many amps but always check and make sure you have adequate amperage to dedicate to it as well as storage space. You won't need to set aside much extra space and in exchange, you have a reusable moisture reducer!
If you're looking for a solid option that will last years, I recommend this little one from HomeLabs which you can see on Amazon. That model is packed with features, including a handy auto shut off but if you're looking for something that's extremely budget-friendly you can't beat this calcium chloride-based dehumidifier on Amazon. No amps are required!
Turn On Fans
My vintage rig did not have a roof fan installed in it when my partner and I purchased it. After a year and a half of full timing in our self-renovated rig, we both agree that our powerful roof fan was the best purchase we could have made!
Turning on your fan might not be ideal in winter, but if you need the moisture out fast, turn on your fans and have them point outside. The moisture will be sucked out of your rig, especially if you have a reverse-flow roof fan! This is the only way I survive Pacific Northwest winters in my RV!
Seek Alternate Fuel For Heating And Cooking
Propane lets a lot of excess moisture into the air. Electric cooking appliances may become your best friend in the wintertime. Electric heating is also a better option when it comes to moisture in your RV, and woodstoves are all the rage right now. Burning wood produces the dryest heat, though this may be a renovation that you never plan on doing.
Use Moisture Rid Products
If you are looking for both a quick camping trip solution as well as a long-term storage solution, there are many moisture rid products on the market. DampRid is a well-known one, and there will be many brands in the RV section of your local store.
These chemicals and charcoals absorb moisture in the air over time, and they only last a few weeks to a couple of months depending on the brand and amount of moisture in your rig. However, these little packs can do wonders inside your RV if you are planning to store them!
Keeping moisture out of your RV while you're storing it is much easier than if you want to keep the moisture out while camping. However, hopefully, some of these solutions work for your moisture problems!
What About Storing My Batteries, Propane Tanks, And Water Tanks?
If you are storing your RV for winter, your batteries, propane tanks, and water tank also require some maintenance. Your batteries should be stored outside of your RV and disconnected. You should have a battery charger for them as well, and keep them charging until they are full. Be sure to not overcharge, and store them in a dry place.
Your propane tanks should also be disconnected from your RV while it is in storage unless you have a cover for them attached to the RV. Propane tanks can rust if left out in the rain or other elements, and many people find success keeping them covered under a tarp away from any potentially flammable places.
Your water tank and other plumbing systems should be winterized as well to keep them in the best condition possible. Nothing could be worse than burst pipes in your RV after a season in storage! More can go wrong than simply not having a cover; keep these additional things in mind before you store your RV! And as always, keep up to date on RV winterizing tips.
Other RV Storage And Covering Tips
Thanks to the RV experts out there, there are a lot of extra tips to help you safely store your RV this winter. Here are some of the best tips I could find and have experienced myself!
Use lightly scented dryer sheets around your RV (shoved into cracks and corners) to keep the rodents and other pests at bay

Attach tennis balls to your RV roof gutters to leave some space between your rig's roof and the cover, promoting moisture from getting trapped

Get a cover that allows access to your RV's door so that you can enter the interior and check on it from time to time

Crack a window or roof vent to further promote air circulation

Make sure your tires are covered just as well as your roof
Conclusion
Covering your RV for winter is always a good idea and a standard part of preparing your rig for the cold season. It will promote and extend the life of your rig, but only if installed properly. Keep in mind that a quality cover may save you more headaches in the future. Hopefully, these tips will lead to a like-new RV come springtime!