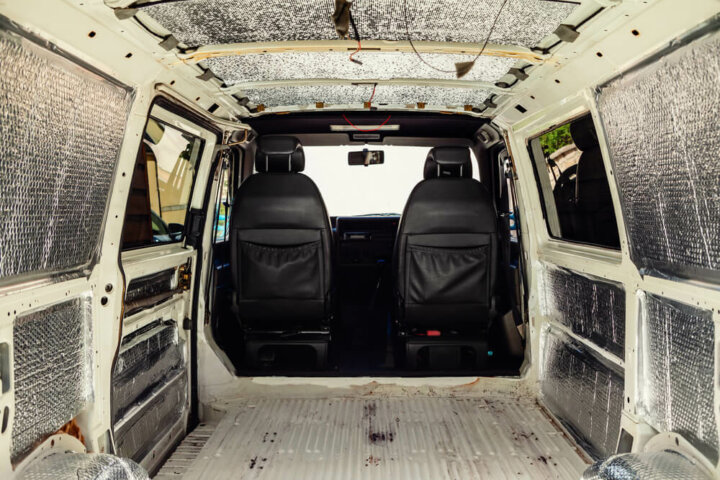 All of our reviews are based on exhaustive research, industry experience and whenever possible, hands-on testing. When you make a purchase using one of our chosen links we'll get a small percentage of the proceeds. This supports the site and keeps Jeffsetter running. You can read more here.
I've decided to invest in a new camper shell for my truck, and while it's been great for day trips to the beach and weekend trips in the summer, I know I want to get the most out of it during other seasons.
Even on those summer nights, I've felt a little chilly as temperatures dropped, and the first thought on my mind was whether I'm going to be able to use my camper shell once fall and winter come around.
So, can you insulate your camper shell?
Adding insulation to your camper shell is the best long-term solution to keep yourself warm. You'll need to measure, clean, and prep your camper shell before collecting and purchasing all of your materials in order to install wood braces and the right insulation to ensure that the heat won't escape when it's needed.
Insulating your camper is a bit more involved than wrapping yourself up in blankets, but it's probably a lot easier than you think, and this article will walk you through each step of the process.
Why Insulate Your Camper Shell?
Before starting this project, you need to ask yourself why you want to insulate your camper shell. Knowing this will help you narrow down the proper insulation for your situation and could save you time on some steps in the process if you don't need much insulation.
Summer weekend trips will need a much milder amount of insulation than full-time living or snowy winter nights will. While this article will explore more permanent solutions, some of you might also want to look into removable options depending on the type of travel you do and the camper shell you have.
Does the Kind of Camper Shell Matter?
There are three types of camper shells that are most common and which one you have will affect your choice in insulation and the process of installing that insulation. Most likely, you'll either have fiberglass, a metal, or a canvas camper shell.
Fiberglass shells are the most common and are a popular choice. These are more durable than canvas shells and are naturally better insulated than metal.
Metal shells are durable, but they can be susceptible to rusting. Additionally, they will absorb sunlight, so they aren't great in hotter climates.
Canvas shells aren't recommended for heavy use but they are lightweight and convenient. They are only good for more mild climates because any insulation on these would have to be relatively lightweight and removable.
You need to know what type of camper shell you have so that you can purchase the correct materials. Some spray adhesives won't work as well on metal as fiberglass, so keep this in mind when you're collecting your materials.
What Kind of Insulation Should You Choose?
Insulation is graded by R-value. The higher the R-value, the better the insulation is. R-value is determined by a material's ability to resist heat flow in and out of a space.
If your camper shell is for occasional use then you won't need to use materials with an as high rating as you would if you plan on converting your vehicle to live in year-round. Keep in mind that you can use a combination of materials in order to raise the insulation value.
Styrofoam
There are plenty of brands to pick from for rigid styrofoam insulation. This kind of insulation is generally lower in R-value, and you may run into some problems with moisture and condensation.
I recommend a moisture absorbing barrier like Reflectix regardless of the type of insulation you end up picking, to help with any condensation that may occur with this material. this material is commonly used for insulating camper shells because it's lighter weight and easy to layer and maneuver than some of the other options out there.
Fiberglass Insulation
Fiberglass insulation is a commonly used option for camper shells and is easy to find in most hardware stores. While fiberglass insulation is a great option, it's important to mention that it is a skin irritant. That means if you go with this option there are a few extra steps you may have to take that you don't need to worry about with other choices.
You'll need to take the extra step to cover your skin while installing and you'll need to make sure that once installed the fiberglass is completely covered to prevent any contact with your skin.
Mineral Wool Insulation
Mineral wool insulation is considered to be the same as fiberglass, but the fibers are not made out of glass. This means it is not a skin irritant, so you wouldn't have to take those extra steps listed above.
Mineral wool insulation is denser and more rigid than fiberglass insulation, and it does have a higher R-value, but that makes it more expensive than the fiberglass option.
Natural Fiber Insulation
Natural fiber insulation is an eco-friendly and sustainable option. There are two main types to consider on the market, denim and wool insulation.
Denim options are made out of natural fibers, denim, and cotton. This kind of insulation can be sound absorbent and has a natural resistance to mold and mildew.
Wool keeps sheep warm, so why not you too? Wool insulation is a great option to consider because it's a great insulator and it naturally absorbs, traps, and releases moisture at higher rates than man-made materials can.
Sheep need to be shorn for their own health and safety, so wool insulation is also a natural byproduct of the necessary process of shearing sheep.
Reflectix
I don't recommend Reflectix as your main source of insulation. It is mainly used as a radiant and moisture barrier. It has a super low R-value, but I recommend using it to line your camper shell as a first step before fully insulating it.
Spray Foam
This is the messiest option on the list, but that doesn't mean it can't be a great choice. If you do choose spray foam, you need to make sure that you are ready to apply a plywood sheet immediately after spraying and screwing it to your wood brace to hold the foam in place as it expands.
Spray foam is a great option to use in addition to whatever other insulation you select. It can help fill awkward spaces and close small gaps.
How To Insulate Your Camper Shell?
The whole process of insulating your camper shell is six steps. The prep for installation is probably going to be more time-consuming than the actual installation.
It's important to prep your camper shell and plan your project properly to make the installation process as easy and effective as possible.
Step 1: Measure
This is the first step in your insulation process and could potentially be the most important. Take your time while measuring to make sure that you are being as accurate as possible.
Inaccurate measurements can lead to frustration once you get to the installation step and you realize you didn't buy enough insulation or disappointment when you realize you overmeasured and spent far more money than you actually needed to.
You are measuring to find out how much insulation you will need for your project as well as how much wood you will need to build the brace and cover everything with plywood or soundboard. You need to measure the length, width, and height of every side of your camper shell. Make sure to measure the ceiling and the back of the camper shell as well.
Keep in mind if you want to cover your windows with insulation or not while you are taking your measurements. I don't recommend blocking your windows with insulation, so I would measure around them so that you can still utilize them.
You should still measure the size of your windows though, you can make removable insulation by cutting Reflectix and soundboard to size and fixing it to the windows with velcro so it can be removed. That way you don't have to sacrifice warmth or your beautiful view.
Step 2: Collect & Purchase Materials
Tools & Materials:
Circular or table saw (see note on purchasing materials)
Measuring tape
Straight edge ruler for lines
Felt-tipped marker
Plywood or Soundboard
1x4s or 2x4s
Spray foam
Spray adhesive
Liquid nails
Screws
Power drill
Utility knife
Protective gear
Reflectix
Purchasing Materials:
Once you've selected the kind of insulation you believe is best suited for your needs, you'll want to buy the amount dictated by your measurements. You will also need to purchase the 1x4s or 2x4s you need to build the bracing and the plywood or soundboard to cover your insulation once it is installed.
If you don't have a circular or table saw and don't want to purchase one, many hardware stores will cut your wood down to size for you in the store. Just make sure you have your measurements at hand and a bit of patience for them to get through all of the necessary cuts.
If you are using fiberglass insulation, you might want to consider buying gloves or other protective gear at this stage. I would recommend having at least eye protection no matter what insulation you select. A mask should be worn if you use fiberglass insulation to protect yourself from breathing in pieces of glass from the material.
Step 3: Clean & Prep
The amount of cleaning and prep needed will depend on the state of your camper shell. Make sure to look for any spots that may need patching or repair and take care of those before starting on your insulation project. Wipe down all surfaces so that you aren't trapping any bugs or dirt in with your insulation.
After all of the holes are patched and your space is clean add a layer of Reflectix. Stick it in place with a spray adhesive. It doesn't have to have a strong hold because you'll be installing your brace and your insulation over the top of it, but make sure that you purchased an adhesive that will work on the material your camper shell is made of.
Spray foam is a great tool to prep your space properly while also adding extra insulation. You can use it in small or awkward spaces that your insulation sheets might not reach.
You can also use it as an added weather shield around your windows. The foam expands, so spray it sparingly and use less than you think you'll need. If you find you used too much you can use a utility knife to trim it down to size.
Step 4: Add Bracing
Add your wood bracing over the Reflectix layer. You'll want to make sure it's secure by using construction adhesive or liquid nails. Putting it on top of the Reflectix will help protect the wood from moisture.
That being said, if you are worried about your wood rotting because you live in a humid climate or are in high moisture areas, you might want to consider going the extra step and getting treated wood to avoid that issue altogether.
The standard width of insulation is 16-inches, so make sure the gaps in your brace are at least that wide for easier installation.
Step 5: Install Insulation
Once the bracing is up, you can start adding the insulation. This step is mostly just cutting the insulation down to size and putting it in place. You will most likely be able to cut your insulation down to size with a utility knife, but buy extra blades so you're always working with a sharp one.
The insulation should be cut down to fit inside of the wood bracing and layered so that it's flush with the top of your wood.
If you're working alone, work in small sections and cut your insulation into smaller, more manageable pieces. You can tape multiple pieces together or use spray adhesive to keep them in place as you work.
The video below offers some extra tips and tricks on how to properly cut insulation.
There are some differences in the insulation process depending on which insulation you've selected. You should also consult your specific brand and type of insulation for proper methods and instructions.
In general, when you use fiberglass insulation, it needs to be put in place with the fibrous side facing inward and you should use more protective gear whilst installing it.
Rigid styrofoam might require you to score the back of the board so that you can mold it to the curves of your camper shell.
Always keep in mind that you can layer multiple different insulation types to increase your R-value and help control your moisture levels.
Step 6: Finishing Touches
It's recommended that you spend the night in your camper shell after installing your insulation. That will be the best way for you to figure out if you missed any spots or need more insulation.
I'm sure you'd much rather find that out if the insulation works on a planned evening than on your first trek in your newly insulated camper shell. That way all your materials will still be out and you can easily address any issues that do arise.
If you did miss anything, you can use spray foam to fill in those gaps. You will also want to make sure your seams are secured with duct tape.
An extra touch you can add depending on the overall look, feel, and use of your camper shell is carpeting. Carpet will add more warmth and insulation to the space while also giving your camper shell a streamlined look and a cozy feel.
Conclusion
A well-insulated camper shell means you won't be as limited in your destination or the time spent inside of it. The world is your oyster, you can travel across the country, live in your vehicle full-time, or just take more pleasant weekend trips with less teeth chattering at night.
Proper preparation, selection of materials, and six steps are all it takes to get your camper shell well-insulated and ready for travel.
Installing insulation to your camper shell is ultimately more time-consuming than it is difficult. The use you'll get out of your camper shell will far outweigh any amount of time spent on this project and you'll be glad to have done it.