Last updated on December 6th, 2022 at 10:17 am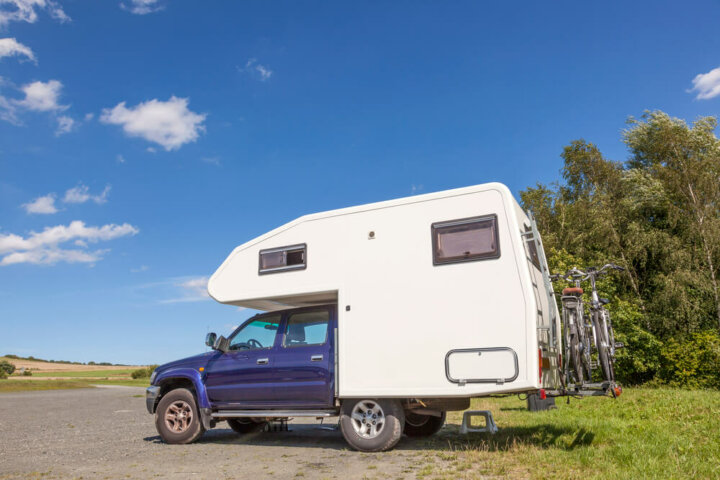 All of our reviews are based on exhaustive research, industry experience and whenever possible, hands-on testing. When you make a purchase using one of our chosen links we'll get a small percentage of the proceeds. This supports the site and keeps Jeffsetter running. You can read more here.
You go outside to your truck, and a wave of frustration hits you as you realize that it rained last night and everything you left in your truck bed is soaked through.
Or you decide to go on a spontaneous road trip and wish you could just sleep in the bed of your truck instead of paying for hotels along the way.
Truck caps, camper shells, whatever you'd like to call them, can be a nice addition to your truck. They make it multi-use and even more functional than it already is, but how do you know which one will fit on your truck?
Are camper shells universal?
Most camper shells are not universal, but they are interchangeable. If you know the dimensions of your truck bed, you can find the right camper shell for you that will fit properly and add the functionality you desire. Camper shells are also made of different materials which can affect the way it fits your truck.
This article will help you understand what kind of camper shell will work best for you, how to take the proper measurements to fit a camper shell on your truck and what materials to look out for when looking for a camper shell.
What Is A Camper Shell?
A camper shell is known by quite a few different names. You may see them called toppers, trucks caps, camper shells, truck canopies, box shells, or even a few different combinations of these words. They all refer to the same thing — a shell that sits on top of the bed of your truck making it an enclosed space.
The overall visual of the camper shell can vary depending on if it was purchased or used, made by a different manufacturer than the vehicle itself, or how the shell fits.
Some trucks can be poorly sized, too large or small for the truck bed, and others can be a smooth transition from the cab of the truck to the back.
Generally, all trucks can have a camper shell added without any modifications being made and using the trucks existing hardware.
Are Truck Caps Universal?
Truck caps or camper shells are not universal. You have to measure your truck bed before purchasing your camper shell to make sure it will fit. At the end of this article, we will tell you how to measure your truck bed properly.
Even though camper shells are not universal, you aren't stuck having to buy new or with just what the manufacturer of your truck offers for a camper shell. There are plenty on the market that fit multiple trucks it's all about figuring out your dimensions and then searching for the camper shell that fits your needs.
There is one brand of camper shell that is universal though, it's called the Scout Campers Olympic. If you are looking for a camper shell to use for camping, this might be a good option since you won't need to worry if it will fit or not, even if you get a new truck.
You do want to keep in mind the weight limit on your truck as well, camper shells are usually lighter, but it's still important to make sure your truck can handle it.
Are Camper Shells Interchangeable?
Although camper shells are not universal, they are interchangeable. If your truck bed is the same length you can usually swap the camper shell from one to the other.
Newer truck beds aren't necessarily rectangular, some of them taper in towards the rear, and may require more measuring to get the correct fit.
If you have invested in a camper shell and want to make sure you can use it with a new truck, just make sure that the bed is the same size as your old one and you shouldn't have any problems.
Why Would You Want A Camper Shell?
You can use camper shells for a multitude of reasons. Maybe you want a sleeker, more SUV-style look for your truck. You might also just need one for your truck to work more efficiently for your needs. As the name suggests, maybe you want to transform your truck into a camper for low maintenance travel.
A camper shell can also add security to the open bed of your truck. Many truck owners have had experiences, where their items fall out of the bed of their truck on the side of the highway, where people turn their parked truck bed into a garbage can, or a free-for-all and help themselves to whatever is in there. Even just getting caught in the rain unexpectedly can put a damper on a truck driver's day.
Whatever your reason, it's relatively easy to make this addition to your truck, and adding a camper shell can make most of these problems go away. They are weatherproof and lockable, so they're a great solution to many of those typical woes of owning a truck.
What Types of Camper Shells Are Available?
There are a few different types of camper shells on the market and the best one for you will depend on what your needs are. Regardless, you will want to ensure you're looking for a camper shell that is light, a typical one weighs about 300 pounds.
Camper shells will typically be at least as tall as the height of your cab, but you can get them larger. Some shells can add an extra foot or two of clearance space vertically.
There are shells with roof racks for extra storage, which can be especially helpful if you have items that are too long to fit in the bed of your truck.
You can also purchase truck camper shells that are literal mini-campers. These are considered the smallest size RV you can have and are a great option for people looking to travel but on a smaller budget and with more ease than your typical RVer.
If you want something more cross-functional, a camper shell can be insulated and transformed into a comfortable space to camp from without having to purchase a truck camper shell. In previous articles, we've explained how to insulate your camper shell and how to keep warm while traveling in one.
What Should a Camper Shell Be Made Of?
Camper shells are usually going to be made of aluminum or fiberglass. Which material you go with will depend on your own preference and your budget.
Aluminum shells can vary from very thin to more industrial grade. The most basic aluminum shells might not even be equipped to hold a roof rack, but they are the lightest option, so they add the least amount of weight to your truck. These lighter versions can increase your truck's payload.
There are heavier duty aluminum shell options, but these can be ever pricier than a fiberglass shell.
Fiberglass shells can be more expensive than aluminum but will offer you a more streamlined look, they can come in multiple colors to match your truck, and can add insulation to your truck without you having to do anything.
Because fiberglass camper shells are usually made from a mold and designed to fit a truck bed perfectly, they are definitely not universal. Aluminum camper shells are usually easier to make work with multiple trucks because they are not molded to a specific model. Either can be interchangeable though, just as long as your dimensions match up.
How To Measure Your Truck For A Camper Shell
Measuring your camper shell is not too difficult of a process but you do want to be precise and take your time with it to ensure the best results. The video below will show you how to make these measurements.
Start by placing your measuring tape at the bulkhead of your truck bed. Extend the measuring tape along your bed rail, to the inside edge of the top of your tailgate. Make sure to record the measurement in inches. Divide that number by 12 to get the length of the bed in feet.
Take the measuring tape across the width of your truck bed and record that dimension as well.
If you want your camper shell to be flush with the top of your cab, measure from the top of your bed to the tallest point in the center of your cab.
When looking for your camper shell, make sure you take note of how and where the shell is attached to your truck bed. Some will clamp onto the top and others will sit in the bed, so they would use different dimensions for the correct, snug fit.
Conclusion
Camper shells are known by many names and can take many forms. Knowing whether you are just looking for a secure way to transport materials, keep the rain away from your belongings, or if you'd like to use your truck for camping trips will help you narrow down what type of camper shell is right for you.
Truck camper shells are not universal, but they are interchangeable as long as you can accurately measure your truck bed, you'll be able to find a camper shell that will suit your needs.