Alaska Air Premium Class is a relatively new product.  And, while Mrs. Island Miler and I didn't plan on flying this product on our recent flight, we did.  So here's our experience flying Alaska Air Premium Class HNL-SEA.
Why Alaska Air Premium Class?
As I mentioned in the Snowy Seattle trip report introduction, Mrs. Island Miler and I traveled to Seattle last month to visit an ill family member.  We wanted to spend Christmas with those in Seattle but decided to book the trip at the last minute.  So, in researching, we found that among our preferred airlines, Alaska Air had the cheapest fares at $312.20 for a one-way ticket.  To keep costs down, though, we decided to burn an Alaska Air Visa companion certificate, with the second ticket pricing out at $122.49.
In total, our airfare would have cost us just $434.69.  However, when we went to select our seats, we noticed that nearly all were taken and that we'd end up sitting far apart.  That doesn't really bother us, but at the same time, we'd prefer to sit together.  So we decided to upgrade to Alaska Air's premium class since those seats were empty.  The cost, however, was $100 per person.  So our $434.69 for two tickets now shot up to $634.69.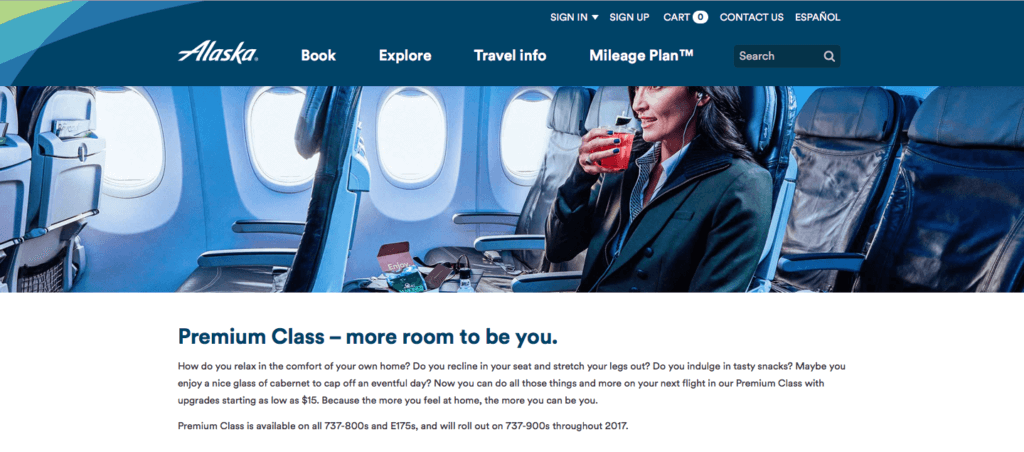 Premium Class Benefits
Alaska Air's Premium Class is, like many other airlines, just standard economy with extra space.  That extra space is four inches of pitch, to be exact.  Other benefits include priority boarding and complimentary beverages.  All other benefits like power outlets are available in standard economy too.  Frustratingly, though, Alaska is vague about what priority boarding means; we didn't find out until boarding.  And the complimentary beverages excludes name brand liquors.  Soft drinks, Sun Liquor, wine, and beer are complimentary.
Airport Experience
Mrs. Island Miler and I flew out a week before Christmas, and while the Honolulu International Daniel K. Inouye International Airport was busy, it wasn't too bad.  After dropping our pre-tagged bags off at the Alaska counter, we breezed through TSA Pre-Check and headed to the food court.  There we had the most expensive Burger King meal we've ever had.  A Whopper, fries, drink, and chicken fries cost us $18.  We would have gone to the lounge, but HNL only has two Priority Pass lounges:  the IASS Lounge and Hawaiian's Plumeria Lounge.  The Plumeria Lounge has very strange hours of operations and wasn't open, so the food court was a better option than the IASS Lounge.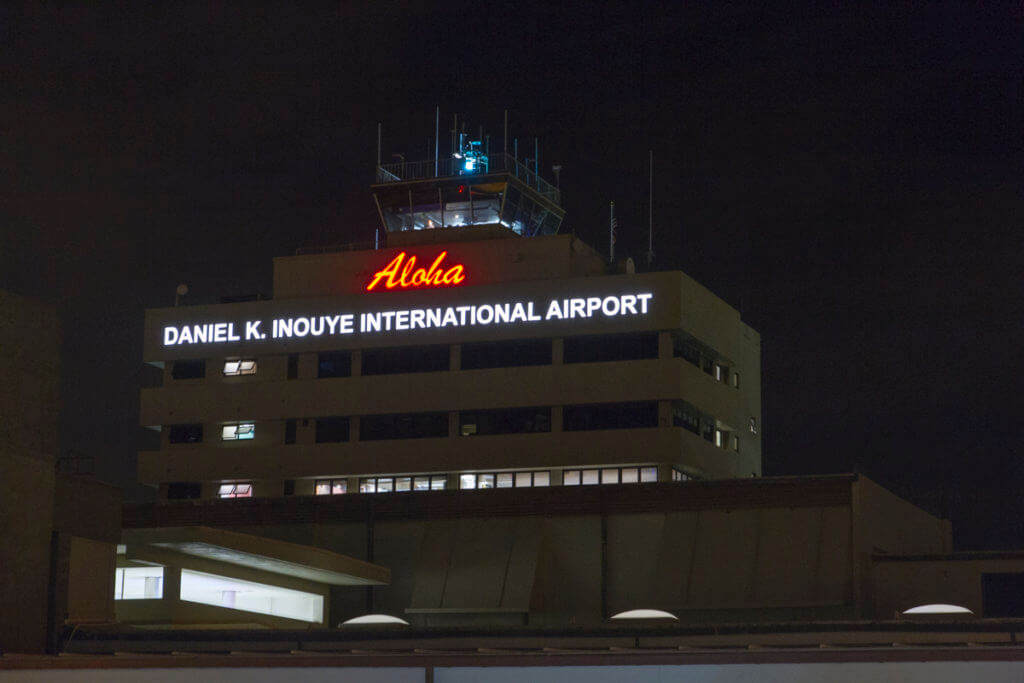 Boarding
A little before boarding, we headed over to our boarding gate, Gate 24 in the Central Concourse.  The area was crowded, which wasn't surprising, as our flight was full.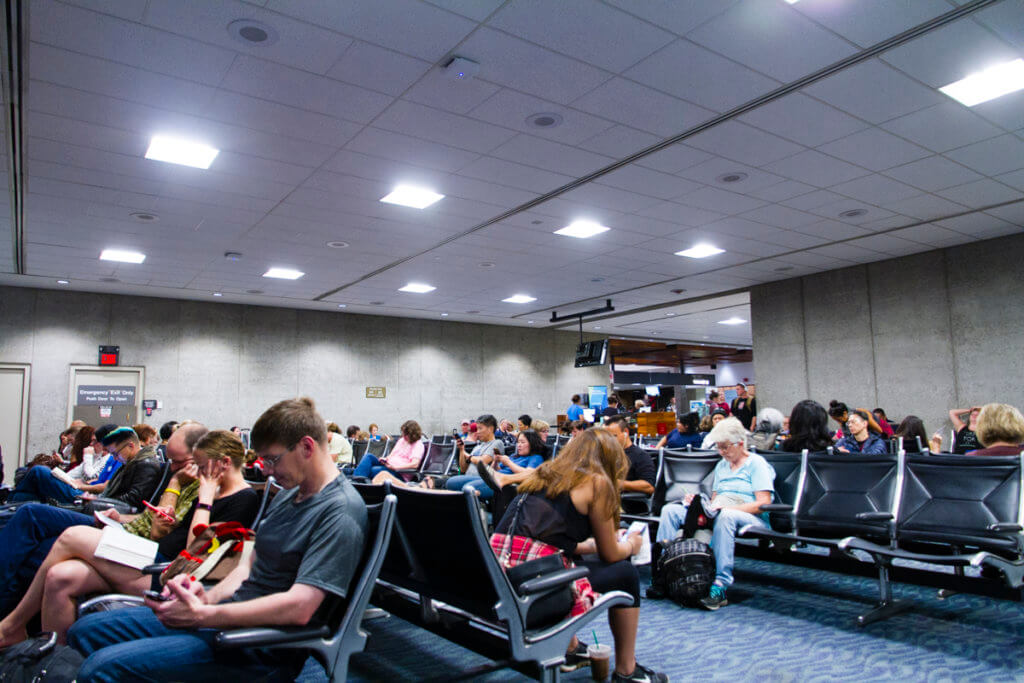 Boarding for our 10:55 pm flight was scheduled for 10:15 pm.  However, pre-boarding began 10 minutes early at 10:05 pm.  The first group of passengers invited aboard was those needing assistance, then active duty military personnel.  First class passengers were next, followed by top-tier American and Alaska elites.  This was then followed by lower-level elites and Premium Class passengers.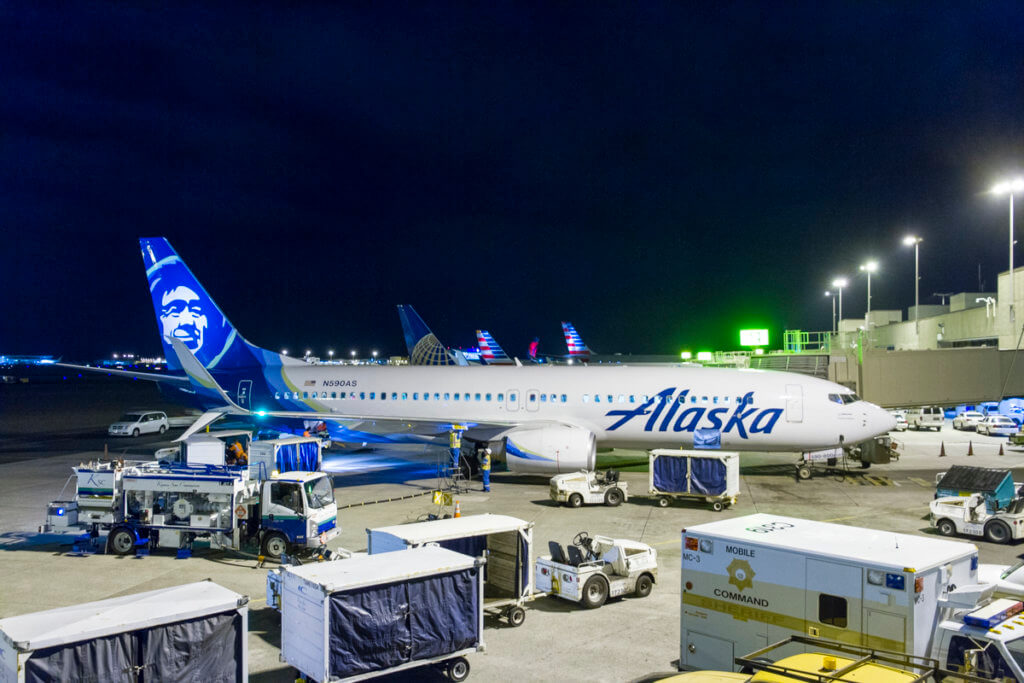 After a quick hold on the jetway, Mrs. Island Miler and I took our seats in row 9 near the front of the Boeing 737-800 serving our flight that night.  Boarding wrapped up pretty quickly, though the crew held the door open for additional passengers.  Then, at 10:46 pm, the door was closed, the jetway retracted, and the safety demo began.  But at 10:50 pm, the jetway was re-deployed, the door opened, and another passenger was let on.  The door was then closed once again, the safety demo was repeated, and we finally began our pushback at 10:54 pm.
Seats
As stated earlier, Premium Class is just standard economy seats with extra room.  In this cabin, you receive a full 36 inches of pitch, which is nice.  But the padding is still thin as hell, you still have to pay to rent the tablets, and food still isn't free.  That being said, the extra space does make it a little easier to sleep, especially on this red-eye flight.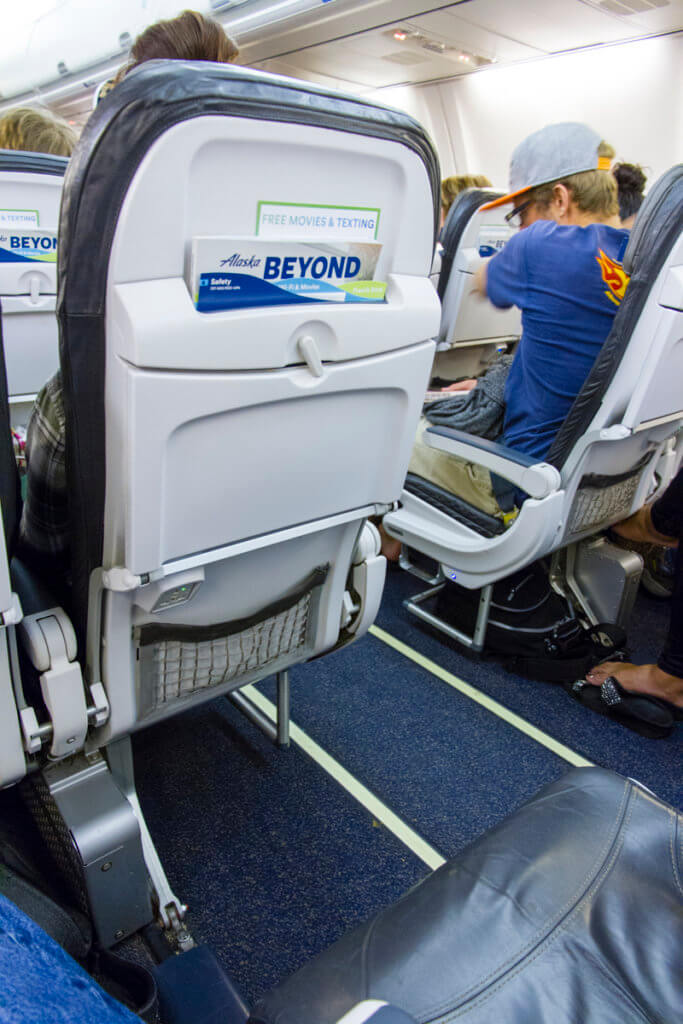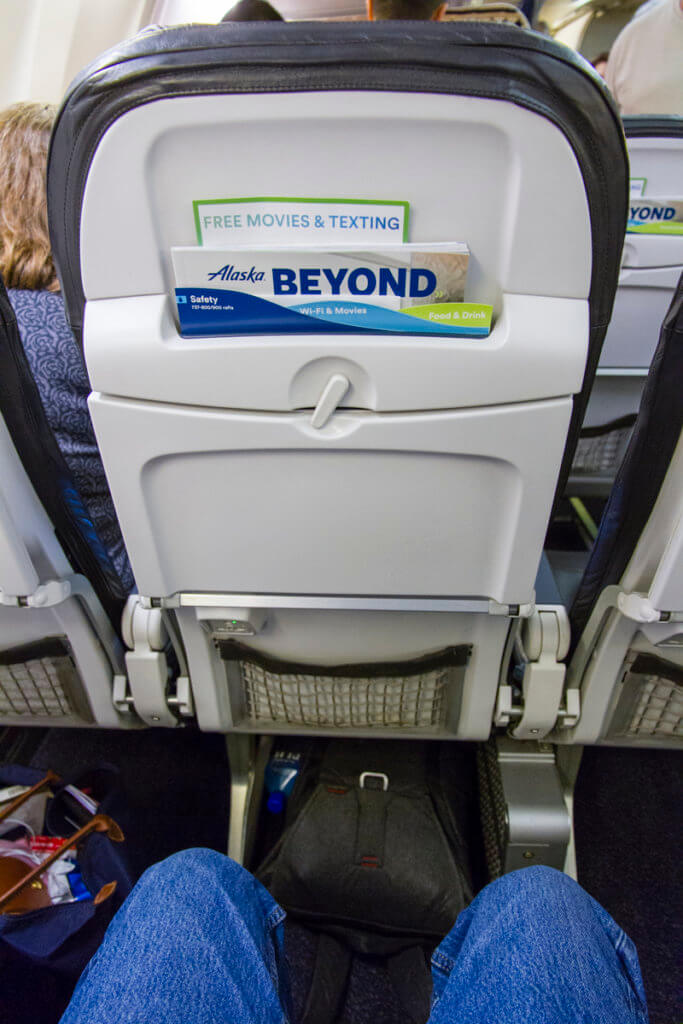 AS 860 HNL-SEA
After taxiing for 15 minutes, our pilot eased onto the throttle and began our takeoff roll at 11:09 pm.  Our flight was scheduled for six hours. However, our pilot informed us that we'd have a quick, 4 hour 55 minutes flight.  There was significant chop on the climb out of Honolulu, so it was announced that service wouldn't begin until at least 45 minutes out.  And while I would have liked to take advantage of the free booze, sleep was more import.  If our flight was going to be under five hours, I wasn't about to wait 45 minutes to drink!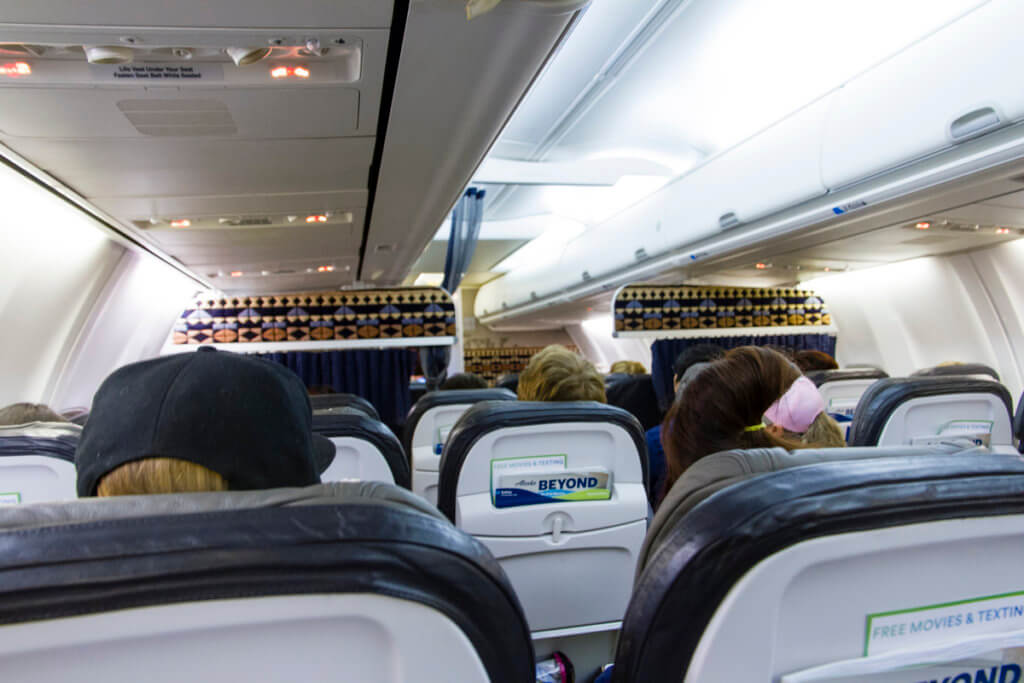 I have a hard time sleeping in economy (who doesn't), but the flight did go by QUICK.  And before I knew it, we began our descent at 5:35 am Pacific Time.  Then, at 6:02 am local-time we touched down in a light rain at Seattle-Tacoma International Airport.  That put our total flight time at 5 hours and 8 minutes, slightly longer than the quoted 4 hours and 55 minutes, and still far earlier than the scheduled 6:57 am arrival time.  And after a 10-minute taxi, we arrived at our gate in the North Satellite at 6:12 am.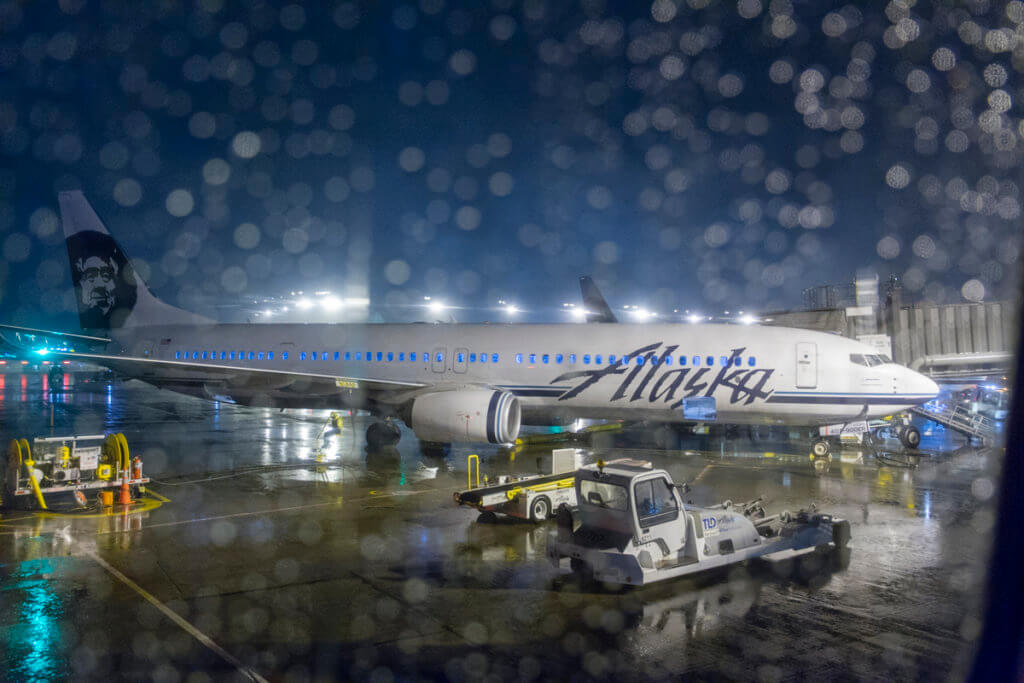 From there, Mrs. Island Miler and I headed over to the tram to get to the baggage claim.  And is always the case with Alaska, our bags came around soon after.  From there we simply hopped onto the Car Rental Center shuttle to pick up our car.
Alaska Air Premium Class HNL-SEA, Final Thoughts
Premium Class on Alaska Airlines is a fine product.  The extra leg space is welcome, and the free drinks could make it worthwhile.  However, I feel like the biggest benefit is the early-ish boarding.  This time around we didn't have to gate-check our bags, unlike the last few times we flew on Alaska.  However, if the early boarding or extra space doesn't matter to you, then this product isn't worth buying up to.  And at $100, it is quite a bit more expensive than Hawaiian's Extra Comfort product.
As far as the flight itself goes, this had to be one our better ones on Alaska.  The entire flight crew was very friendly and had a great sense of humor, which isn't always the case.  Too bad this flight was a red-eye, I would have loved to interact with them more.
Snowy Seattle Trip Report
Alaska Airlines Premium Class