On Friday I received a letter stating Barclays is changing Hawaiian Airlines benefits for its co-branded World Elite Mastercard.  And, on balance, I think the changes are positive.
Before I discuss the Hawaiian Airlines World Elite MC changes, though, let's take a look back at Citi's changes to the AAdvantage Platinum Select.  Back in April, Citi announced that the AAdvantage Platinum Select would gain 2x earning on restaurant and gas station purchases.  This, of course, is in addition to the 2x miles already earned on American Airlines purchases.  And hey added a $100 companion discount when you spend $20,000 on the card in a calendar year.  That discount is such an awful value that it made me laugh.  But the changes coming to the Hawaiian Airlines card, aren't quite so dubious.
The Good News
Beginning July 17, 2018, Hawaiian Airlines World Elite Mastercard will no longer earn 2x miles on Hawaiian Air spend.  Instead, the card will earn 3x miles on Hawaiian Air spend.  And, in addition to that, the card will even earn 2x miles on restaurant, gas station, and grocery store spend.  That's a lot of opportunities to earn bonus miles with this change.  Oh, and at least for now, the annual fee is not changing at this time.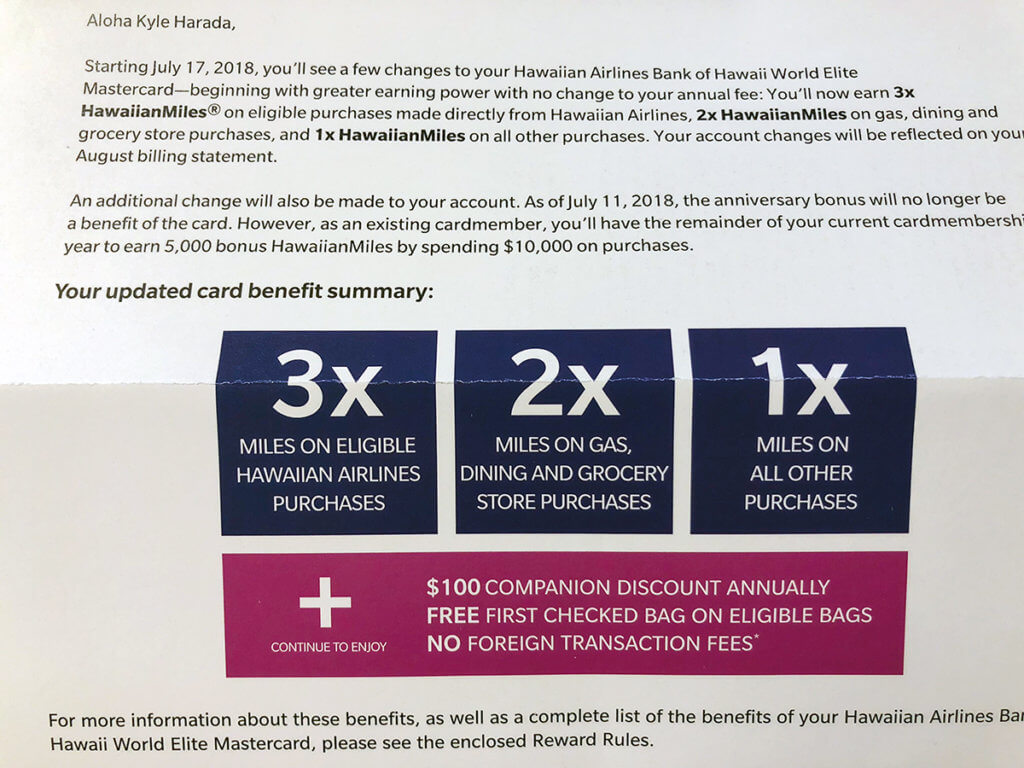 The Bad News
On July 11, 2018, the anniversary bonus will be eliminated.  No longer will cardholders be able to earn a 5,000-mile bonus for putting $10,000 in spend on their card per cardmembership year.  Existing cardholders, however, will be able to earn the bonus one last time through the remainder of their current cardmembership year.
The annual spend bonus is going away entirely, though.  Going forward, cardholders that spend $50,000 or more will earn 20,000 bonus miles.  And for those that spend $100,000 or more, you'll earn 40,000 bonus miles.  The maximum annual bonus allowed per year is 40,000 bonus miles, so no, these bonuses aren't stackable.
The Ambiguous
In the letter, it states "free first checked bag on eligible bags."  And, traditionally, this has meant the first checked bag free for the cardholder only.  But, this benefit has "bags," as in more than one.  Unfortunately, the disclosures don't offer any clarification regarding this.  So we'll just have to wait and see if this benefit changes.  I'm not going to hold my breath, though.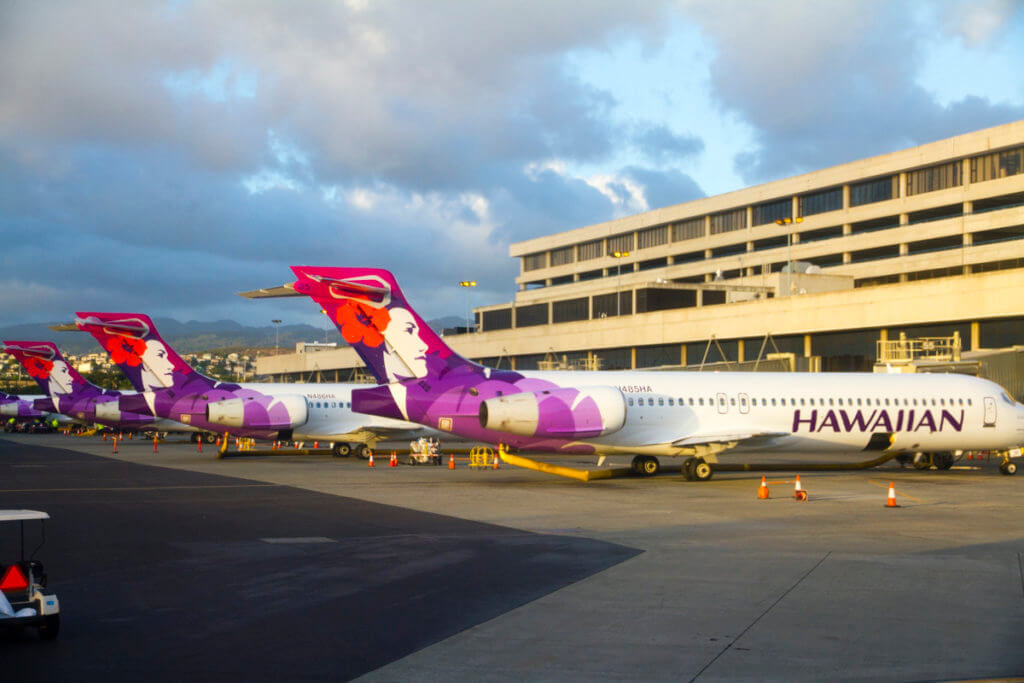 Barclays is Changing Hawaiian Airlines Benefits, Final Thoughts
Last year, I spent a total of $12,741 at restaurants, gas stations, and grocery stores, which equates to 25,482 HawaiianMiles.  However, that same spend instead earned me 29,015 Ultimate Rewards points and 9,987 Membership Rewards points.  Of course, my overall Ultimate Rewards earnings was even higher than that thanks to 5x points on quarterly bonus categories and 3x points on travel.  And, remember, it costs just 30,000 Ultimate Rewards points for a roundtrip economy award ticket between Hawaii and the U.S. mainland on Hawaiian Air via Korean SkyPass.  Or the same award ticket could cost you just 25,000 Ultimate Rewards points on Delta via Korean SkyPass.
So while your ability to earn miles with the changes coming to the Hawaiian Air World Elite Mastercard, it still isn't that great a card.  Your earning power is much higher with a Chase Sapphire Reserve paired with a Chase Freedom and/or Chase Freedom Unlimited.  Plus it takes less Ultimate Rewards points to redeem for an award flight.
Alternatively, for infrequent travelers, there are better values out there as well.  Remember, both the Alaska Airlines Mileage Plan Visa and Delta Gold Amex cards come with annual companion certificates.  And both cards offer free checked bags for those traveling on your itinerary; not just the primary cardholder.  The Delta Amex does carry a higher annual fee than the Hawaiian Air World Elite Mastercard.  But the Alaska Air Visa's annual fee is lower.