Did you know that certain Delta Amex cards have an annual companion certificate?  And even better, if you meet specific criteria, you can use your Delta annual companion certificate for Hawaii travel.
The Alaska MileagePlan Visa Signature by Bank of America is my favorite airline card.  It offers one of the better values out there with 3x miles on Alaska Air purchases, first free checked bag for up to six people on your itinerary, and it has the famous $99 + tax companion certificate.  And what's even better is that the card's annual fee is only $75.  That's worlds better than American's credit card, even though that one offers priority boarding and other benefits.  But other cards have companion certificates too.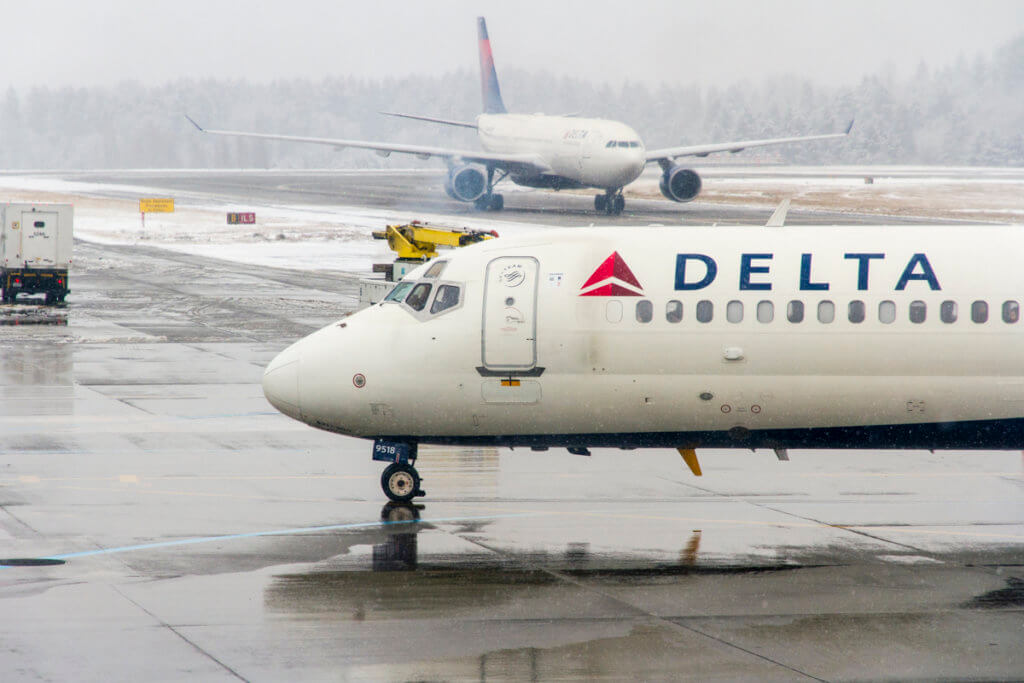 Platinum Delta SkyMiles by American Express
The first of these other companion certificate cards is the Platinum Delta SkyMiles credit card by American Express.  And as a Platinum Delta SkyMiles cardholder, you'll enjoy:
35,000 bonus SkyMiles after spending $1,000 within the first three months
$100 statement credit after making your first Delta purchase within the first three months
Miles Boost: 10,000 bonus SkyMiles and 10,000 bonus MQMs after spending $25,000 during a calendar year; additional 10,000 miles and MQMs for spending $50,000
2x SkyMiles on Delta purchases
First checked-bag free for you and up to nine other traveling on your itinerary
No foreign transaction fee
Priority Zone 1 Boarding
Discounted SkyClub access ($29 each for you and up to two guests)
20% discount on in-flight food, beverage, and earphone purchases
Annual companion certificate
The card carries an annual fee of $195, which is a lot higher than the Alaska MileagePlan Visa's $75, but the benefits of the card justify the annual fee, in my opinion.  You see, unlike Alaska's companion certificate, there is no fee for the Delta version.  Your companion fare is free with the certificate, though you do need to pay the taxes, etc. of up to $75.  The caveat being, though, that the certificate is only valid on flights within the 48 contiguous state, nor can your flight have more than four segments.  But, if you live in Hawaii, Alaska, Puerto Rico, or the U.S. Virgin Islands, you can still use the companion certificate.  You just have to ensure that your flight originates in your home state (territory) and that the address on your account is in that state (territory).
Platinum Delta SkyMiles Companion Certificate Sample Booking
So, let's look at an example itinerary.  The certificate is only valid on L, U, T, X, V classes of service, which is Main Cabin and not Basic Economy or Delta Comfort+.  A roundtrip ticket between Honolulu and New York JFK in early November would set you back $932.80.  And of that amount, $92.06 is airport fees and taxes.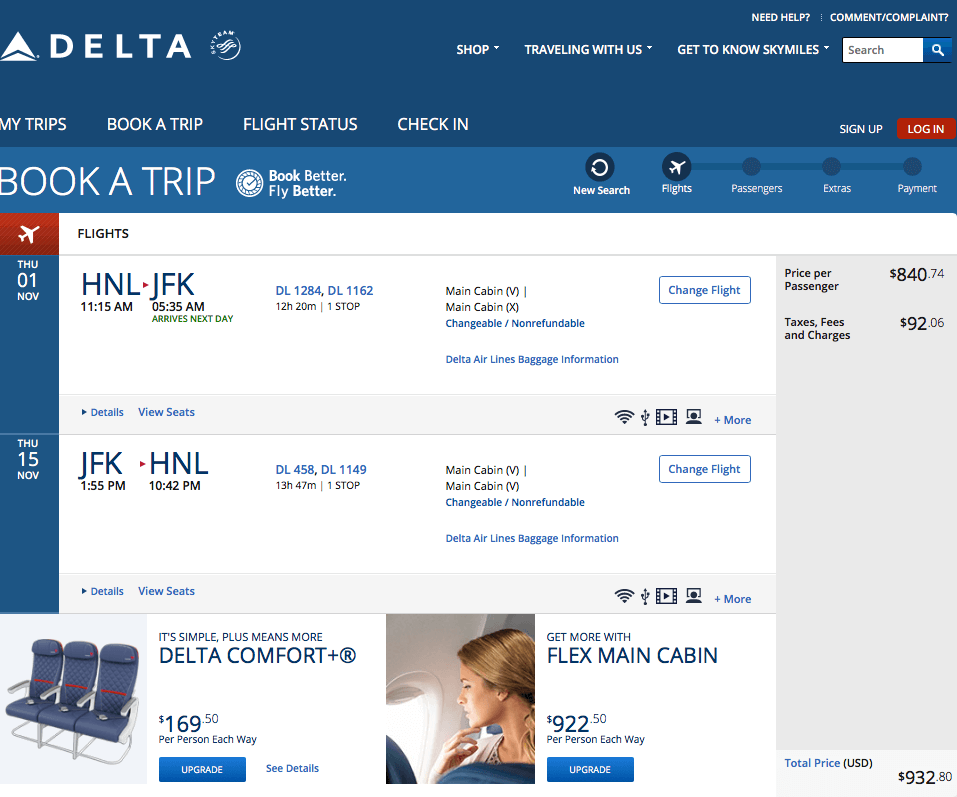 In this scenario, all you'd pay is the $932.80 for your ticket and $75 for your companion's taxes and fees, as the actual taxes and fees exceed the maximum limit.  When I booked a similar itinerary two years ago on Alaska, I had to pay around $121 for my companion fare.  That isn't a large difference, but still.
Delta Reserve by American Express
Of course, the Platinum Delta SkyMiles isn't the only Delta card with a companion certificate.  The Delta Reserve by American Express comes with one too.  In fact, the card comes with the same benefits of the Platinum, but change or adds the following:
40,000 miles and 10,000 MQMs for spending $3,000 within the first three months of account opening
Complimentary SkyClub access for the cardholder and $29 per person for up to two guests
Mileage Boost is 15,000 MQMs and Miles for $30,000 annual spend; additional 15,000 each for total of $60,000 in annual spend
Delta Reserve Annual Companion Certificate
And with an annual fee of $450, this carries a hefty annual fee, though it more than offsets itself too.  You see, Delta SkyClub membership is already $495.  So if you travel enough to justify purchasing SkyClub membership, the Delta Reserve card gets you the membership for less. Plus it comes with a valuable annual companion certificate.
Delta Reserve Annual Companion Certificate
I didn't expect there to be any difference between the Platinum Delta SkyMiles and the Delta Reserve companion certificates.  However, the certificates are quite different.  Both are valid for domestic flights in Main Cabin, but the Delta Reserve version adds Comfort+ (W) and First Class (A or I) as an option.
Booking the certificate in Comfort+ is easy enough.  And using the same dates in the previous example, we arrive at a roundtrip ticket price of $1,271.80, of which $109.26 are taxes.  So, a companion fare, in this case, would cost $75 once again.  But when trying to look for First Class space with these dates, things get a little trickier.
On the outbound flights, I'm only able to find First Class seats under fare code C, making that a no-go.  However, on the return, I'm able to find Delta One and First Class seats under codes I and A.  As a result, I'm willing to bet using the companion certificate in First Class is a lot more difficult, especially for longer flights.  But still, if you can find the space under the proper codes, the Reserve companion certificate can get you two First Class seats for the price of one.  Or, another way to look at it is two First Class seats for not much more than two Comfort+ seats.
Like the Platinum version, this certificate is valid within the 48 Contiguous States, too.  That is unless you reside in exempt states and your flights originate there.
Delta Annual Companion Certificate, Final Thoughts
The Delta credit cards aren't as inexpensive as the Alaska Air version, but I think the benefits they offer make them worth it.  This is especially true if you're a Delta flyer.  Me?  I'm not.  I think SkyMiles are garbage, though so are AAdvantage miles so…. ??‍♂️.  But, I'm happy with the Alaska Mileage Plan Visa for now, so I'll be sticking with that.  However, if I do ever start flying Delta, I'd likely opt for the Platinum card.  The annual fee and benefits are fairly well balanced, providing the best of both the Citi AAdvantage Platinum Select and Alaska MileagePlan Visa.  And, at the very least, both the Alaska card and Delta cards are worlds better than the Hawaiian Airlines World Elite Mastercard.
Unfortunately, though, if you don't live in Hawaii, the Delta cards' companion certificates won't work for your next Hawaiian vacation.  In that case, you should probably stick with the Alaska Air Visa instead.  However, Hawaii peeps, either (or both) of these cards will work for your domestic travel needs.