Here's some more on our New Zealand adventure. After Wanaka, we pressed on to Christchurch (with an over night stop in Lake Tekapo) to pick up our FREE campervan rental.
What a great experience! We had so much fun!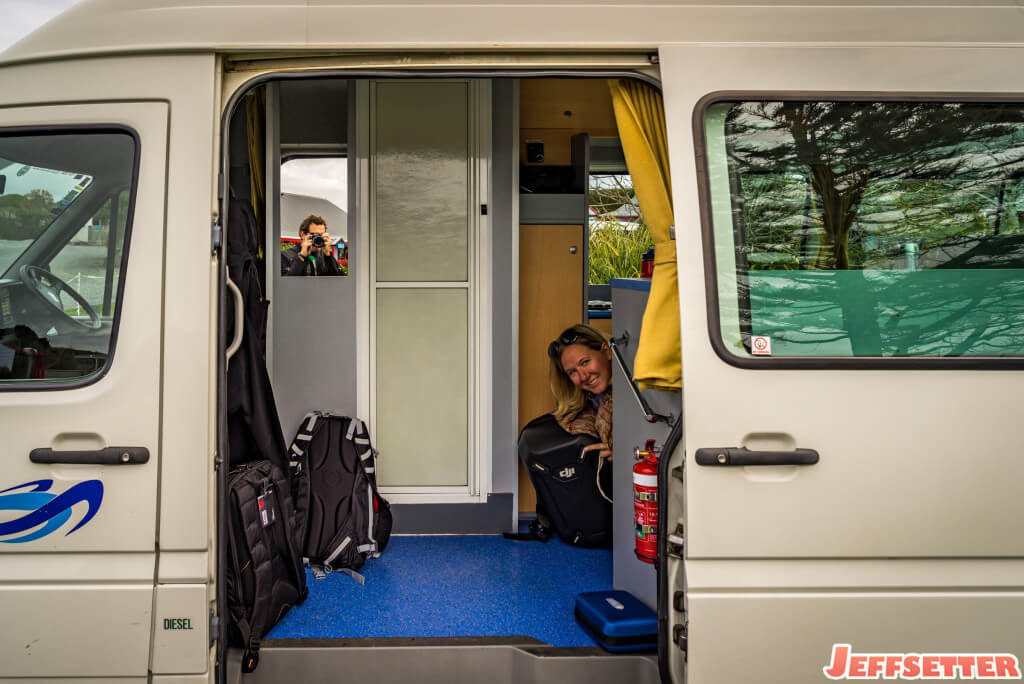 Booking the Free Campervan Rental
Basically, we found out (from a friend) that we could get a campervan for free by using one of the relocation service in New Zealand.
A lot of tourist do one way rentals, which means the rental companies need to relocate a lot of cars. They offer free nights (number depends on distance) if you are willing to transfer the car to the location they want.
Note, you have to pay for campsites, tolls and other incidentals, i.e., just the rental is free.
We booked our free camper through Transfercar. The website is super easy to use
Considerations
The only downside is that you have a limited amount of time to move the car where they need it to be.
For example, we had 5 free nights to drive the campervan from Christchurch to Auckland. This means you could take 11 days to drive from Christchurch to Auckland, but you would have to pay for 5 nights (the other 5 would be free).
Also, the campervans can be older. Ours was a 2011 (we rented in September 2015), but it was in great condition. It was very easy to drive but that could be because the last camper I drove was a heavy 30 foot rig and this is pretty much a van!
There was one hiccup with the booking process.
We did not have internet for a bit and we missed an email with a confirmation deadline. Since we missed the deadline, we were told that our rental was cancelled. Mr. J promptly addressed the issue once we had the internet, and all was fine in Jefsetterland.
The Pick-up in Christchurch
I stalled our rental car several times on the way to Christchurch, which lead to my epic "spaz" and refusal to drive the camper van.
The spaz went something like "I am not driving that thing, so it's up to you or we can cancel it right now." Not an overreaction at all.
Mr. J said that he could drive, and we were off (after stalling again) to get the van.
At the rental pick-up, you watch a 10 minute safety video which makes you an expert in maneuvering and driving a campervan.
After the video,  you are handed the keys, and you are off. They also gave us a tour of the campervan, told us about the petrol and dumping features. Good times.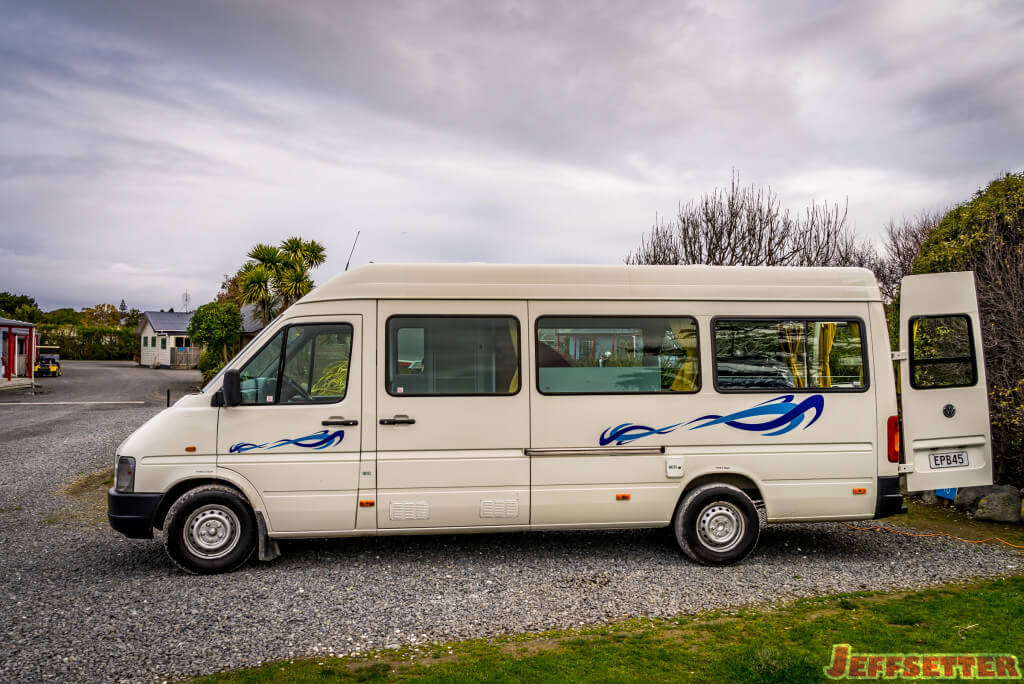 The Campervan
The van was really nice, fully equipped kitchen and linens (towels, sheets and pillows). I would do this again in a heart beat, especially now that I am confident in Mr. J's driving- it was actually surprisingly easy to drive.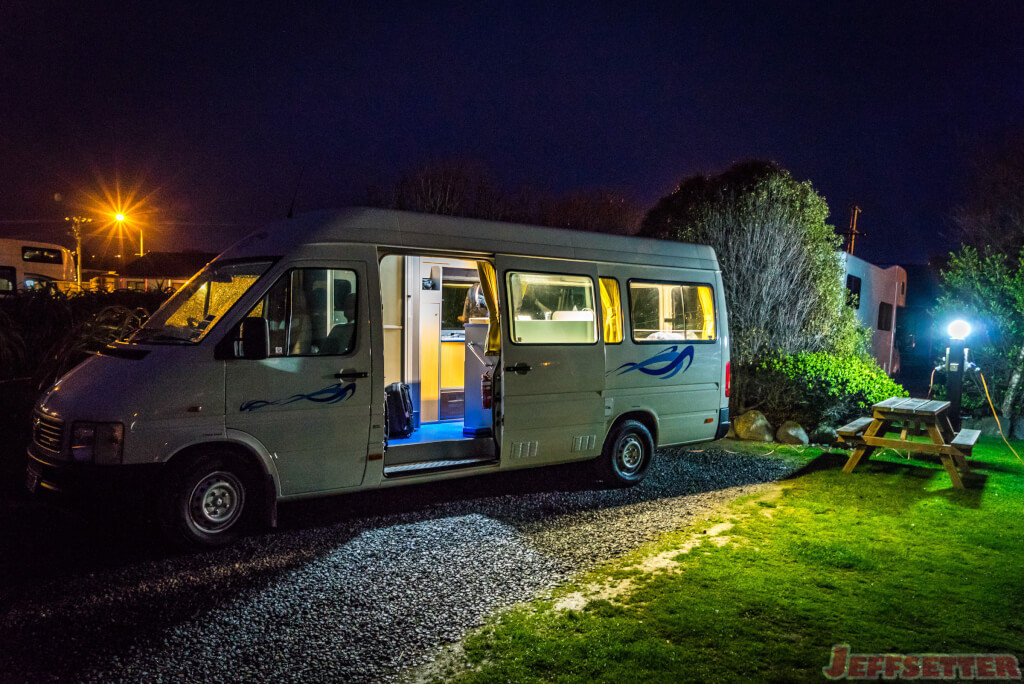 The Cab
A spacious cab offers the perfect environment for death screams as I thought Mr. J would drive off the edge of a mountain numerous times.
This campervan is 9 meters, and fits two people comfortably.
I would say that a family with two small children could fit, but it would be tight for sleeping.
There are seat belts in the back at the table, as well (Pictures below).
The Kitchen
The functional kitchen was great. Everything we needed to cook was here, including dishes, utensils, pots and pans. Everything was in great condition as well, i.e., I was not grossed out by anything.
I actually didn't cook any hot foods in here because I didn't want all our stuff to smell like I was still server at Rio Bravo.
All of our campsites had grills or some had a full kitchen, so we could still have a hot meal. Plus the weather was nice enough to be outside.
Dining/Sleeping Quarters
The back of the van housed a spacious table that converted into a bed.
It really wasn't bad to sleep in here. All the linens and pillows were provided. Again, everything was in great shape. Curtains allowed plenty of privacy at night.
The van was equipped with a heater and air conditioner.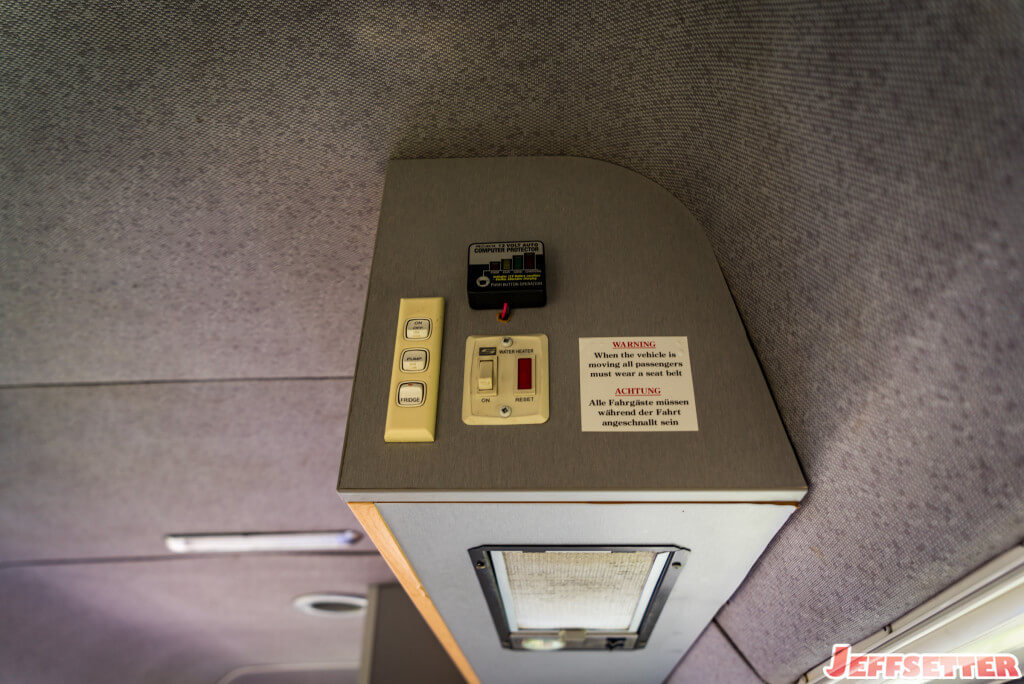 We needed the heater a few of nights. The first night was didn't turn it on, and we woke up freezing in the middle of the night. The second night we had it too hot, but by the third night we had it figured out.
The Bathroom
I know some people hate bathroom pictures, but I think this is different than a hotel room. And, people who have never RV'd or camped before may be curious.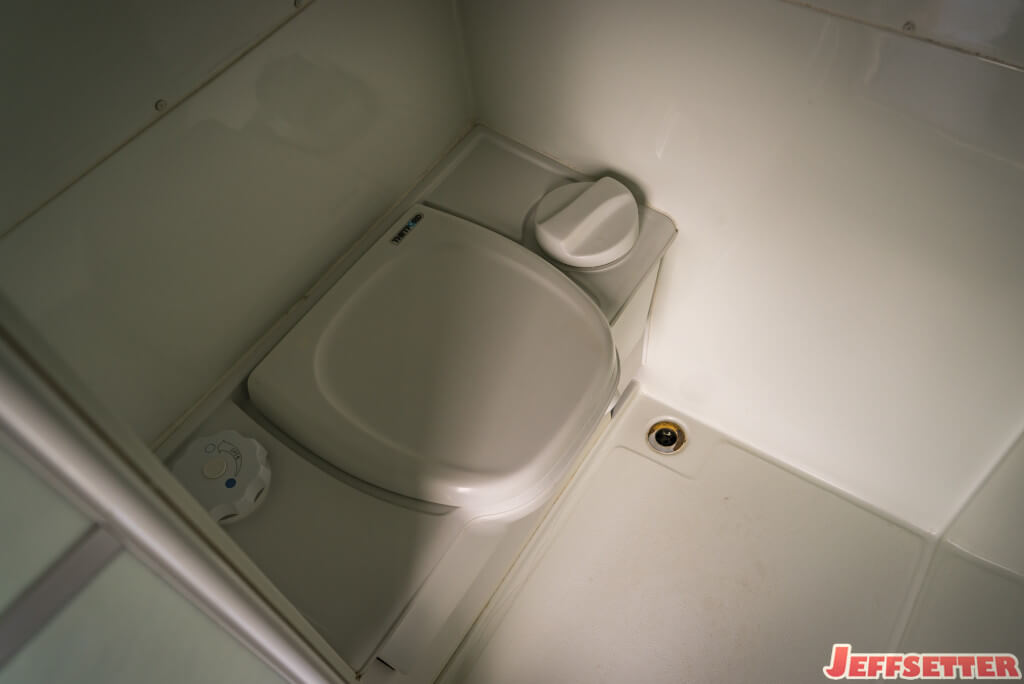 There is a shower head to the right top, so this is also the shower. It's tight, but functional and great in a pinch.
Yes, you eventually have to go to a dump station if you use it.
We did not shower on the van. The campsites we stayed at had full bathrooms, so it was just more comfortable to shlep everything there where you have room, endless water (most of the time), and you don't have to deal with dumping.
Recommendation
We loved the camper van, and would love to do it again. I still wouldn't want to do it for more than a week. Sorry, this was a fun experience., but I love my luxury resorts.
We would also recommend using Transfercar. I know there are some others out there as well. I don't know how they compare.
One Last Consideration
Oh I almost forgot, we were annoyed at the drop off.
We filled up the petrol, and attempted to fill up the propane (used for the heater). Even with my abnormal strength, we could not get the propane tank open, the attendant at the gas station also tried and they couldn't get it open either.
The guy at the rental drop of is magically able to open the tank on the first try. Mr. J exclaimed he must have loosened it. I asked him if he used the patronus charm, and inquired about whether he could apperate too.
He was not amused and proceeded to tell us that we did not fill up the petrol either. Uh yes we did, and then we informed him that the gauge doesn't work until you have the van in gear and are driving. I know this because I obviously accused Mr. J of not filling up the whole tank every time we got gas.
As we were driving to the airport, the guy noted "oh, I guess it is full" when he saw the gauge slowly drift up to the full marker as the van moved. At last, we were not charged for any petrol.
The drop off was a bit irritating, but we were also stressed because we were stuck in a traffic jam (an accident and road construction). The drive took us 4 hours instead of 2 hours.
All in all, we would recommend.