Last updated on May 2nd, 2023 at 01:43 pm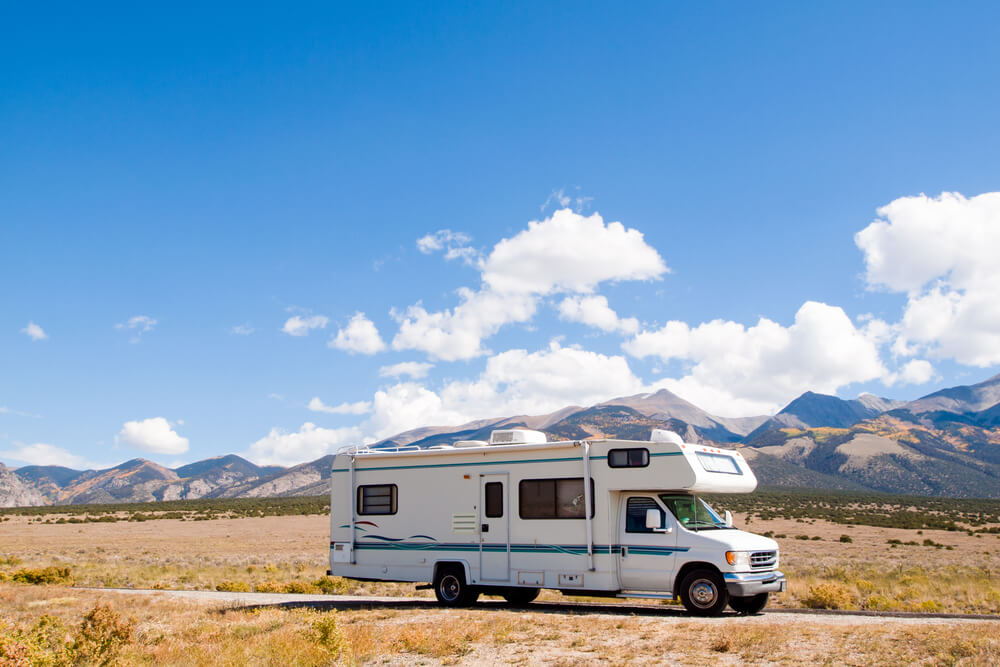 All of our reviews are based on exhaustive research, industry experience, and whenever possible, hands-on testing. When you make a purchase using one of our chosen links we'll a small percentage of the proceeds. This supports the site and keeps Jeffsetter running. You can read more here.
Understanding the weight of your RV and the towing capacity of your vehicle is critical for any RV trip! Knowing this information helps prevent you from overloading your RV, and can also come in handy if your rig ever breaks down and you need to provide your RVs statistics to the tow company.
So, what is the average weight of a 30-foot camper?
The average weight of a 30-foot camper is between 5,200 and 5,800 pounds dry weight which is the weight of your camper with empty water tanks and no gear on board. Filling your tanks and adding your gear will bring the weight of most 30′ campers to 6,700 and 7,300 pounds.
The weight of your 30-foot camper may vary depending on specific models and brands and can fluctuate considerably if your RV water tank is empty and all your belongings aren't on-board. The first step in finding out the weight of your rig is to break down the terminology regularly used when weighing RVs.
This will allow even the newest RVer to understand the weight of their RV, so they can carry the knowledge forward and use it when necessary.
So, let's get started!
What Is The Average Weight Of A 30 foot Camper?
The average weight of a 30-foot camper will vary depending on whether it is empty or carrying additional weight such as water, passengers, and belongings. Knowing the weight of your RV is essential as if you break down, you'll have to provide the weight and size of your RV to the tow company.
It can be surprising how much weight belongings, water, and additional equipment can add to your rig, so it's a good idea to know roughly how much it weighs before you start packing everything inside!
We've put a table together of some popular travel trailers measuring less than 30 feet, and their GVWR so you can get an idea of the weight of these types of RVs.
| | | |
| --- | --- | --- |
| 2021 Gulf Stream Enlighten 25BH | 27'2" | GVWR 7,580 |
| 224BH 2022 Jay Flight SLX 8 | 27'1" | GVWR 5.600 |
| 2022 Sportsmen SE 251RSSE | 29'7" | GVWR 7,000 |
| 2020 Sonic Lite SL169VBH | 21'4" | GVWR 4,000 |
| 2020 Coachman Clipper Ultra-Lite 21RD | 25'5" | GVWR 6,625 |
| 2022 Flagstaff Micro Lite 22TBS | 23'11" | GVWR 6,880 |
RV terminology can be confusing, and if you're new to RVing and want to get clued up on RV weights and more, taking a look at vocabulary is a good place to start.
Understanding The Vocabulary Behind Camper Weights
Figuring out the actual weight of your camper (30′ or otherwise) isn't always easy and one of the first things to understand is the jargon behind it all. There's a lot to consider such as hitch weights, dry weights, gross weights, and more when assessing the weight of an RV.
It's normal to feel overwhelmed, especially if these terms are new to you, but understanding the vocabulary behind camper weights will put you in a better position when you need to know your RV's statistics.
So, let's break down the terms you need to know before you tow.
Unloaded Vehicle Weight, Base Weight, Or Dry Weight
Unloaded Vehicle Weight (sometimes abbreviated as UVW) or dry weight is the weight of the camper as manufactured by the factory. In other words, it includes everything the RV would be equipped with right out of the factory but doesn't include anything additional things such as water, gear, or extra accessories.
Gross Vehicle Weight
Almost the opposite of the UVW, the gross vehicle weight is one of the most important elements when it comes to determining whether or not your vehicle can tow your camper. This is because the gross vehicle weight describes the fully loaded weight of your camper, including gear, water, passengers, and optional equipment.
It's surprising just how much furniture, appliances, and water can weigh, and if you're traveling as a couple or family, the additional weight of a fully grown adult will add a substantial amount.
Refraining from overloading your camper will make for a far safer journey, as an overloaded camper can be dangerous as steering and braking can be affected considerably.
Hitch Weight Or Tongue Weight
These terms typically mean the same thing and they describe the actual weight that's applied to the hitch ball by the trailer. Usually, this number comes out to around 10-15% of the total trailer weight.
Cargo Weight
Cargo weight is simply the weight of all the cargo (or belongings) you bring into the RV. You'll want to pay attention to this weight since overloading your camper can have big consequences and make your camper unsafe to be used on the road.
Gross Vehicle Weight Rating
The gross vehicle weight rating (often called the GVWR) is the maximum operating weight of your camper or RV based on all components including gear, water, and passengers. Weighing your camper after you've loaded everything on board and filled the water tank will give you a figure of your GVWR.
How To Weigh A 30-Foot Camper (Or Any Camper Size)?
Once you have the unloaded vehicle weight of your camper, you'll need to figure out how much gear and cargo you're able to throw in. While individually weighing out every item will produce a precise number, it's not the most time-effective way to go about things!
Luckily, there are a few ways to help you determine the real (or at least working) weight of your camper.
1. Add 1,500 Pounds To The Dry Weight
Adding between 1,000 and 2,000 pounds to the dry weight of an RV is an old-school way of estimating the total weight of your camper. Estimating the weight of your water, belongings, additional equipment, and individuals on-board will produce a number that shouldn't be too far off.
This isn't a perfect system, however, as there's a big risk of underestimating the actual weight of your RV and overloading it by mistake. If you want an accurate number for the weight of your rig, it may be worth looking into a different camper-weighing method.
2. Use The Gross Vehicle Weight Rating
An easy way to play on the safe side when calculating whether or not your vehicle can tow your camper is to use the gross vehicle weight rating. This number is the maximum capacity your camper will weigh with everything on board from food and fuel, to water and passengers.
I prefer to use this strategy as I always like to air on the side of caution and overestimate the weight of my camper. This means your vehicle is always ready since you know it can handle the max capacity of your rig if needed.
3. Consider Using A CAT Scale
Using something such as a CAT scale is possible, as it's specifically designed to weigh big rigs such as RVs and travel trailers. You may need to hunt around to find a CAT scale near you, but since weighing your RV on one is affordable, it may be worth taking the time to find your nearest one to provide some peace of mind about your camper's weight.
For a walk-through of using a CAT scale, it's worth taking a look at the video below, as it provides a first-hand CAT scale experience.
The accuracy of a CAT scale may appeal to any RVer who is concerned their trailer may be overweight and ensures you get an accurate reading of the camper's weight.
How Much Does My Stuff Weigh?
Regardless of the method you choose to weigh your camper, it can still be useful to know how much simple everyday items and belongings weigh. Packing an extra bag or two could have a big impact on the overall weight of your camper and could be the difference between a safe trailer and one that's overloaded.
1. Water Weight
On average, water weighs 8.3 pounds per gallon and the amount of water you carry is going to vary based on the type of RV'ing you do. I love to go dry camping and really get out there into the wilderness, so I tend to carry a lot more water than the typical weekend warrior or RV park camper.
The average 30′ foot or class C RV typically carries between 35 to 60 gallons of fresh water which comes out to 290 to 500 lbs. This will vary throughout your camping trip, and you may even be able to notice a change in how your rig drives when there's next to no water on board!
2. Slide Outs And Pop Outs
While slide-outs are awesome space-enhancing features on an RV, they can also add a surprising amount of weight to your rig. Adding just one slide out to a typical 30′ camper has the potential to add between 600 to 900 pounds of weight.
As with most things, however, the exact weight is going to vary greatly, so it's wise to do some research on specific slide-outs and see what lightweight options are out there if you're worried about the weight of your rig.
Pop-outs are usually lighter as instead of extending the RV interior, they tend to just provide a little shade. They may be a better option if you're looking to open out the space in your RV more but don't want to add anything too large or heavy.
3. Personal Items
Clothes, books, games, and other personal items can all add up to a considerable amount of weight in your camper, especially if you're traveling with multiple people. For RVers traveling with young children or pets, it's worth keeping in mind the weight of additional belongings.
If you've got young children or a lot of specialty gear for things like rock climbing or skiing you'll want to consider going with the GVWR to work out your camper weight, just to be on the safe side.
4. Extra Equipment
When out on the open road, traveling to new places, it's easy to buy items and rack up the belongings inside your camper. If you live full-time on the road and haven't emptied your RV in a while, you'll likely be surprised at how many items you've gained over your travels.
If you've upgraded or added things like a TV, extra furniture, or generators, they will all need to be factored in when you are in the process of working out the weight of your camper. I've actually added a wood-burning stove for my RV to keep things extra cozy during the Portland winters, which adds weight definitely not factored in by the manufacturer!
How To Find The Weight Of Your RV Online?
We've talked a lot about gross weight, capacity, and other jargon that you need to know…but where do you actually find this information?
One of the best sources for finding the weights of RVs is RVUSA.com's Specs Guide. All you need to do is throw in some basic information and you'll get detailed information on all specs and floorplans.
How To Find The Towing Capacity Of Your Vehicle?
Okay, so you might think that Google is your best bet for finding your towing capacity, but there's actually a lot of variation between the exact same model based on the options selected. Your best option is to check your driver's side doorjamb which will include everything you need to know about your specific vehicle's towing capacity.
Ford even specifies on their website that, "See label on the door jamb for carrying capacity of a specific vehicle" when they advertise their F-150!
How To Stay Safe When Towing?
One of the key practices of staying safe when towing is to leave yourself some room when it comes to towing capacity. The general rule is to keep your camper's total weight under 80% of your vehicle's total towing capacity.
It's essential to remember, however, that towing capacity doesn't factor in hills, and if you're putting in any kind of miles or distance, you're most certainly going to encounter some hills!
Push your towing capacity to the max and not only will you find yourself putting up every incline, but there's even a chance you won't get up the hill at all. This can not only put your rig in harm's way, but also risks the safety of you, your loved ones, and everyone else on the road.
Pushing the max towing capacity of your vehicle and also do damage to your truck, affecting the longevity and health of the vehicle. Towing is especially hard on your vehicle's transmission and as transmission repairs often come with a hefty price, it really isn't worth the risk.
Typically, not overloading your trailer, ensuring your truck can handle the weight, driving sensibly, and taking additional precautions in harsh weather conditions will help keep you safe on the road whilst you're towing.
There's also no shame in pulling over during bad weather to wait for extreme wind or rain to pass. Often this is the best decision, especially when towing vehicles, as harsh conditions such as strong wind, can make trailers far more difficult to control and stabilize.
Closing Thoughts
While the weight of a 30-foot camper will vary from model to model, there are a few different ways to get a good idea of how heavy your camper will be. At the end of the day, it's always better to play it safe and overestimate the weight of your vehicle, so the likelihood of your overloading it will be slim.
Using a CAT scale or the GVWR, means you are unlikely to pack too much weight into your camper, and means you'll stay below the maximum towing capacity for ultimate safety.