Last updated on April 13th, 2023 at 05:23 am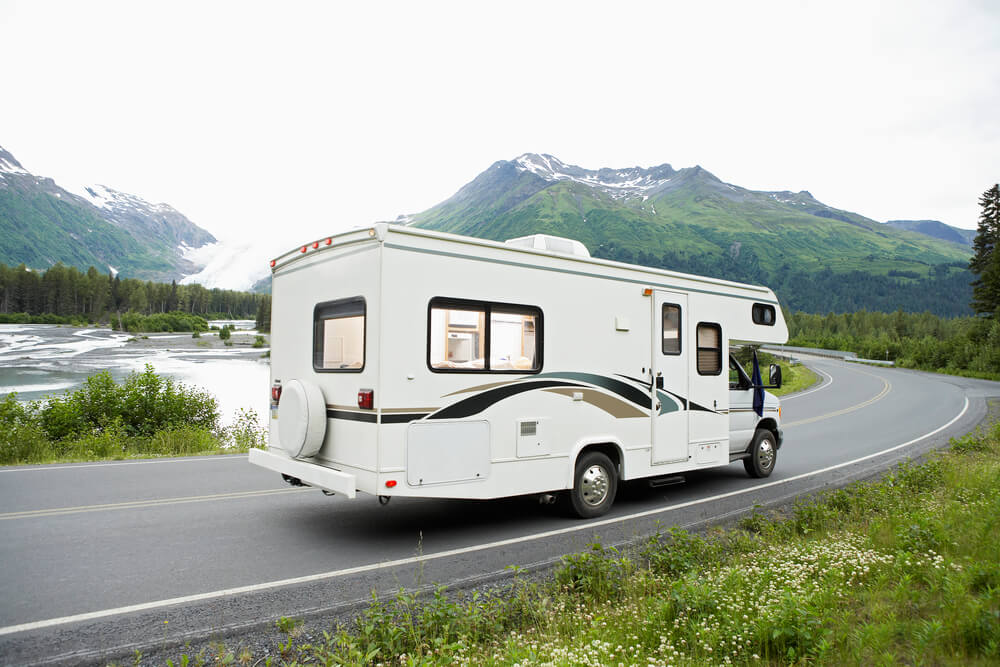 All of our reviews are based on exhaustive research, industry experience and whenever possible, hands-on testing. When you make a purchase using one of our chosen links we'll earn a small percentage of the proceeds. This supports the site and keeps Jeffsetter running. You can read more here.
As summer winds down and tent camping becomes less comfortable in cooler climates, an RV may be an appealing option for the outdoorsy type hoping to camp year-round. One of the biggest speed bumps to consider when purchasing an RV is how difficult it will be to drive to your destination.
Beginning the process of an RV purchase can be daunting, especially when maneuverability and ease of use are your top priorities. If you're new to the RV world and are feeling anxious about getting behind the wheel, let's help put your mind at ease!
So are RVs difficult to drive?
Driving an RV isn't too difficult, and as long as you practice safe driving in your camper, you shouldn't experience many problems. Newer RVs are considerably easier to drive than older models and often have improved safety features. Taking things slow and steady, planning ahead, and minimizing distractions will improve your RV driving experience.
Just like anything in life, practice, and preparation help things go a lot smoother, so let's take a more in-depth look at some of the difficulties you may face when driving your RV. Getting prepared and finding out more information about RV driving is a great way to feel reassured and confident when it's time to hit the road.
Are RVs Difficult To Drive?
So you have never driven an RV. A lot of people haven't, and even more people haven't towed or driven something beyond the size of the average vehicle. There's a lot to consider when you're ready to get traveling with your new rig, and I'm here to tell you about the main challenges you will face.
The main difference I'm sure you're aware of is size. Most RVs are much larger and heavier than your family car (in fact, your RV may be able to tow your family car, no problem), and this can pose the most stress for you, the driver. When it comes to driving something longer and heavier than you're used to, your safety should be the number one priority.
There are many RV classes and options out there, including models with safety features that will help you feel more secure on the road. While none of them are too difficult to drive (with practice, of course), there are things to consider, especially when you're looking at maneuverability on the road.
Are RVs Hard To Maneuver?
As RVs are sizeable vehicles, maneuvers such as reversing and parking can be hard, as you'll have to consider the length of the RV. I find slowing down and having an extra pair of eyes when possible can make things a whole lot easier – especially when reversing around corners with a trailer!
It goes without saying the larger the RV, the more difficult maneuvers will be to complete, but after you've taken your big rig out on a few trips, your confidence will skyrocket. Completing a right-hand turn in a large RV can be difficult, and is often a maneuver many RVers don't look forward to!
This video is a fantastic watch if you are getting familiar with your big rig and could use some extra knowledge.
It can be nerve-wracking to maneuver a large RV, particularly if people decide to watch you. The most important thing is to be safe, so focus on the task at hand and try to ignore any eyes wandering over to your direction – put your skills to the test and make everyone wish they could maneuver an RV like you.
Are Towable RVs Difficult To Drive?
The main difference between towable rigs and motorhomes is hitching. If you're looking at towable travel trailers, I cannot recommend sway bars and weight distribution options enough. The longer your travel trailer, the harder it will be to control on the roads, especially on freeways, and this can make towable RVs more difficult to drive.
If you've properly distributed your weight inside the trailer and have purchased a hitch with sway bars, you should feel safer, more in control, and able to continue at a speed that better matches the majority of traffic.
I own a 19-foot travel trailer, about 5,000 pounds dry, and even I get rocked and swayed by passing vehicles. Having an evenly distributed towable RV will make driving conditions a lot easier as you will be less like to move around a lot on the road, and you'll feel more comfortable behind the wheel.
My trailer may be heavy (a 1976 model year; they only made them so light back in the day!) but the length doesn't compare to the average towable RV out there.
When shopping for an RV, choosing something light may be an appealing option for you: easier to brake, easier to control, and easier on your towing vehicle. But no matter what rig you choose, make sure you choose the right hitch. I would feel completely unsafe without my sway bars, and driving would be a lot more difficult.
Are Towable RVs Harder To Drive Than RVs?
I knew from the get-go of planning my full-time RV life that I wanted a towable travel trailer, mainly because I already owned a V8 truck, but I also wanted the option to leave my trailer at camp and free my vehicle for trips to the grocery store, hiking spots, etc.
My biggest concern at the time of purchase was the actual act of towing. I had only towed once before (a tiny moving trailer that I needed help parallel parking on a busy Portland, Oregon street), so I was trepidatious, to say the least!
Towable rigs tend to be more difficult to drive than RVs for a few different reasons, mainly the fact that they're hitched to your vehicle and have the ability to move separately from your car or truck. You will feel every curve and bounce in the road, every car that passes you, and any high winds. Backing up a towable rig can be a nightmare; it is still the main thing my partner and I stress over when arriving at a new campground!
Are Fifth-Wheel Trailers Hard To Drive?
Fifth-wheel trailers require a lot of similar considerations, as your hitch must compensate for the weight of the trailer, and freeways can be just as tricky, especially given how big most fifth-wheels are! However, many RVers love this style of hitch and find driving easier with it.
The hitch and mechanism are different than travel trailers, allowing for a more natural turning and sway than with a traditional hitch. If you're in need of every possible amenity and don't care about size, a fifth wheel may be the perfect fit.
However, fifth-wheel hitches are only available for pickup trucks, so this may not be the best option if you don't own a heavy-duty truck. No matter what, towable RVs take practice and patience. You'll be learning how to hitch, use an electronic brake controller, and drive, which can be overwhelming!
Towable trailers can be difficult to drive for all of these reasons, but often you will find a trailer with the amenities you're looking for, as well as something you can detach and leave behind at camp for a more reasonable price.
How Hard Is It To Drive An RV?
Overall, I've found motorhomes to be a much less difficult option for many RVers. Most full-timers I know have Class As that tow their more fuel-efficient vehicle.
There are three different classes to consider, and I'm sure you've wondered about them if you've begun your RV search: Class A, Class B, and Class C. The main difference between these classes is the size of the rig, along with the number of amenities the space can fit.
Class A RVs
Class As are the large, bus-like motorhomes you see on the road, often towing a more fuel-efficient car behind them. They are often 20-45 feet in length and don't boast much in the way of fuel economy (though neither does my V8 truck!).
If you're looking for something to fit the whole family as well as top-of-the-line luxury, it can be found in a Class A motorcoach, but you must be prepared to drive a bus-sized RV around.
Class As can be the most difficult option to drive given the length, weight, and possible blind spots present. Purchasing some towing mirrors could give you some peace of mind, as well as making sure you're taking it slow and steady on the freeways!
If you choose to tow an extra vehicle behind you, make sure your Class A can handle the weight, especially if you're driving over any mountain passes on your vacation. If you choose to tow your family vehicle, this isn't a bad idea; you can leave your huge motorcoach hooked up at camp and take the family sedan into town. But keep in mind what I've already said for towable rigs.
You'll have to consider double the safety features if you're thinking of choosing this setup. Class As are literally busses in every way (including bus conversions, if you're up for a project), so safety is paramount, especially if you are towing something with it.
Class B RVs
Class Bs are the smallest of motorhome options but are usually vans and other easy-to-drive options. They are no longer than 23 feet and are fairly basic inside; you'll have a bed and some storage but often other amenities fall by the wayside due to the size of the vehicle.
However, there's still a difficulty curve, especially if you've never driven anything larger than the average sedan. Class Bs are arguably the most popular casual RV option out there right now, as you've probably seen by the increase in van conversions these days!
Class B RVs are arguably the easiest choice when it comes time to hit the road, which is why camper van conversions and other Class Bs are popping up more and more. If the idea of driving a huge RV fills you with dread, check out Class B options.
You may not be able to bring the whole family, and you won't have too many amenities, but it should feel as easy as driving a van or small truck– because it is one!
Class C RVs
Class Cs are your in-between option, ranging from 20-30 feet. You'll have a kitchen and bathroom with a little room to spare in these motorhomes, along with the shorter length, which may leave you feeling more secure on the road! It'll be cozy, but you should be able to fit the whole family inside.
Class Cs are worth considering if you need a bit more space, especially if you've rented a moving truck before. The average moving truck weighs similarly, so this class won't be too much for you if you've moved once or twice.
It's like the Goldilocks of motorhomes, and shouldn't feel too different than driving a van or truck. However, remember your height, weight, and width; don't take those curvy mountain roads too quickly!
How To Make Your RV Easier To Drive?
Hopefully, you've narrowed down the type of RV you're looking for and found something to perfectly suit your needs! So, how can you ensure your RV is easier to drive?
From my full-time RV experience traveling both freeways and remote back roads, here are three safety tips I share with everyone thinking about finally driving their new rig, no matter the type.
1. Slow And Steady
No matter the size, type, or weight of your rig, the one way you can guarantee more control while driving is your speed. It seems obvious, but I've seen many RVers get rocked and swayed by passing vehicles because they're determined to maintain the same speed as all the other cars on the road.
Bottom line, your fifth-wheel or motorhome will never be able to handle a freeway at the same speed as a Mustang. And that's okay! Maybe it's my Oregonian soul telling me to sit back and relax while towing, but I advise everyone to take their time on the road.
2. Minimize Distractions
Is your music blasting? Are your kids demanding bathroom breaks? Some of these things are unavoidable while on a road trip, but if you're in the driver's seat of your new RV, the last thing you need is too much going on.
If you're able to have a passenger, this can make all the difference in the world. Have your passenger check your blind spots, corral the kids, and change the music and climate inside the vehicle. You should just be focused on getting everyone there safely.
3. Plan Ahead
So many websites these days offer RV-specific routes and tips to help you out even before you hit the road. Worried a highway might be too narrow for your comfort?
Looking for a rest stop with pull-through parking so you don't have to worry about backing up? Need a gas station that will fit your fifth wheel? Check online! I've found that planning these little moments makes my trip easy peasy.
Closing Thoughts
RVs can be daunting. There are so many options, including vast differences to consider when it comes time to drive. Are you up for the challenge of a towable rig? Or are you hoping for a Class B to flatten the difficulty curve?
No matter what option is right for you, practice, practice, practice. It won't take much before you're feeling safe, secure, and confident in your RV driving abilities.
Plan ahead, do your research, and work on backing up before you bring the whole family on the adventure. RVs are meant to be driven, so don't be afraid to tackle the road!