Yesterday, Marriott finally provided details on the new Marriott Rewards Program.  And, honestly, from a Marriott Rewards loyalist perspective, these changes aren't good.
Did you watch Marriott's announcement regarding the integrated rewards program yesterday?  I tried, but after watching 15 minutes of filler, I gave up.  Seriously?  What were you thinking, Marriott?  Thankfully, Ben over at One Mile at a Time already had all the details posted.  And, well, the new program is a bit of a mixed bag.  So here's my Marriott loyalist take on the changes.
Elite Tiers
As it turns out, the rumors about the new Elite Tiers that broke last week are accurate.  There will be five Elite Tiers going forward: Silver (lol), Gold (lol), Platinum, Platinum Premier, and Ambassador.  And, as rumored, the qualifications will be as such:
Silver: 10-24 nights
Gold: 25-49 nights
Platinum: 50-74 nights
Platinum Premier: 75-99 nights
Ambassador: 100+ nights with $20,000+ in spend
So, again, it looks like the new program will keep all of the tiers from both programs.  It is worth noting, though, that Silver status is automatic if you have a co-brand credit card, but more on that later.  And, as you can see, Elite qualifications going forward will be easier, which is a good thing.
Elite Benefits
Now here's where things become a mixture of good and bad.  In the new program, Elite members can expect the following benefits:
Silver Elite

10% bonus points
Priority late check-out, subject to availability
Dedicated elite reservations line

Gold Elite

25% bonus points
2 p.m. late check-out, subject to availability
Welcome gift of points
Room upgrades subject to availability, excluding suites

Platinum Elite

50% bonus points
Guaranteed 4 p.m. late check-out, subject to availability at resorts
Welcome gift of points, breakfast, or an amenity
Room upgrades, subject to availability, including suites
Executive Lounge access
Annual Choice Benefits (5 Suite Night Awards or gift)

Platinum Premier Elite

75% bonus points
Other benefits same as Platinum, but with five additional Suite Night Awards or gift

Ambassador 

Ambassador service (duh)
Your24, which is the ability to check-in and check-out over a 24 hour period, subject to availability, of course
So, as we can see, the new program mashes together the benefits of both SPG and Marriott Rewards.  Which means, instead of having just one crap Elite Tier, now we have two.  Silver is a joke, while Gold provides marginal benefits at best.  And, like SPG, breakfast is now a welcome gift amenity, which won't be available at EDITION, Gaylord Palms, Ritz-Carlton, Marriott Executive Apartments, and Marriott Vacation Club properties.  But, hey, now you can get free breakfasts at Courtyard!  Though, the Bistro isn't someplace I'd choose to eat anyway.
Earning Points
As detailed in last week's rumor, the point earnings structure for the new Marriott Rewards will change too.  Let's take a look how accrual rates will change across the board.  Note: I'm stating SPG points as their Marriott Rewards equivalent.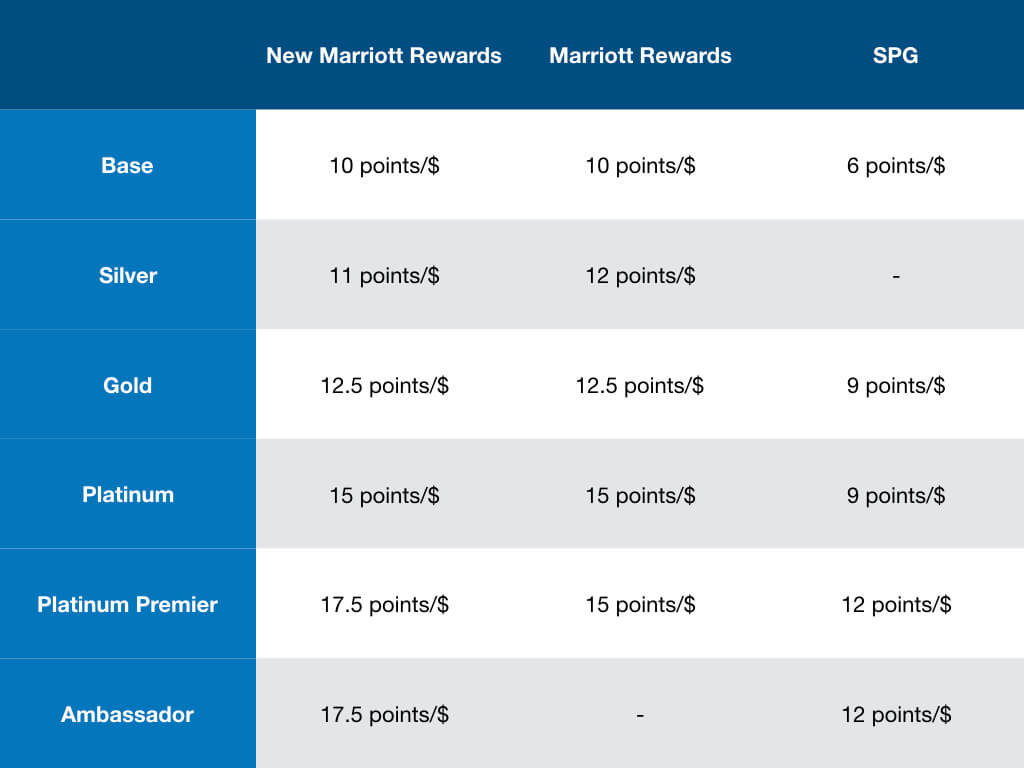 For all Marriott Rewards members, except for Silver Elites and Platinum Premiers, the new earning rates are maintaining the status quo.  Platinum Premiers, of course, are getting a boost, while Silver Elites will earn slightly fewer points.  For Starwood members, though, the new program represents a significant increase in earning rates.  But don't get too excited yet.
Redeeming Points
While earning more points is a good thing, it's a double-edged sword.  And this is abundantly clear with the new award chart.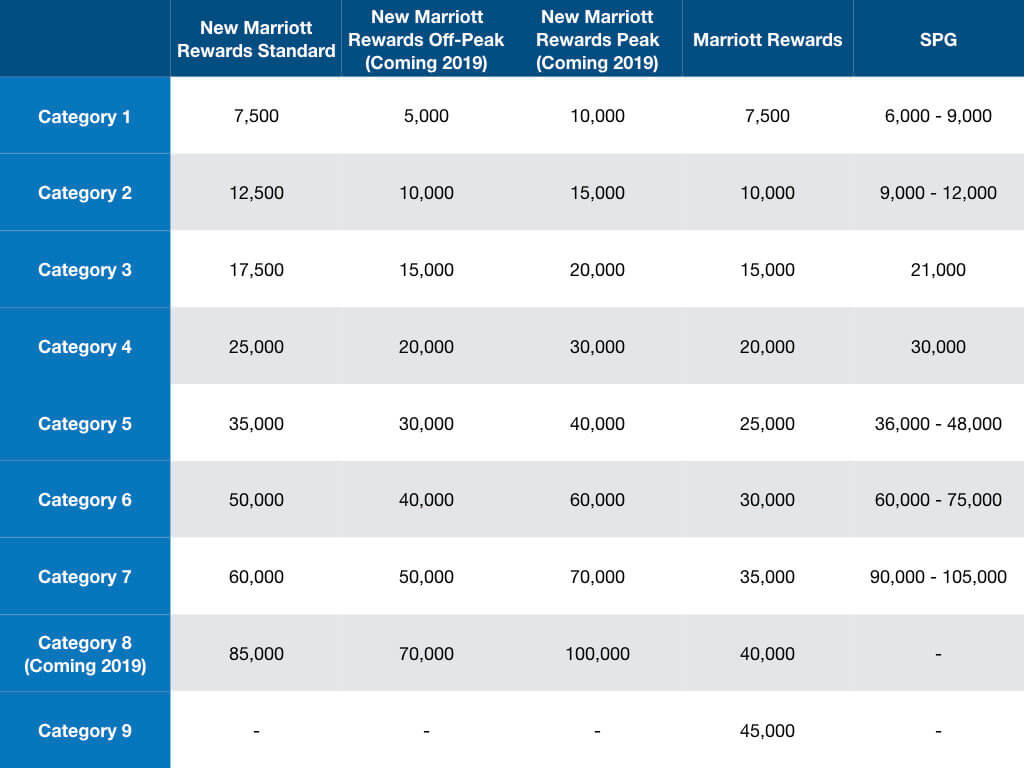 Yikes!!  This new chart represents a potentially MASSIVE devaluation for Marriott Rewards members, but better value for SPG members. What especially worries me, though, is if Marriott decides (and I wouldn't put it past them) to just shift all category 8 and 9 properties in the current program into Category 8 of the new program.  Such a scenario would be devastating for hotel night award values.  And I really, really hope this isn't what happens.
The good news as far as awards go, though, is that the ability to transfer points to airlines is staying.  And, better yet, the transfer ratio will remain the same, at least for now.  Marriott's popular vacation package redemptions will also continue to be an option under the new program. Members redeeming for hotel stays will also continue to receive their fifth night free.  Oh, and bidding for Moments will continue to be an option as well.
Lifetime Status
This aspect of the program merger is, honestly, the one that concerned me the most.  And, from a Marriott loyalist perspective, my fears have been realized.  Going forward, this is how members will qualify for Lifetime Elite status:

The new program is adopting a modified version of Starwood's Lifetime Elite qualifications, and, under the new program, I already qualify for Lifetime Silver Elite.  And, should all go as planned, I'll hit Lifetime Gold Elite sometime next year as well.  But, under the new program, Gold Elite is a joke.  You no longer receive lounge access, breakfast, etc. like you did under the old Marriott Rewards.  That means, to maintain the same level of benefit I receive today, I'll need to obtain Lifetime Platinum Elite.  And that means a long road ahead for me, especially since I can no longer qualify based on a combination of credit card spend and stays as I have been.
It's worth noting that under SPG, Lifetime Platinum requires 500 lifetime nights + 10 years of Platinum Elite status.  Under Marriott Rewards, Lifetime Gold Elite is the most similar status and currently requires 500 lifetime nights + 1.6 million lifetime points.
If you're an existing Lifetime Elite member, your status will automatically transfer.  SPG Golds will become Gold, SPG Platinums will become Platinum, and Marriott Golds and Platinums will become Platinum.
Credit Cards
As we've known for some time now, Marriott's post-merger credit cards will be issued by both Chase and Amerian Express.  Amex will issue the super premium and small business credit cards, while Chase will issue the consumer and premium consumer cards.  But now we know a little more details about Chase's new premium consumer card and Amex's new super premium card:
Chase Premium Consumer Card

Introduction on May 3, 2018
$95 annual fee
6x points/$ at participating properties, 2x points/$ on all other spend
Anniversary certificate valid at Category 1 – 5 properties (standard redemption rates)
15 Elite Qualifying Nights (EQNs) annually

Amex Super Premium Card

Introduction set for August 2018
6x points/$ spent at participating properties, 3x points/$ on airfare and at U.S. restaurants, 2x points on all other spend
$450 annual fee
$300 annual statement credit for on-property purchases
Anniversary certificate valid at up to Category 6 properties (standard redemption rates)
Automatic Gold Status
Platinum Status after spending $75,000 in a calendar year
Priority Pass Select membership
$100 Global Entry credit
Wow.  We got shafted on this one.  And even the Chase card has seen its annual fee increase $10, while you no longer earn bonus points on restaurant spend.  You do earn at least two points per dollar on all spend, but considering how much more points you need for award nights, this isn't exactly much of an increase.  Unfortunately, cardholders will not be able to earn EQNs based on spend with the new cards, which means my current elite status strategy will no longer work.
How the New Credit Cards Compare
What a letdown!  The Amex Super Premium card doesn't even compare to the Amex Hilton Honors Aspire card, in my opinion.  With that card, the $450 annual fee will get you:
14x points/$ at participating properties, 7x points/$ on airfare, U.S. restaurants, and car rentals, 3x points/$ on all other spend
Automatic Diamond Status
Anniversary Weekend Night Reward (No Ceiling)
$250 Resort Statement Credit + $100 on-property statement credit
$250 Airline Fee Credit
Priority Pass Select membership
So, the things the Hilton Aspire gets that's better are elite status (top tier), bonus points on car rentals, no-limit anniversary reward (though it's valid only on weekend nights), up to $350 in combined Hilton-spend statement credits, and $250 airline fee credits.  Thanks, Marriott.  I'm not sure that new Amex card will be worth getting; I might be better off getting the Hilton version instead.  Especially since I  can now earn a much higher status with Hilton than I can with Marriott.
Effective Date
Except for the Credit Cards, all of the above changes go into effect on August 1, 2018.  In fact, this is the date on which the new program will launch, and spg.com will disappear.  From this date, on, all reservations, etc. will be handled through marriott.com, and you will be able to earn and redeem points and enjoy unified elite benefits across all properties.
The name of the new program, however, has not been determined yet; that won't come until next year.
The New Marriott Rewards, Final Thoughts
The changes to the combined program were clearly made with Starwood Preferred Guest members in mind.  Many of the changes are positive for them, though they're generally a devaluation for Marriott Rewards members.  And while I understand Marriott sought to appease SPG members, I think it's foolish to do so at the cost of Marriott Rewards members.  But, I can't say I'm surprised.  After all, Marriott has been devaluing the program and cutting benefits for some time now.  A devaluation was all but certain under the new program, and many of my worst fears came true.
However, without the ability to earn EQNs through credit card spend, my time as an upper-tier Marriott Elite is coming to an end.  I'll likely maintain Platinum Elite status throughout 2019, but after that, I'll probably fall back to Lifetime Gold in the new program.  So, going forward, I see little benefits to sticking with Marriott any longer.  And World of Hyatt definitely isn't a program I'd consider at this point.  So, now it's time for me to decide whether to stick it out with Marriott for now, jump ship to Hilton, or just become a "free agent."  But if the existing Marriott Rewards Premier Visa from Chase continues to earn EQNs on spend, then I will stay for as long as I can keep that benefit.
I'm not holding my breath, though.  Marriott seems intent to push out infrequent travelers that obtain status through other means like myself.  Instead, the focus is shifting more towards people that actually stay often, and I can't blame them for that.  It just sucks that these changes are happening, and happening now.  Especially since I'm closing in on the Legacy Marriott Rewards Gold Elite Status.