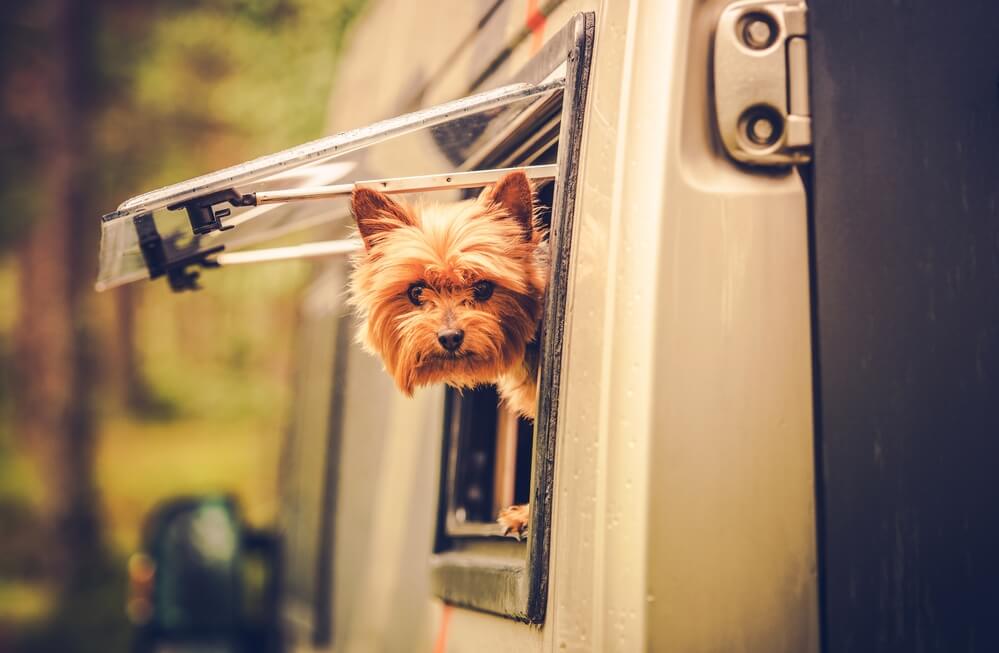 All of our reviews are based on exhaustive research, industry experience and whenever possible, hands-on testing. When you make a purchase using one of our indecently chosen links we'll a small percentage of the proceeds. This supports the site and keeps Jeffsetter running. You can read more here.
There's nothing better than hitting the road with your family, including your canine companion. But does your dog struggle with the steps of your RV, whether it be your dog's age, anxiety, or familiarity with using steps?
Perhaps a ramp for your dog is the answer, allowing for easy access to and from your rig. Your dog is a part of your family, and they deserve the same comforts as you! Let's take a more in depth look at the value of dog ramps in your RV and some ramps that we recommend.
But if you want to jump ahead and take a look at our favorites you can see them here: 
What is a Dog Ramp?
A dog ramp is exactly what it sounds like: a ramp for your dog (or you) to use when entering and exiting your RV. Most dog ramps are made with only the weight of a dog in mind, but some ramps can bear more weight than others.
Dog ramps usually attach to the doorway of your rig or perhaps your RV's existing steps and extend down to the ground at an even pace. This means that your dog does not have to contend with the existing steps or the big jump they would have to perform to enter and exit your RV.
Why Do I Need a Dog Ramp?
The question of needing a dog ramp comes down to your dog's own unique needs. You may not need a dog ramp for a young, healthy dog who is fully grown and experiencing no hip or leg issues. My two year old mutt leaps out of my rig every single day without fear or pain, so a dog ramp is not necessary for me at this time.
However, if you have an older dog that still loves to travel, or perhaps an uncoordinated puppy, or even a dog with short legs, a ramp may be something to consider. Ramps allow for easier access to the outside world as well as to the interior of your RV. 
Your rig's steps may seem easy for humans to operate, but your older pup may be undergoing daily pain jumping up and down from such a height. Hip troubles plague many dogs, and dogs are known to hide their pain from humans so as to not worry them. Just read this article by PetMD, discussing how your dog might be in pain and what you can do to help!
Again, you may find that your dog is healthy, fit, and happy to use your RV's standard steps. But for those of you concerned about the age and health of your most likely older pup, a ramp may be a great choice to make before your next camping trip!
Benefits of a Dog Ramp
Dog ramps have many benefits, both for you and your pet. While not all dog ramps are made for people, no matter what you and your dog alike will benefit from less strain to your knees and legs. Your dog most likely has arthritis or other injury, and a ramp is primarily meant for relieving their pain.
Besides the health of you and your pet, ramps may also prevent future injury. Both my partner and I have slipped stepping out of our rig, because our RV's step is notoriously unreliable. A ramp would solve our problem, no problem!
At the end of the day, the main benefit of a dog ramp is the happiness of your pup. Easing their anxiety should they be fearful of metal steps is something every dog owner should aspire to. A dog ramp is a necessity in my book for any dog that struggles up and down stairs. Your dog will be in less pain and live a happier life, and all it takes is a portable ramp! Well, and snuggles probably help too.
Things to Consider When Purchasing a Dog Ramp
Some considerations should be on your mind before your eventual dog ramp purchase. Here are some of the top features and considerations you should contemplate before shopping!
Weight of Your Dog
The weight of your dog matters for some of these ramps. While all ramps have a listed weight limit, some dog ramps are only rated for small dogs. The last thing you need is for your Great Dane to have a tiny ramp break underneath him! Make sure you know your dog's weight before shopping, and if more than one dog is going to use the ramp at a time, make sure your math is right!
Weight of the Ramp
Dog ramps are there to be convenient for your dog, but are they also convenient for you? Given that RVs are usually on the move, having a lighter weight ramp capable of being packed up and moved around frequently seems like a smart idea. A big, sturdy dog ramp might seem like a good idea, unless you can't lift it!
Foldability and Compactness
Much like the weight of the ramp needs to be considered, you should also consider the foldability and compact nature of the ramp. RV space is often at a premium, and an RV dog ramp needs to fold or collapse in some way so that you can store it, no problem. Some ramps will be bigger than others, so make sure you have the space for one should you be set on purchasing one!
Do You Want to Use the Ramp Too?
Most dog ramps are made for dog use only, designed for four legs and 150 pounds or less. This is where dog ramps get tricky: are you comfortable moving it out of the way of your rig's door anytime you need to enter or exit the RV? This can get old fast, especially if you've got a busy family.
Some dog ramps are rated to support humans as well as dogs, but not the vast majority of them. If you don't want to deal with the hassle of moving the ramp out of the way, you'll have to find a ramp that can support human weight too! You may still need to add supports to these ramps to assist in their longevity, but it's better to be safe than sorry.
Materials
Some dog ramps are made of wood, some plastic, some metal. Depending on how complicated you want to get, or where you plan on camping, some ramp materials might be better than others. Aluminum seems to be the ramp material of choice, often being lightweight and strong, perfect for hitting the road! However, make sure the material can support your pups, first and foremost.
Steepness of the Incline
Depending on the ramp design and the height of your rig, you may have some trouble finding a long enough ramp that provides a steady incline rather than a steep walkway. Your pup may experience just as much pain walking up a steep ramp as they do taking the steps. The incline matters, both to your and your pup, so keep this in mind before you make your final purchase.
All Weather Protection
If you plan to leave your ramp outside for the majority of its lifetime, consider the weather. Rain, ice, and snow can make any surface hazardous, especially ramps. Some dog ramps are coated in nonslip materials as well as carpet or astroturf. This may be something to consider, especially if you plan to camp in inclement weather. Dogs can slip too!
Supporting the Ramp 
While this may or may not be an included feature in the dog ramp you eventually choose to purchase, supporting your ramp underneath can only help extend the life of it. Much like stabilizers or trailer jacks support your rig, you may consider an additional support purchase for beneath your dog ramp. 
While this could be something as simple as a milk crate or piece of wood, it's always a good idea to further support your dog ramp. If you plan to purchase a ramp that supports humans as well as dogs, supporting a ramp from underneath may prove neccessary. These ramps, ultimately, are designed for dogs, and dogs are much lower to the ground than humans. 
Many taller people who have used dog ramps report an unsteadiness and even bowing and bending in the ramp! Supports are your best bet for fixing this issue, which means both you and your dog can enter your rig safely!
Training Your Dog to Use Your New Ramp
Is your dog unused to ramps or perhaps nervous about using one? It may seem strange, but dogs can develop anxiety or display confusion when faced with a ramp. I had a pup that refused to walk over any metal grates on our morning walks. Living in a city made this difficult, and you may find your pup struggling with your new dog ramp at first.
Training your dog to use a ramp may be easier than you think. Make sure you have lots of treats, and make sure you're ready to praise them. You can teach an old dog new tricks, especially if there are treats involved! Ramps are always strange to dogs to begin with, as they have only ever jumped into your rig in the past.
Laying the ramp flat on the ground is the ideal way to train your dog to fully use the ramp when you first bring it home. Let your pup smell it, explore it, get used to it while it is flat on the ground. Then, using treats, lead them down the ramp from beginning to end, until all of their feet are off the ramp.
Reward them, should your pup complete the ramp from beginning to end. Practice until you think they understand it, then attach the ramp to your rig and try again. The main goal is to keep your dog from bailing on the ramp halfway down. And there's no doubt they can do it, especially with treats involved!
The Best Dog Ramps for Your RV
Have you weighed your dogs and determined how much ramp you need to support them? What about your budget and material preferences? No matter what, your dog can't wait to have your love and support, so let's dive right into some of the best dog ramps for your RV!
Best Overall: PetSafe Happy Ride Extra Long Telescoping Dog Ramp
Sale
This PetSafe ramp checks a lot of boxes: it's a lightweight ramp, can support up to 300 pounds, and maintains an extra-long and easy incline for your pup. 
The longer length and extra wide features of this telescoping ramp allow you to help your pet get in and out of vehicles with steeper inclines, such as RVs. This particular ramp measures 47-87 inches long with a 20-inch width, perfect for the whole family. This ramp is the Extra Large version (42% bigger) of PetSafe's Deluxe Telescoping Ramp. The extra size provides a gentler climbing angle and extra walking space to help pets reach high elevations. 
The aluminum and plastic design creates a perfect combination of lightweight strength and dependable durability. Tested for up to 300 pounds, this ramp only weighs 18 pounds when stored! This ramp has a convenient carrying case designed just for it, though it is sold separately.
This ramp also features a high-traction surface and side rails, allowing your dog to confidently walk up and down the ramp without slipping or falling. You can conveniently store your ramp by simply sliding it in and locking it with the safety latch to prevent it from opening while you are traveling in the car.
While it is only recommended for dog use, the weight rating of this ramp should allow for human use as well. However, some reviewers mention supporting the ramp from below should human use be prevalent. The lightweight materials of this ramp would benefit from the extra support!
You can read more reviews and see the latest price on Amazon by clicking here. 
Pros
Lightweight

Easy to set up and store

Rated for up to 300 pounds

High-traction surface and side rails
Cons
Carrying case sold separately

Ramp may warp under human use
Best for Traction: Pet Gear Travel Lite Ramp with supertraX Surface
I love a company keeping an eye out for pet's safety, and this Pet Gear Travel Lite Ramp with supertraX Surface is no exception. While it has a lot of great features, this ramp boasts a special product called supertraX, made specifically for your pet's paws and making sure they have adequate traction, no matter the weather! 
supertraX is being utilized in the pet industry as a removable mat that can be used on ramps and stairs where traction is a concern. One of the most important features of supertraX is that it allows for "pressure activated gripping" which means the more pressure the pet puts on the mat the stronger the grip achieved. 
This ramp only weighs 13 pounds, and folds up quite compactly. It also only has a weight capacity of 150 pounds, something to keep in mind should you be looking for a more permanent installation. This ramp also only runs about 66 inches long, which may mean too steep an incline for your pup. 
However, there's a lot to love about this ramp, and its traction is excellent should you be planning to camp in inclement weather! Plus, Pet Gear makes a lot of varieties of this ramp, including extra wide versions. Chances are, there's a size and weight limit that is perfect for your dog!
You can learn more and see the latest price on Amazon by clicking here. 
Pros
Specially designed, high traction surface

Compact

Very lightweight

Affordable
Cons
Low weight limit

Short ramp
Best for Senior Dogs: Pet Gear Tri-Fold Ramp 71 Inch Long Extra Wide Portable Pet Ramp
Sale
If safety for your senior pup is your number one priority, the Pet Gear Tri-Fold Ramp 71 Inch Long Extra Wide Portable Pet Ramp may be the best choice for you. Not only is this ramp extra long and extra wide, it's reflective! This ramp has been carefully thought about with dogs in mind, and let's discover why.
This ramp's surface features highly visible, reflective material that aids in guiding your pet up and down the extra wide ramp. The tread is skid-resistant, even when wet, keeping your pet steady. Side reflectors maximize safety by increasing the ramp's visibility when in use. Rubber grippers on the bottom of the ramp help it maintain a stable position. 
The folding design reduces storage space at home or on the go and the carry handle facilitates easy transportation. It is 20 inches wide and 72 inches long, making it a nice incline for your senior pup. While it weighs about 25 pounds, it is certainly more lighter weight (most likely) than your pup! This ramp is rated for 200 pounds, so it most likely will not suit human use. However, the compact storage capabilities as well as durable materials makes this ramp a great addition to your RV.
While we've got two Pet Gear ramps back to back, a lot can be said for them; you can no doubt guess that they have many products available depending on what you're looking for and the size of your dog! If neither of these ramps fit the bill, Pet Gear's online store may have your perfect match. You can read more reviews and see the latest price on Amazon by clicking here. 
Pros
Heavy duty

Long and wide

Compact

Reflective
Cons
Heavier than other ramps

Not a very high weight limit
Best on a Budget: COZIWOW 62"L Heavy Duty Portable Folding Dog Ramp
COZIWOW 62"L Heavy Duty Portable Folding Dog Ramps for Large Dogs SUV, Truck Car Ramp Stairs Step...
[Let's Appreciate this gift.]: Bottom decorated with bone pattern, This exclusive ramp allows your four-legged friend to enjoy getting in and out of...
[Sturdy & Durable]: Made from high-quality plastic, covered with anti-slip sandpaper, this ramp is lightweight, scratch and wear resistant,...
[Non-slip Surface]: The nonslip surface, paired with raised side rails, provides your furry pal with optimal traction and secure footing when walking...
While this ramp does not have quite as many bells and whistles, it's a great budget option and it certainly gets the job done. 
While it boasts a pleasing price tag, this doesn't mean you're sacrificing on quality!
This ramp is made of all-weather plastic, easy to clean and maintain. It also only weighs 9 pounds, very nearly claiming our 'Most Lightweight' category! A fairly basic sandpaper layer covers the ramp surface, giving your pup a bit more traction than it might normally have, but certainly not as sufficient as some of the other ramps listed.
Easy to fold and operate, this ramp may not be the most compact of the bunch, but it is the most simplistic! It is not recommended for human use, having only a 200 pound weight capacity and the plastic materials will not do well under a human's weight. However, it should hold your pups no problem!
This ramp may not be right for your larger pups given the width; some reviewers mention their dogs struggling with how narrow it is. You may also consider the steepness of the incline, as it only measures 62 inches long. However, if you've got a budget to stick to, this ramp should do the job! You can check out the latest price and read more reviews on Amazon by clicking here. 
Pros
Affordable

Lightweight

Easy to store
Cons
Most Compact: ALL FOR PAWS Portable Foldable Dog Ramp
ALL FOR PAWS Portable Foldable Dog Ramps Easy-Fold Lightweight Dog and Cat Ramp Non-Slip Design for...
Safety tested & durable: This strong ramp is independently tested and rated to support pets up to 200 pounds;
Continue adventures together: Use the folding ramp to help your best friend get in and out of your car, minivan or SUV all by themselves to improve...
Non-slip Surface: The nonslip surface, paired with raised side rails, provides your furry pal with optimal traction and secure footing when walking up...
Nothing beats a product that folds up into a neat little box with a carrying handle, so we couldn't help but add this ALL FOR PAWS Portable Foldable Dog Ramp to our list. Folding up into a petite 15 inch cube is appealing to me as well as to many of you, I'm sure. Here are some other great features of this ramp.
This ramp is weighted for up to 200 pounds, perfect for most all dogs (though not recommended for humans). The non slip surface, paired with raised side rails, provides your furry pal with optimal traction and secure footing when walking up or down it, though reviews mention many dogs not liking the feel on their paws. Throwing a beach towel down atop the sandpaper seems to be a help with that!
While it folds up tiny, it measures 61 inches long, which may make the incline too steep for your pet, especially an older one. Keep this in mind, should you be looking for compactness over comfort. You can read more about this compact ramp and see the latest price on Amazon by clicking here. 
Pros
Compact

Lightweight

Handle and locks included
Cons
May be a steep incline

Dogs don't like the traction surface
Best for Large Dogs: PetSTEP Folding Pet Ramp
Sale
Petstep GRAPHITE (66222)
Unique soft non-slip rubberized walking surface. Superior Traction in wet or dry conditions. No sandpaper or carpet making it soft on paws
Universal non-slip grip fits all vehicles and edges
Folds in half for easy storage and portability (molded ergonomic handles on both sides)- opens and closes in seconds (no hardware required)
Rated to withstand a staggering 500 pounds, this ramp will accommodate even the largest of dogs you may own! The PetSTEP Folding Pet Ramp is made from high-quality plastic materials, which makes it sturdy and durable. The ramp has several safety features including a unique non-slip ridged surface that is not found on other ramps. This surface is soft on pets paws and helps pets maintain grip and traction. 
A soft heavy duty rubber universal non-slip grip is found on each end that fits vehicles and edges. There are additional accessories you can purchase if you are looking to have a more permanent fixture on your rig. To use, simply unfold the ramp and prop one end against your RV. With its sturdy structure and rubberized surface, the ramp helps reduce arthritis and dysplasia pain, lowers the chances of injury, and cuts down on back strain.
This lightweight, portable ramp can be folded in half and has molded ergonomic handles built in on each side, which makes it easy to carry and store. It only weighs 18 pounds! Easy to set up and low on maintenance, this ramp can be cleaned with soap and water. While it is not recommended for human use, its 500 pound weight limit is encouraging should you choose to support it from below.
While this ramp is great for dogs, make sure the incline does not end up being too steep for your pooch; it only measures up to 70 inches long. All in all, however, if you have a big dog (or perhaps a desire to leave your ramp set up for human use as well) this may be the best ramp for you! You can read more reviews and see the latest price on Amazon by clicking here. 
Pros
High weight limit

Sturdy rubber surface

Folds flat

Lightweight 
Cons
Incline is significant but my not be a problem for big dogs
Conclusion
Dogs are a part of our family just as much as the cousins or Grandpa. Next time you want to hit the road in your RV, don't forget old Fido! Purchasing a dog ramp can make your life easier, and your pup will certainly thank you for it.