All of our reviews are based on exhaustive research, industry experience and whenever possible, hands-on testing. When you make a purchase using one of our indecently chosen links we'll a small percentage of the proceeds. This supports the site and keeps Jeffsetter running. You can read more here.
There's nothing like RVing and camping with the entire family- and this should include your dog! But finding an RV that has room for everyone, including fido, is easier said than done.
If you're looking for some of the best Class C RVs for dogs, then you're in the right place.
Class C RVs are versatile, popular, and easy to drive, making them a great choice for many RVers. But you might be wondering if they are the right fit for you and your dog.
Bringing your dog RVing can be a rewarding and fantastic experience, both for you and your pet. But what should you consider before making your final Class C RV purchase? 
Let's go over some of my top recommendations, and then on to my 2021 list of Class C RVs made with dogs in mind!
What to Look for in a Class C RV for Dogs
It can be overwhelming, shopping for an RV, especially a Class C. You may feel like there are too many options, especially ones that don't seem to have any special features for fido.
But thankfully, you're not alone in your desire to travel or camp with your dog. Given that the American Pet Products Association (APPA) found that 37% of families want to travel with their dogs every year, it's no wonder that RVing is a popular form of vacationing with pets!
Here's what I recommend looking for in a Class C RV for dogs. If you find yourself leaning more toward a different style of rig, I've already compiled a list of some of the best rigs overall for pets.
Easy to Clean Furniture
As a pet owner myself (and living full time in a vintage RV) I can attest that easy to clean furniture is a must for any dog owner!
Dogs mean well, and can be the sweetest members of our family. But there's no denying that these pets can be messy, especially in a small space. That's why it's important to keep an eye out for an RV with easy to clean furniture and fixtures.
This can be anything from your dinettes and living room seating to your bed and cabinetry. While there's something to be said for furniture covers or blankets tossed on beds, dogs are notorious for making a space their own (which doesn't always mean it will be easy to clean).
While I am a stickler for pet hair, you may be too! Keeping an eye out for finishings that don't trap dog hair may be a good idea, especially carpet or other soft surfaces. While these design choices may not be the most stylish, they will be efficient! 
Never forget that accidents happen, especially if you're on the road for a great deal of time. Some dogs may also scratch up furniture, including doors or walls. You may want to look out for RVs with proper bedroom doors, rather than folding privacy screen options.
Looking for a Class C RV with some durability and easy to clean features may be something for you to consider, especially if you're traveling with a puppy or senior dog.
Durable and Easy to Clean Flooring
Most RVs are built with high traffic situations in mind, so having durable flooring is a no brainer if you have dogs. It's just an added bonus if the flooring is also easier to clean!
I had the benefit (or chore) of remodeling the interior of my vintage rig myself. My partner and I knew we wanted waterproof and durable laminate flooring because of our rambunctious puppy.
While you may not get many flooring choices in your new Class C RV, make sure to ask about its durability over time. There may be a flooring warranty to consider as well. Or perhaps your RV manufacturer has already taken fido into account when installing flooring!
Overall Length
The overall length of your Class C is important for a lot of reasons, especially if you want to travel with your dogs. Length and height are some of the biggest decisions for you to make when shopping for any RV!
You may not think it matters much, but Class Cs range in length, which affects every part of your RVing experience. Usually from 20-40 feet long, a 20 foot Class C will feel a lot different both inside and out than driving a 40 foot RV. 
A longer rig has a lot of perks, including more space inside and more unique layouts. These layouts and extra breathing room can make or break camping with your dog!
However, a longer rig may prove much more difficult to drive, as well as more difficult to find parking spots. Some RV parks or campgrounds have length limits to their sites, meaning a 40 foot rig may not fit into every single place you want to stay.
This is a very important consideration for you to make before you make your final purchase!
Pet Friendly Features
If you're shopping for a Class C RV with your dog in mind, why not shop for one that includes pet friendly features? These can range in specificity, and some RV manufacturers have even carved out special space in their RVs for fido.
This can include food and water dish drawers that pull out and roll in for easy storage, an outdoor pet shower, a built in pet bed area, and more. While a lot of these features can be added in after you make your final purchase, choosing a rig with dogs in mind is always a good place to start!
You should also consider a bathroom that is more pet friendly than others. This could include rigs with bathtubs, or perhaps a wet bath will suit dog owners more. The easier a room is to clean, the better it will suit your dog!
Pet-Friendly Layout
Layouts are arguably the most important thing for any RV owner to consider. Layouts will often make or break your RVing experience, but it may be difficult to determine what layout you and your family needs- including your dogs!
Choosing a layout with the proper number of beds is a good place to start, and this layout should include a bed for fido. Unless your dog sleeps in the same bed that you do, having room in an RV layout to keep your dog's bed should be at the top of your list of priorities!
You should also consider RVs with ample storage. You need space for everyone's luggage, food, and accessories- and this includes your dog! It is important to pack anything that your dog might need to be comfortable on the road, so bring treats, toys, and more for them.
Do you want to have the ability to close your dog in a separate room while you are packing or unpacking the rig? How about space for your dog to eat away from the rest of the family but not keep them outside?
These are all important situations to consider, and only certain Class C RV layouts will support these scenarios. Think about how your dog is being taken care of at home- this is the best way to replicate their needs while on the road!
Proper Climate Control
One of the scariest things to think about when on the road with your dog is your rig's climate control. Leaving your dog in a hot vehicle can be life threatening, and this includes leaving your dog unattended in your RV.
Most RVs are outfitted with reliable air conditioners nowadays, but it is important to keep this in mind for your pet more than anyone else traveling with you. Dogs are deeply affected by both heat and cold, more so than humans. 
Make sure that your dog is always kept in a climate controlled area of your RV, and perhaps consider RVs with multiple air conditioners should you be planning many summer destinations. 
What are the Pros and Cons of Class C RVs for Dogs?
Class C RVs are wildly popular these days, whether you're a trendsetting couple or a family of five. This makes them a great choice for those of you wanting to travel with your dogs!
However, there are pros and cons to any rig, including Class Cs. Here are some to consider, from fido's perspective!
Pro: Many Layouts Have Room for Fido
Class Cs can be small, but because of this, they have learned to maximize their overall space and layout. Many Class C RVs have plenty of room for your dogs to eat, sleep, and play, and you won't feel too crowded!
As I've already mentioned, your layout is incredibly important to consider, but thankfully Class C RVs are flexible. Many manufacturers offer loads of layout options, including ones that will give both you and your dog some breathing room.
You can't (and shouldn't) always send your dog outside, especially if you are camping in inclement weather. Make sure you get a layout that pleases the entire family, including your pets.
Con: Containing Your Dog May Be Difficult During Travel
Class Cs can be tricky when it comes to traveling with the whole family. You need to make sure a Class C has enough seatbelts for everyone, but what about your dog? How can you best contain them while a Class C is in motion?
Distracted driving while RVing can be very dangerous, and having a dog roaming or causing mischief while you're driving can spell disaster. Many Class Cs don't offer restraints for dogs, so this is definitely something to consider.
However, it is easy to bring along and store a dog crate while you are traveling or camping. This could be the most natural solution for any RVer hoping to drive a Class C with their dog in tow!
Pro: Some Class C's Have Special Features For Dogs
As I've already mentioned, some Class C RVs have already taken your pup into consideration when building out their rigs. Many brands offer special features, designed just for dogs!
This can include special feeding areas, sleeping nooks, showers or baths, and even pet ramps. Keeping an eye out for these special touches can make all the difference for the comfortability of your pets.
Dogs are just as stressed out as humans when it comes to traveling. I encourage you to do whatever you can to make them comfortable during your upcoming RV trip!
Con: Dogs Can Wear Out Some Class C'S
Kids are one thing; dogs are a whole other when it comes to messes and wear and tear. Dog claws, teeth, and fur can cause some serious damage to any interior, including the interior of your brand new Class C RV.
You may want to research RV warranties and see what they include for pets or overall interior damage, as dogs are notorious for damage. Just remember, it's not their fault (most of the time….)! 
Most RVs are built with durability in mind, but some aren't. You may want to keep an eye out for RVs designed for more high traffic situations, or ones that have already taken pets into account!
Pro: Most Class C's Are Made From Easy To Clean Materials
Since dirt, sand, and mud are all a part of camping, RVs are usually designed with easy to clean materials in mind. This extends throughout a rig, from the floors to the walls to the upholstery. 
You can no doubt find a rig with pet and kid safe materials in it. The last thing anyone wants to do while they are on vacation is spend an age cleaning! Thankfully, RV manufacturers have already considered this, and have taken extra care to choose their materials wisely.
Dogs can have accidents or make messes, especially if traveling and stressed. Thankfully, a Class C's interior design should have you covered, or you could even consider a rig with a washer and dryer onboard.
What Are Some Good Brands of Class C RVs for Pets?
Shopping around and noticing just how many RV brands there are in the world? Me too! Thankfully, I know of a few good names in the game, especially brands making RVs with humans and dogs in mind.
Thor
Thor brand motorhomes are popular, especially for those of you with pets! Known for being budget friendly like Winnebago, Thor is proving to be another reliable brand in the RV world. They are great for families, including families with multiple dogs!
Winnebago
You've heard of Winnebago, right? Known for their affordability and overall customer service, Winnebago keeps wowing RVers with their innovations, usually for a good price. They know the importance of bringing fido along on any and all camping journeys!
Entegra
If your budget isn't at the top of your list of concerns, an Entegra coach may be a good fit for you. With a superior foundation, unrelenting attention to detail, and old-world craftsmanship, Entegra makes quality Class Cs for every single member of the family!
Coachmen
Coachmen is another classic RV brand with a focus on family and dog-friendly layouts. They use their space wisely more often than not, and are a well-known brand. Their overall interior design may be simple, but it will be durable enough for the average dog.
Forest River
Forest River is well regarded in the RV world, and has been for decades. They make a great variety of rigs, from fifth wheels to Class C's, so definitely keep them on your short list! They have many layouts, including ones that greatly benefit families with dogs.
How Else Can I Make My Class C RV Dog Friendly?
If you are shopping for a Class C RV and noticing that there still isn't enough to keep your dog happy or comfortable while traveling, you are not alone. How else can you make your RV a safe and dog-friendly space without compromising any other features?
Here are my top recommendations for what you can do to make your Class C a hit with any dog!
Have a travel safe crate
The number one consideration for any RV owner? It should be safety. This includes the safety of your pooch, and purchasing a travel safe crate is a great place to begin.
These crates could be found built into your Class C, but more often than not they are an aftermarket addition. Many RV owners may already own a dog crate, something that can be moved from your regular vehicle and into your Class C.
These crates should be able to be secured in some way when placed inside of your Class C. Your pup isn't going to have a good time if their crate is sliding around during transport!
Consider installing a pet ramp
Do you own a puppy or a senior dog with hip problems? Many RVs are difficult enough for people to climb into, let alone your aging dog!
Installing a reliable and safe pet ramp may be a huge plus for your pups, especially if you notice your dog struggling to jump onto other surfaces or locations in your home. Pet ramps are designed to work in conjunction with your RV, and some are strong enough for humans to use as well.
A pet ramp is one of the kindest gifts that you can give to your pet. RVs are tall, and going easy on your dog so that you can maximize your outdoor fun can make all the difference in the world.
Give your dog their own sleeping area
Dogs are creatures of habit, so ensuring that your dog has a safe and consistent sleeping area is key to RVing with them. Whether it be in their pet crate, a nice sunny spot near the driver's seat, or even in bed with you, your dog will appreciate their own sleeping space!
A stress-free dog is a happy dog, but any amount of traveling is usually a stressor for our pets. Giving them time to decompress, just like people, can make all the difference for your next RV vacation. Give them their pet bed or favorite blanket, some toys and treats- I'm sure they'll start to feel right at home!
Have their food and water in a set location
Just like it matters where they sleep, having a specific and routine location for a dog's food and water bowl matters. Changing your dog's bowl location frequently can cause distress and confusion, but this can be difficult to avoid in a small space like an RV.
Try to pick a spot out of the way, and somewhere that your dog is familiar with. Many Class C RVs come equipped with a specific place to keep a dog's water and food bowls, so definitely keep this in mind while shopping!
Get a Class C with an outdoor shower
If you know your dog likes to get messy, your Class C interior bathroom may not be able to handle them. Having an outdoor shower may be a lifesaver for those of you with dogs that love to dig or roll in the sand or dirt!
The last thing you need to be doing on your vacation is cleaning your dog each and every single time they play outside. Having an outdoor shower is the perfect solution- just wash and dry off your dog before letting them back inside! 
The Best Class C RVs for Dogs
Are you ready to take a look at some of the best Class C RVs for dogs? Have you taken all of their needs into consideration, as well as your own? Great! It's time to check out some of the best Class C RVs for fido- and the whole family.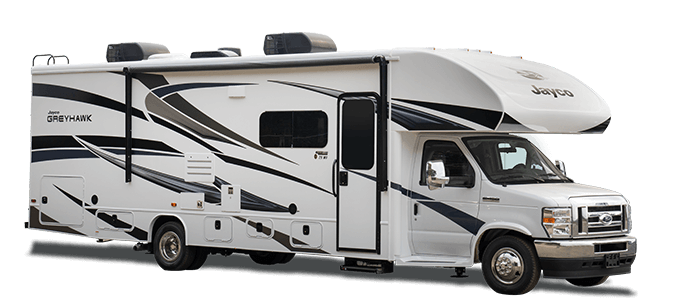 While the Jayco Greyhawk doesn't have all of the bells and whistles for fido, it should have enough to please every member of the family. This roomy Class C is built using all Jayco's proprietary construction methods and materials with added safety features to keep the most precious cargo safe: you and your dog!
Looking for a convenient place to clean up your pup after a long day at the beach or on the trails? The Greyhawk comes with an outdoor shower and marine grade outdoor speakers so that you can enjoy your outdoor setting to the fullest. There's an LED power awning too, as well as a powered entrance step that may make getting in and out of your rig a bit easier (especially if you're a dog with short legs).
While it doesn't come standard, there is a dual AC unit option so that you never have to worry about your dog getting too hot while camping. If you plan on boondocking with your pooch, there's an onboard gas generator, a good sized solar panel included, and many house batteries so that you can keep everything running.
The Greyhawk is priced well, making it one of the more budget friendly rigs on this list. The interior design is high end and gives the rig a truly residential feel, allowing any dog to feel more at home. With five available floor plans, including one with bunk beds, the entire family will have room to spread out.
There are also floor plans with the shower separated from the sink and toilet, making the morning rush a bit easier depending on who you're traveling with. Jayco builds all of their rigs with sturdy hardwood cabinetry, giving the interior yet another residential upgrade. There are even blackout roller shades, perfect for any dog that loves to bark at anything they may see outside!
The Jayco Greyhawk has a lot to offer the entire family, including fido. With ample exterior storage and interior sleeping places, you and your dog will no doubt find yourselves feeling right at home in this rig.

If you're looking for a Class C rig on a budget, check out the Coachmen Cross Trail. This rig is available in a standard size in two floor plans (20 to 21 feet long) or an XL version with six floor plans (ranging in length from 22-33 feet long). This allows you to pick from many different options, all while maintaining a lower budget.
The Cross Trail's size and capabilities give you nearly endless possibilities, especially when you take the many floor plans into account. Take your adventure where most motorhomes cannot. With unrivaled exterior storage, you can outfit your Cross Trail with the gear and equipment needed to conquer any expedition- and you can definitely pack all of fido's toys too.
The Cross Trail comes with ample exterior storage depending on the model, as well as an efficient ducted cooling system. You won't have to worry about your dog getting too hot while you're on the road! It also has durable cabinets and laminate flooring for any and all puppy paws that are notorious for leaving scratches.
The available upholstery options are easy to clean, stylish, and durable. There are rolling blackout curtains over the available windows, though fewer windows means less for fido to bark at! Plus there's a wifi ranger installed in every Cross Trail, just in case you need a break from the great outdoors.
While the Cross Trail doesn't have a drawer for your dog's food bowls, it does have a 2,000 pound weight capacity for anything that you plan on storing. It also has a large three way power fridge for any and all human food. Plus, the Cross Trail has been designed with a unique power system, capable of running everything inside of your rig on battery power, including the AC.
While it may not be the fanciest or most feature packed, the Cross Trail is a Coachmen rig, which means you can stand behind their craftsmanship and sturdy Azdel sidewalls. They build rigs that last, and on a budget no less!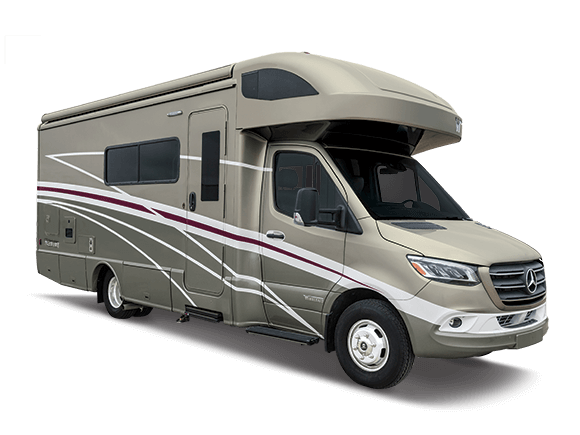 Choosing a rig for your dog just as much as you are for your human family? Check out the Winnebago Navion, a luxurious rig with all the right features for you and your pets. The Navion is a great diesel Class C, with a 25 foot rig and three available floor plans on this frame. You may be wishing for more floor plan options, but once you see inside, I don't doubt that you can find one that suits you best.
The Navion has been outfitted with durable vinyl flooring and faux leather seating, making it easy to clean and care for. It has a wet bath with the sink separate, making cleaning your pup easy. The showerhead is flexible, and the shower screen cleans itself upon returning to its neutral holding place!
The kitchen is a beauty, and surprising to find in a Winnebago. They have revolutionized their cooktop system, making half of it induction and electricity powered and the other half propane powered. This can be a great perk for those of you looking to save your battery supply or propane supply, depending. And the fridge is just shy of a residential size, giving you ample room for all of your food.
The safety on this rig is also top notch- there are many storage solutions to appreciate as well. Cross-coach storage holds larger items, while the above-bed storage stows necessities. Roof port wiring access simplifies accessory wiring, available hydraulic jacks with automatic controls ease set-up, and the wide running board with pet loop keeps Fido close by.
Looking for more time off the grid? The industry-leading holding tanks, standard 200W solar, Group 31 batteries (or available lithium smart batteries), and 2,000W inverter can extend your escape. This also ensures that your pup won't get too hot or cold while you're traveling, as these power systems can handle it.
With large pass-through storage compartments and an on demand hot water heater, you should have no trouble bringing everything that your family needs along with you while having ample hot water to boot. Your pup will surely find a place to curl up in this rig, and I bet you and the rest of your family will too.

There's no denying how messy a dog can be. From shedding to muddy paws, dogs are our best friends- our messiest best friends! So that's why the Forest River Solera takes the easiest to clean spot, as they have built out their rig with many durable and easy to clean materials, from the floors to the counters to the upholstery.
Solera's contemporary style and residential luxury is offered in a value package designed to get you into the Class C RV lifestyle. Popular standard amenities include an Android radio, 12V LED TV, 10.7 cu. ft. 12V Refrigerator, convection microwave, back-up and side view cameras, a 12V Solar charging system, Bilstein shocks with a lifetime warranty, and a choice of five proven floor plans.
Speaking of floor plans, this rig has excellent ones for the whole family, so you can feel comfortable bringing the pets and kids along. Knowing that everything is made with stain resistant fabrics can't hurt, and there are child seat head tethers in every available floor plan. Safety first, especially if you're hitting the road in an RV for the first time!
There's an optional leveling system and an LED power awning with speakers outside so that you can enjoy your time inside and out. There's an onboard generator and small solar panel that come standard, with an option to add an additional AC unit on longer floor plans. Plus, your various RV storage tanks are heated, making your off-season or winter travels that much easier.
The kitchen looks like a proper residential kitchen, with a large three burner stovetop and ample counter space. The backsplash is a unique tile, giving your rig a classy and bespoke look- all while maintaining its easy to clean materials! Plus, if the kitchen storage isn't enough, there's loads of exterior storage as well.
If you don't want the hassle of cleaning up after your dogs and kids for your entire vacation, definitely consider the Solera. It is on the lower end of our budgeted rigs, has plenty of charm, and is made for those of you just starting your RVing journey- including your dogs!
Most Pet Friendly Layout:

Thor Quantum
With six floor plans, including room for a stackable washer and dryer, the Thor Quantum is definitely my top pick for pet friendly layouts. Whether you're looking to full-time in your Class C or perhaps travel with it during the off season or winter months, this Class C can get you there with all the amenities you need.
There's a lot to love about the Quantum, and that's obvious given how many of them I see on the road. The versatility and living amenities make this Class C motorhome suitable for full-time living or weekend travel. Bunk beds and washer and dryer prep are perfect for families and are available on select floor plans. Thor Quantums are homes-on-wheels with seating and sleeping options, a fully-equipped kitchen and bathroom.
Quantum's kitchen has a gas cooktop, a large stainless steel sink with a pull-down sprayer and a double door refrigerator. Some floor plans come with a flip-up countertop extension, microwave or convection microwave, pop-up outlet and kitchen pantry. Keep an eye on your little ones through the large kitchen window and prepare their favorite camping meals.
In terms of fido, you won't have to worry about finding them the perfect place to snooze- there are certainly enough floor plans to choose from that will allow each member of the family their own space. With the MEGA-Storage exterior compartments on select floor plans and the standard rotocast storage compartments, the sky's the limit when it comes to packing. 
An outside shower comes standard, making it easy to clean up under your large awning and LED lit patio. There is also an optional second air conditioner as well as standard solar prep. Adding panels is an optional feature, but it may be worth it so that you can feel ready to take your Quantum anywhere.
This rig has the most versatile floor plans of any on this list, and everything is high-quality, easy to clean materials. Your pup will feel at home, and so will you, given its luxurious features for less than you think, as well as ample storage to bring everything you need with you!
A diesel Class C is one of the most economical decisions that you can make when shopping for a new rig. While the Entegra Coach Accolade may have a high upfront cost, it may prove worth it in the long run. If you plan on RVing for quite some time, or perhaps you wish to do so in style, you should consider this rig for the entire family- including the pups of course!
This rig can't feel like anything but a permanent residence, with a king sized bed, washer dryer prep, a fireplace, and so much more. Let your dog curl up in front of the electric fireplace and close off your master bedroom so that you can have some peace and quiet. The three available floor plans offer bunk bed options as well as theatre seating, depending on what you're looking for.
This may be considered a Super C rig with its long frame, but the diesel engine makes this Class C in a league of its own. Plus it has a powerful onboard diesel generator and two AC units, keeping your whole family cool. There's an exterior shower for cleaning off the dogs, an entire outdoor entertainment system, and lockable pass-through storage compartments.
You won't want for space on this RV- it has room for everything. The kitchen is entirely residential, complete with an ice and water dispenser in the refrigerator door. It has durable and elegant hardwood cabinetry both in the kitchen and bathroom, with high power recessed LED lighting throughout.
While the price on this rig is enough to balk at, the features and possibilities are endless. You will have room for the entire family and then some, including your pup. The Accolade may be a beast, but having a reliable diesel engine and a luxurious, spacious floor plan may be just what you've been looking for.
Conclusion
Choosing a Class C RV with your dog in mind can seem overwhelming at first. Naturally, RVs are more so designed for humans rather than their pets!
However, there are many Class Cs out there that have taken dogs to heart, and you too can find a rig that fits the entire family. Don't forget to pack the doggy biscuits!