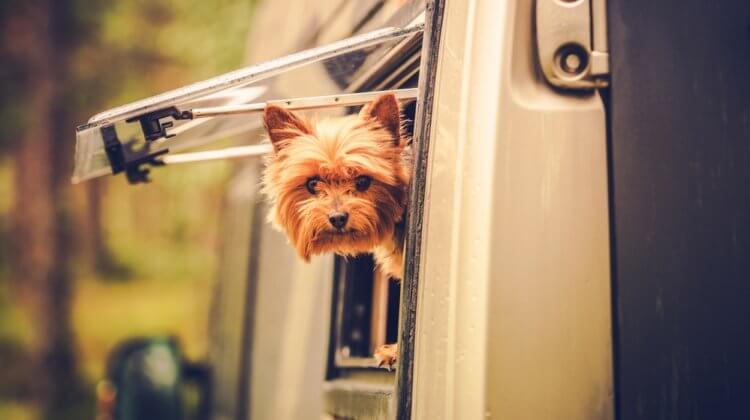 All of our reviews are based on exhaustive research, industry experience and whenever possible, hands-on testing. When you make a purchase using one of our chosen links we'll get a small percentage of the proceeds. This supports the site and keeps Jeffsetter running. You can read more here.
If you are planning on living in your RV full time, you may be curious about what some of the best dogs for RV living are. Perhaps you are seeking additional companionship while on the road, or maybe you want a dog to be a second set of eyes to keep you safe while camping.
No matter the reason, there are a number of things that you need to consider before finding a new member of your family to take with you while on the road. But what might some of those considerations be, and what might some of the best dog breeds for RV living be as well?
In this article, we will discuss everything you need to know about finding the perfect pet for your RV adventures, as well as what you should keep in mind as you search for your new companion. Let's get started and go over everything you need to know about some of the best dogs for RV living now!
Only interested in reading our list of the 11 best dogs for RV living? Click here to jump ahead and check out our top picks now!
Why Bring Your Dog RVing?
Whether you are a first time dog owner or have had a dog your entire life, there are a number of reasons why you might want to bring your dog RVing or RV camping. Let's go over some of those reasons now.
Adventure for Both of You!
There are very few dogs in the world that would say no to an RV or camping trip. Not only are you experiencing a wonderful adventure in the great outdoors, your dog also would enjoy an opportunity like that, without question.
Many studies have proven that dogs require stimulation in many more ways other than playtime and their daily walks. They enjoy sensory stimulation and exploring, just as much as their human counterparts. If you are curious whether or not a dog will enjoy camping, the short answer is always yes.
Not only is there plenty of physical activity for both of you, there's also an abundance of wildlife and interesting things for your dog to explore on their own. Plus, it can be a fantastic opportunity for your dog to be exposed to new things, including campers and RV living.
Sense of Security
Some people choose to bring their dog camping with them out of a sense of security or safety. Depending on your dog or dog breed, you may find that bringing your dog along with you while living in your RV helps you stay safe from potential intruders or other unfortunate situations.
While not all dogs enjoy barking and warning their owners of potential threats, some dogs are very good at this. Depending on why you want to bring your dog camping with you, you may find that some dog breeds are better suited for guarding you and your property compared to others.
However, there are also dog breeds and certain dogs that are terrible when it comes to guarding or alerting their owners of suspicious people. Some dogs want to be friends with everyone, and this is obviously appropriate behavior. However, this is something to keep in mind if you are seeking an extra level of security while living inside of your RV.
Companionship
Whether you are traveling alone or with multiple people, there's nothing quite like the companionship of a dog. After all, they are known as man's best friend, and you may simply want an ideal companion animal to bring with you on your RV journeys.
Dogs are beloved for a number of reasons, one of them being their innate ability to help us feel better and heal. Not only are they good friends, they are also great motivators when it comes to getting outdoors. If you are living full-time in your RV, you may be surprised to hear that getting outside is easier said than done some days.
Bringing a dog along with you as a companion animal means that you have to go outside for them, multiple times a day. However, this also means that you are getting outside multiple times a day, and enjoying the great outdoors as they were always meant to be enjoyed!
Your Dog is Part of Your Family
Whether you already own a dog or not, they should be a welcomed member of your family. While it may not be convenient to bring your dog on all of your vacations or adventures, camping is and should be an exception to the rule.
Dogs and camping go hand-in-hand, given the fact that all of your entertainment is outdoors where they love to be. They deserve to come along with you when you hit the road, no matter how new to RVing you are.
What to Consider in a Dog for RV Living or Travel
There are a number of things to consider before finding a new member of your family to travel with you in your RV. But what might some of those considerations be? Let's take a look at all the things you should consider before bringing a dog along with you on your camping adventures!
Size of the Dog
One of the most important considerations that you should start with is just how big a dog you want. Conversely, you should also consider just how much space you have on board your rig for a dog. This is especially true if you plan on living in your RV full time.
Obviously, a 10 pound dog is going to take up significantly less space compared to a 50 pound dog, let alone a dog that is a hundred pounds or more. While you truly can't place too much stock in the size of a dog if you are in love with them, size does matter in terms of living in an RV with an animal.
Not only do you need to make sure they have enough space to sleep and spread out, you also need to ensure that you will not feel crowded or cramped as well. However, unless you are living in a particularly small travel trailer or motorhome, most dogs do well in small settings.
There are some particularly large dog breeds that may not enjoy living inside of an RV, given just how large they truly are. Great Danes are a good example of this, given the fact that they can easily be over 130 pounds. This is like living with another human adult rather than a dog, and that can be a huge consideration for you.
Energy Level of the Dog
Just like size should be a huge consideration for you in terms of what dog you adopt, you should also consider the overall energy level of the dog in question as well. While this may not be something you can gauge right away, different dog breeds have different levels of energy and needs in that respect.
For example, the average pug needs significantly less exercise than the average German Shepherd. If you are the type of person who expects to be hiking or walking miles a day while you live in your RV, a dog of any energy level may work well for you.
However, if you are looking for a companion animal that is comfortable sleeping inside for much of the day, or otherwise resting rather than seeking attention or stimulation, this is also something to keep in mind as you search for a companion.
It is also worth mentioning that all puppies will have more energy than the average adult dog. Adopting a puppy is a wonderful opportunity if you are seeking a companion you can train and grow with. However, puppies are not ideal in RVs for a number of reasons, including their overall energy and need for exercise.
Aggression or Anxiety of the Dog
Another factor to consider that isn't entirely within your control is the anxiety or potential aggression levels of your dog. While certain breeds exhibit more aggressive or wary behavior than others, you may want to keep this in mind if you plan on camping in populated areas where your dog may meet a number of strangers each and every day.
The average RV or state park has hundreds of visitors each and every single day, which could make your daily walk difficult unless you are able to find a more isolated area. In addition, anxious dogs may not appreciate living inside of an RV, given the lack of privacy that often accompanies RV living.
There are always ways to combat both of these adverse behaviors, though some breeds are predisposed more than others. However, you can always make adjustments within your RV to make your dogs more comfortable, such as blackout curtains or leaving the TV on for them. You may also need to consider anxiety medications, depending on the stress levels of your dog.
Dog Accessories and Food
Not only do you need to consider how much space all of your belongings take up, but you will also need to consider the belongings of your dog. This includes food, toys, bowls, and other accessories such as leashes or harnesses.
Most modern-day RVs have plenty of storage space for the average camper, but you may find that living in an RV full-time leaves you wanting more room to store things. This is especially true if you have a large dog with a lot of large items, including buying bulk food. Finding room to store a 50 pound bag of dog kibbles can be a bit of a daunting task!
However, if you have yet to find the RV of your dreams, there are a number of makes and models that support living and camping in your RV alongside your dog. I highly recommend checking out some of our lists for the best RVs or pets by clicking here!
Where Will Your Dog Sleep?
There's always at least one bedroom inside of any RV, but do you have a good idea as to where your dog will sleep? Given the environmental factors that go along with camping, it is not recommended that you plan on leaving your dog outside overnight. Not only are there plenty of strangers and opportunities for your dog to come to harm, there's also inclement weather and freezing temperatures to think about.
This is why you should be considering where you want your dog to sleep early on, likely before you start shopping for an RV. Perhaps you are happy with your dog sleeping in bed with you, or maybe they will take comfort sleeping on the living room couch. However, if your dog enjoys sleeping in a crate, you may want to make sure that your RV layout supports this.
Does Your Dog Enjoy the Great Outdoors?
A final consideration that you should think about before finding a companion to join you on your RV travels is the simple fact of whether or not your dog even enjoys the great outdoors. While most dog breeds are game for a walk or a hike, some simply are not big fans of being outside.
This includes dogs that can't handle very hot or very cold temperatures, including huskies and chihuahuas. Camping and exploring nature is easier for humans, given the fact that we can simply throw on a jacket. Some dogs are not built for being outside for extended periods of time, which is why they may not enjoy RV living.
However, some dog breeds enjoy the great outdoors far more than others. Some active breeds such as Australian shepherds or other hunting dogs truly thrive in an outdoor setting and would be well accustomed to RV living without much hesitation. Again, it all depends on the individual dog you end up adopting, but there are some breed dispositions that lend better to RV living over others.
The 11 Best Dogs for RV Living
Curious to know what some of the best dogs for RV living are? Let's take a look at our top picks, ranging from small dogs all the way to large dogs, high-energy breeds and low energy breeds alike!
Beagle
An extremely popular dog breed for a variety of reasons, the beagle is well-suited to RV living given its size and overall friendly demeanor. This dog breed works well in a variety of family situations, including those of you with young children. But what else is so good about this dog breed? Let's take a closer look now!
Adorable and under 30 pounds, the beagle enjoys play time just as much as it enjoys snuggling. Given the fact that this dog is of the hunting variety, it is recommended that you always keep your beagle on a leash when on walks or hikes. These dogs can find a single scent and take off after it, often not returning unless they have been properly trained for it.
In addition, the beagle has a signature bark that is very loud, capable of alerting you and whoever else lives in your RV should anyone come to your door or be lingering outside. However, given the friendliness of the average beagle, they may not be ideal guard dogs, since they just want to be friends with everyone!
With their compact size, healthy lifespan, and ability to be trained, just about any beagle would adjust well to living in an RV full time. Plus, they are up for anything, including 10 mile hikes or napping after a simple walk around the state park- with plenty of time to sniff, of course!
Jack Russell Terrier
Another compact breed that is ready for just about anything, the Jack Russell Terrier works well in an RV setting for a number of reasons. First of all, they are always 20 pounds or less, making them compact and easy to bring along with you. Secondly, they are usually down for anything, given their high energy levels and desire to follow scents.
Jack Russells are exceedingly playful and require a high level of exercise and stimulation, lest they fall prey to destructive behavior. This is the last thing you want inside of your RV, no doubt, but by bringing your dog along with you on your hike and camping adventures, you will likely avoid the worst of the Jack Russell's anxious behavior.
Additionally, depending on the Jack Russell that you get, some of them exhibit a decent level of guard dog behavior. They are more wary of strangers than other breeds, making them ideal if you want to better protect your RV or car.
Just like the beagle, the Jack Russell tends to smell something and take off, often leading it to a struggle when it comes to off leash walks and hikes. However, this breed is eager to please and enjoys making its owner happy, so this breed may work well for you with proper training.
Australian Shepherd
Looking for a dog that will go on a hike after hike with you and still not be tired? You may want to check out the Australian Shepherd, or the mini Aussie if you are looking for a smaller version of this dog breed. Let's talk about them in more detail now.
You can get Australian Shepherds in multiple sizes, making them ideal for RV living. The average Australian Shepherd reaches up to 65 pounds, though you can find miniature breeds that never grow larger than 20 pounds. This is ideal for RV living, so that you always have enough space for everyone on board, including your dog.
The great thing about Australian Shepherds is that they are eager to please and a joy to train, capable of learning a variety of things using their herding dog background. Plus, they need a significant amount of exercise and truly enjoy the great outdoors, capable of off-leash hikes, swimming, and much more.
However, it is unlikely that your Australian Shepherd exhibits any guard dog behavior or protective services. Australian Shepherds are notoriously friendly and welcoming, which may mean that you want a different dog for your time on the road. Plus, this breed tends to boss around young children as well, so this dog may be ideal for young and active couples the most.
Labrador Retriever
One of the most popular dogs in the United States, if not the world, is the labrador retriever. This dog is highly lovable, trainable, and capable. Not only is it a dog that is excited for just about anything, it also enjoys a laid-back personality that may be what you were looking for a while on the road. Let's talk more about the labrador retriever now.
While the labrador retriever was originally bred as a hunting dog, it is synonymous with the American household nowadays. These dogs truly enjoy a variety of people and family situations, making them adaptable and comfortable with RV living, likely without much adjustment time.
Given how friendly these dogs are, they are not ideal guard dogs. Labrador retrievers can be trained into a variety of behaviors, but protecting their humans against other humans is simply not in their nature. They love everyone, which is ideal for state parks or daily walks, but less ideal if you are seeking a dog to keep you safe.
The main drawback of the labrador retriever has to be at size. These dogs can reach 80 pounds, depending on gender, which may be a bit too large depending on the type of RV you hit the road in. However, given how flexible these dogs are, you likely won't have to worry about them finding a place to sleep. Just make sure they have kibbles and snuggles, and they should be all set!
Chihuahua
As someone who lives full time in a 19 foot travel trailer with a Chihuahua mix, I can vouch for this breed in a number of ways. I can also say that the Chihuahua will not work for every individual or family, depending on what you are looking for. Let's go over the pros and cons of the Chihuahua dog breed now!
The obvious perk to adopting a Chihuahua has to be at size. These dogs range in weight from 5 pounds to roughly 15 pounds, making them small and compact. They will never take up too much space, especially when you consider the fact that Chihuahuas enjoy being close to their humans, especially while they are sleeping.
Another perk with this particular dog breed is the fact that they don't exactly love everyone. The average Chihuahua chooses a few people to devote themselves to, and everyone else leaves Chihuahuas feeling a bit suspicious. They will be a fantastic alarm system inside of your rig, though they aren't necessarily very threatening.
However, this means that daily walks might be difficult, especially if your Chihuahua wants to pick a fight with both dogs and humans alike. Additionally, Chihuahuas require temperate weather to feel most comfortable, as they suffer in colder climates. This is definitely something to consider if you plan on camping in cold areas or during the winter season.
Cocker Spaniel
A dog that is 50 pounds or smaller, the cocker spaniel is another ideal dog breed for RV living. It has an alert and enjoyable personality when properly trained, and this can help in a variety of situations. Plus, the cocker spaniel enjoys being outdoors, though it doesn't require hours of outdoor play time. Let's talk more about them now.
Originally bred for hunting, the cocker spaniel loves being outside, especially in the water. You can expect your cocker spaniel to enjoy whatever hike you bring them on, especially if there are wonderful things to sniff. However, there are some drawbacks to the cocker spaniel, including their endurance. They may not want to hike all 10 miles, maybe just five.
Additionally, the cocker spaniel can be a great guard dog or alarm system, given the fact that they don't look necessarily threatening with their adorable ears. They tend to be an alert breed, given their hunting dog background, and can easily be trained for RV living.
Training this breed can be difficult, given its overall sensitivity and wariness of strangers. You should take the time to make sure your cocker spaniel is feeling comfortable, as quick transitions may stress them out- and moving the RV is always a stressful time!
Golden Retriever
Just like the labrador retriever, the golden retriever is ideal for a number of RV situations, including those of you with young children. The golden retriever is a friendly and bubbly breed, capable of making friends wherever it goes. You won't have any issues on your daily walks around camp or the RV park with a golden retriever!
An important thing to note about the golden retriever is that it needs a decent amount of exercise. This dog breed is right behind the Australian Shepherd or Australian Cattle Dog in terms of its exercise needs, so this is something to keep in mind if you don't plan on taking advantage of the great outdoors while you live in your RV.
Additionally, the golden retriever can reach up to 75 pounds, making it quite large for the average camper. You may find that the high energy levels combined with the large size of this dog breed make it not ideal for your specific lifestyle, but this is definitely a friendly and easy to train breed for those of you seeking an active companion.
Australian Cattle Dog, or Blue Heeler
Speaking of active companions, there are few breeds as excitable and physical as the Australian cattle dog, also known as the blue heeler. These fantastic herding dogs are compact, muscular, and true adventurers in every sense of the word. Plus, they even make fantastic guard dogs with proper training. Let's talk more about them now!
Growing to an average weight of 35 pounds, the Australian cattle dog is a compact companion that bonds to one or two owners while remaining alert and wary of just about everyone else. They are not aggressive, often using a high level of intelligence to distinguish between threats and just people going about their day. This is a stark difference between a blue heeler and a chihuahua! The Australian cattle dog is much more discerning.
However, exercise is key to making this breed happy. They are highly trainable and capable of hiking off leash, and in fact most of them prefer this. However, giving your dog at least five miles of walking or hiking a day can be too much to ask for, depending on who you are. And most Australian cattle dog owners will tell you that 5 miles is the minimum that their dogs need exercising for!
Border Collie
Another highly active breed, the Border Collie is considered the most intelligent dog in the world. These herding breeds also never grow larger than 45 pounds, making them ideal for living in an RV full time. However, you need to be prepared to give them ample exercise, much like the Australian cattle dog and the golden retriever.
One of the main perks of the Border Collie is the fact that it is highly active and adaptable to a variety of climates. These dogs were bred in England originally, so they are adapted to cold and inclement weather. They will have no issues going outside on a particularly rainy day, even if you do!
In addition, the Border Collie is wary of strangers without being mean or cruel, making them a capable guard dog. If you are looking for a dog that can learn a variety of tricks and listen well, then the Border Collie might be right for you. Again, you need to make sure that you have the capacity to exercise them as much as they need, lest they resort to destructive behavior.
Maltese
Seeking a more compact companion to join you on your RV journeys? Then the Maltese dog may be a good choice for you. This dog breed does not grow larger than 10 pounds, making it compact, easy to care for, and its coat happens to be hypoallergenic, making it ideal for those of you with allergies.
Maltese dogs are ideal for RV living for a number of reasons. These compact canines enjoy a decent amount of exercise, as well as curling up in the lap of whoever they love most. They are friendly and compassionate with people they know, but they are automatically alert and wary of people they don't know. This makes them ideal alert dogs, though not particularly frightening.
They may also attempt to challenge larger dogs when on their daily walks, but this is typically the Maltese's way of blowing off steam. These dogs are ideal for those of you who are unsure how much activity you plan on getting while camping, as they make long living companions for a variety of energy levels and lifestyles.
A Mutt!
At the end of the day, a dog is a dog, and they will love your RV journey if properly prepared for it and trained. I highly recommend adopting a mutt or mixed breed dog from your local animal shelter rather than seek out a purebred companion.
While this may not guarantee the personality and temperament or energy levels of the particular dog you have in mind, it is still a dog that needs a home. Unless you have extremely strict size limits or are worried about a particular breed meshing well with your lifestyle, choosing a mutt tends to work out better than most people expect.
I adopted my dog as a puppy with RV living in mind. He reached 20 pounds and stopped growing, and is the perfect mix of wary Chihuahua and active cocker spaniel, making him ideal for RV and camper lifestyles. While not everyone will get quite as lucky, all mutts are good dogs and would absolutely love the opportunity to live full-time in an RV, in the great outdoors.
Final Thoughts on the Best Dogs for RV Living
Finding some of the best dogs for RV living and the best dog breed for RV travel may be easier than you think, when you consider the fact that most dogs love camping. While you need to make sure that the dog you choose fits well with your lifestyle and RV layout, there's nothing like bringing a canine companion with you when you hit the road. Just make sure to pack some treats and toys!