Later this year, Mrs. Island Miler and I are traveling to Northern California for a wedding.  But it also happens to be her birthday, so I've decided to turn this trip into a round birthday for her.  And part of this, of course, means securing some fantastic dining, which is easier said than done.  So here's my story on booking The French Laundry.
Honestly, The French Laundry is someplace that's been on my bucket list for a long time now.  It is, after all, Thomas Keller's flagship restaurant.  And I don't care that they're not on the Top 50 Best Restaurants List 2018 (they're number 86).  But Thomas Keller is a man I have great respect for and have always wanted to experience his cuisine.  Plus, it's someplace I think the Mrs. would enjoy very much too.
The problem is, though, securing reservations here is notoriously difficult, especially since we'd be in Napa for only two nights.  So the odds are not in our favor.  But, I had a secret weapon to help.
Securing My Reservation
Reservations at The French Laundry become available on the first day of every odd number month for the following two months (three months on 9/1) at 10:00 am Pacific Time.  And to make a reservation, you need to prepay for your meal in full via the website and app, Tock.  This is no small feat, especially since the small restaurant sets aside a specific number of seats for two and four-person parties.  So, to make things easier on myself, I enlisted the assistance of the American Express Platinum Concierge.
One month I shot the Platinum Concierge an e-mail requesting the reservation.  They followed up with another e-mail with specific questions regarding my preferences and a confirmation to make charges to my card.  Then I had a call with them to overgo the terms & conditions once more and to provide my card number and security code.  Your card number is required only the first time you make a request with the Concierge.  And, after that, I was all set.
The Platinum Concierge does say they cannot guarantee success, but that they'll try their best and that I'd hear from them on Saturday 9/1 whether they were successful or not.  So, this past Saturday I waited with great anticipation to see what the outcome of my request would be.  And around 9:00 am in Hawaii, I got a notification on my phone that a Tock transaction was pending on my Platinum Card.  That was followed by an e-mail confirmation about 40 minutes later.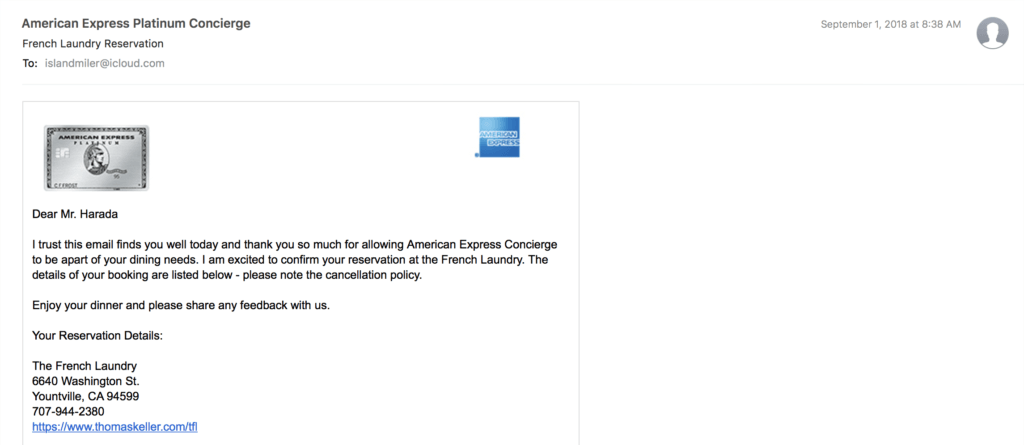 Things to Know
Upon checking my Tock account, though, I didn't see the reservation.  As a result, I sent an e-mail to the Platinum Concierge to make sure I was ok and request another reservation.  Less than an hour later, the Platinum Concierge gave me a call to explain the situation and obtain my security code once more.
Turns out, the Concierge wasn't successful in obtaining my reservation via Tock.  Instead, a manager at the Concierge called the restaurant directly to secure my table.  WOW.  That's not something you can do on your own and not something even a Visa Concierge can do either (as far as I know, anyway).  And because of this, my reservation will not show up in my Tock account.  Instead, if I need anything, I'd need to communicate with the Platinum Concierge instead.
This holds true for my other Platinum Concierge reservation too.  After securing the French Laundry reservation, I had the Platinum Concierge secure a table for me at Atelier Crenn.  I could've done this on my own, as space was available on Tock, but Tock doesn't post as a restaurant transaction.  And because of this, you aren't going to earn triple points with your Sapphire Reserve on this transaction.  So I decided to have the Concierge do it for me, especially since Atelier Crenn is an Amex Global Dining Collection restaurant.  And like my French Laundry reservation, my Atelier Crenn one doesn't appear in my profile; instead, I have to communicate through the Platinum Concierge.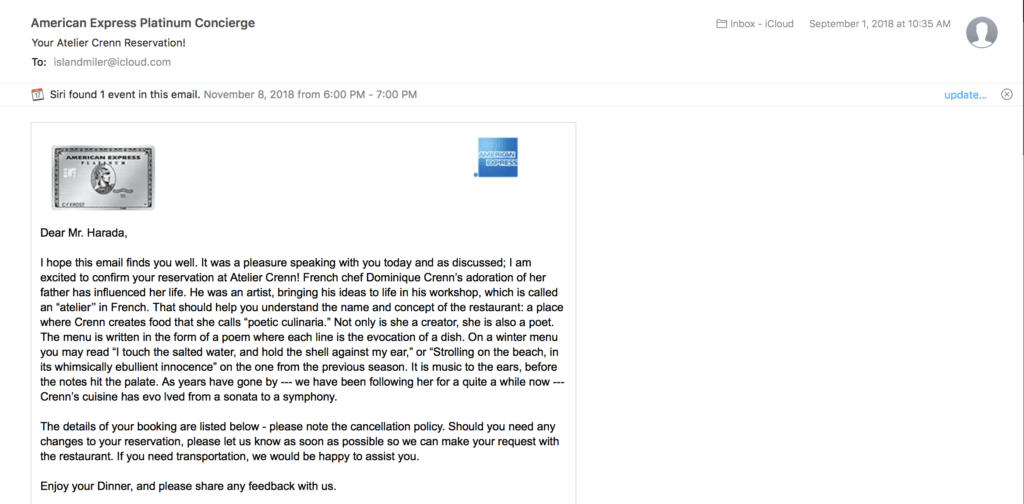 Booking The French Laundry, Final Thoughts
Securing a reservation is incredibly difficult, even with the assistance of the Platinum Concierge.  So we're very fortunate that they were able to obtain a table for us.  But, if you're going to make an attempt, the best way to do it is with the Platinum Concierge.  It takes all the guesswork and stress out of the process, though I was incredibly anxious about it until I received a confirmation!  And this was a bit of a redemption for me, as the Platinum Concierge refused to assist us in obtaining Bruno Mars concert tickets while initially saying they'd help.
Now that my reservations are all set, I have the Concierge assisting me in figuring out what activities to do too.  So all that's left is to figure out my lodging.  For the wedding, we're already set, as there aren't many options in the area anyway.  We'll also be spending our two nights in Napa at the Los Alcobas Napa Valley.  The part I'm stuck on is where to stay in San Francisco.  Right now I'm considering the San Francisco Marriott Union Square, the JW Marriott Union Square, the Westin St. Francis, and the Ritz-Carlton San Francisco.  But I'm also open to other Marriott, SPG, Hilton, or Hyatt recommendations too.  We'll see!