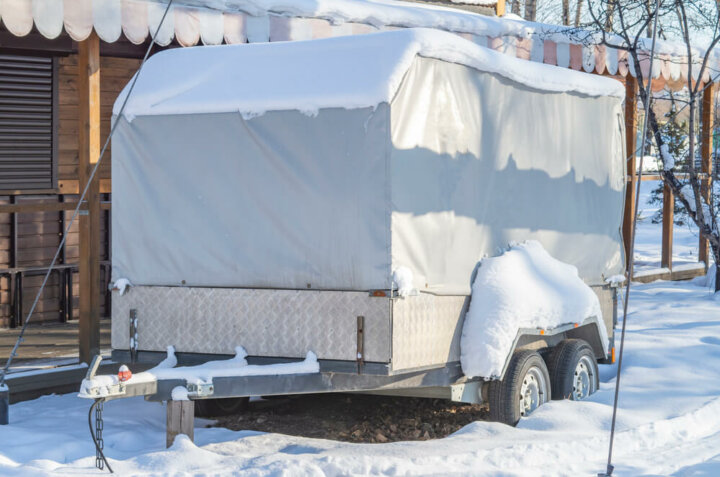 All of our reviews are based on exhaustive research, industry experience and whenever possible, hands-on testing. When you make a purchase using one of our chosen links we'll get a small percentage of the proceeds. This supports the site and keeps Jeffsetter running. You can read more here.
When your RV heads into storage for the winter season, it's important to take the right steps to protect it from freezing temperatures. Winterizing your RV is a must, but knowing what to do with your RV battery can often be confusing.
Let's get straight to it and answer the common RV battery question so you are prepared for every winter to come; can I leave my RV plugged in all winter?
You can leave your RV plugged in all winter allowing you to keep the heating on which will help prevent damage from freezing temperatures, charge the RV batteries, and even run the fridge. However, leaving your RV plugged in over winter can also be expensive, and it could damage the battery.
Although leaving your RV plugged into shore power over winter has many benefits, it can also have some disadvantages, especially when it comes to RV battery health. Let's take a look if this is the best option for your RV this winter.
Can I Leave My RV Plugged in All Winter?
There's no right or wrong answer here, and it's all about your own personal preference. What matters however is how well you're planning on maintaining your vehicle if you leave it plugged in.
But let's take a closer look at the possible benefits of leaving your RV plugged in all winter, as well as the disadvantages you can expect.
Advantages Of Leaving My RV Plugged in All Winter
There are many reasons why some RV owners choose to keep their RV plugged in all winter. For those living in particularly cold climates, leaving your RV plugged in can help avoid common problems low temperatures often cause with batteries.
1. The Heating or Air Conditioning Can Be Used
Leaving the heating on in your RV over winter is a useful idea to help prevent your RV's components from freezing. Alternatively, if your RV is being stored in a hot climate for a long time, having it plugged into shore power means you can run the air conditioning, keeping the temperature nice and cool.
2. RV Batteries Stay Topped Up
It's a good idea to keep an eye on your electrical system and make sure your batteries are performing efficiently. Keeping your RV plugged in over winter means the batteries will stay topped up and won't deplete while your wheels are in storage.
As I'm sure you already know, RV batteries come with a hefty price tag, so it's always worth putting in the effort to winterize your RV properly. Getting it right the first time means you save yourself any unnecessary expenses further down the line.
3. Extra Space
An RV offers more than just accommodation for trips, it can also be a useful additional space for friends and family back home. The space and all its features can be fully used if an RV is plugged in over winter. This is especially handy over the holiday season when friends and family pop by unannounced!
To leave your RV plugged in for long periods and reduce the risk of long-term damage, it's best to have a smart charger that will maintain an optimal charge for the battery. The smart charger will keep an eye on the battery's voltage and make sure you don't overcharge it.
Disadvantages of Leaving My RV Plugged in All Winter
The disadvantages of leaving your RV plugged in all winter are pretty serious when it comes to keeping your battery (and wallet!) in the best shape.
1. It's Expensive
Leaving your RV plugged in all winter can be quite a big expense, especially if the heating and gas are in use too!
If you're deciding not to winterize your RV water system and instead keep it in use, it's important to still check your water pipes to make sure they don't freeze. If they do, this can be an added expense in the future to repair the pipes, and maybe even the water heater too.
2. Additional Wear and Tear
When an RV goes into storage for winter, it's a good idea to do a deep clean as part of the winterization process. This also gives the components of the RV a break from the busy summer season!
If you continue using your RV over winter whilst it's plugged in, there will naturally be more wear and tear throughout, potentially resulting in repairs and replacements needed for the spring camping season. It also means you'll have another place to clean, and personally, if I can limit any cleaning chores – I will!
3. Can Damage Battery Health
The biggest problem with leaving your RV plugged in over winter is the damage it can cause to the battery. Putting constant power into the system can lead to the battery overcharging. This can damage it beyond repair to a state where it can no longer charge effectively.
Many RV owners choose to completely disconnect and remove the batteries from their RV over winter to protect them. Most RVs use lead-acid batteries to power the electrical system and these batteries need to be maintained and stored correctly. Lead-acid batteries can lose more power over time if stored in conditions that aren't optimal, such as sub-zero temperatures.
Should RV Batteries Be Removed in Winter??
RV batteries can be removed in winter if you're in an extremely cold climate, or would like to take all the precautions possible to keep your batteries in good health. If you decide to remove your batteries for winter you'll need to store them in a warm, dry place.
Different batteries can withstand a range of conditions, although most batteries are not able to deal with the stress extreme hot or cold climates can cause. The process for removing and storing the batteries is quite simple, and once you've got the hang of it, you'll feel confident, and ready for next year's RV winterization.
How Do You Store an RV Battery For Winter?
When storing your RV battery over winter, you need to take the right steps to prevent any damage. Make sure to do this process carefully and safely as you'll need to disconnect, remove and clean the battery before it heads into storage.
Step 1: Disconnect and Remove the RV Battery
Before even attempting to remove the battery, turn off any power supply going to it. If you're not sure where your battery is located in your RV, a quick look at your owner's manual will give you the answer.
Step 2: Clean the Battery
When cleaning your RV battery, the main things to be on the lookout for are corrosion and general dirt and dust. You can use a baking soda and water mixture to clean any corrosion or dirt away.
Step 3: Check the Water Levels
RV batteries contain sulphuric acid which can be harmful if it comes into contact with the skin or eyes, so it's important to wear protective clothing, gloves, and goggles before checking the water levels in your battery. Fill it up if needed but be sure to only use distilled water as it is better for the battery.
Step 4: Charge the Battery Fully
Another big step of the RV battery storage process is charging the battery up to 100%. You'll have likely discharged it when the RV was last used, so it's good to get it back up to full power again before storing it. Check your specific battery for the best method of charging.
Step 5: Use a Trickle Charger
When storing your battery over winter, it's important to use a trickle charger to keep the power in your battery topped up. Chargers like these maintain the battery above 80% and if it senses a drop in power, it will engage and top the battery right back up.
Step 6: Store the Battery in a Warm Dry Place
The ideal storage place for an RV battery over winter is somewhere that's dry, with no dampness or moisture. The battery also needs to be stored on a mat or cardboard and in a relatively warm place that has a constant temperature to help it stay in its best condition.
Step 7: Check the Battery Monthly
Even though the trickle charger will prevent the battery from under or overcharging, you'll want to still check the battery once a month or so.
This is a great video that breaks down every step of storing your RV batteries correctly. Although it's a bit fiddly, it's worth taking the time to complete this process correctly otherwise you could end up with a depleted battery next spring!
Closing Thoughts
When choosing whether to leave your RV plugged in over winter or not, it's important to consider whether you really need to keep the RV in use over the colder months. By continuing to use your RV, you are unable to fully winterize it, risking damages from the cold weather.
A better option may be to unplug your RV, and disconnect and remove the batteries; especially if you'll be storing it in extremely low temperatures. By the following guidance, fitting a trickle or smart charger, and checking your battery's power every 4 weeks or so, you can keep in the loop with your battery's health and keep it in good condition for next season's camping!