Last updated on April 5th, 2023 at 05:24 am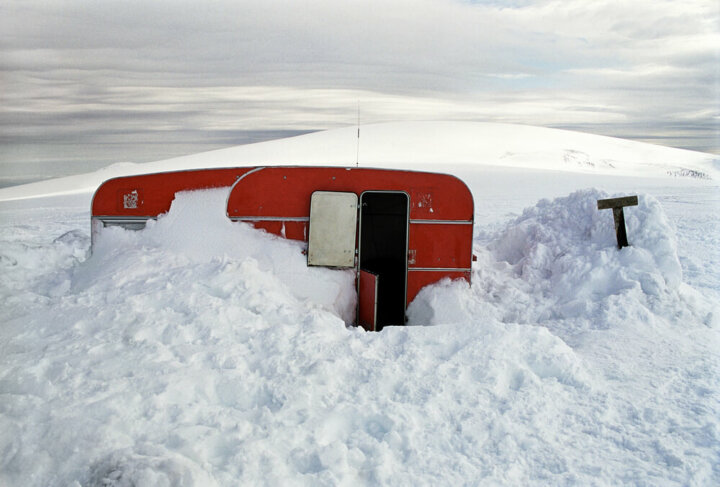 All of our reviews are based on exhaustive research, industry experience and whenever possible, hands-on testing. When you make a purchase using one of our chosen links we'll get a small percentage of the proceeds. This supports the site and keeps Jeffsetter running. You can read more here.
Winter is on the horizon, so you might be coming to the end of your RV season. If you plan on storing your RV for the winter, you have probably heard of winterizing it. You might wonder if that's really necessary or not, and why it's so important. Is it something you can just skip out on?
So, what happens if you don't winterize your RV?
Not winterizing your RV can result in extensive damage to your RV. You can end up with burst pipes and cracked water tanks that leak and create water and mold damage inside your camper. Without proper winterization, animals might nest, your battery can drain, you might have tire and exterior damage from the harsh weather.
Not winterizing your RV can be detrimental to it. Your RV is a big investment and you want to use it for years to come, so winterizing it properly is vital.
What Is Winterizing?
Winterizing your RV is vital to keeping your investment in good condition when the temperatures plummet in the colder months. It's not too difficult of a task and is well worth your time, but you want to make sure to follow specific steps to keep your RV in the best condition possible when you decide to take it out again in the spring.
Generally, winterizing refers to the process of getting your RV ready for the colder months. This includes removing water from pipes, tanks, and equipment, properly removing and storing batteries, as well as cleaning appliances, and securing any openings.
The biggest concern when it comes to winterizing your RV is the plumbing systems and your pipes. The last thing you want to be dealing with when you're heading on your inaugural spring trip is burst pipes and a flooded, moldy RV which is also a health hazard.
Taking care of your RV will ensure that you can use it for years to come and continue to enjoy a return on your investment.
What Do I Risk if I Don't Winterize My RV?
So, you live in an area where it gets below freezing, but you're still not convinced that you need to go through all the steps to winterize your RV, hopefully, we can explain why it's so important.
Water and Appliance Damage
It's not a secret that when water freezes inside pipes and tanks, it can result in a burst pipe or cracked tank. Even if they don't burst, it can take hours or days for them to fully thaw out. If they burst or crack, then you're left with an expensive repair to the plumbing itself, not to mention the water damage that was caused by the leak.
and your entire water system could end up needing replacement.
Water damage is insidious. It can lead to mold, which has its own host of health concerns and costs associated with removal. We've covered mold a few times because it can be that big of a headache.
Getting rid of mold can require professional help, but this guide can walk you through the steps to do it yourself. Preventing mold is a huge part of RV care, and we also explored the best ways to prevent mold when storing your RV.
Apart from the water system needing replacement I also need to mention that your toilet might also crack, and you might end up with damaged faucets, shower, and refrigerator. Additionally, if you have appliances like a washer and dryer then they need to also be winterized.
Battery Damage
Batteries can drain their power over the winter if they aren't stored properly. This is not only a headache, but if you plan to take your RV out in the colder months, you might not have proper heating and that will result in some cold drives.
Damage to the Exterior
The exterior of your RV could also end up damaged if not covered properly to protect it from the harsh elements. You can also wind up with a dead battery when you're ready to hit the road in the spring.
The exterior of your RV can end up taking the brunt of the harsh winter weather if it's not covered properly. Freezing rain, hail and snow can all cause damage to the exterior of your RV. It can result in dents in your air conditioning vents, your windows, and your awnings.
It's also possible that the sealants on your windows can become compromised and let in water or cold air. A property-installed cover can protect your RV's exterior. Covering your RV can also ensure that animals cannot get in and create nests.
Tire Problems
You can also end up having problems with your tires. Your tires can wear out due to the salt on the roads and the cold makes the pressure drop. The lower pressure in your tires can result in a harder-to-handle RV and a worn-out tread.
Tires that are worn are a danger to you and others on the road, if these aren't addressed properly, it can lead to dangerous driving conditions.
Rodent Infestation
Rodents and smaller mammals will look for warmth and shelter in the winter, and they may end up eyeing your RV as their perfect winter getaway.
In the best-case scenario, they don't cause any physical damage to your RV, but still leave droppings, urine, and even carcasses behind. In the worst-case scenario, they do all that and cause permanent damage by chewing through wires and wreaking havoc on your electrical system.
When Do I Need to Winterize My RV?
Before temperatures drop below 32 degrees Fahrenheit, you'll want to have finished winterizing your RV. Some might think that this is overly cautious, and will advise that you can wait to winterize your RV until it reaches 32 degrees and is that cold for a full 24 hours. Personally, I would err on the side of caution when it comes to your RV.
Even a few hours at freezing temperatures can result in damaged pipes and other issues you'll have to contend with.
If you live in an area where temperatures do not drop below freezing, then you don't necessarily need to winterize your RV. It's certainly not a requirement as you don't need to prep for water freezing in your pipes and holding tanks.
That being said, if you plan to store your RV during the wintertime, or leave it plugged in all winter even if it doesn't get cold, some of the steps for winterization might be useful for you to follow anyways.
The coming winter season offers a great time to prep your RV for the travel you plan on doing when it gets warmer again.
Things like deep cleaning the interior and making small repairs can be useful for anyone to do, even if you don't need to winterize completely. It's also a great time to clean your engine bay, your water tanks, and your water lines. Essentially any place you wouldn't clean normally is a good place to clean before storing your RV for the season.
How Do I Winterize My RV?
Winterizing your RV is a pretty simple process, there are essential steps and steps to take that will simply prepare your RV for the next season of travel.
You do need to have a few tools in your winterization kit to make the process seamless. You should purchase non-toxic antifreeze, the amount you need will depend on your plumbing. This is the most important step of winterizing, and because of this, it can sell out quickly, so buy it sooner rather than later.
You'll also want a wand to clean your holding tanks if your RV doesn't have a built-in flushing system. The other items you need are a water heater bypass kit, some basic tools to remove drain plugs, and a water pump converter kit.
1. Remove Inline Water Filters
The chemicals in antifreeze can damage water filters, which means you'll want to make sure you remove them before starting this process. It's also a great opportunity to check them over and make sure that they are in good condition and do not need to be replaced.
2. Drain Your Tanks
There are typically three tanks in your RV, a fresh water tank, a grey water tank, and a black water tank. All three of these will need to be drained before putting the antifreeze into your RV. You'll want to dump them at an RV dumping station. After draining them, you should clean them with an RV flushing wand. It's possible that your RV comes equipped with a flushing system. Consult your owner's manual to find out if yours does or not.
3. Drain Your Water Heater & Water Lines
Your tanks are drained, so it's time to take care of the other places water exists inside of your RV. Winterization is all about keeping water from freezing and bursting any pipes or cracking any tanks.
Before starting this step, make sure that you've turned off your water heater and given it time to cool down and depressurize. Once you're sure it's ready, remove the drain plug and open the pressure relief valve.
Open all of the faucets in your RV — hot and cold. This will allow them to drain. Don't forget to do the same to your outside shower line if you have one. Use your water pump to drain the toilet as well. Once everything is drained, recap all of the drains and turn off your faucets.
4. Bypass Your Water Heater
You will want to make sure antifreeze can't get into your water heater before you add it. To do this, you'll need to check and see if your RV comes with a bypass. If it does not, you'll either need to install a bypass kit or have that installation done at an RV service center.
5. Add Antifreeze
It's finally time to add antifreeze to your RVs water system. To do this, you can either install a water pump converter kit or you can disconnect the inlet side of your pump and connect clear tubing. Put the other end of the tube directly into your container of antifreeze.
You should turn on your water pump to pressurize the system. The pump will take the antifreeze through your RVs water system.
Turn your faucets again, and let them run until you see antifreeze come out. Flush your toilet as many times as you need to until you see antifreeze fill it up. Pur a cup of antifreeze down your drains and the toilet. Flush it so that there will be antifreeze in your holding tank. Make sure your faucets are turned off.
It's possible that you will need more than one container of antifreeze. The amount you need is completely dependent on the size of your RV and its plumbing system. Most typically, people use about 4 or 5 gallons of antifreeze for their RV.
6. Store Batteries Properly
Aside from adding antifreeze to your system, you also need to prep your batteries for being in storage for so long. Start by disconnecting the battery. Check the water levels of your battery and top off the water if needed. Make sure the outside of the battery is clean. Charge your battery completely and then make sure to store it in a warm and dry place that is accessible for you to check on it at least monthly. You should also use a trickle charger to keep it charged all winter long.
7. Cover RV & Tires
Covering your RV isn't necessary if your RV is going to be parked in a garage or storage facility. If your RV is going to be outside all winter though, it's essential to keep it safe and protected. Your RV cover should only be placed on a dry and clean RV, moisture can cause rust over time.
Installing your RV cover will be dependent on the cover you get, which should come with instructions. Before purchasing one, you should make sure that it's the correct size for your RV and is weatherproof.
Tire covers are easy to install and to find for not much money online. They will help protect your tires from the elements.
This video explains how to winterize your RV, giving you more information on all of the basics.
Conclusion
Winterizing your RV is essential if you live in an area where the temperatures get below freezing. Not winterizing your RV can result in costly damages to your RVs plumbing system, exterior, batteries, and other potential issues that are easily avoidable.
Even if you don't live in a colder area, you can use the winter season as an excuse to deep clean and keep your RV in tip-top condition.