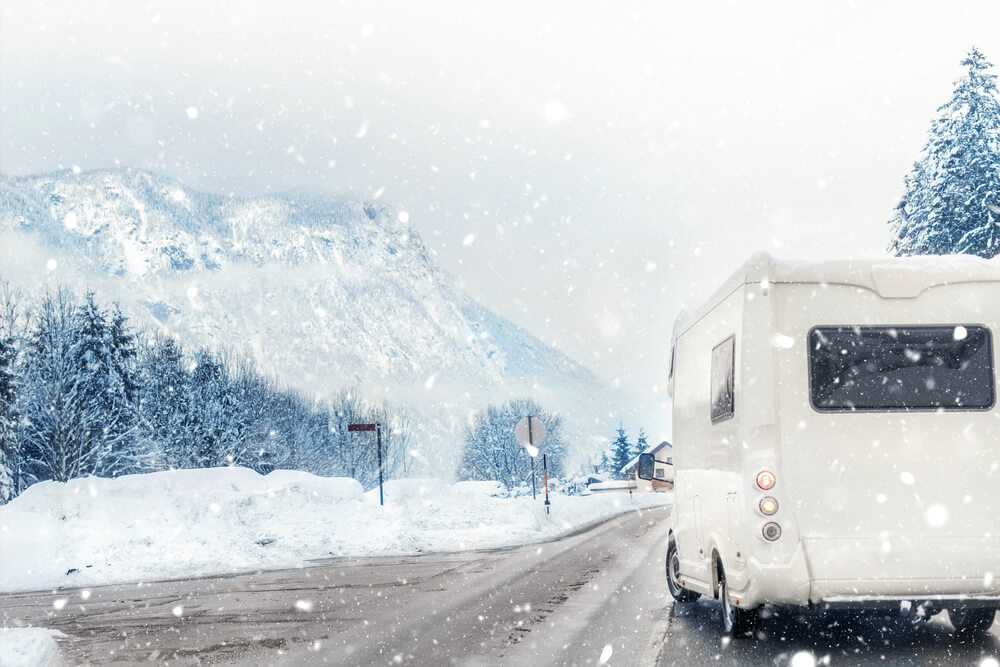 All of our reviews are based on exhaustive research, industry experience and whenever possible, hands-on testing. When you make a purchase using one of our chosen links we'll a small percentage of the proceeds. This supports the site and keeps Jeffsetter running. You can read more here.
Winterizing your camper is perhaps the single most important thing you can do to prepare it for cold weather. Wether you're traveling or looking to store your rig, winterization is a must. However, it is a fairly extensive process when all is said and done. If you are going to go through it for your RV, you'd definitely not want to be wasting your time, effort and money. The best way to know when exactly you need to winterize your rig is going by temperature.
So, how cold can it get before you have to winterize your RV?
The best benchmark you can use is the freezing point. Once the temperature reaches below 32 degrees Fahrenheit or 0 degrees Celsius, you'll want to winterize your rig with a focus on protecting pipes from freezing.
Let's discuss exactly why winterization is important at these temperatures.
Why Should You Winterize Your Camper?
32 degrees Fahrenheit or 0 degrees Celsius is also known as the freezing point. It is the temperature where water and most other liquids begin to freeze, and appliances susceptible to the cold begin to feel its affects. Winterization is super important for any rig you may own, be it a camper, trailer, fifth wheeler or traditional RV.
Your rig has many appliances and features within it that are susceptible to damage from the cold. Once the temperature reaches that freezing point, and especially if it dips below, you'll need to have had your RV winterized.
Water Pipes
A major issue that freezing temperatures can cause for your rig are frozen water pipes.
If there is any water sitting in the pipes overnight when the temperature reaches the freezing point, it will subsequently freeze cause problems for your pipes. Enough ice can damage them structurally or cause a blockage preventing adequate water pressure from reaching your rig. You definitely don't want that if you're trying to take a nice hot shower after being out in the freezing cold.
Propane Lines
Your RV's water pipes are not the only lines in your rig susceptible to the cold. Your propane lines can face a lot of issues when the temperature hits freezing. While the lines and propane itself won't freeze, the contents within can still be negatively impacted. Condensation within the lines can freeze and cause blockages, while the propane itself can constrict and drop in pressure, all affecting its ability to power appliances in your rig.
Holding Tanks
Your RV's fresh water, grey and black tanks can all freeze as well. This can cause problems when trying to later drain them, as well as potentially damaging the tanks. Your holding tanks are incredibly important not just for your convenience as s traveler, but to the structure of your rig.
Winterizing your camper goes beyond just keeping it better suited against the cold, it is a huge aspect of maintenance that is essential in keeping your rig in working order. Doing it whenever necessary, and knowing how to do it well will save you from a lot of troubles in the future. For most weather, investing in water tank heaters will be more than enough but tougher conditions will require more advanced methods.
How to Winterize Your Camper
Winterizing your rig is a process that mainly involves your RV's water systems. With that in mind, the first thing you'll want to do is remove any water filters that you may have installed. Otherwise, they will filter out antifreeze and other products that you may be pumping into your rig.
The next step is to drain your holding tanks. To make sure it is as thorough as it can be, consider flushing out the tanks after emptying them. This can be done by pouring lots of water into the tanks via the toilet or sink and shower drains. If your rig has an external flushing system, that will get the job done way easier.
After this, if your RV has a water heater bypass kit installed, you'll want to turn it off. The main purpose of this bypass is to prevent antifreeze from entering the water heater tank while you are using it on your pipes and holding tanks, With that being the case you may wonder why you should override it before winterizing your rig.
The thinking behind this is to keep antifreeze out of a space that simply doesn't need it. However, antifreeze does not harm your hot water tank in the slightest, All the bypass is doing, is wasting gallons of antifreeze that you could have collected and reused later.
Now that you've done all that, you can begin pumping antifreeze throughout your rig. A water pump converter kit is necessary to allow your pump to send antifreeze into all of your pipes, lines and tanks. To know that it is working as it should, simply monitor the sinks. Turn on the faucets until you see antifreeze coming out rather than water. When you see this in every faucet, you know the antifreeze has circulated throughout your rig. Be sure to also flush some antifreeze down the toilet to ensure it enters the black tank.
This is all you need to do to prepare your RV for a cold weather trip. However, if your intention is to store your rig, there are a few extra steps you'll want to take
Winterization for Storage
Storing your RV in a cold climate or during heavy winters means it will be exposed to the harsh elements. Day in and day out for weeks. For your rig as a whole, you can purchase winter covers that protect it from the elements. UV rays, harsh winds and excess snow are all among the things your RV will be protected from. To go beyond this, it is also a good idea to purchase tire covers for the same reasons.
Insulating parts of your rig such as the pipes and underbelly whenever possible is also important. You'll want your rig to be able to retain as much heat as it can while it's sitting in the cold.
Closing Thoughts
Knowing what temperatures begin to affect your rig is crucial in knowing when and how to winterize your rig. Winter travel and winter storage may seem intimidating, but it doesn't have to be. With a little bit of knowledge and adequate preparation, it can be as simple as any other part of your travel routine. You'll thank yourself a million times over for having learned it. And if you're interested in learn more about RVs that are ready for any winter weather, you can see our favorite Class A, Class B, or Class C RVs for winter here.