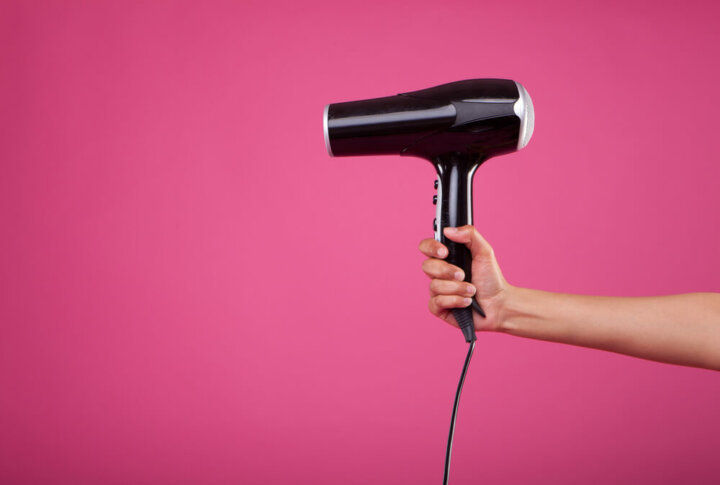 All of our reviews are based on exhaustive research, industry experience, and whenever possible, hands-on testing. When you make a purchase using one of our chosen links we'll get a small percentage of the proceeds. This supports the site and keeps Jeffsetter running. You can read more here.
Whether you need more creature comforts while on the road or simply enjoy the luxury of certain appliances, you may be wondering whether or not you can use a hair dryer in an RV. Learning how an RV works can be extremely eye-opening for a number of people, especially when you consider the fact that electricity usage can be limited.
So, can you use a hair dryer in an RV?
Using a hair dryer in an RV is possible, but keep in mind that all RVs have limited power resources and hair dryers use a lot of electricity. Using a hair dryer might prove inconvenient in an RV setting if you are traveling with others and use appliances that consume a lot of electricity.
In this article, we will go over everything you need to know when it comes to using a hair dryer in an RV. Not only will we talk about how difficult this process can be, but we will give you some tips and tricks for how to use a hair dryer in an RV setting.
Plus, we'll even give you some advice as to how to best boondock and still get your hair dry with this mainstay appliance. Let's get started!
Using a Hair Dryer in an RV: Is It Possible?
If you rely on a hair dryer every single time you need to do your hair, it's definitely a necessary appliance to consider packing on your camping trip. However, RVs often struggle with high-powered appliances, and a hair dryer is technically one of those types of appliances.
While your personal grooming and appearance may matter to you, bringing a hair dryer and using it inside of an RV isn't as easy as using a hair dryer at home. It is of course possible, but you need to understand how RV electricity and power systems work. You should also know how much power your hair dryer needs in order to properly dry your hair.
More often than not, people who bring hair dryers on their camping trips notice their RV power fluctuate. You will likely not be able to run a hair dryer and a microwave at the same time, for example. This can be inconvenient to other guests staying with you in your RV, and you may even find that your hair dryer does not work as well in an RV as it does at home.
If you are determined to use a hair dryer in an RV, you should know how to best accomplish this routine activity. Let's talk about this in more detail now.
How to Use a Hair Dryer in an RV
While we're not going to teach you how to use a hair dryer, we are here to give you some tips as to how to best use a hair dryer in an RV setting. From amperage to all of your other RV appliances, here's what you should consider when it comes time to blow your hair dry in an RV!
Know Your Amperage
One of the very first things to know about RVs is how their electrical systems work. If you are brand new to the RV lifestyle, you may not know yet that all RVs have a limited amount of power available inside of them. Most RVs are considered 30 or 50-amp service RVs, which refers to the amperage or wattage available to you as an RV owner.
30 or 50 amps is the maximum amount of electricity that you can use onboard your RV at any given time. Should you use more or attempt to use more, your RV breaker will reset and you will lose power. That's why it's important to understand the amount of power your hair dryer needs to work as well as the amount of power that your RV is using on other appliances or systems.
By simply doing some math, you may find that your RV can't handle a hair dryer while the air conditioner is running, if someone is using the microwave, or something else. If you're traveling alone or have limited energy needs, you may not have an issue using a hair dryer. No matter what, you should know your available amps and how much you need for your hair dryer.
How Much Power Does Your Hair Dryer Need?
Every hair dryer is different, which means that every hair dryer uses different amounts of power. Knowing how much power your specific hair dryer uses before you bring it along on your camping trip is a must.
The average hair dryer uses anywhere from 12 to 16 amps. If you only have a 30 amp RV, your hair dryer could use up to half of your available electricity upon startup as well as while you are using it! If your air conditioner is running at the same time, for example, chances are extremely high that you will trip your breaker.
Again, not all hair dryers are created equally. you may have a compact model that does not use as many amps as a larger, more efficient model. No matter what you have, knowing how much power it needs is key to using a hair dryer on board your RV successfully.
Are Other Appliances in Use?
As we've already discussed, paying attention to all of your other appliances on board your RV will help you use your hair dryer successfully. If you are attempting to use another appliance such as a microwave, air conditioner, electric oven, Instant Pot, slow cooker, or other electronic devices, you may not be able to use your hair dryer at the same time.
While it might be inconvenient to your other guests, you may need to designate time to blow dry your hair. Asking for or scheduling this time may be one of the only ways to avoid tripping a breaker on board your RV. That way, you know all other appliances are turned off or not in use so that you have the maximum amount of power available to run your hair dryer!
Consider a Low Wattage Hair Dryer
As previously discussed, you may want to consider purchasing a low-wattage or amperage hair dryer to bring with you while you camp. Some brand-new and high-end RVs have low-wattage hair dryers incorporated into their builds, but there are also smaller hair dryers that you can purchase.
Some hair dryers are capable of running on 1000 watts or less, making this slightly more feasible than other options. While it will also matter how long you are running your hair dryer for, you may want to purchase a separate hair dryer made just for camping!
12-Volt Hair Dryers: Do They Work?
If you are searching for a hair dryer that works in your RV, there are many different 12-volt hair dryer options on the market currently. These run off of battery power and 12-volt electricity rather than traditional outlets like other appliances. This means that you can run your hair dryer using a battery rather than your core RV power.
While it will depend on the individual product you find, 12-volt hair dryers do not seem to work as effectively as more traditional options. However, this is definitely something to consider, especially if you are camping with the whole family and have a lot of energy needs!
Use the Campground Bathroom!
If you aren't boondocking, it may be easiest to simply bring your hair dryer into the campground or RV park bathroom that is available to you. While not all campgrounds will have bathrooms with outlets, there are plenty of locations that will. If all you need to do in this public bathroom is blow dry your hair, it will likely save you a lot of time and effort as opposed to using your high-powered hair dryer inside of your RV.
Boondocking and Using a Hair Dryer
It can be fairly complicated to figure out how to use a hair dryer while boondocking. Your energy sources are much more limited while boondocking compared to other, more traditional camping environments. You'll likely need a reliable inverter, a generator, and plenty of batteries in order to boondock, especially if you want to boondock with all the creature comforts of home.
That's why it's important to prioritize whether or not you truly need a hair dryer or any other type of high-powered appliance while you boondock. You may find that you're better off not worrying about such things and enjoying the great outdoors, but it isn't impossible to use a hair dryer while boondocking. No matter what you choose, just keep your energy usage in mind!
Final Thoughts
Using a hair dryer in an RV is indeed possible, though it may feel more inconvenient than it usually does.
If you are determined to have dry hair using this small household appliance, bring it with you! Just know that you may need to prioritize your energy usage and even purchase a hair dryer that doesn't use as many watts as your typical hair dryer at home.