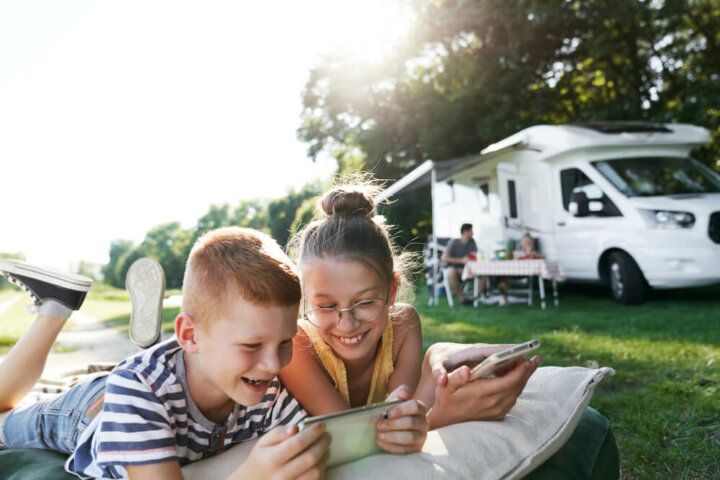 All of our reviews are based on exhaustive research, industry experience, and whenever possible, hands-on testing. When you make a purchase using one of our chosen links we'll get a small percentage of the proceeds. This supports the site and keeps Jeffsetter running. You can read more here.
Whether you're a gaming adult living full-time in your campervan or plan on camping with a group of uninspired kiddos hoping to stay inside for the entirety of your trip, you may be wondering: can you play video games in your RV?
You can game in your RV, once you figure out how much energy it requires. Depending on the type of game you wish to play, you might need to determine internet access or Wi-Fi to game online. You might also need to install a projector or alternate TV-system in your RV to play video games.
In this article, we will address everything you need to know when it comes to playing video games inside your RV.
Whether you plan on gaming using a PC, console, or handheld gaming system, you can make it happen while on the road just as easily as if you were in a residential home. From energy requirements to projector screens, here's everything you need to know about playing video games in an RV.
Only interested in reading a certain section of this article? Use our table of contents to navigate to your desired information about gaming inside of an RV now.
Playing Video Games in Your RV: What to Consider
While your video game console may be all set up at home, there are a number of things you need to consider if you want to bring your games with you while on the road.
Here are just a few of the considerations to think about if you want to play video games in your RV.
Type of Video Game Console
Knowing the type of video game console you plan on bringing with you in your RV is key to whether or not you can play it. For example, all video game consoles have different amperage or wattage requirements as well as different levels of space that they take up. Plus, different video game consoles have different cord and connection requirements.
Depending on what type of console you have, this will also determine where you will game inside of your RV. If you have a computer and do a lot of PC gaming, you will need a surface to set your computer. In contrast, a console such as an Xbox or PlayStation can be set somewhere and hooked up more remotely, not requiring a designated seating area.
The type of video game console you bring with you will also determine how much space you need for its various accessories and controllers. A more portable console will not require very many additional objects, but definitely consider how much storage space you will need in order to game on board your RV!
Required Wattage for Console
As previously mentioned, knowing how much power you need to run your gaming console is necessary if you plan on bringing it with you in your RV. All RVs only have so much power or amperage that you can utilize, and this amperage is utilized across all other appliances and power needs in an RV.
For example, if your PlayStation requires at least 10 dedicated amps in order to run, you will need to factor this into the rest of your RV's energy requirements. While you likely won't be running your PlayStation all day, keep in mind that you will be dedicating these amps to a video game console rather than to other locations or appliances in your RV.
This means that you run the risk of tripping the breaker of your RV or otherwise preventing power from reaching various RV appliances. All RV energy comes at a cost and you need to make sure you are budgeting accordingly so that you can run all of the various electronic items you have!
This is even more necessary if you are boondocking or otherwise camping with a limited supply of electricity, but more on that later.
Internet Requirements for Gaming
A very important factor that you may or may not have considered yet is whether you need the internet in order to play your favorite video games. Many console and PC games require an internet connection in order to work, or at least to work to their fullest extent. this may not be possible while on the road.
Some RVs have Wi-Fi or routers included in their initial construction, but you may need to specify whether or not you need internet while on the road if you are purchasing a brand-new RV. In contrast, if you already own an older RV without Wi-Fi, you may need to look at your options for installing it should you know that you need it for your video games.
Keep in mind that some RV parks or campgrounds may have Wi-Fi available, but it likely isn't good enough for online gaming. Likewise, if you are camping in locations that are remote, you may not have enough signal to access the internet in the first place.
There are always video games that don't utilize the internet, but this is definitely something to keep in mind if that is the only way that you game!
Location of Gaming Setup in RV
Unless you are traveling by yourself, the location of your gaming setup within your RV is very important. Even if you are traveling solo, you may find that setting up your gaming console takes up too much space or is otherwise inconvenient depending on where your television is located within your RV.
This is especially true if you are planning on utilizing a different type of video game display, such as a computer monitor or a projector screen. The location of your video game setup is especially detrimental if you are traveling with other people, as the space that video game accessories take up can be inconvenient to others.
You may also want to find a location that reduces the overall noise levels while you are gaming. If you are traveling with other people and want to play video games but are worried about disturbing other guests, the location of your gaming console is incredibly important.
RV space is always at a premium, especially if you want to do an activity away from others and remain quiet about it!
TV, Monitor, or Projector?
Speaking of, you should determine the type of video game setup you want in regard to your screen. If you only game on a PC, you'll need to bring along a computer of some type in order to both view and play your game. You may want a separate computer monitor to accomplish this, or you may want to set up something a bit more advanced.
This may take the form of a projector screen or a separate TV if you wish to game away from the primary TV located in your RV. You may want to set this up for the kiddos if you have a fifth wheel with a bunkhouse or a separate living space that they can hang out in, separate from the adults.
Regardless of what you choose, you should keep in mind where you are planning on setting up your video game screen, as this can have a huge effect on the overall living space inside your rig. Plus, setting up a television or projector screen can be a bit more advanced in an RV compared to a standard residential home.
This is largely due to the fact that RV walls and ceilings do not have studs or adequate holding abilities to support a full-size television or even potentially a projector and screen. If you haven't considered the type of screen you want for your video games and you don't plan on using the primary television within your rig, this is definitely something to consider right away!
Other Wattage Requirements of Your RV
As previously mentioned, all of the electricity within your RV is shared and accounted for. You need to know just how much energy you need to power the rest of your RV before you get excited about powering a video game system. Depending on the amperage found onboard your RV, you may or may not have enough electricity to run your video game system in the first place.
This is especially true if you plan on playing video games during a time of day that is utilizing much of your energy. If you are running your RV air conditioner as well as the microwave, charging mobile devices, and running a television in another room, you may not want or be able to play video games during this time.
That's why it's necessary to know how many amps you need to run your video game console as well as the screen you plan on using to play. The amperage of your router should also be something to consider, and the overall data and Wi-Fi consumption of your gaming are also important to keep in mind!
Setting Up Your Gaming Center in an RV
As someone who lives full-time in a 19-foot-long travel trailer with their partner, setting up my video game center in my RV was a matter of practice. Ultimately, you will find a setup that works well for you and your lifestyle, but take it from this Millennial gamer: you may need to adjust your expectations accordingly!
You can also check this Gamer who is also all about that vanlife!
Here are some things to keep in mind as you consider playing video games inside of an RV.
Acoustics Are Key
If you are traveling with other people but desperately want to play your video games while on the road, you need to pay attention to your noise levels and overall location within the RV. Speaking from personal experience, my partner and I often find ourselves wanting to play video games while the other is asleep, but our setup does not allow for this.
If the same can be said for you, you need to consider a location for your video game setup carefully. It's unlikely that you'll be able to play your video games in the bedroom of your RV if your partner wants to be sleeping, and the primary living space may also have people sleeping in it.
Regardless of what you choose, keeping other people in mind is important when choosing a location for your video game setup. This is especially true if you live full-time in your RV and want a location for your video games that is accessible during all hours of the day, without very many interferences!
How Many Players?
Let's say you've found a location for your gaming setup onboard your RV, but it doesn't allow for very many people to take part. If you are traveling with a large group of people that are potentially interested in video games, you may want to ensure that you can accommodate multiple players as well as multiple game controllers.
No matter how large of an RV you have, the chances are high that you will always feel on top of each other if you are traveling with other people. This is especially true if you choose a common area to play video games in. From the cords to the ideal viewing locations of your screen, it can be exceedingly difficult to accommodate multiple gamers in an RV at the same time.
While it is easy enough to assume that only one person will want to play video games at one time, this is an unlikely assumption. More often than not, you may find that your large group of kids need something to do inside while camping, especially if you are dealing with inclement weather.
Definitely keep this in mind as you consider playing video games in an RV.
Mounted Screens vs Other Options
As previously mentioned, your RV isn't built to handle a mounted flat screen due to the way that its walls are built. The same can possibly be said for a projector screen mounted to a faraway wall or on the ceiling, though these are far more lightweight than the average television. In fact, I utilize a mounted projector on my ceiling with zero issues.
Unless you plan on using your primary RV television, you may want to consider all of your options in terms of a reliable screen for your video games.
While a projector was my first choice for its portability, this option may not work for you. You may also have an extra TV lying around that you can bring with you on board your RV, making it a cost-effective and simple solution.
Boondocking May Make Gaming Difficult
In case you hadn't already guessed, it may be extremely difficult to play video games if you are boondocking. Also known as dry camping, boondocking is the act of utilizing your RV off-grid or otherwise disconnected from utilities such as water and electricity.
While you can certainly play video games while boondocking, you may find that you don't have enough energy to make it happen. This is especially true if you have limited batteries and plenty of other energy requirements, or perhaps you are trying to boondock for multiple days at a time.
You should always keep your energy, data, or Wi-Fi usage in mind while boondocking, and you may find that playing video games is not the best use of your limited energy on board your RV!
Final Thoughts
As someone who plays video games inside a 30-amp travel trailer, I'm here to tell you that it is indeed possible! However, there are many considerations to contemplate before pulling the trigger and setting up a video game system inside of your RV, including space, acoustics, and energy and internet requirements.
Regardless of your console and preferred gaming style, you can enjoy the great outdoors as well as the great indoors should you enjoy video games while you camp!