Last updated on March 9th, 2023 at 11:10 am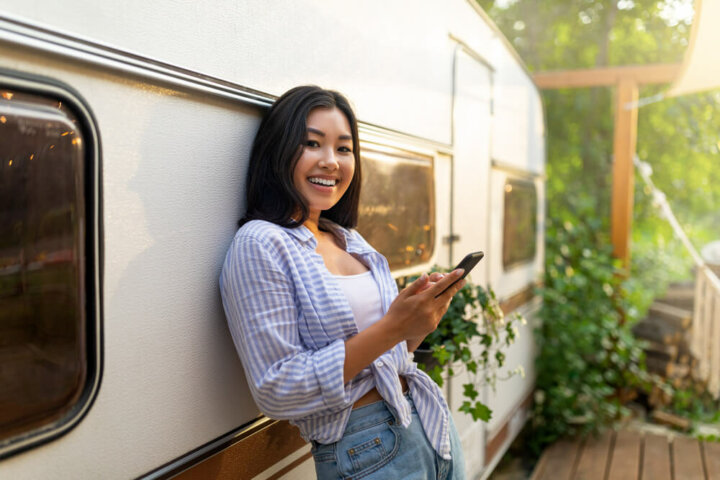 All of our reviews are based on exhaustive research, industry experience and whenever possible, hands-on testing. When you make a purchase using one of our chosen links we'll get a small percentage of the proceeds. This supports the site and keeps Jeffsetter running. You can read more here.
RVing is all about spending quality time in the great outdoors whilst also being able to have a good night's sleep, cook delicious meals, and take a hot shower. There's a lot to consider when getting started RVing and preparing for the transition puts you in a good position to hit the road and start exploring without too much stress.
So, let's find out how to get started RVing!
There are many things to help get you started RVing, such as taking an RV vacation before buying one and researching different types of RV to help find the one best suited to you. Cutting down on personal items is essential too along with creating a budget to help keep on top of your expenses.
Making the step to get started in the RV world is exciting, but it's crucial to not let the excitement get in the way of important things you'll need to think about before you head out into the heart of nature. So, let's check some of our tips and tricks on how to get started, and you'll see that once you've been on the road in your RV for a while, everything will become more natural and you'll find the way of RV life that works best for you in next to no time.
How to Get Started RVing
It can be intimidating if you've been thinking about getting started RVing but don't know where to begin. Luckily, several things can make the process considerably easier, and giving yourself plenty of time to prepare for RV life can make all the difference too.
1. Take an RV Vacation
It's hard to imagine what life in an RV is like if you've never tried one out before, so renting an RV and taking a vacation before you buy one is a good idea. This will also help you determine what type and size of RV you want, and the features you would like included in the rig.
Driving an RV is very different from driving a car, so taking an RV vacation is a great way to test out how it feels to be behind such a big vehicle. This can help build your confidence and allow you to work out the size of RV that you find easy to drive and ones that may be a little too big!
2. Research Different RV Types
There are many types of RV on the market, and they each have their own advantages and disadvantages. If you're looking for a spacious rig for the whole family, you'll likely want a bigger RV, but if you're travelling alone and hoping to camp out in the depths of nature, something smaller may suit you better.
When travelling as a family, choosing an RV with outdoor features such as exterior cooking facilities and an awning can be wise. These can help open out the space of the RV, so the inside of the camper doesn't feel too cramped.
3. Cut Down Personal Items
When you're considering starting out in the RV world, one of the essential things you'll have to do is cut down on the personal items you own. If you have items that you don't want to part with, it may be useful to ask a friend or relative if they mind storing some belongings for you.
Renting a storage locker can be handy for bigger items such as furniture and adventure gear but these can be expensive, especially if you plan to store belongings for a long time.
4. Make a Budget
Living in an RV tends to be far cheaper than living in a house or apartment, but there are still plenty of costs to think about. Factoring in expenses such as gas, campground fees, and groceries, whilst also having a small fund for activities will give you a good idea of how much you'll be spending from month to month.
Creating a budget and sticking to it will help keep you from overspending and allows you to see how much money you'll need to make to support your life on the road. The joy of RVing is that it is a very flexible lifestyle, and if you go over budget one month, you can wild camp and spend less money the following month to help balance things out.
5. Allow Transition Time
One of the hardest parts of getting started RVing is the initial transition period of moving out of a house and into the RV itself. It's completely normal to feel a bit overwhelmed and question if you've made the right choice, but once you set off on the adventure of a lifetime, everything will fall into place.
Spending your first few days of RV life at a campground can help ease any worries, and you'll be surrounded by other RVers who will likely share all sorts of advice and tips with you about life on the road.
RVing for Beginners
As a beginner in the RV world, it can feel daunting as there's a lot to think about before moving into your rig. Asking other fellow RVers about their experience on the road can be useful and help boost your confidence before you set off too. Many things are essential to consider when getting started in an RV as a beginner, so let's take a look at a few of them.
1. Choose Whether to Buy or Rent an RV
Renting an RV is a good idea if you haven't spent much time in one, as it allows you to get to grips with RV life and actually see if you enjoy spending time in a camper. RVing isn't for everyone and can be hard if you're traveling with a partner or as a family. After a trip in an RV rental, it can be useful to make a list of the things you enjoyed and didn't enjoy about the RV and if buying an RV is the right decision for you.
Buying an RV is a big decision as they can be expensive, so be sure to hunt around for the vehicle that ticks most, if not all of your boxes, otherwise, you could end up being disappointed further down the line. It's also worth looking around at different dealers to find the best price, and if your budget won't stretch far enough, considering a second-hand RV is a good idea.
2. Get Familiar With Your RV
One of my biggest pieces of advice, before you head out onto the open road in your camper, is to get familiar with your RV. Knowing how to work the A/C, heating and electrical features is just as important as knowing how to empty your black and gray waste and fill it up with fresh water.
Before I set out in my camper full-time, I made sure to familiarize myself with how everything worked. This means when it comes to moving into your RV, there are no hidden shocks or surprises to deal with.
It can even be useful to spend a few nights in your RV on the driveway to get familiar with how it will feel to wake up each morning in the space, and you can start to build a good routine too.
3. Research and Plan
Research is the key to finding an RV that provides everything you're looking for, and making lists and comparing different rigs and their features is a surefire way to find the best camper for you and your needs. Once you've found the ideal RV for you and you're comfortable with the vehicle, it can be a good idea to plan a rough route of where you'll be driving when it comes to heading out in your rig.
Having a route planned, at least for the first few weeks of being in the RV, can be comforting as you can plan out parking spots, gas station fill-ups, and campgrounds you want to stay at. This saves any potential regrets of not knowing where to go or where to find a dump station to empty your holding tanks.
4. Find a Remote Income
Unless you're taking time away from work or are retired, you'll likely need to financially support yourself whilst RVing. Finding a remote income is arguably becoming easier as more people are transitioning to the online world. Many remote jobs will require you to have good access to the internet and so this is something you'll need to consider too.
There is a range of remote jobs such as proofreading, teaching a language, and data scraping, so it shouldn't be too hard to find something you want to do. Just be sure to park in a spot with a good signal during work hours as often trekking into the depths of nature will result in poor access to the internet.
5. Buy Essential Tools
Just like any other vehicle, RVs can break down or need a bit of help to get them back to functioning at their best. Carrying essential tools and equipment such as appropriate jacks and antifreeze will help make like far easier if you need to jack up your RV or prepare for colder weather.
Carrying extra oil along with some spare parts can save time and money if something goes wrong in your RV. It's important to remember, however, that RVs are big, heavy vehicles, and it's best to call the professionals for help if you don't have the confidence or correct tools for the job.
Keeping a list of your RV measurements to hand can be extremely useful if you ever need to call a tow truck, as they'll likely ask for the weight and size of your RV over the phone to make sure they send out a rig with the appropriate towing capacity.
6. Make an RV Campground List
There's often a lot going on at campgrounds and so it can be easy to forget essential things you need to do to set your RV up on your first few visits. You'll likely need to think about getting your RV level, hooking up to electricity, connecting to WI-FI, and sorting out your gray and black waste tanks along with other things.
Writing an RV campground checklist of things you need to do upon arrival can be helpful and means you have something to go by, even if you get distracted or overwhelmed.
Try to remember you are not the first and certainly won't be the last person to visit a campground for the first time, so it's perfectly normal to feel a bit apprehensive. Take things slow and after a few weeks of visiting different campgrounds, you'll feel a lot more confident and will get the hang of it in no time!
To help inspire your RV campground list and make sure you don't forget anything, the video below shows a step-by-step of setting up your RV at a campground. As you can see in the video, breaking things down and completing them one at a time will help you get it right on the first go.
If your setup isn't going to plan, there's no shame in asking a campground attendant or fellow RVer for some help. Usually, people are more than happy to help out and you may even learn a thing or two along the way.
7. Avoid Over-Loading Your RV
To ensure maximum safety and keep your RV running and functioning at its best, you'll need to make sure you don't overload your RV. Overloading a vehicle is when you make it carry more weight than it is capable of. This can be dangerous as the handling of the RV can be negatively affected, along with the general stability of the rig.
The brakes in an over-loaded RV can also become an issue and any harsh braking can cause the back end of the RV to swing out and cause potential accidents. It's therefore best to know the load capacity of your RV and distribute weight evenly across the whole vehicle.
8. Start Downsizing Early
Something I did before moving into my camper was to start downsizing my belongings early on in the transition process. This is a fantastic way to make moving into an RV easier, as it means you won't be dealing with endless boxes of belongings.
Sorting through your things and working out what to pack in your RV can be tricky, but remember there are campgrounds with laundry facilities and laundrettes where you can wash clothes, so you don't have to pack every single item of clothing!
If you have sentimental items you don't want to part with but also can't fit in your RV, ask a friend or relative if they mind holding onto them for you. Storage lockers can be useful if you have several big items you don't want to part with, but these can often be on the pricier side.
9. Know How to Winterize Your RV
Many RVers use their camper seasonally and store it away during the colder months. Ideally, it would be best to store your RV under cover, but if you don't have access to storage for your RV, it's important to know how to winterize it.
Cold temperatures can cause chaos in an RV that isn't winterized by freezing and cracking water pipes and causing leaks that can eventually lead to spongy spots in the floor.
Winterizing your RV with either compressed air or RV-specific antifreeze will help prevent these kinds of problems from happening, and keep your camper in tip-top shape for the next camping season.
10. Have Fun!
There are many reasons why people choose the RV life, but ultimately, the main attraction for most is the freedom traveling in an RV gives you. The ability to drive and set up your RV in nature is an unbeatable feeling, and falling asleep to the sound of crashing waves or rustling trees is a dream for many people.
RVing is all about having fun on the road and exploring the giant blue and green ball we live on. There may be plenty to think about when preparing to get started RVing, but remembering the end game and all the adventures you're about to have will help motivate you through the serious stuff!
Closing Thoughts
Deciding to get started RVing is exciting and traveling on the road in an RV is a great opportunity to visit new places and take in incredible sights from your camper. If you're considering moving into an RV, getting organized and doing plenty of research is the ultimate way to choose the correct RV for your needs and can help prevent you from feeling overwhelmed too.