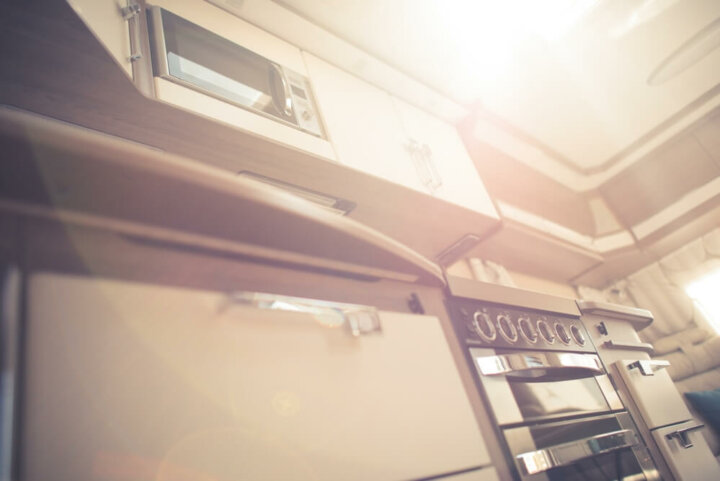 All of our reviews are based on exhaustive research, industry experience, and whenever possible, hands-on testing. When you make a purchase using one of our chosen links we'll get a small percentage of the proceeds. This supports the site and keeps Jeffsetter running. You can read more here.
No matter the reasons, you may be wondering how possible it is to utilize an RV oven while driving. Many people use appliances on board their motorhome while the vehicle is in motion, including refrigerators, plug-in appliances, generators, and more. But what about RV ovens? Is it both possible and safe to use one while your motorhome or travel trailer is in motion?
So, can you use an RV oven while driving?
It's not recommended to use an RV oven while driving. Whether you are using an electric or propane-fueled oven, there are a lot of risks involved. Additionally, you shouldn't use any appliance on board a travel trailer or towable RV while you are on the road, as you cannot access these while driving.
In this article, we will go over everything you need to know about the possibilities of using an RV oven while driving. Not only will we address the potential risk factors involved in doing this activity, we will also give you some alternatives and other options or suggestions as to how you can cook while your motorhome is in motion. Let's get started now!
Using Your RV Oven While Driving: Is it Possible?
It may indeed be possible to use your RV oven while driving. However, before we get any further into this discussion, it's important to note that you should never use an appliance on board a travel trailer, fifth wheel, or any other type of towable RV. The sole reason for this is that you will be unable to access this appliance should anything go wrong, as you will be inside the tow vehicle rather than inside of the RV.
However, for the sake of this argument, we will be discussing whether or not you can use an RV oven onboard a motorhome, such as a Class A, Class B or Class C RV. Many RVers discuss using other appliances while their motorhome is in motion, such as leaving the refrigerator running or a smaller appliance that is easy to monitor.
Whether you are using an electric or propane-powered oven, there are many reasons why you may not want to use this appliance while you are driving your RV. For the most part, even the most experienced RVers don't do this, mainly because of all of the potential risks involved. While it may be possible, it is not recommended.
Let's discuss some of those risks in detail now.
Risk Factors of Using an RV Oven While Driving
Just because something is possible doesn't necessarily mean that you should do it. Using an RV oven while driving is one of those things. Do the risks outweigh the reward should you choose to use an RV oven while driving?
Let's take a look at some of the potential dangers of this activity now.
Accidental Spills or Leaks
Whether you're making cookies or a casserole, using your oven while driving your motorhome down the highway puts you at risk of accidentally spilling whatever it is that you are cooking. While cleaning up a spill isn't the end of the world, these spills can be more harmful or dangerous depending on the extent of them.
A simple bump in the road could be enough to spill your casserole onto your heating elements or propane flame. This could cause more damage than you might expect as well as the potential of extinguishing your propane. Let's talk more about that now.
Propane Flame Extinguishing
Most RV ovens are propane powered, which is convenient for boondocking and disconnected camping. However, this shouldn't encourage you to use your oven while your RV is in motion. Should your propane flame get extinguished while you are driving, whether it be from a spill or from wind, it can pose many different risks.
The primary risk involved in this is that your propane is actively running in your oven. It will continue to run until you turn your oven off, something that you may not notice right away.
As propane continually leaks without burning, you run a huge risk of accidentally starting a fire. Plus, your propane and RV engine could interact in an explosive way.
Given just how possible this option is and the risk involved, you may want to consider waiting to bake those cookies until you arrive at camp!
Your Food May Not Turn Out
Depending on what you want to bake or make in your oven, your recipe may not turn out the way you expect because your vehicle is in motion. Not only do you risk an uneven distribution of batter or other food should your rig be slanted, but vibrations and bumps in the road can easily ruin a good souffle or bread loaf.
There are simply too many variables to consider should you choose to use your oven while driving, and some recipes can't handle so much change. If you happen to be driving through mountain passes, elevation will greatly affect any and all baked goods you plan on making. Most recipes do not take a moving vehicle into account!
Hot Surfaces or Materials While Driving
Most people don't often wander around their motorhome while it is in motion, but this is definitely an activity that happens more often than not. If you have your RV oven running while you are driving, you run the risk of accidentally touching it while it is hot.
It's never a smart idea to have a hot surface in a situation that could potentially put anyone off balance!
While your RV oven will likely be paid attention to while it is running inside your motorhome, it's easy to forget when a surface is hot. Not only could you or your family members accidentally touch it while driving down the road, but items in your kitchen could also potentially fall on this hot surface and pose many issues.
Do You Have Enough Electricity for Your Engine?
While a propane-powered oven poses a number of risks, what about an electric oven? Many modern RVs utilize electric appliances nowadays, especially as all-electric rigs become more popular. These appliances are often efficient and capable of doing many things that older appliances can't do, but does this mean you should use your electric oven while your RV is in motion?
Besides multiple risks already outlined, you need to understand how your motorhome works and whether or not you need electricity to start and run your engine. All cars and motorized RVs have batteries to run their electrical systems, but this same battery could be what powers your oven. You may not have enough electricity for both your engine and your oven!
Obviously, if you have somewhere to be, your RV engine needs that electricity and you will be unable to run your oven. However, it always depends on your specific electrical system and needs as to whether or not this is even a concern. No matter what, you will still be at risk for any potential spills and hot surfaces, so keep this in mind.
Alternatives to Using an RV Oven While Driving
If you are hitting the road and need something cooked the minute you arrive at your destination, what can you do? Are there any alternatives to using an RV oven while driving, especially alternatives that are safer while your RV is in motion? Let's discuss some of these options now.
Grilling or Camp Stoves
While you won't be able to get your barbecue grill going inside of your motorhome while it is in motion, using a camp stove or compact propane grill once you park is a good idea. These appliances heat up quickly and cook easily with a simple propane attachment, making things easy to set up and break down.
This could be a simple solution if you are looking for an appliance that can cook you a meal while you are on the road. While it will require you to set up camp briefly at a rest stop or other location, it's quick to cook up a meal and pack everything away using either of these appliances!
Slow Cookers or Other Appliances
Not all appliances are created equal, both in terms of their safety and energy consumption. There are plenty of appliances that don't sap your battery life, something that may interest you if you have an electric oven that would prevent you from driving. Plus, many of these countertop appliances capable of cooking you a delicious meal are also much safer to use while driving.
For example, many long-time RVers utilize slow cookers while their RV is in motion. Slow cookers come fully equipped with plenty of safety features, such as automatic spill shut-off options. Plus, they don't utilize as much electricity as many other appliances, giving you the option to use it while your RV is driving down the highway.
If you are particularly nervous about using your RV oven while driving, a slow cooker may be an elegant solution. While you can't exactly make cookies in it, you can definitely cook something safely while on the road. It's a tried and true method among many full-time RVers!
Waiting Is Always an Option!
While having the option to cook while you are driving sounds nice, there are so many risks involved in this process. You may find that simply waiting until you reach camp is your best bet when it comes to cooking in your RV oven while you are on the road.
This may not be the answer you want to hear, but running your oven while driving is full of risks!
Final Thoughts
Whether you have a propane or electric RV oven, running it while you drive your motorhome is not a good idea. Just because you can do something doesn't mean you should, and this definitely applies to using your RV oven while driving.
There are other appliances that are much safer to utilize while your motorhome is in motion, or you can simply wait until you arrive at your destination!