Last updated on November 24th, 2022 at 01:40 pm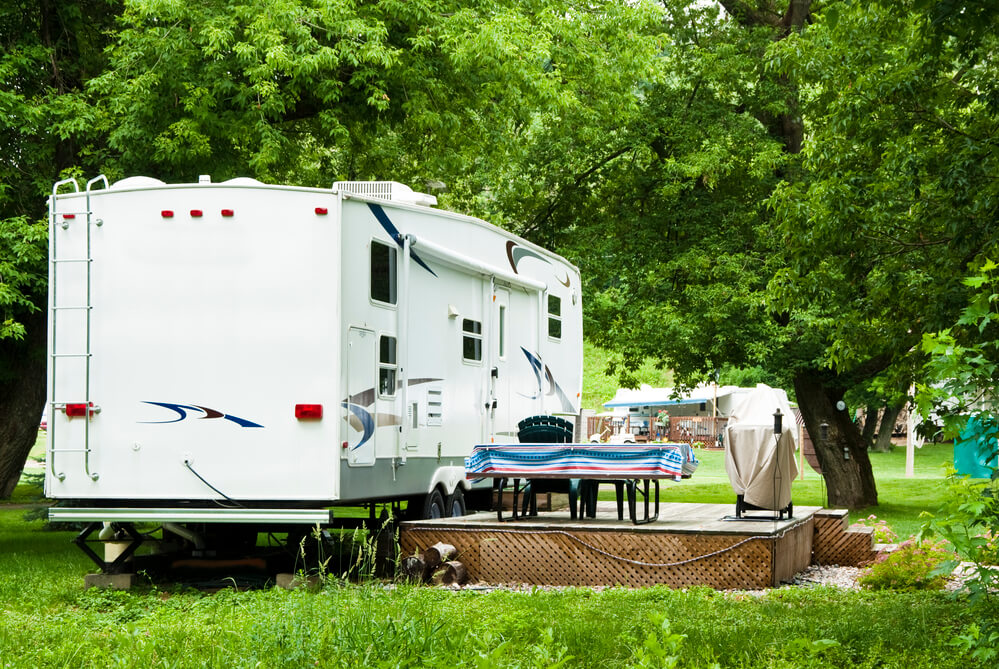 All of our reviews are based on exhaustive research, industry experience, and whenever possible, hands-on testing. When you make a purchase using one of our chosen links we'll a small percentage of the proceeds. This supports the site and keeps Jeffsetter running. You can read more here.
There's nothing better than cooking in the great outdoors! Whether it's over a campfire, using a propane camp stove, or on a portable grill, you can shine as a home chef even when you're not at home!
There's no doubt that portable grills have come a long way and will level up your camp cooking tenfold! But did you know there are many different types of RV grills, depending on what you're looking for?
Whether you're a pro in the kitchen or a novice, these portable RV grills will help you stand out and cook some of the best camp meals you and your family have ever had!
You can keep reading for a complete buyer's guide covering everything you need know to about picking the perfect grill for your RV but if you want a sneak peak at our favorites you can see them here:
I really wanted to make sure we have something for everyone! So whether you're looking for a bumper mount or an all-in-one workhorse you should find the perfect grill for you and your RV! But with that sneak peek out of the way, let's get into the buyer's guide.
Types of RV Grills
The first thing to determine when shopping for an RV grill is what type of fuel you plan on using. There are a few different options, each with its own perks and drawbacks. It all depends on what will suit you and your family best! While propane may be the most popular, keep the other fuel options in mind, especially if you camp often in inclement weather!
Propane Grills
The most common RV portable grill utilizes propane fuel, as propane is commonly used in RV fuel systems already and is easy to use. Propane is also affordable and allows for controlled cooking. You will find portable propane grills easily set up for RV usage, including grills that attach to your bumper.
These grills are primarily used outside and often have the most perks and accessories when comparing them to charcoal or electric grills. Propane may end up being your first choice, simply based on how much more these little grills can do! They have easy cleanup and start-up as well, which means you don't have to worry as much about them as charcoal grills.
Charcoal Grills
How did the grill begin? With charcoal, of course! A portable charcoal grill may be appealing to you as a camper, especially in the summertime. There's nothing better than a classic charcoal barbeque grill!
Charcoal is more of a treat than propane given that it resembles a classic BBQ, and often has many different flavor options since charcoal is made from many wood varieties. You may also find a charcoal grill with smoker options if you are hoping to smoke fish or meats while you camp. You won't be able to smoke foods on a propane grill, and some of you may like to have the option.
Charcoal grills will often be your cheapest option, though it means lugging around a bag of coals as well as cleaning up the ashes when you are through. You may also consider the need for lighter fluid if you haven't purchased self-lighting coals.
Electric Grills
Hoping to use your rig's electricity and not worry about any other fuel types? An electric grill may be the perfect choice for you. These grills are compact and often more portable than their propane and charcoal counterparts, though you may not find that charred taste only found with barbecue.
Electric grills may be a good choice for you if you are worried about cooking outside in the elements. Electric grills will give you a nice sear all from the comfort of your own home (or in this case, RV)! However, these little guys may not be right for you if you are planning to boondock and don't want to use too much electricity.
What to Consider Before Buying Your New Grill
There are a few more considerations to keep in mind before you buy your new portable RV grill. Besides what type you are hoping for, these are the most important features to think about before committing to your new grill!
Size
While all of these grills are portable, some are more portable than others! When you have to take into account propane tanks and charcoal, some grills become even more reasonable to haul around. If you're worried about your storage or weight, choosing a compact and lightweight grill may be a top priority for you.
Material
What your grill is made out of matters. While most RVers are looking for the most lightweight materials, some grills may be made of sturdier materials than others. Ceramic, aluminum, and stainless steel are some of the most popular options. While most of these remain lightweight and reliable, some materials wear out faster than others. If you want your grill to last for as long as possible, you may take what it's made out of into consideration.
Watch out for grills that contain too many cheap feeling or looking parts. However, you won't find any of these on this list.
Where You Plan On Grilling
While it's nice to think about grilling on a hot summer day, that isn't always what it looks like outside come your annual camping trip! A grill can't beat the rain and snow, and propane grills always struggle in high winds. Weather matters, and your grill choice may be determined by how often you plan on grilling in the off-seasons or if you're a fan of winter camping.
You may also consider using your grill at home or elsewhere, outside of a campground. It's always a great choice to buy something that you can use outside of its originally intended place, but some apartment complexes don't allow charcoal grills. If you plan to utilize your grill outside of an RV or campground setting, this may affect your final decision.
Features
The best part of grill shopping has got to be the numerous features possible. However, this is often where priorities get confused or bogged down in too many options! Try not to get distracted with a lot of cool amenities, but do keep in mind some features that may be important to you such as:
Amount of burners

Mountable to your RV

Tabletop vs standing grill

Smoker options

Attachable tables for ease of cooking

Wheeled grills

Ease of cleaning
While most features will be decided for you based on whether you choose propane, charcoal, or electric grill, some features may be possible for all options. It is important to determine what means the most to you before committing to a specific grill.
Necessary Accessories
While your new grill has many included features right out of the box, they are often lacking in terms of necessary accessories and hardware. Keep this in mind when budgeting for your new grill, as you may not be able to afford certain things such as:
Regulators

RV bumper mount hardware

Grill covers

Stands and tables
You may find some of these additions unnecessary to fully enjoy your new grill, but consider them and their costs before you make a final decision!
Budget
As with most large RV purchases, your budget should be an important factor when it comes to buying an RV grill. Some of the newer propane grills with all of the bells and whistles may be outside of your budget, but that's okay! There are so many options out there that you're bound to find a great grill for your family, no matter the cost.
Unless you are purchasing a basic, compact charcoal grill, it is safe to say the average cost of a portable RV grill is $50-$300. There are some grills that blow past this $300 mark, but with all the options out there, hopefully, you will find a satisfying grill for less!
Benefits of a Portable Grill
You may be wondering: why buy a portable grill for your RV when there are cooking options inside as well as the possibility to cook over a campfire if you are taking your RV camping at a traditional campground? There are more benefits to having a portable RV grill than you think!
All Odors Are Outside
When you are living in such a small space, whether full-time or not, the smells of cooking often permeate and linger for some time. This may upset your guests if you decide to cook up some fish in your tiny dwelling unit, no matter how good it tastes!
An outdoor, portable grill eliminates the unfortunate smells that may come from cooking, leaving you and your guests free to enjoy the interior of your RV just as much as the great outdoors!
A Unique Way of Cooking
I camped recently over the fourth of July and there was nothing like the option of cooking up some burgers over my charcoal grill! Campers often walked past and shouted, "Save some for me!" Why have a shortage of cooking options while camping when you can have the perfect method for whatever meal you want? RVing and camping are such outdoorsy activities; barbecuing is just another!
Great for Vans or Compact RVs
What if you own an RV that doesn't have the most fully-equipped kitchen (or any kitchen at all!?)? A portable grill can be a great addition to your packing list if you don't have many cooking options. They may be invaluable for some of your van lifers traveling without a proper stove!
Cleaning and Caring for Your RV Grill
While all grills are made of different materials, cleaning and caring for your RV grill is important. Every user manual will have different suggestions for how best to take care of your grill, but here are some basic tips in case you aren't sure how best to care for it!
Always clean before storing. This includes the grate, interior, and exterior.

Make sure your propane lines remain undamaged so that you may avoid leaks in the lines.

Don't store your grill outside in the elements, even while overnight camping. Rust and other elemental damages can be severe.

Avoid dropping your grill. Always assemble correctly to avoid grills tipping over or collapsing.

Avoid harsh chemicals that damage the finish of your grill. This will vary based on the material of the grill but refer to your user manual, customer reviews, and the manufacturer's website for specific damaging or not recommended chemicals.
The Best RV Grills of 2020
So you're feeling confident about your wants and needs when it comes to shopping for an RV grill? Great!
Let's take a look at some of the best portable RV grills on the market right now.
1. Best Overall Portable Grill: Weber Q1200 Series Portable Gas Grill
With an outstanding amount of five-star reviews, the Weber Q1200 Series Portable Gas Grill is among the best of the best portable grills on the market. Besides coming in a series of modern, exciting colors, this little grill brings together all sorts of features including portability and performance.
It's no joke that Weber spends countless hours perfecting the grilling systems on its gas grills, assuring easy assembly, an evenly heated cooking surface, and precision controls so you can tone things down or up to the perfect heat level for direct or indirect cooking. This little grill can get you there, all with the dimensions of 20.50 x 40.90 x 24.60 inches.
Made of cast aluminum, Weber's gas-grill boxes are durable, efficient, require minimal care and maintenance, and can withstand the heat needed to grill at any temperature. In addition, the shape of the cookbox, when combined with the shroud, allows for the proper circulation of heat around food for even cooking whether you're using direct or indirect heat.
The grease management system consists of an angled grease tray and catch pan. The grease tray rests beneath the cookbox a safe distance from the burner tubes to prevent the grease from catching fire. The tray easily slides out of the cabinet for cleaning, and when the catch pan starts to fill, simply remove the disposable drip pan, toss it in the trash, and replace it with an empty pan.
While it weighs about 30 pounds, this compact grill should fit almost anywhere you need it to. It is sturdy with large side tables, a tall and rounded lid, and heats up impossibly fast. Most customers rave and rave about this little grill. While the price may be a bit high compared to cheaper models, you get what you pay for; Weber is also known for its amazing customer service should any problems arise!
The biggest con of this little grill is the need to purchase accessories. While it works atop any sort of table, you may find a need for a Weber-specific grill cart as well as a cover, a propane hose adapter for larger propane tanks, and a griddle pan addition for even more cooking options!
You can click here to see the latest price for the Weber Q1200 on Amazon.
2. Best Propane Grill: Cuisinart CGG-306 Chef's Style Propane Tabletop Grill
The reign of propane continues with the Cuisinart CGG-306 Chef's Style Propane Tabletop Grill coming in as a popular choice behind our little Weber friend! This grill looks like a stainless steel briefcase while you carry it around, and it weighs only 22 pounds to boot! Its lid locks and the feet fold up for even easier transport.
Looking for convenience? This grill requires no assembly and can be set up and ready for grilling in under 10 minutes without the need for tools or matches. It utilizes a powerful two-burner system with electronic ignition and dedicated control knobs for each stainless-steel burner. Each stainless-steel burner provides 10,000 BTUs and allows for simultaneous grilling.
An integrated thermometer and adjustable burner knobs help you control the heat of the grill for any use, whether it's for warming, baking, roasting or searing. A twist-start automatic ignition means that matches are never required. You can hook up a 20 pound propane tank to it, no problem!
The Cuisinart Chef's Style Stainless Tabletop Grill is made entirely of stainless steel, which means lightweight construction and exceedingly simple clean up. While this may be a perk to many of you, some reviewers mention the large loss of heat when opening the lid as a disappointment in its design. This should be something to keep in mind if you are a bit of a purist when it comes to barbeque, but it heats up again so quickly that most campers won't notice the change.
While there is some confusion about who to contact should you need assistance with parts or other troubleshooting, most customers say this little grill is a no-brainer. With its quick heating and even cooking, compact size, and ability to be set up most anywhere in no time, this grill may be perfect for your next adventure!
You can see the latest price and read more reviews for Cuisinart CGG-306 on Amazon by clicking here.
3. Best Charcoal Grill: Weber 121020 Go-Anywhere Charcoal Grill
If you weren't sure what a good grill brand might be before starting this article, no doubt you know now! Weber is one of the biggest names in the grill game, and the Weber 121020 Go-Anywhere Charcoal Grill is no exception to their outstanding list of products. If you're looking for compact charcoal grilling, this little guy is the way to go!
Measuring 12.2 x 21 x 14.5 inches and weighing less than 15 pounds, this little grill looks like you're carrying a lunchbox around! You won't find smaller or more compact than this guy, making it a perfect fit for those of you tight on space.
This grill is also great for this of you on a budget as well. It comes with some assembly required, but all that is needed is to attach the lid and foldable legs, something all reviewers have said is very easy to accomplish. It is a sturdy little grill, and did I mention how tiny it is!?
While some customers report disappointment with the grilling surface's proximity to the coals, most feel that this little guy is the perfect addition to their camping equipment. While you may need to purchase a few accessories, you should have no trouble bringing this charcoal grill along with you!
You can click here to see the latest price on Amazon and read more reviews for the Weber Go-Anywhere.
4. Best Electric Grill: George Foreman 15-Serving Indoor/Outdoor Electric Grill
If you are worried about inclement weather where you're camping, you may have to bring the barbeque indoors. But worry not, because the George Foreman 15-Serving Indoor/Outdoor Electric Grill is here for you! This little grill can handle any situation, as well as a large number of people!
This George Foreman Indoor Outdoor Electric Grill is perfect for entertaining. Use the 240 square inch nonstick cooking surface to make a delicious family dinner, or move it outdoors for a classic campground barbecue. The sloped grilling surface, variable temperature controls, and easy cleanup make it that much simpler to grill whatever you want, with many perks not found in charcoal and propane grills. Plus, it's fully electric, so you'll get high-quality grilling with no charcoal, no propane, and no flare-ups.
It remains compact, measuring 11 x 20 x 20.5 inches and weighing less than 20 pounds! One of the best perks of this grill is the removable grill stand that's sturdy on the patio and can be removed for countertop grilling. This means you don't have to worry about purchasing any additional grill stands or tables.
This little electric grill also has amazing non-stick grill pans that are fully removable and easy to clean, which means you won't get stuck outside with the unfortunate task of cleaning up the charcoal! It heats up quickly and gives you peace of mind, not having to worry about filling propane tanks or buying charcoal.
You can see the latest price along with reviews of the legendary George Foreman grill on Amazon by clicking here.
5. Best Grill and Smoker Combo: Char-Griller E06614 Akorn Jr. Kamado Kooker Charcoal Grill
There's nothing better than having the option to cook quickly at high heat or smoke something low and slow. That's where the Char-Griller E06614 Charcoal Grill comes in, giving you the best of both worlds and all in a convenient portable package! Measuring a unique 20.5 x 21.5 x 25.3 inches and weighing less than 40 pounds, you'll be the talk of the campground with this little grill!
This grill is here for you, coming with helpful heat and airflow guides to get the best cooked BBQ of your life! Easily sear meat with high heat or enjoy a low and slow roast. This small but versatile grill and smoker is built to last with triple-walled 22 gauge steel and will easily maintain cooking temperatures ranging from 200-700 degrees Fahrenheit.
This little guy also features top and bottom adjustable dampers so that you can maintain even airflow into and out of the grill while cooking or smoking. The Kamado design makes it fuel efficient so you can use less charcoal when cooking. This grill is also beautifully designed; it features a powder-coated exterior finish, porcelain-coated steel interior finish, 153 square inches (14″ diameter) cast iron cooking surface, an easy dump ash pan, and a built-in temperature gauge! Say all that five times fast!
What else can be said for this little guy? It has two durable handles for easy portability and grilling on the go. Short sturdy legs keep your Akorn Jr. steady while grilling. Reviewers can't get enough of it and it's an average price compared to other grills on this list. While it may take some time to get used to a Kamado style of grilling, there's nothing like a grill that can smoke as well. It may be a fun investment that lasts a lifetime!
You can see the latest price and more reviews on Amazon by clicking here.
6. Most Stylish Grill: Everdure by Heston Blumenthal Cube Portable Charcoal Grill
Looking for a grill that is compact but also makes a statement? There's no other choice more obvious than the Everdure by Heston Blumenthal Cube Portable Charcoal Grill. This little charcoal grill is so cute and includes accessories to boot! With an integrated food-grade storage tray and bamboo preparation board as well as grilling accessories, you should have everything you need all in one!
This grill is easy to transport thanks to quality lightweight steel and cool to the touch handles, which means it is perfect for all outdoor grilling activities. With an integrated base plaque that protects any surface you use the Cube barbeque grill on, you won't have to worry about melting any surface! With a built-in heat protection shield allowing an extremely easy, safe and convenient grilling experience in any environment, you can set this little guy up anywhere!
Have I mentioned this little grill is easy to clean too? With a removable grill, charcoal tray and porcelain enamel firebox, you'll have no trouble keeping the beauty clean for years to come. Measuring only 9.05 H x 13.67 D x 16.73 W inches, this grill is easy to store for whenever you're ready for it.
While it comes in four contemporary colors and boasts a unique and fashionable design, it's something you'll be paying for. This compact cutie may be at the higher end of your budget, which could be a deal-breaker. However, most consumers find little fault with this charcoal grill, and why not make a statement while camping!?
Check out the latest price on Amazon along with more reviews by clicking here.
7. Best Grill on a Budget: Char-Broil Standard Portable Liquid Propane Gas Grill
Hoping for a portable propane grill on a budget? Another huge name in the game, Char-Broil has made the grill for you! The Char-Broil Standard Portable Liquid Propane Gas Grill is compact, portable, and affordable, three of my favorite words!
Designed for on-the-go, anywhere grilling, the legs of this little Char-Broil grill fold over the top of the grill to lock the lid in place. The heat-resistant handles mean you don't have to wait for the grill to cool down to move it.
Quality steel construction and a durable, high-temperature finish help prevent rust to extend the life of the grill. This Char-Broil portable grill features a single gas burner that runs the length of the grill. Burner flame and heat can be easily adjusted using the black control dial, and keeping the lid closed while heating up helps it maintain that prime heat you need for grilling. This compact beauty measures 14.7 x 24.75 x 14 inches and weighs a little less than 22 pounds!
What else can be said for this little affordable grill? With its rust resistance, size, and price, this is a no-brainer grill for those of you on a budget or not expecting to maintain a grill. Char-Broil has made a reliable little guy for us campers, and you may not ever look at another grill after buying this one!
Learn more and see the latest price on Amazon by clicking here.
Best Side Mount Grill: Flame King YSNHT500 Motorhome Gas Grill
Now here's where the grills get good: when they can mount directly onto the side of your rig! The Flame King YSNHT500 Motorhome Gas Grill can do just that, shipped with the hardware you need to attach this little guy right onto your RV. It measures only 22 x 11 x 17 inches and weighs less than 25 pounds!
Not only is this grill compact, it's a double decker. This incredibly convenient motorhome compatible gas grill with 12,000 BTU includes an adjustable flame controller, upper grill deck, and 214 square inches of grilling surface. The hanging rack can also be used as legs to make the grill free-standing, making this versatile grilling station perfect for tailgating and camping!
This RV compatible gas grill comes with its own bracket system, allowing you to mount it to the side of any motorhome or trailer. This gas grill also uses your RVs self-contained LP gas system, which makes it extremely convenient as well as unique to just your RV. However, if you'd like a grill to be more portable and work without your RV's propane, this may not be the right choice for you.
While you may need to purchase the proper hoses and connections you need separately, this grill is easy to set up and put away, and a complete installation guide is included with the grill. This has been a long-time inclusion in travel trailers and other rigs, which means it will be an easy natural fit for your RV too!
You can see the latest price along with hundreds of reviews on Amazon by clicking here.
Editor's Choice: Weber Jumbo Joe Charcoal Grill
What can I say? I've got a Weber in my own family! As a full-timer, I knew grilling would be important and necessary to my time on the road. Thankfully I already knew the benefits of compact grilling thanks to my Weber Jumbo Joe Charcoal Grill! While it may not look like much, sometimes you can't beat the classics, and this Weber is unbeatable in my book.
I'll be the first to admit that I don't take the best care of my grills. Living in the Pacific Northwest means that I'll forget to place the grill under cover from time to time. Thankfully I know this Jumbo Joe has been made with porcelain enamel, allowing the lid and bowl to retain heat, and it won't rust or peel! The Tuck-N-Carry lid lock doubles as a lid holder to avoid placing the lid on the ground, and the dual dampeners allow me to control the temperature with ease.
This guy may be a bit bigger than you think, measuring 19.75 x 20.5 x 19.75 inches. However, it still weighs less than 20 pounds and easily stores upright in the back of my covered truck bed. As an avid home cook, I love this grill for its larger grilling surface. I never feel cramped while cooking, and it gives me the space I need for both direct and indirect heat!
This may be just a standard charcoal grill, but sometimes that's all you need when you're camping. It's portable, affordable, and backed by Weber's name and customer support. I love my Jumbo Joe, and you might too!
You can take a look at today's price on Amazon by clicking here.
Best Grill for Full Timers: CAPT'N COOK Oven Plus Salamander Grill – All in One Portable Gas Grill, Oven, and Stove
When I began my full-timer journey, I soon realized how lucky I was to have gone vintage. Back in the 70s, RVs used to have four-burner stoves with ovens, exactly as you'd find in your traditional home except on a compact scale. Most newer RVs have resorted to two-burner induction stovetops and toaster ovens. That was never going to cut it for me, and I know it frustrates most full-timers I've spoken to!
The best grill I can recommend to full-timers with ill-equipped RV kitchens is the CAPT'N COOK Oven Plus Salamander Grill, simply because this little guy can do anything. And when I say anything, I mean basically anything. Unlike traditional tubular burners, this CAPT'N COOK grill offers two main benefits: virtually smokeless and smart grilling. The Butterfly Burner features a horizontal orientation of the fire, minimizing fire contact with the food to increase cooking performance and quality. If flare-ups have been an issue for you in the past, worry no more!
The inner structure of the grill is specially designed to enhance the thermal convection, maintaining the temperature within the grill to heat evenly and reduce cold spots, which leads to high-quality cooking for everyday cooks. While this grill weighs close to 40 pounds, it may be worth it for all the amazing cooking options you'll have. The upper ceramic pizza stone can do more than just baking perfect pizza. Just set a cast-iron skillet on the top ceramic tray and use it as a regular gas cooker. With an easy-to-carry design lid handle, this Oven Plus is your best choice for the everyday grill, tailgating, camping, and any cookouts!
Made of easy to clean stainless steel and measuring an average 20″W x 20″H x 13″L, why limit your options? If you're a full-timer, you should be able to efficiently cook anything you want, and this little grill can cook up so much more than burgers! While it may not be the most budget-friendly unit, reviewers can't get enough of this little grill!
Check out today's price on Amazon by clicking here.
Best Grill with Griddle: Blackstone Tailgater Portable Gas Grill and Griddle Combo
Looking for something to cook your pancakes and your burgers? Check out the Blackstone Tailgater Portable Gas Grill and Griddle Combo, which may actually be a triple threat rather than a combo! Not only is there a propane powered grill and griddle pan, but remove either or both of these and you have some large gas burners for your pots and pans!
Wondering how this grill can maintain the title of portable? Well it has an easy breezy setup, almost no assembly required, ready to use in seconds. Take it to the park for an afternoon cookout or take it into the woods for a long-term camping trip. The easily adjustable legs will be stable on uneven ground and make setup a breeze. While it is large (52 x 24 x 38.5 inches) and heavy (about 75 pounds), if you know you need to cook for a large group while camping, this may be the grill for you!
Built to last, this Blackstone grill includes a heavy-duty grill box with vent, handle and durable cast iron grill grates plus a cold rolled steel griddle plate. Plus, the whole unit has a strong powder coat finish. However, the size and weight of this grill may be a deal breaker for you weekend warriors; many customers mention the difficulty of maneuvering this grill and how it isn't worth it for simply one campground meal. However, if you're camping for a few extra days and can leave this grill set up outside, it may be your perfect fit.
As an avid home chef, I love the professional flat top that comes with this grill. All it takes is an easy clean, and make sure you season it afterward with oil! You can't beat over 500 square inches of grilling space either. Many customers love feeling like they are truly grilling and cooking using this portable grill; it stands up tall and doesn't force you to slouch like most portable grills. While it may be at the upper end of your budget, this grill is made for those home cooks who have a lot of hungry mouths to feed!
Find the latest price and the more than 1,000 reviews (well probably not all of them) on Amazon by clicking here.
Best Bumper Mounted Grill: Camco Kuuma Premium Stainless Steel Mountable Gas Grill
The best part of RVing is the portable options you can have around the outside of your RV. Wouldn't it be amazing to attach your grill to the back bumper of your RV and have it operate flawlessly? Here comes the Camco Kuuma Premium Stainless Steel Mountable Gas Grill, a little beauty perfect for those of you looking to streamline your rig and barbeque!
While Camco is undoubtedly the biggest name in the RV game, grills are somewhat of a new product from them. However, they know what matters most to RVers nationwide: the portability and versatility factor of their products. Measuring 23 x 17 x 14 inches and weighing only about 20 pounds, you should have no trouble mounting this grill anywhere as well as bringing it with you to your local tailgate.
This grill features all the usual suspects such as an integrated thermometer, quick start knob, and easy foldaway legs in case you wish to set up this grill on a tabletop instead. It also has a double-decker grill space inside, with a warming rack above the main 200 square inch grilling area. This can be a great feature to have while barbequing and it all comes packaged in a sleek stainless steel design.
While the mounting hardware is sold separately, this grill is easy to clean and easy to bring. There are some mixed customer reviews, however, so you may find a better option and let Camco keep perfecting their RV grill. It also resides along the upper end of these other grills in terms of budget, so think carefully about whether you need a bumper-mounted option or not!
You can read more reviews and see the latest price on Amazon by clicking here.
Best Grill with Two Burners: Giantex Propane TableTop Gas Grill Stainless Steel Two-Burner BBQ
Giantex has been a big name in the RV game for quite some time, and they've even made an amazing grill to boot! The Giantex Propane TableTop Gas Grill Stainless Steel Two-Burner BBQ measures 22 x 18 x 15 inches and weighs less than 30 pounds, making it an ideal portable two-burner grill for you and your RV adventures!
Tiny and mighty, this grill is nothing to scoff at. It offers 20,000 total BTUs and reaches high temperatures quickly with each burner independently adjustable, which means you can easily cook your meat over one burner and your veggies over another! It is also amazing in terms of portability. It features foldable legs and a lockable lid for portable transport and storage.
Made of easy to clean stainless steel construction, many reviewers say they wish they had bought a cover for this grill as it's a stunner. It's easy to clean, bring, and care for, making it an obvious addition to your camping equipment! It also boasts an average price compared to other grills on this list, making it more budget friendly.
No matter what, most consumers report getting exactly what they paid for. This two burner grill may not have all the bells and whistles but it is compact, lightweight, affordable, and easy to maintain. Sometimes that's really all you need when you hit the road, and Giantex understands that more than most!
Take a look at the latest price and reviews on Amazon by clicking here.
Best RV Bumper Mount: Fleming Sales 52321 Bumper Grill Arm Assembly
While you may still need to purchase an additional accessory or two to properly attach your grill to your RV's bumper, this Fleming Sales 52321 Bumper Grill Arm Assembly may be exactly what you need! Made of black powder-coated, 14 gauge steel and capable of attaching to most any RV bumper, this accessory is necessary if you plan to integrate your grill in the design of your rig.
A bumper mount can be a great addition to your RV. Utilizing one can convert the shaded area around the coach to a cooking and party area as well as permits grilling in tight parking areas like tail-gaiting or stadium events. Made with heavy-duty "U" shaped brackets on a 4-inch bumper, you are provided secure attachment to your RV, with a locking pin to secure transport.
Once your grill is on the arm, it can be moved up to 25 inches away from your RV which keeps all grease, heat, and mess far away!
While a grill costs enough on its own, you may also need to budget for additional accessories such as a bumper-mounted arm. Keep these in mind when finalizing your plan, as a bumper mount may cost almost as much as your grill! Check it out on Amazon by clicking here.
Conclusion
Buying the right grill for your next RV adventure shouldn't be impossible. With all these grills, plus many more on the market, you should be able to find the perfect fit.
Grab your charcoal or propane, fill the cooler with plenty of grillable foods, and hit the road knowing your meals are taken care of with your brand new grill!