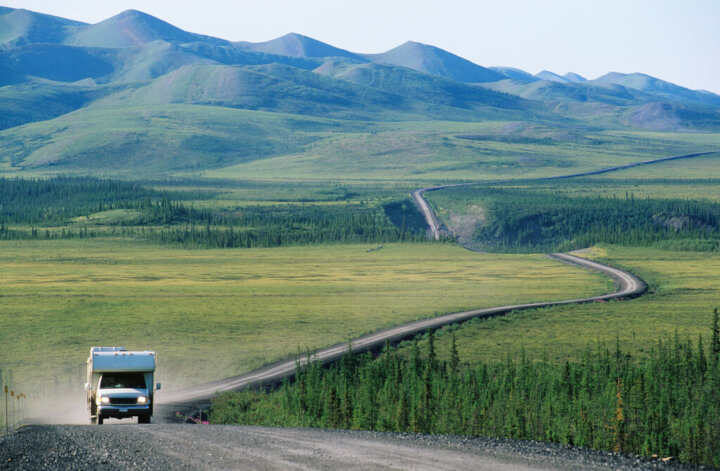 All of our reviews are based on exhaustive research, industry experience and whenever possible, hands-on testing. When you make a purchase using one of our chosen links we'll get a small percentage of the proceeds. This supports the site and keeps Jeffsetter running. You can read more here.
Often when we think of motion sickness and uncomfortable rides we think of boats, rollercoasters, and older vehicles, not a large motorhome. If an RV is to be a home on wheels, no one wants to be uncomfortable when riding in it or become sick.
Yet, it is quite common for RV travelers to encounter the issue of their ride being very rocky or bumpy. It doesn't matter if they are driving on unpaved paths, pothole-infested roads, or the smoothest asphalt, the problems remain.
So, how can you make your RV ride smoother?
The most common solution to a bumpy RV ride is to look at the chassis and suspension. The many parts within can be maintained or upgraded to achieve better results with the vehicle's handling. Springs, sway bars, and much more are all among the options available to you.
To understand how these options can help your RV ride smoother, we need to first discuss what can cause a rig's handling problems when on the road and then come to an appropriate solution.
What Makes An RV Ride Uncomfortable?
The first thing to consider is the make and size of your rig. Are you driving a large Class A or a smaller more compact Class C?
This matters because a large Class A (35-40+) plus feet in length is going to be naturally more uncomfortable when on the road. Nothing severe, but it definitely won't be as smooth as most cars. This is because most Class A's use a similar chassis or the same kind as is used by most trucks. Their handling becomes nearly identical to that of a truck as a result.
Keeping this in mind will help you to gauge where the problem truly lies when dealing with an uncomfortable RV ride. Now let's explore more specific reasons why your RV may not be handling too well on the road.
Suspension
Your RV's suspension includes springs, sway bars, and many of the parts responsible for how it drives and handles itself on the road.
For instance, a common issue that RV travelers encounter when driving their rigs is sway. Often, when turning the vehicle, being passed by other large trucks, or driving at higher speeds, you may feel your rig rock side to side and sway.
This is not only an uncomfortable feeling but can also be very jolting at times. Your suspension is responsible for controlling this movement so if you are encountering excessive swaying the problem usually lies there.
Axel
Your rig's axel is actually a part of the suspension as well. However, they are more integral to steering than to the suspension itself. While driving, if you feel your RV's rear being hard to control and unresponsive to the steering wheel the issue is most likely with your axel.
Constantly fighting with your steering wheel to keep your rig straight when driving is not something you should have to do. While heavy winds can also cause this if it persists the issue is definitely with your axel.
Your axel can also contribute to another steering problem. If you need to over-correct and steer a lot from one side to the other just to slightly move your rig, the steering components on your axel may be way too tight.
While the chassis of your rig creates a certain natural comfortability when driving, excessive handling issues are not meant to be normal. Weather and the conditions of the road can certainly contribute to these problems, but so can issues with the suspension of your rig. Knowing what they are and being able to identify them is important so you can troubleshoot and fix the problem.
How To Make An RV Ride More Comfortable?
There are lots of different things you can do to improve the handling of your RV. Let's discuss each option below.
Excessive Sway
Luckily, RV sway despite being a very frustrating and even scary problem can be dealt with using a few different methods.
One way is to be mindful of how you load up your rig before driving. You don't want to have the content of your RV overly concentrated in the back or front. Ideally, you want no more than 60% of all weight in either the front or back. Exceeding this ratio will create a very noticeable imbalance that will affect the handling of your rig on the road.
Too much weight in the back especially can cause your RV to sway as it forces the front of your RV to almost haul a large weight behind it. Similar to the way a pickup truck pulls a trailer than can often be susceptible to sway.
Another way to handle excessive sway is to be careful with how you drive. Remember, your rig is not your car. It is best to not drive at excessive speeds, brake aggressively, or take sharp turns. Not accounting for the size and limitations of your RV can absolutely cause it to sway.
Speed in particular is a huge culprit as it makes wind and other weather conditions more likely to disrupt the balance of your rig. In the following video, you get the perfect example of how careful driving under extreme winds and bad weather conditions can help you get a smooth but most importantly safe ride.
These are all great ways to prevent sway for your RV, however, if you have a trailer then the best tool is a sway bar. They are an addition to your suspension that stabilizes the tow hitch between your vehicle and trailer.
It prevents sway right at the source and accounts for the rear-heavy nature of towing a trailer behind a vehicle. It also provides a layer of protection against strong winds that could easily cause your trailer to sway. They are a great tool for anyone who prefers to camp in travel trailers rather than more traditional rigs.
Shocks
RV shocks are a tool on your suspension responsible for preventing the bounce and bumpiness associated with driving. They are perhaps the single most important aspect of what makes an RV ride more smooth.
That's why it is a good idea to either replace or upgrade them if you are experiencing bumpiness while driving despite the roads being smooth. While all rigs come with shocks already, over time, they can become worn out. A good upgrade won't just make your rig drive as good as new, but even better than before.
If you are on the fence about replacing your shocks you can conduct a "bounce test' to find out if you should. Simply drive over a speed bump at low speed and have someone keep an eye on your axel while doing so. If your axel bounces more than 1.5 inches, you should replace your shocks.
If they are unable to prevent significant bounce on a speed bump, imagine when you are driving at higher speeds. You'll quickly realize that the discomfort you've experienced while driving is not how your rig should be performing on the road.
The good news is, that upgrading your shocks is not a super expensive investment, but it is a very important one to make. Most shocks are around $50-70 with the higher-end ones being $150-200. While still hefty, when compared to other areas of your rig they are definitely on the cheaper side. Plus, considering their role in helping you drive your rig, you definitely don't want to skip out on upgrading them.
Springs
The springs on your rig's suspension similar to your shocks also provide protection against bumps, vibrations, and other uncomfortable driving conditions. However, if you are encountering problems on the road it never hurts to give your spring a bit of a helping hand.
Sumo springs are an option for spring supplementation. They are installed on both the front and rear axles of your RV to provide a softer cushion against the conditions of the road. They are not meant to replace your existing springs, but rather be softer support to help them keep your RV smooth when driving.
Sumo springs are made from microcellular polyurethane which allows them to compress and stretch far beyond their original dimensions. Their material also allows them to be extra-resistant oils and the sun's UV rays which of all things your RV's springs are nearly constantly exposed to.
They are also incredibly temperature resistant, being able to withstand the heat of up to 200 degrees Fahrenheit or 93 degrees Celcius. If winter travel is more your speed, sumo springs can withstand temperatures as cold as -25 degrees Fahrenheit or -31 degrees Celcius.
Torsion Bars
Torsion bars are another addition to your suspension that can be used to make driving your RV more comfortable.
They accomplish this by being attached to the RV's frame. As the RV moves, the torsion bar is able to bear part of the rig's weight at times, allowing it to bend and create additional flexibility making for a smoother ride.
In some ways, they are similar to the springs in this regard as their flexibility allows them to bear more weight and force. However, where the springs aid in preventing bumpiness and vibrations, torsion bars do a lot for the overall stability of your rig.
For instance, they are great at keeping your RV from ever rolling over, which can happen when a very sharp turn is taken. A rollover is a very dangerous and often times devastating accident, being able to avoid one at all costs is beyond important.
Closing Thoughts
Your RV's suspension provides a ton of room for upgrades, modifications, and supplementation to make your RV ride smoother. While there are many changes you can make to how you drive and the way you distribute weight in your rig to make it handle better, the suspension offers the most varied options for accomplishing this.
After all, it is a brilliant tool in your RV that is designed to help solve this specific issue. The many modifications available to you for your suspension are all great options for making your RV ride as smooth as it can be.