Last updated on February 17th, 2023 at 09:50 am

All of our reviews are based on exhaustive research, industry experience and whenever possible, hands-on testing. When you make a purchase using one of our indecently chosen links we'll a small percentage of the proceeds. This supports the site and keeps Jeffsetter running. You can read more here.
Are you shopping for a new fifth wheel and wondering about generator options for you? Do fifth wheels come fully equipped with built-in generators, especially generators that can power your brand new toy?
While some do, most fifth wheels do not come with a built-in generator as a standard option. However, it's common to see a compartment for a generator in your fifth wheel, and many manufacturers offer it as an optional upgrade.
Why might this be, when you certainly need a generator to power the majority of your fifth wheel should you happen to be boondocking or otherwise disconnected from shore power?
Let's take a look at some answers, as well as some fifth wheels that have generators as optional additions to your new purchase!
Why A Generator Matters
You might be shopping for a new fifth wheel and wonder, do I even need a generator? Well, like most things, it depends. Mostly it depends on how you plan to use your RV.
Generators are amazing to have in case of emergencies, as well as necessary if you plan on camping off-grid or away from shore power. You won't be able to camp for very long without one, especially if you're expecting to use most of your RV's amenities!
Fifth wheels are known for being the biggest and most high tech rigs out there, and most fifth wheel batteries can't power the majority of your necessary appliances.
Generators allow you to camp without putting strain on your DC or battery system. They also give you peace of mind when camping or otherwise staying in your RV during unexpected power outages or inclement weather.
With a generator, you always have some amount of power, no matter the situation!
What Size Generator Do I Need For My Fifth Wheel?
This can be a tricky question, but a necessary one to ask before purchasing a generator for your fifth wheel. If you are shopping for a new rig and have the option to install a generator directly from a manufacturer, it isn't a bad idea.
The most common generator installed from fifth wheel manufacturers is a Cummins Onan 5500 (you can see the specs here on Amazon). The specifications of this generator claim it can run two RV air conditioners with power to spare.
Of course, it is better to do the math yourself when it comes to power usage in your RV. What this means is calculating the individual amps of all of your rig's major appliances and seeing if the generator can handle all of these being used at once.
Now, if you're looking to save money by purchasing a potentially smaller generator, it is possible by calculating the amps you use in an average day, rather than calculating all possible amps from every appliance.
How often do you plan to have both air conditioners running on the generator power along with the washing machine, microwave, television, hairdryer, and every light on? Hopefully not too often, though it is never a bad idea to plan for more amp usage than you expect!
The Cummins Onan 5500 is a powerhouse of a generator, a reliable model, and should indeed cover most all of your fifth wheel needs. However, the base price of this generator is much higher than other options and may be outside of your budget.
If you are looking to purchase a brand new fifth wheel, a generator is a great idea. Another great idea is requesting a built-in generator compartment without the generator, which means you are set up to install a generator whenever your budget allows.
You may find more affordable options elsewhere, and if you have the generator compartment, you should be good to install a brand other than the Onan 5500 with little trouble. However, if you are already paying an RV manufacturer for a brand new fifth wheel, rolling in the cost of an Onan 5500 into your loan may be easy and worth it in the long run.
It all depends on you, your budget, and your needs! If you are concerned about the Onan 5500 not being powerful enough for your fifth wheel, then keep your options open. If you're flexible and think paying for the generator in your rig's new loan is worth the peace of mind, then it's an easy purchase to make!
Why Aren't Generators A Standard Feature On New Fifth Wheels?
Since everyone's needs are different when shopping for a new fifth wheel, generators are a cost that some consumers don't wish to pay.
Some generator compartments and inclusions cost a few extra thousand dollars. A small price to pay when looking at new fifth wheel total costs, but why rack up the extra expense if you never plan on boondocking your rig?
Peace of mind is always worth paying for, but when you take into account every other possible add on and feature of your new rig, plus insurance and furnishings, you may not want to pay for a generator right away.
If you plan on being disconnected from shore power often, or if you know you'll be camping in inclement weather, a generator is a must. However, this may not apply to the majority of consumers who plan to camp at an established state or national parks and RV parks.
You may also have a generator already at your current home. If it is a small but powerful model, it may fit into your new rig's generator compartment. Why not use this generator for your upcoming camping trip, unless the generator is a necessity in your home?
Make sure your already purchased generator fits your new fifth wheel's generator compartment, of course. Bringing measurements with you to the RV dealer is a smart plan. However, generators don't have to be in a specific compartment in order to power your rig. Some people just enjoy a streamlined look as well as the protection a sealed compartment offers.
And lastly, some consumers may need more power than the Onan 5500 can give them. Granted, it's a powerful little generator, but some needs are greater than others!
Only you know your needs, wants, and priorities. Think about what these might be as we go over some of the top fifth wheels with included generators!
The Top Fifth Wheels With Built-In Generator Options of 2021
Are you set on having a built-in generator in your new rig? There's plenty of fantastic fifth wheels out there, but know that this list is designed for a brand new purchase, directly from the manufacturer.
You may find used fifth wheels with built-in generators already out there, and this may more comfortably suit your budget. However, if you are ready for the financial commitment of a new RV, these are some of the best of the best!
None of these rigs have generators built in as a standard feature, which means the purchase price does not include a generator or even potentially a generator compartment. However, all of these manufacturers list a 5500 LP generator and built-in compartment as an optional feature, so that you can have everything made just how you like it before you hit the road.
Let's dive into some potential fifth wheel options for you!
Most Luxurious: 2021 Keystone Alpine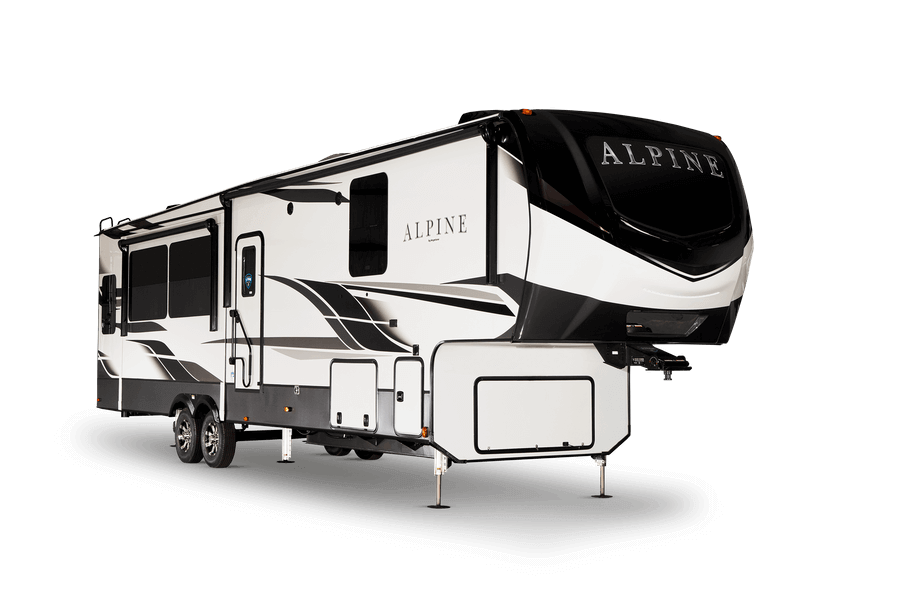 There's a reason Keystone is a big name in the RV game. With over a dozen fifth wheel options to choose from, from toy haulers to luxurious homes on wheels, Keystone is a brand that knows what they're doing.
It was tough to narrow down the options listed on their website, but I chose the Keystone Alpine for its top of the line luxury, amenities, and, of course, the built-in generator option.
The Alpine features ten unique floor plans, rig length ranging from 34 feet to almost 42 feet, and loads of add ons. Depending on the size you're looking for, this particular Keystone model sleeps 4-6 people comfortably.
Keystone has many exclusive standard offerings for their customers, including a 1-year limited base warranty, a 3-year limited structural warranty, in-floor heating ducts, 4G LTE and wifi prep, tankless hot water, plus loads more.
The interior of these rigs is furnished luxuriously, with heated theatre seats, solid wood cabinets, large fireplace, and almost seven foot tall ceilings. They have also made an effort to design their RVs with 4 extra inches wide in living areas and hallways. There's no way you can still call this an RV when you step inside!
The built-in generator is, of course, not a standard feature, but it is an easy addition to your new rig. Some of these models may have up to three air conditioners, so it may mean the Onan 5500 can't power everything you need it to.
However, with solar prep a standard feature on all Keystone Alpine models, it may be a perfect back-up power solution for you and your family!
Best Debut: 2021 Forest River Cedar Creek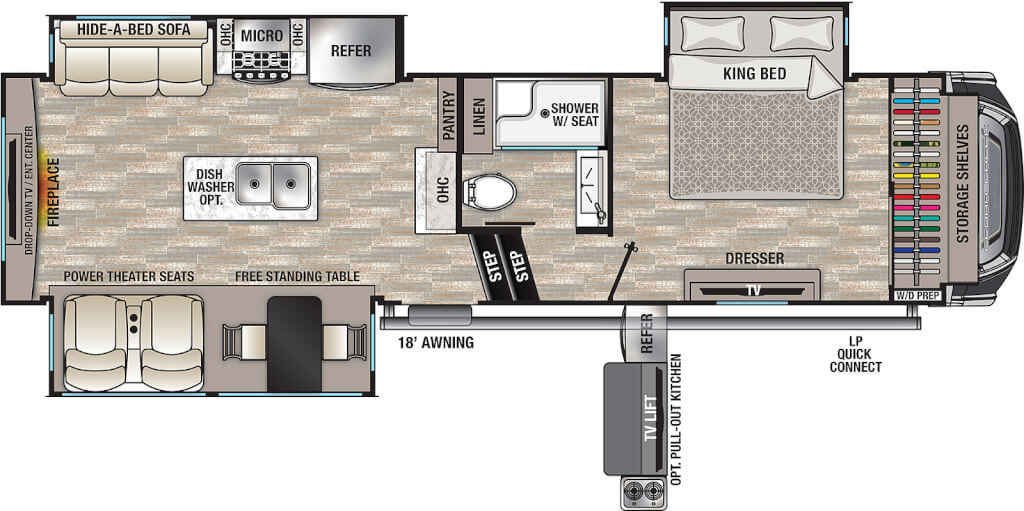 Winning the RV Business Award for Best Debut is the Cedar Creek model fifth wheel from Forest River. This fifth wheel is top of the line, like all the others on this list, but made such a splash due to its quality and stability.
With nearly a dozen floor plans, there are plenty of options to choose from, and the length of these rigs spans 33 feet to almost 41 feet. Cedar Creek boasts a famous All Aluminum Superstructure and uniquely bonded sidewalls that are "resilient, with outstanding resistance to UV, heat, cold, moisture, oils, gasoline, and highway chemicals."
Forest River is known for their experience and appeal to experienced RVers, and the Cedar Creek model is made for these people. Its frame is impossibly strong and made for rough roads, and its exterior is built for the most extreme of temperatures.
The interior is just as luxurious as any other, though most of the high tech bells and whistles do not come standard. However, if you're looking to build the RV of your dreams, you can definitely add on features such as a built in island dishwasher, a side by side washer and dryer, and an on-demand hot water system.
With countless add-ons and free membership into the Forest River Owners Group, the Cedar Creek fifth wheel will be one that will only grow in popularity. And of course, it can come with an Onan 5500 generator with built-in prep for it, but not as a standard feature.
Full-Timer Choice: 2021 Grand Design Solitude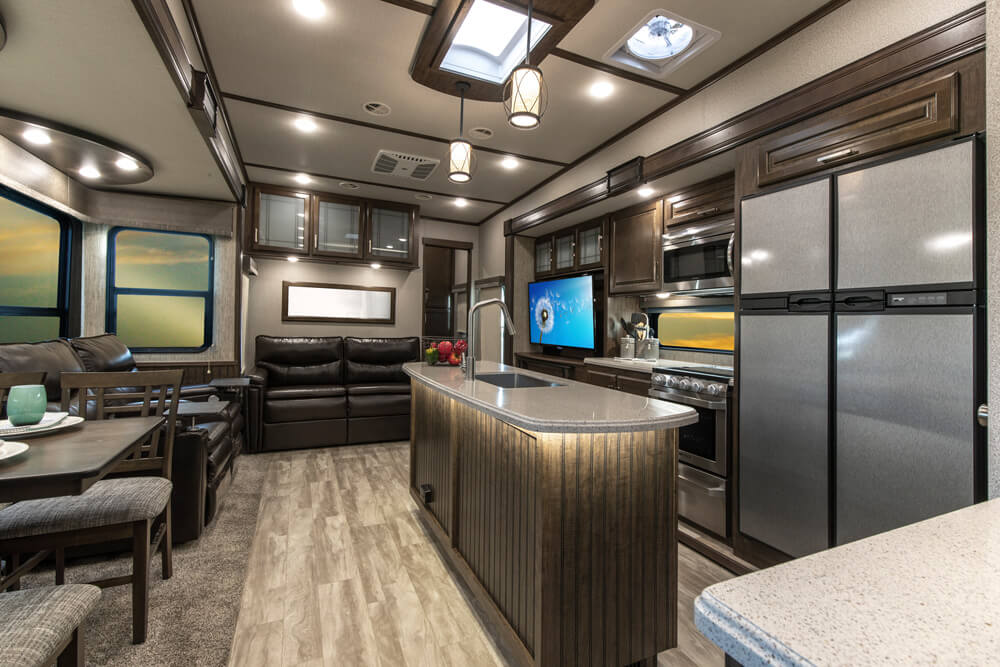 As a full-timer myself, volunteering for state parks across the US, I see an awful lot of fellow park hosts living in their Grand Design Solitude fifth wheels. I've been lucky enough to have the opportunity to ask these people why they love them and what makes them so special.
Like most luxury fifth wheels, the Solitude has almost twelve floor plans with countless options, ranging in length and amenities, which means you have plenty of decisions to make! It has four mandatory packages included in the purchase price, titled Max Built Construction, Peace Of Mind, Residential Living, and Weather-Tek. Each one of these is jammed with special features to make your RV a home!
Outside the Solitude, you'll find a six-point hydraulic leveling system, TPO roof covering with a 12 year warranty, and heavy duty tires. They have also designed much of the exterior and interior with full-timers in mind, including an under mount LED lighting kit, walk-on roof, and washer and dryer hookups in the walk-in master bedroom closet.
This fifth wheel also features many construction and warranty benefits, including an extra wide chassis, five year tire replacement with no questions asked, and heavy duty insulation in the walls, roof, and floor. As a full-timer, this is the sort of peace of mind I wish I had with my vintage trailer!
An Onan 5500 generator and built-in generator box are not standard features, but they are possible to add on. However, you may also consider adding on their solar package to make up for whatever the generator can't cover.
Largest and Strongest Choice: 2021 Jayco Pinnacle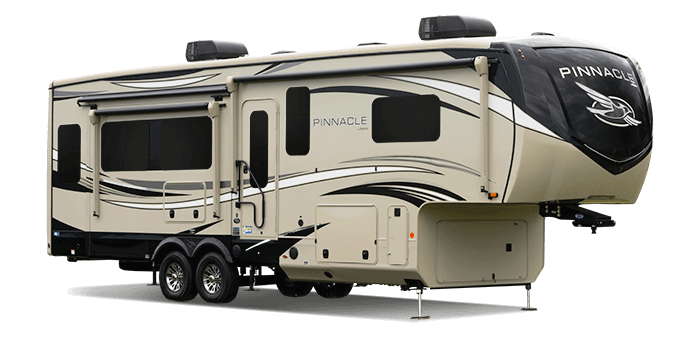 Chances are, you've seen a Jayco brand travel trailer on the road, but have you seen their fifth wheels? The 2021 Jayco Pinnacle is exactly what it says it is: the pinnacle of RV construction design.
The largest fifth wheel on this list, the Pinnacle ranges from 36 feet to a whopping 44 feet. It has a 102" widebody construction on an industry-leading solid frame. Inside the rig, it has an industry-exclusive silent AC system as well as handcrafted hardwood doors made by Amish craftsmen on their design team.
Every Pinnacle wall is made using Jayco's StrongholdVBL™ Vacuum-Bond Lamination process, which makes for stronger and better walls. Jayco has also tested all of their RVs in every weather imaginable, and the Pinnacle has top of the line insulation and exterior construction as standard features.
While it only has six floor plans, the Pinnacle has enough standard and optional features to make you dizzy. Looking for solar, on demand hot water, and Bluetooth interior controls? Jayco's got your back. Dishwasher and washer and dryer prep is also an option, though machines are purchased separately.
A 5500 watt generator is available as an option as well, with solar a smart backup. While a third AC unit is also not a standard feature, it is something to consider when you plan on purchasing your generator prep. Jayco has been in the RV business for a long time, and they have a lot to show for it! Jayco is one of my favorite brands and they actually took two of my top five spots for the best Class C RV for winter if you're interested in learning more about them.
Best Interior: 2021 Crossroads RV Redwood

Do a lot of fifth wheels look the same inside to you? Are you looking for something a bit more homey and unique? The Redwood brand stands for quality and unique RV interior features that you probably have in your standard home, but have yet to see in other fifth wheel models!
There are nine floor plans for the Redwood fifth wheel, and these models range from 36-42 feet in length. While this doesn't seem like very many options compared to others on this list, the Redwood has many interior features standard that these other fifth wheels don't.
The kitchen includes residential sized cabinets and storage, over-island lighting, a residential sized fridge with ice maker, and a four burner range with an almost 4 cubic foot oven. The rest of the space features a large television, fireplace, residential grade carpet and linoleum, and a rain shower head.
The options are endless for both interior and exterior, boasting a large farmhouse sink, dishwasher, recessed LED lighting, and ceiling fans. The design is homey and classic without being too basic. With a solid construction and excellent customer service, the Redwood fifth wheel may be exactly what you're looking for!
As with all the other fifth wheels on this list, an Onan 5500 generator does not come standard, but it is an easy addition as are many of these amazing features.
Conclusion
Peace of mind is always worth paying for, though you may not have a need for a built-in generator in your fifth wheel right away. Keep in mind your power needs before making a final decision, as a 5500 watt generator may not be enough for you. However these RV brands are reliable and offer built-in generator options for you and your new rig, no matter what your needs may be!