Tell me you hate giving freebies to frequent fliers without telling me you hate giving freebies. Well, the airline with one of the worst frequent flyer programs around did just that as Delta SkyMiles goes revenue-based. SkyPesos was already partially so before this, but now they've gone for the jugular.
Delta SkyMiles has long been the subject of much ridicule in the points & miles world. It's one of the least generous programs around, was the first to do away with fixed award pricing, had poor returns, etc. But Delta often provided good elite benefits and has traditionally been, if not the best, one of the best-run airlines in the U.S. Of course, that's changed since the pandemic, though we're not here to talk about that right now.
Delta SkyMiles Goes Revenue-Based
In a huge bombshell dropped by The Points Guy 9/13, Delta is completely gutting SkyMiles. My interpretation of the changes is that they're being made to 1) extract more revenue from fliers and 2) make it harder to earn Medallion status. And to accomplish this, Delta SkyMiles goes revenue-based. Sure, there are some positives in all the changes, but overall, they don't do much to offset all the negatives.
Bye-bye MQMs and MQSs
Traditionally, you've been able to earn SkyMiles Medallion status through a combination of miles flown (MQMs), segments flown (MQSs), and money spent (MQDs). That meant, to earn status, you could either fly a certain number of miles OR a certain number of segments AND had to spend a certain amount with Delta. Well, that's no more. Going forward, the only metric that matters now is how many MQDs (how much you spend) in a year.
Status Requirements
Not only is Delta changing the way in which you earn Medallion status as Delta SkyMiles goes revenue-based, but they're also increasing the MQD thresholds needed to do so for 2025 (earned next year). And we're not talking about small changes, either. This is especially true when you consider that Medallion requirements already changed for 2024 (earned in 2023). But anyway, here is what those changes look like.

Ouch. Over a two-year period, the requirements to earn status have doubled or more. And remember, 1 MQD, often represents $1 spent with Delta. This means that you'll need to spend $35,000 with Delta next year to earn Diamond Medallion status in 2025.
Earning MQDs
The saving grace as Delta SkyMiles goes revenue-based is that it's getting easier to earn MQDs. Let's take a look:
With Delta: You'll still earn 1 MQD per $1 spent on flights marketed by Delta and operated by them or by a partner airline.
With Partners: You'll continue to earn MQDs at the current rate as of today for flights marketed and operated by partner airlines.
Delta SkyMiles Reserve Card: Earn 1 MQD for every $10 you spend on your card – applies to consumer and business versions.
Delta SkyMiles Platinum Card: Earn 1 MQD for every $20 you spend on your card – applies to consumer and business versions.
Car Rentals: Earn 1 MQD per $1 spent when you reserve a car through the SkyMiles portal.
Hotel Stays: Earn 1 MQD per $1 spent when you book your stay through the SkyMiles portal.
Delta Vacations: Earn 1 MQD per $1 spent when you book your vacation package with Delta Vacations.
Naturally, the MQD waiver on SkyMiles credit cards is going away after this year. The waivers traditionally let you circumvent the MQD requirement to earn status by spending $25,000 on your card in a calendar year. But that's no longer the case, with the waiver being replaced by the above credits, making it nearly impossible to spend your way to status on the card now.
Conversion
So what do you do with your MQMs if you have enough to roll over into next year as Delta SkyMiles goes revenue-based? Well, it turns out that Delta is letting members convert MQMs to redeemable miles and/or MQDs. The conversion rate to redeemable miles will be 2 MQMs:1 Mile, while for MQDs it'll be 20 MQMs:1 MQD. What's nice about this arrangement is that you won't have to choose one or the other, either. Delta will allow SkyMiles members the option of choosing a combination of the two at set ratios.
Specifically, you can choose to convert 100% MQMs to either or, or choose to blend the conversion at 25% steps, with a 50/50 split being the equilibrium point.
Million Miler Status
This one is a bit unusual, as Delta will be changing the way they calculate Million Miler status as Delta SkyMiles goes revenue-based. You see, traditionally, Delta has been an outlier in this area, giving "miles" toward this status for a variety of reasons. But beginning next year, they'll align with American and United and will only count butt-in-seat miles flown with Delta and their partners. Luckily, all existing balances will convert over at a 1:1 ratio, but this is still a nasty change for someone who was getting close.
The silver lining to this all is that Million Miler flyers will have enhanced upgrade priority come next year, moving into third position after Medallion status and fare class.
Lounge Access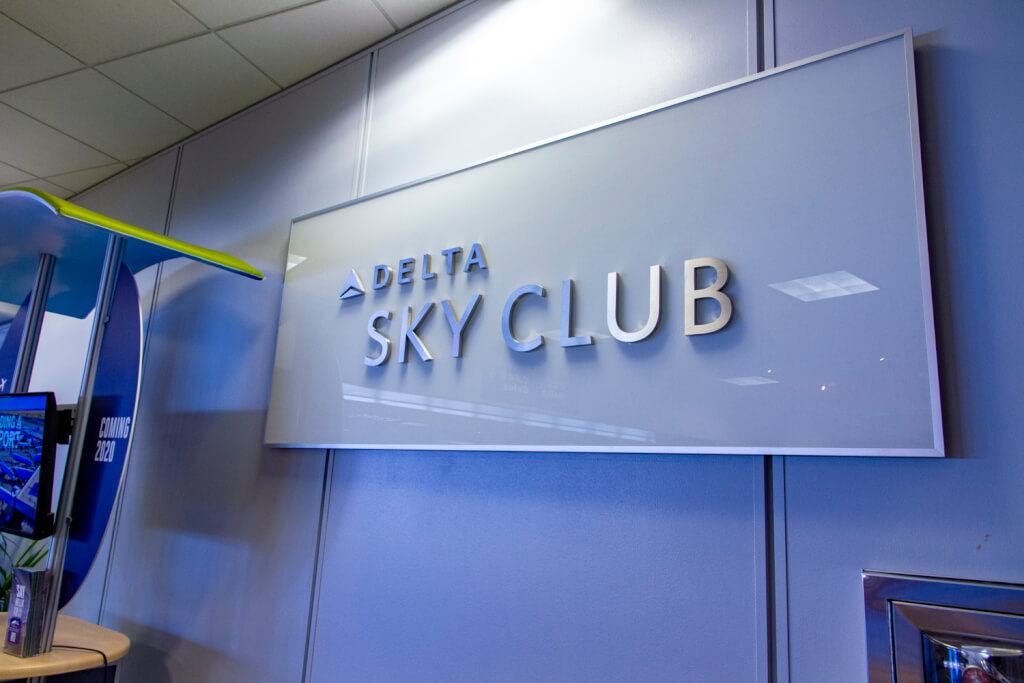 Aside from the news that Dela SkyMiles goes revenue-based, the other big news is the way in which Delta is changing Sky Club access rules. And I'm sorry to say that there's absolutely no good news here. As Delta struggles to tamp down on overcrowding, I can understand why they'd take such drastic measures, though it still doesn't make things any more palatable:
Credit Card Access
Traditionally, you could access Delta Sky Clubs by having a credit card with the perk. Access would be unlimited, so long as you were flying Delta. No more. Beginning February 1, 2025, Amex Platinum (personal/business) cardholders will be limited to six visits per year. Delta SkyMiles Reserve cardholders (personal/business) will be limited to 10 visits per year.
For those with the Delta SkyMiles Platinum card, you will no longer be able to purchase Sky Club day passes. Period.
These changes will undoubtedly impact the value people see in the above cards – especially the SkyMiles Reserve card. That said, Delta is allowing Amex Platinum and SkyMiles Reserve cardholders the ability to keep on enjoying unlimited access. But, of course, it's going to cost you. Specifically, you'll have to put at least $75,000 in spend on your card in a calendar year to retain unlimited access. Yikes.
Basic Economy
Flying basic economy with Delta? Yeah, you don't get Sky Club access. No ifs, ands, or buts.
Delta SkyMiles Goes Revenue-Based, Final Thoughts
While I'm harping on the fact that Delta SkyMiles goes revenue-based, it's worth reminding that American made a similar move as well. The difference being that it's far easier to earn American's "Loyalty Points" than it is to earn Delta's MQDs. For example, you can earn Loyalty Points by spending on their no-annual-fee card, via AAdvantage dining, and more. You also get an earning multiplier for flying with American, with standard members earning 5 points per $1 spent and Executive Platinum members earning 11 points per $1 spent.
The point is, while other airlines have done something similar, Delta remains the one that stacks the decks against their loyal members the most. If you're a loyalist, tell me what you think as Delta SkyMiles goes revenue-based.