Wafu cuisine has been gaining popularity over the years. I fell in love with wafu pasta in the form of Tarako Spaghetti (with shiso) during my last visit to Japan in 2009. So I was excited to finally give wafu pasta spot – Mio Pastalogy – a try. Too bad it ended up being disappointing.
Mio Pastalogy is located in Honolulu's Mo'ili'ili neighborhood and is connected to another restaurant called Dell's Kitchen (same owner). Parking is surprisingly easy for the area, as the restaurant has a relatively large lot out front, and you can pre-order your meal online. It's too bad, then, that they didn't quite live up to my expectations.
Mio Pastalogy's Menu
Before we go any further, let's talk about the menu. As I mentioned earlier, Mio Pastalogy specializes in wafu pasta – that is, Japanese-style pasta. As a result, you'll find a lot of unconventional combinations on their menu, including Mentaiko Spaghetti, Natto Carbonara, and Yuba Ginger Cream, among others, alongside more conventional offerings such as Spaghetti Bolognese. Of course, you can also build your own pasta using a combination of different shapes, sauces and toppings.
Speaking of the pasta itself, Mio Pastalogy makes its own pasta in-house. Currently, they offer six different shapes, including spaghetti, linguine, rigatoni, casarecce, pappardelle, and tagliatelle.
Our Mio Pastalogy Order
Since this was our first time ordering here, Mrs. Island Miler and I had several different wafu pasta we wanted to try. Eventually, we settled on the Mentaiko ($11.50), the Shoyu Butter ($12), and the Ume Jako ($12.50).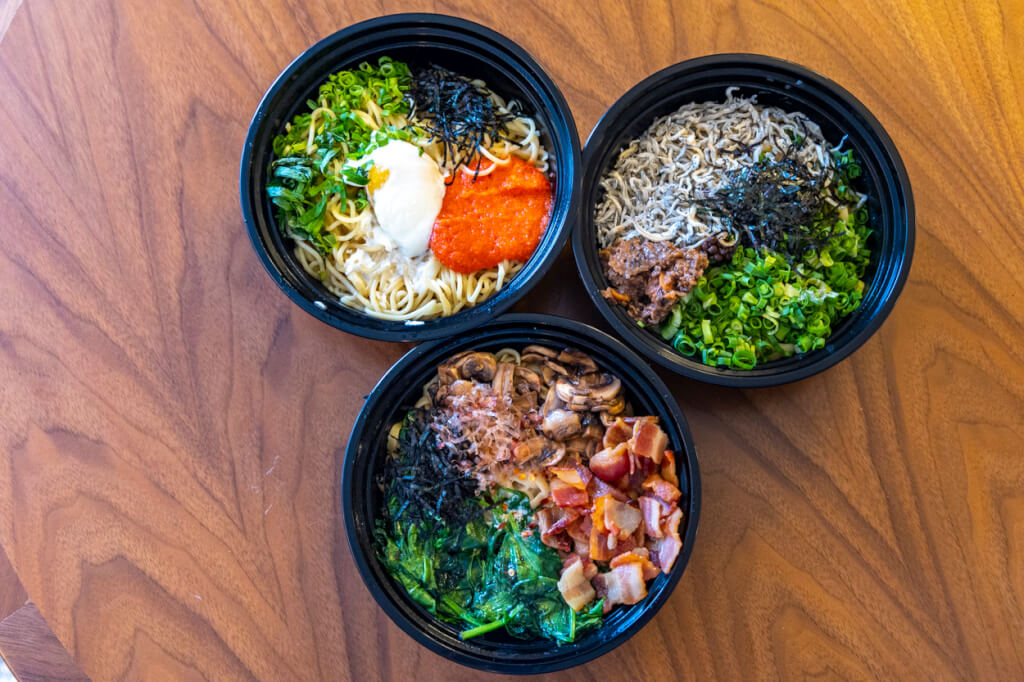 First up, let's talk about the Mentaiko. The menu states that this one uses an aglio olio base and comes topped with mentaiko, an onsen egg, green onions, shiso, and nori. In practice, this dish sounds great. There are a lot of complimentary flavors going on here. However, in reality, this one fell kind of flat. The overall dish is very dry, and the noodles are very sticky, making it hard to mix up. The mentaiko flavor is there, but it's a bit muted. I'm not sure where it's coming from, but the overall dish also has a plastic-y after taste. The shiso is devoid of flavor, and the noodles have absolutely no flavor or body to them at all.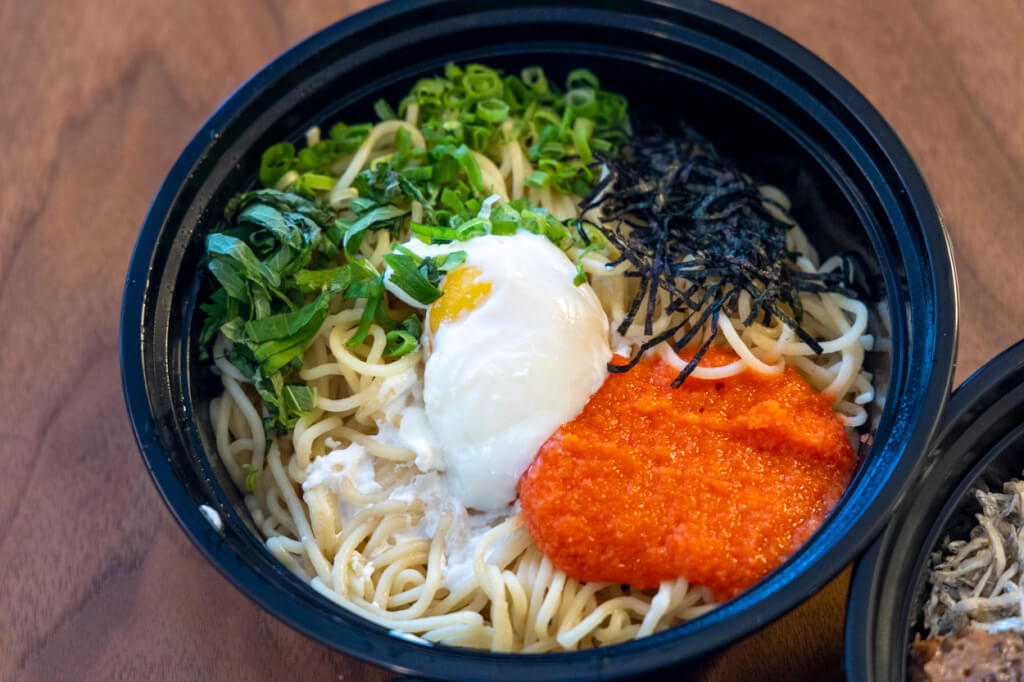 The Shoyu Butter was, perhaps, even more disappointing. It was dry and oily all at once, possessing ZERO shoyu or butter flavor at all. It has the same spaghetti noodles as the mentaiko, so that doesn't help in the flavor or texture department either. In fact, the only flavor you get is from the mushrooms, bacon, and spinach. Sadly, the bacon isn't crispy, and the mushroom has zero browning, salt, or fat.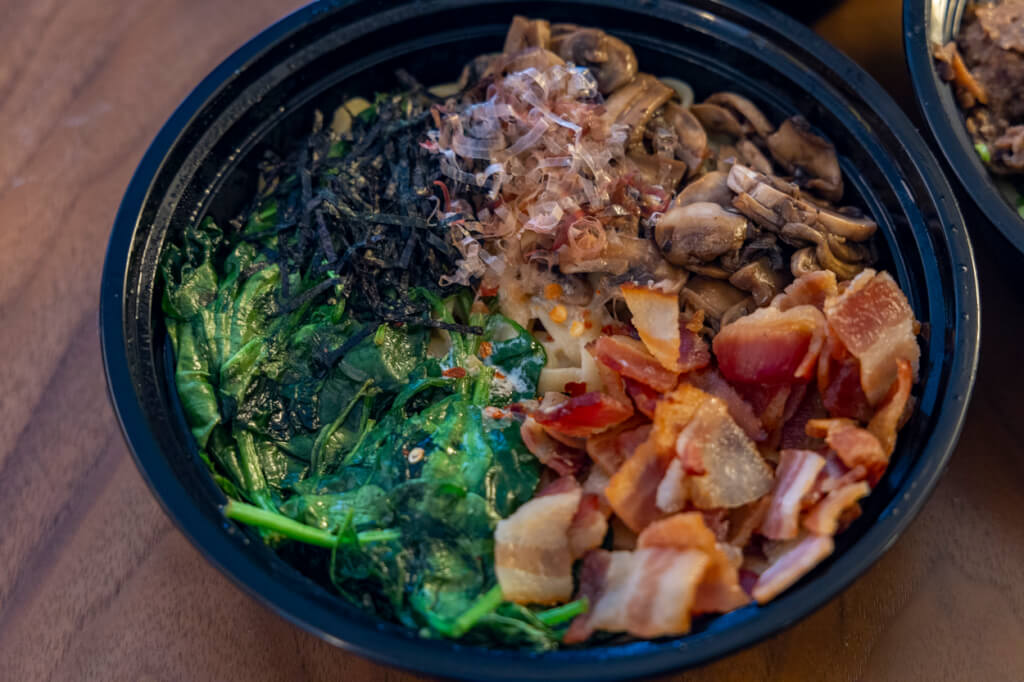 Our final dish was probably the most successful – the Ume Jako. This one was also extremely dry, making it incredibly difficult to mix. However, the linguine has more body than the spaghetti, while the salty, tangy ume paste and mountain of green onions add some much-needed body and freshness. The boiled shirasu adds a little meatiness to the dish, but otherwise, don't offer up all that much texture.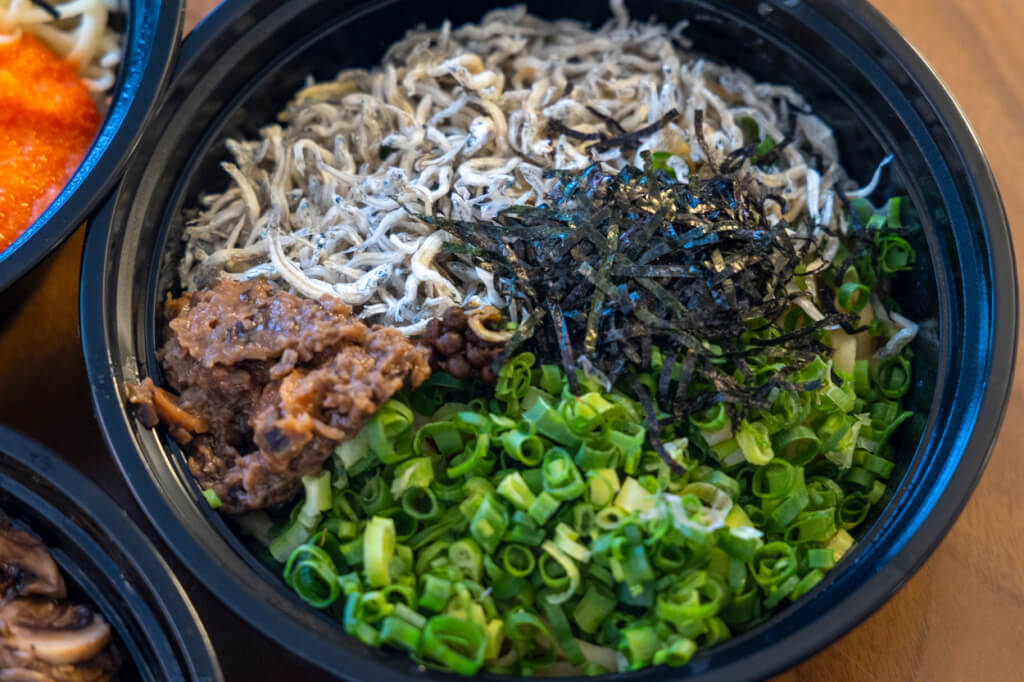 On the side, we also received a few pieces of house rosemary focaccia. The bread was pillows soft and tasted faintly of rosemary, but it was excessively oily.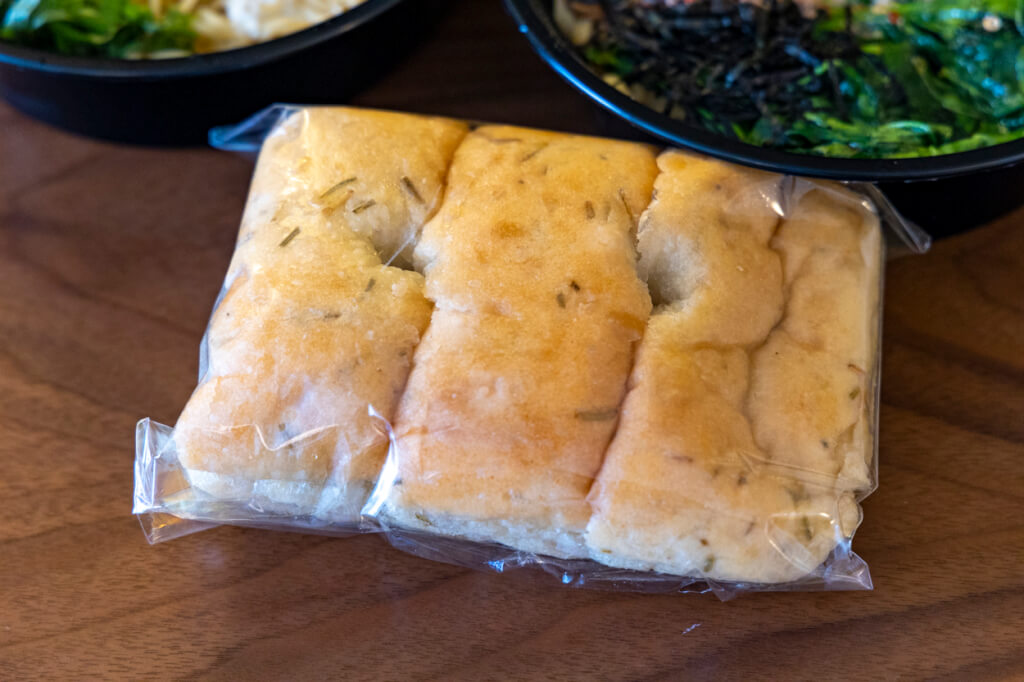 I should note that we ordered takeout for this meal. That meant it spent 20 minutes sitting as I drove it into Waikiki, parked at our hotel, and headed up the elevators. Could that have contributed to the noodle texture? Perhaps. But I make fresh pasta at home that has far more body and flavor than this after it's been reheated the following day. The spongy texture likely has to do with their production technique/lack of gluten development. And there's absolutely no excuse for the pasta being so dry and flavorless.
Final Thoughts
I went into Mio Pastalogy with high hopes – this is exactly the kind of food I like. Unfortunately, the execution fell way short. Perhaps the tomato sauces are better? Though, that wouldn't fix the texture issue. And with so many pasta places around town, it's hard to recommend this place over the others based on the texture alone. After all, for a few bucks more, you can get authentic Roman pasta dishes made with high-quality fresh noodles and local ingredients at Piccola Onda instead.
It's too bad, really. I was hoping the mentaiko spaghetti, at the very least, would be a hit. Sadly, it isn't. The search continues. That in itself is ironic, too, given how many Japanese-owned Italian spots we have in Honolulu. But it is what it is.