Recently, the Island Milers needed a hotel in Honolulu for a couple of nights. Not wanting to relive our Surfjack nightmare, we booked our old stand-by and got to check out the Waikiki Beach Marriott City View Junior Suite, which is now one of my favorite room types at the hotel.
Yes, I know. City View? In Waikiki? Your assumption that our Waikiki Beach Marriott City View Junior Suite view was bad is correct. But what this room lacked in views, it more than made up for in layout. Mind you; we weren't here for a vacation – we just needed a base of operations away from home for a couple of nights. And, for that? This room was perfect.
Booking
For this stay, as I always do, I booked the current kama'aina rate, which discounts the base rate ($169/night on our dates) and gives a 50% discount on self-parking. Unfortunately, the $50/night resort fee does apply to kama'aina rates once again but using Marriott's all-in price view, I knew this at the time I did my initial search. Ironically, the Waikiki Beach Marriott was the cheapest Marriott in the area for our dates, aside from the Sheraton Princess Kaiulani. Yes, even the Courtyard was more expensive. Crazy, right?
After booking, I did apply my two remaining suite night awards to our stay. They cleared five days out as a City View Junior Suite, only to downgrade to a Diamond Head view guestroom the next day. Or so I thought.
Check-In
We checked in on a Monday after work, meaning we didn't get to the property until later in the day. In fact, by the time we found parking and made our way down to the lobby, it was already past 6 pm. Despite this, there was a bit of a wait at the front desk, which ended up taking a little longer for us since the next available associate decided to help the guest in the non-elite line even though she arrived well after Mrs. Island Miler and I did.
No matter. Another associate opened up just seconds later. She thanked me for being a Titanium Elite member and offered us an upgrade to an Oceanfront Kealohilani Two Queen room. I thanked her for her offer and asked for a very late check-out, even if it meant paying extra for it. After doing a few checks, she offered a 6 pm late check-out to us free of charge. But then, the system told her we had an SNA that cleared. After a bit more checks, she confirmed that we could keep either the Oceanfront guestroom or City View Junior Suite with our 6 pm late check-out. We chose the Junior Suite.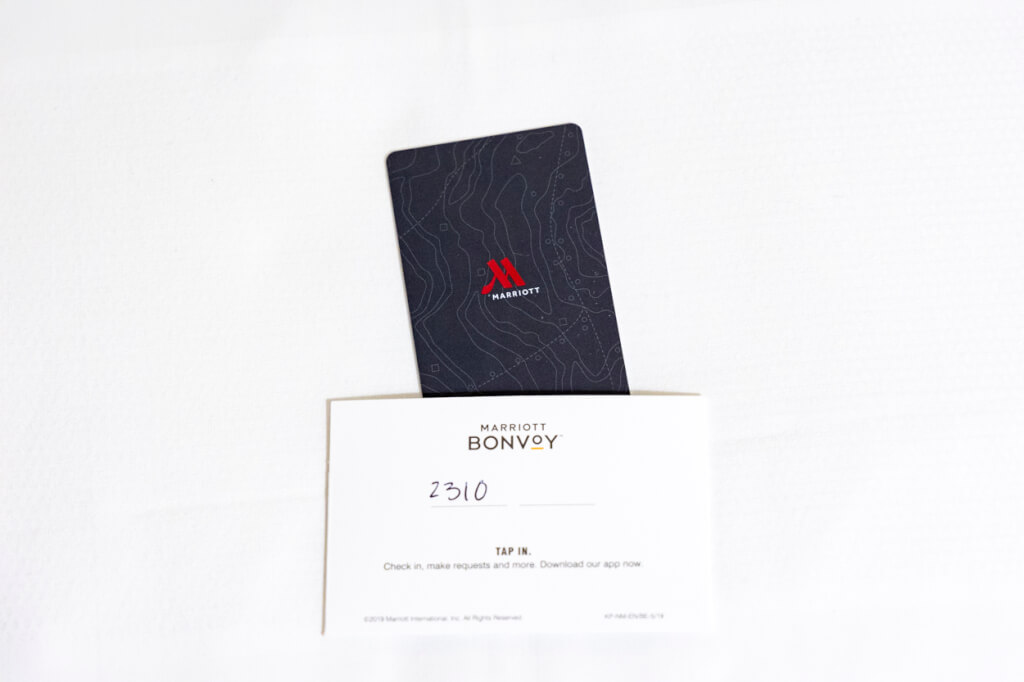 Waikiki Beach Marriott City View Junior Suite
Why did we choose a Waikiki Beach Marriott City View Junior Suite over their super oceanfront rooms? The space. You see, Mrs. Island Miler needed to work remotely on a Central Standard Time schedule during our stay while I remained on Hawaii time. So having the extra space to provide separation was a top priority for us. And this is something the Waikiki Beach Marriott City View Junior Suite has in spades. I don't know the square footage, but it's larger than the Oceanfront Junior Suites.
As you can see here, the Waikiki Beach Marriott City View Junior Suite features a king bed, a large sectional, and a coffee table. To the right, under the painting, is a large dresser. The furniture around the bed feels a little disjointed, featuring a proper nightstand with a table lamp and phone on one side, along with a small table, clock, and floor lamp on the other side. It works just fine, but it looks a little odd to me.
On the other side of our cavernous Waikiki Beach Marriott City View Junior Suite are a wall-mounted TV and a work desk with a chair.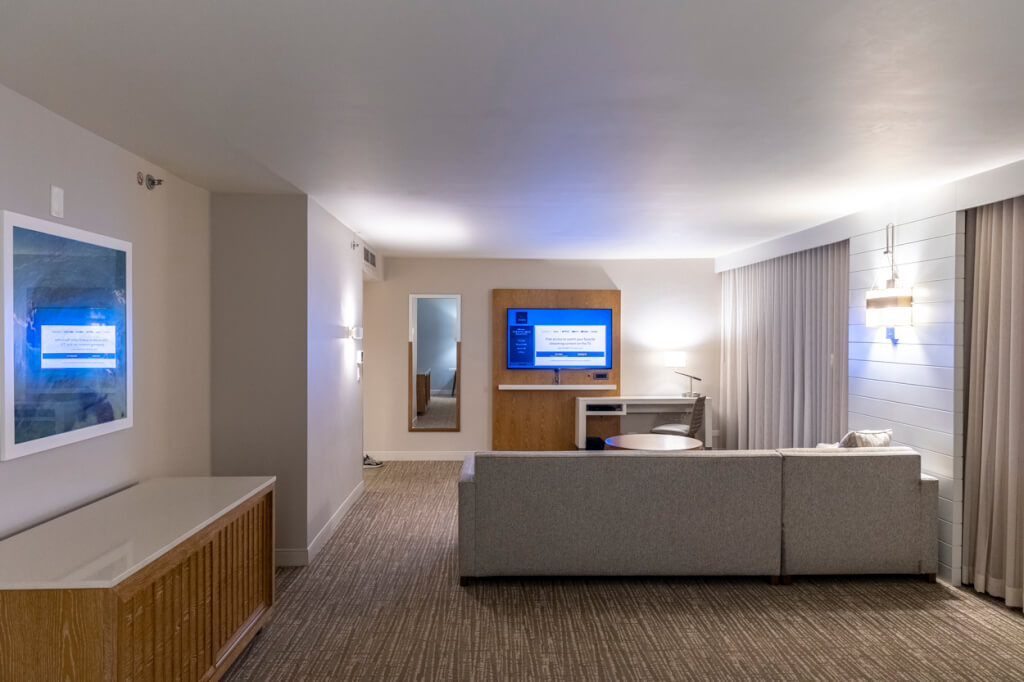 One interesting aspect of this room is that it features a small room right off the entrance door. This smaller room is where you'll find your mini fridge and Nespresso machine.
Waikiki Beach Marriott City View Junior Suite Bathroom
Another aspect of the Waikiki Beach Marriott City View Junior Suite that we liked is its large bathroom. Before we get there, though, there's the closet area in between its and the main portion of the room. Here, there was our safe, two robes, house slippers, iron, and ironing board.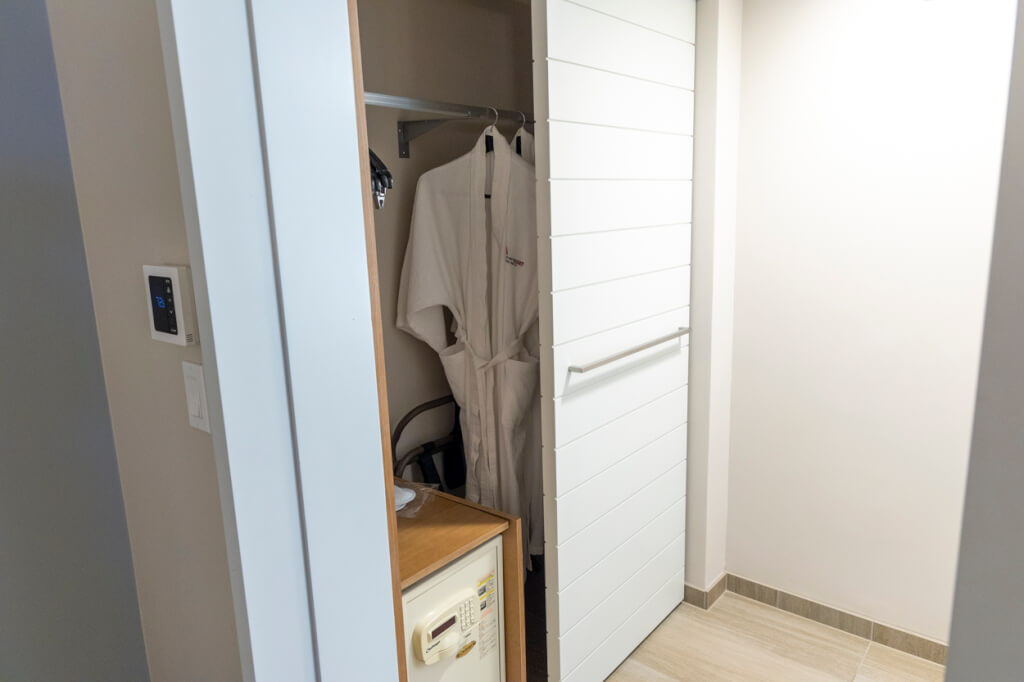 The rest of the bathroom consists of a single sink with ample counter space, a large shower, and a toilet. As you can see in the below images, it appears that the Waikiki Beach Marriott is transitioning away from single-use toiletries to Marriott International's toiletry dispensers. In this case, though, they aren't bolted to the wall. Instead, they shoved them into the toiletries holder in the shower.
Waikiki Beach Marriott City View Junior Suite Comfort
Because of the size of the room, our bed was far from the door or walls against the corridor. As a result, we heard very little corridor noise in our room. You could definitely hear the street noise, though it was never bothersome. Our HVAC system on low was relatively quiet and cooled the room effectively. My only complaint is that the vent near the bed blows directly at the face of the person sleeping on the side farthest from the bathroom.
As far as the bathroom goes, the vent fan was whisper quiet, while our water temperature was outstanding. Water pressure is about average for Waikiki, meaning it's just enough to rinse efficiently rinse yourself off, but it doesn't feel like a whole lot. That's understandable, though, given our need to conserve water. And it's still better than other hotels in the area.
Waikiki Beach Marriott City View Junior Suite View
The view was the weakest point of our room, though it wasn't terrible. Straight out, you saw the Waikiki Beach Marriott's Paoakalani Tower with bustling Kuhio Avenue in the back of it. To the right, the shorter tower is the Hyatt Place Waikiki, while the brownish tower to the left is the Hilton Waikiki Beach. Look out to the right from either of the two balconies, and you can see most of Diamond Head. Look to the left, and you'll see the aft tower of the Alohilani Resort. Straight down is the parking structure and Queen's Break restaurant.
Other Amenities
The last time we stayed, we had a Nespresso machine in our room too. However, as much as she wanted to try it, Mrs. Island Miler didn't get to, so she made it a point to try it this time and mentioned that the coffee is far stronger than what you get from a Kuerig. She described it as more espresso-like. We also brought our own Yetis with us this time around and took advantage of both the ice machine and the water dispensers, which are located on every floor near the elevator.
As we often do, during our first night in our Waikiki Beach Marriott City View Junior Suite, we enjoyed dinner at Sansei Waikiki. While I don't think the visit warrants another standalone review, I did want to mention that the service was not so good this time around. Our server, while nice enough, always had a hard time understanding us, even without a mask, and often forgot to bring us things like an extra bowl. That in itself was odd since they used to proactively split a split order of ramen.
What's more, the food came out very slowly – and it's not like the restaurant was all that busy – it was half-empty while we were there. That and the lead host spent much of her time just bossing around the newer, younger host. The food, however, remains the same, which is a good thing.
Final Thoughts
While I love the view from the Oceanfront rooms, I think the Waikiki Beach Marriott City View Junior Suite is my new favorite room type. Well, that and the Deluxe Suites. But I've only ever gotten that type of room once. That said, the overall layout of this room is so much more spacious and useable than many of the other room types here – even other Junior Suites. So, it functionality is more important than the view, definitely try to get this room.