Last updated on May 6th, 2023 at 05:34 pm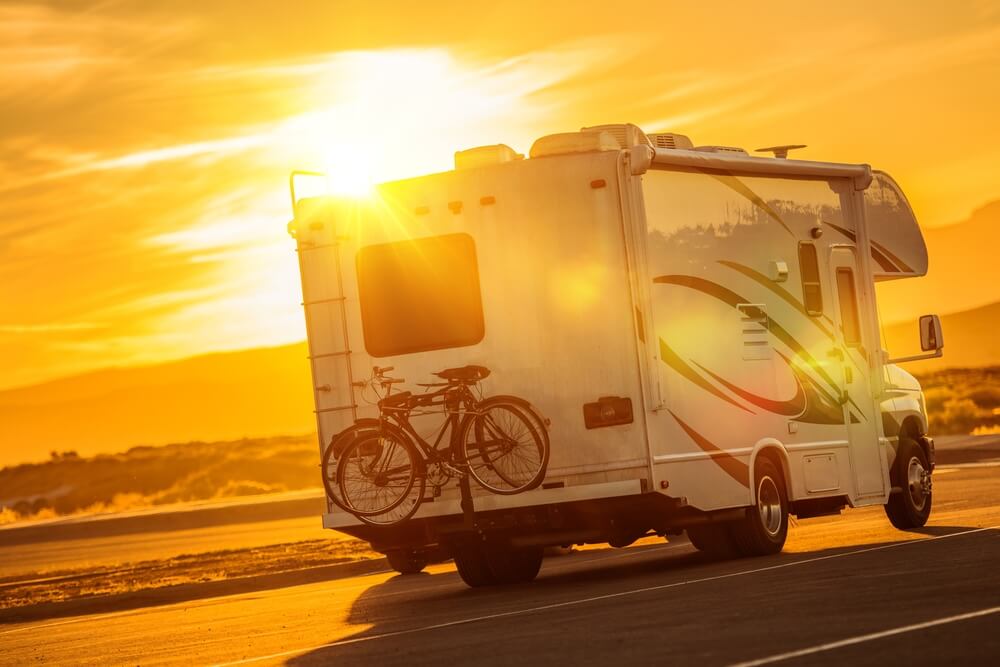 All of our reviews are based on exhaustive research, industry experience and whenever possible, hands-on testing. When you make a purchase using one of our chosen links we'll earn a small percentage of the proceeds. This supports the site and keeps Jeffsetter running. You can read more here.
The car is packed, the RV is hitched up, and the sun is shining. You're ready for your family vacation in the summer heat! But you realize after you arrive at the campground that you reserved a campsite without hookups, and the whole place is booked up so you can't change sites, plus it's at least 90 degrees outside already…
Sounds like you should've packed a generator for your air conditioner!
I know firsthand how a family vacation can be derailed as easily as that. Even though simple mistakes are all too common when it comes to camping, there's nothing like the security a generator can provide in conjunction with RV living, and access to air conditioning can make or break an enjoyable camping experience.
Planning a trip in the hot desert sun? Or are you simply looking for peace of mind through backup power?
Either way, a generator is necessary for most RVers, and I've compiled a list of the toughest units, strong enough to power both your traditional RV appliances and your RV's air conditioning unit.
Here's a quick overview of the list but keep reading to see a detailed review of each unit!
What to Look for in an RV Generator?
Choosing an RV generator can be a daunting process. Many people question how much power they realistically need, along with size, portability, and fuel efficiency. There's a lot to consider, and the last thing you want is to choose a generator that can't meet your needs!
The top things to be looking for when considering a generator to power your AC unit are:
Wattage

Portability/size

Fuel efficiency

Quietness while operating

Fuel type

Budget
Overwhelmed already? Don't worry! RVs are designed with RVers in mind and are quite easy to figure out once you understand how many amps your rig uses throughout an average day. After you calculate how much power you realistically need, there should be a generator that suits your every need!
Wattage
So you want to power your RV's AC unit with a generator. No problem! RVs are made to boondock and be separated from shore power for up to weeks at a time.
Purchasing a generator is a natural next step after driving your new RV off the lot! You'll learn in no time how your RV's power works and the amount of electricity you need to make the most of your appliances.
All it takes is a bit of math: all generators will say how many watts they can produce, and likewise, all appliances say how many watts they need to operate.
It's up to you to do a few calculations of how many watts your appliances use in total at one time. Budget a few more watts in case of power fluctuations and other electronics you may have forgotten about, and you should have a general idea of how powerful a generator you need!
If using your air conditioner is a high priority while on the road, you must have a generator powerful enough for it. Your air conditioner needs the most wattage out of all other appliances, including electric heaters or microwaves.
When choosing a generator, make sure you know how many watts your AC unit uses upon start-up. An air conditioner's running wattage is always lower than its start-up wattage.
Your generator will need to be able to compensate for the start-up wattage, so that's a good place to begin! Most AC units require an average of 3000 watts to start up, depending on their size. Keep the start-up number in mind when generator shopping!
Portability and Size
Nothing is better than the convenience of a portable generator. When searching for the generator that's right for you and your rig, size matters! Many portable generators are outfitted with wheels and handles, making moving easy, but this is not always a standard feature.
You may want to consider the weight of your generator as well as its dimensions. Will it fit in your RV or car conveniently? Or is it going to be a pain to load and unload every camping trip?
Fuel Efficiency
All generators can only hold so much fuel. If you're on the lookout for a generator that doesn't need much refueling or babysitting, you should keep an eye on fuel efficiency. Gas, diesel, and propane prices are constantly fluctuating.
The last thing you need is a generator that guzzles fuel! Some generators are more fuel-efficient than others, and if you find yourself worried about how much fuel you need to bring with you into the woods, keep fuel efficiency in mind!
Quiet Operation
Have you ever been camping and felt annoyed or disturbed by a neighboring camper running their generator all night? I know I have! The last thing you want is to sacrifice your own comfort, but sometimes a generator can ruin another camper's experience.
Having a quiet and low-profile generator can make all the difference on camping trips. You're there to relax and enjoy the natural world that surrounds you; no one wants to hear your generator chugging all night!
Fuel Type
As fuels fluctuate in their availability and prices, choosing a generator with various fueling options may be appealing to you. Many generators feature a dual fuel option, or perhaps you prefer one choice over the other.
Either way, not all generators are created equal, so make sure you're on the hunt for one that suits your fuel needs.
Budget
As with everything, budget can be the number one deciding factor when shopping for a generator. If you're looking for a generator that can handle your AC unit and beyond, expect to pay a bit more than the average camper.
However, narrowing down your wattage can be a huge help when it comes to lowering the cost of your generator.
It's always nice to be prepared, but if you don't think you'll ever come close to the maximum amount of watts listed on a generator, perhaps a smaller, less expensive model will suit you best!
The Best Generators for Your RV Air Conditioner
Hopefully, you're feeling confident about your generator needs and wants! There are so many options out there, but with the right priorities in mind, you'll be able to find your perfect match, with no problem.
Did you write down how many watts you might need to power your AC and other necessary appliances? Good, you're ready to go! Here are some of the best choices out there for powering your RV AC unit and beyond!
Quietest Choice: Generac 7127 iQ3500-3500 Watt Portable Inverter Generator
Let's start small, and, as an added bonus, quiet! The Generac 7127 is a mighty generator, capable of powering appliances an RV needs up to 3500 watts. Having the ability to power a small AC unit as well as a few other appliances at the same time is a huge bonus, especially if like me you need to have a cool van to sleep in!
With an average running time of about 8 hours on one tank of gas, this is an efficient generator, although your AC unit may affect this number if it's run a considerable amount, which is something worth considering. The carry handles make things far easier when you do need to move the generator around and fill it up!
There is a digital LCD screen displaying the wattage, average run time remaining, and much more. It also boasts an electric start rather than a pull start option, which is something I find hugely useful as it's such an easy setup.
Even at running capacity, the Generac 7127 is one of the quietest models out there, making it a more eco-friendly option, as unlike noisy generators that disrupt wildlife, the Generac 7127 will allow everything to be in peace, including you!
This is the only unit encased in plastic on this list, which may mean it's the quietest by a long shot. I find generators on the heavier side to be tricky to maneuver, but purchasing wheels has made things a lot easier on my back, especially since this generator weighs over 100 pounds!
You can click here to check the latest price on Amazon.
Best Dual Fuel Choice: DuroMax XP4400EH Dual Fuel Electric Start Portable Generator
Looking for a generator that can run on both propane and gasoline? Take a look at the DuroMax XP4400EH. Generators are an investment, but with an appealing price tag, electric start, and wheels for ease of transport, this little generator may be exactly what you need for your RV air conditioner.
There's nothing more frustrating than having to top-up your generator all the time. My old model generator wasn't fuel efficient at all, costing a considerable amount to run, and not lasting long at all!
Things are far easier now, as this Duromax generator can run for up to 9 hours on a full tank of gas (and even longer on propane). With 4400 starting watts and 3500 running watts, it has the capability to run many of the appliances in an RV, along with the AC unit. I've found the option to attach up to 20 gallons of propane a huge benefit as propane remains a cheap and convenient source of fuel.
I already use propane for many appliances in my RV, so using propane for my generator feels like a natural next step! The noise level of the DuroMax XP4400EH is not too dissimilar to a lawnmower, which may mean a grumpy neighbor or two. But the larger capacity and dual fuel options of the generator may be perfect for you and your needs!
Click here to see today's price on Amazon.
Best Budget Option: WEN 56475 4750-Watt Portable Generator
If you're looking for a generator to power all of your RV needs but you don't want to break the bank, then this WEN 56475 may be the perfect choice for you. This little guy comes in as the most budget-friendly option on our list of generators, but don't worry, that doesn't mean less power!
It boasts a large 4750-watt start-up and 3750-watt running rate which is enough to power the needs of most RVs, so you can get power to the things you need the most.
This WEN model comes with an electric start as well as wheels and a collapsible handle for further portability. I find that detail like that makes things a whole lot easier when you need to transport the generator to and from your RV.
You can see the fantastic portability in the video below and how much easier it is to move this generator around with both wheels and handles.
As this generator has the ability to run for up to ten hours on one tank of gas, you also won't have to worry about topping up the fuel constantly. It may not have all the plug-in options for you tech-savvy readers, but it includes a spark arrestor and voltage regulator, which protects your surroundings as well as your electronics.
If you've got a budget to stick to but want to ensure your AC unit will run while you camp, then consider this WEN generator. It's worth noting how quiet this generator is too, so it may be the ideal match if you're looking for a quiet generator that will power your AC with no problems.
You can find the latest price on Amazon by clicking here.
Best for Fuel Economy: Champion 4000-Watt RV Ready DH Series
Perhaps the best overall choice on this list, the Champion 4000-Watt generator is here to maximize your fuel usage among much, much more. This powerful little guy can handle a 4000-watt start-up and then keep everything running on 3500 watts, which means your AC unit should be covered!
Depending on the usage, you'll find the Champion generator can run up to 17 hours on a single tank of fuel, allowing you to keep on enjoying your camping trip no matter what your plans are. This is particularly useful when on vacation with friends and family as you won't have to keep disappearing to top up the generator.
Besides fuel efficiency and a larger capacity, this generator includes all the bells and whistles at an average price. It boasts clean power for your more sensitive electronics as well as a USB adapter, a quieter operation level, and an eco mode to further extend your fuel.
As this Champion is such a quiet generator, it means there are no limits to where you can use it, I find this a huge bonus as when I'm at a campground there's no stress that I'll disrupt anyone nearby!
This generator may meet your every need at an average price, but be aware that it is a manual pull-start instead of a push button, and wheels are sold separately which may stretch your budget more than you were expecting.
Overall, however, this Champion generator can't be beaten for fuel economy which for me is a huge consideration when considering buying a generator.
Click here to see today's price on Amazon.
Best for BIG Watt Capacity: Westinghouse WGen6000 Portable Generator
Unsure if your AC unit can run on any of these generators? Looking to use a generator in your home in case of an emergency?
The Westinghouse WGen6000 might be your perfect match. It boasts the highest wattage capacity on this list, which means your AC unit will have no trouble running alongside all your other RV appliances. It peaks at 7500 watts and runs steadily at 6000!
If you're looking for a long-running gasoline generator, the Westinghouse will keep you going up to 13 hours on a tank of fuel. It also includes wheels and an easy electric startup option, making things a whole lot simpler when you need to plug in.
This Westinghouse is on the louder side of things, which is a considerable downside, especially for someone like me who wants to feel comfortable using a generator in areas like campgrounds.
This generator remains compact and portable, and if you live in a small trailer like me then space efficiency is your number one priority! If you're RVing on your own, then the weight of this generator will most likely scare you, it is the heaviest unit at 174 pounds.
It may not have all the plugs you're looking for or a fancy display panel, but it won't fail to power your RV and all your appliances at the same time! Plus it may even be enough to use at home in case of an emergency. Win, win!
You can find the latest price from Amazon by clicking here.
Best Heavy-Duty Option: Honda EU2200ITAN 2200W 120V Super Quiet Portable Inverter Generator with Co-Minder
Generators are life savers, and I like how comforting it is knowing I can stay powered up and use all my appliances, even if I'm going off-grid for a few days. This Honda generator is relatively compact, measuring 21 x 12.24 x 19.72 inches. Being able to fit a generator into an RV can be hard, but I like the smaller size of this Honda as I can easily carve out space inside my rig to store it when I don't need it.
I always say safety is a priority, and this is something I keep in mind when buying new equipment or upgrades for my RV. The CO-MINDER feature on this generator is, therefore, a big bonus in my eyes, as it continuously monitors carbon monoxide levels. Carbon monoxide is toxic to humans, and as it is odorless, it's important to have alarms and take precautions to avoid breathing it in.
I like that this clever generator turns itself off if carbon monoxide levels increase, putting safety first. This Honda was originally developed for heavy-duty construction equipment, so it's capable of handling all the needs I have in my rig, including my TV and more! Given that generators can sometimes be a nightmare to use, I find the quiet operation a dream, and the app useful as I can monitor the generator, starting and stopping it wirelessly.
The only downside for me is the plastic handle. Although it's sturdy and matches well with the overall aesthetic of the generator, I personally would prefer a more robust, mental handle. RVs break-ins do happen, and I feel as though a metal handle on a generator would be near impossible to saw off or break. Overall, this generator is powerful, quiet, and easy to use thanks to Honda's innovative smartphone app.
You can find the latest price on Amazon by clicking here.
Frequently Asked RV Generator Questions
The possibilities are endless when it comes to powering your rig, and the choices can be overwhelming. If you consider your needs, as well as the answers to the questions listed below, you may find the peace of mind you need before investing in a generator.
How Long Will My Generator Last?
As with all hardware and electronics, your generator's lifespan will depend on how often you use it, and what capacity you use it at.
Some generators come equipped with a running time or tally to keep track of how many hours the generator has been used. This is a very useful tool, but it is also possible for you to keep track of it on your own should your generator not come equipped with one.
This is only an estimate, of course, and with consistent maintenance, your generator should last for years to come!
Can I Drive with My Generator On?
The short answer to this question is yes, you can indeed drive with your generator running in your motorhome or RV. However, unless you have a built-in generator on your motorhome, you must make sure your portable generator is set up safely.
This includes setting it up outside of your rig, ensuring it is secure, and keeping it fueled up so that your power doesn't cut out. Watch out for theft as well; generators are expensive, and portable ones are easily removable!
What Outlets Do I Need?
Every generator is unique, and so are you! Most generators come standard equipped with multiple outlets, including some as specific as USB plug-in options.
You may be excited about having so many choices, but not every generator is the same. Keep an eye out for what you need, which may include a 50 amp plug, a 30 amp plug, standard 120v plugs, or USB options!
How Long Will My Generator Run Before Needing Fuel?
This can be a tricky one. Generators have many different tank sizes and fuel efficiencies, and your uses may vary throughout the day. However, all generator manufacturers should be able to tell you the average amount of time it takes before a generator runs out of fuel.
If you're hoping to take a long hike and come back to a nice and cool RV, make sure your generator can handle running for that amount of time!
What Startup Option Works Best?
Generators start up using one of two different methods: electric or manual. A manual generator is probably most familiar to you: there's a pull cord, much like the ones found on lawnmowers and other tools.
An electric generator powers on with an easy flip of a switch or press of a button, eliminating any sort of discomfort caused by manual pulling.
Everyone has their own preferences. Manual generators start up with little to no trouble when you first buy them, though cord wear and tear as well as the strain caused by pulling may be too much for some consumers.
Electric startup generators are convenient and easy at first, though many consumers report interior battery malfunctions. This could leave you without power should your electronic startup break.
Give it some thought, and make sure proper maintenance is performed, and your generator should work just fine!
What's an Open Frame Generator?
Most RV generators vary between open-frame models and more enclosed plastic models. The main difference in these generators, besides aesthetic choice, is the loudness of the unit.
Plastic models have the benefit of being more enclosed and quiet, which means you are less likely to disturb fellow campers around you. However, these plastic-shrouded units are often a smaller capacity than open-frame units.
If you're hoping to power your RV air conditioner, the chances of it being an open-frame unit are high. Open-frame units are still often quiet enough to take with you to the campground but keep in mind the noise levels some of these units may have.
What Generator Do I Need For A 50 Amp RV?
For a 50-amp RV, you'll need a pretty sizeable generator to keep things powered up. Typically, if you have a 50-amp RV, it's worth looking into generators up to 12,000 watts.
Generators can be a big investment, so it's worth making sure you buy the one that suits your needs best, and avoid having to purchase a more powerful generator in the future.
Closing Thoughts
You don't have to sacrifice comfort while camping in your RV, especially if you're camping somewhere hot! These generator options will power your air conditioner as well as any other RV appliances you need, which ensures your peace of mind.
Make sure to bring the fuel you need and plan space for it in your packing lists. If you need backup power, a generator is always a good idea. Just make sure it can handle your needs before you set off on another adventure!