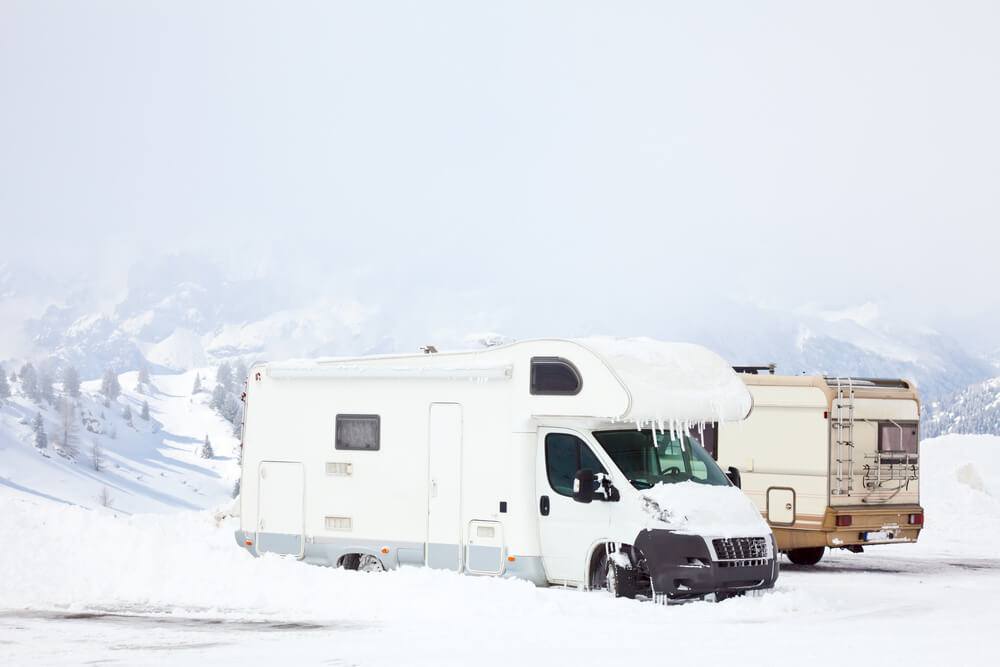 All of our reviews are based on exhaustive research, industry experience and whenever possible, hands-on testing. When you make a purchase using one of our chosen links we'll a small percentage of the proceeds. This supports the site and keeps Jeffsetter running. You can read more here.
There's nothing more disappointing than the end of the RV season. It's time to store your rig for winter, go back to your "home" and wait for the first signs of spring so you can hit the road again.
But what if you didn't have to wait?
What if you could keep on trucking long into the "off-season" with a Class C RV that was winter and cold weather ready?
It's possible!
And not only is it possible but it's also a lot of fun! There are a ton of benefits of off-season RV'ing including cheaper prices, fewer crowds, and a unique winter perspective on the beautiful landscape!
But not every rig is winter-ready and while you can pick up the artic package, I'm going to go through the 5 best Class C RVs for cold weather even with or without the full artic set up.
Why Class C RV's?
With so many motorhomes and travel trailers to choose from, why focus on class C RVs for winter and off-season travel?
Simple, Class C rigs are my favorite! But they're also the most common among full-timers and make a great option for winter RV'ing. They're large enough that you can get the needed bells and whistles to make a pleasant winter but small enough that most families can afford them. They're also a heck of a lot easier to drive than a giant class A rig!
Do I Need An Artic Package?
Many manufacturers offer an artic package for folks that are looking for extra levels of winter protection. However, this can get a little confusing since the artic package can include a few different things depending on the specific manufacturer.
Most of the time, it includes things like extra insulation but can also include extra skirts, sealing for vents, tire changes, and more. Most of the rigs on this list include an option for artic upgrades and it's only becoming more popular. I'll share what's included in the artic upgrades for that specific manufacturer along with a whole lot of information about how to get your rig winter-ready but first let's get into the list!
1. Jayco Redhawk 26XD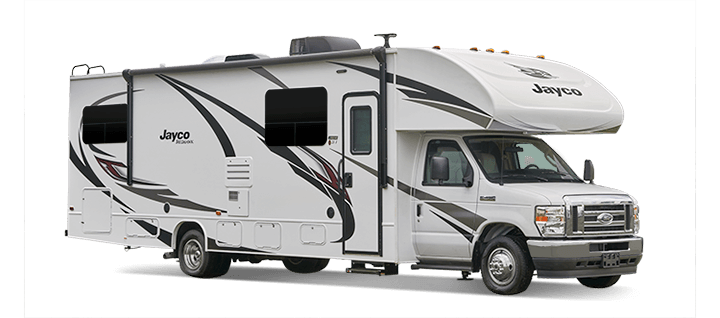 Pros:
5 great floor plans with plenty of room (including a queen-size bed)
12V heating pads on holding tanks come standard
42 LB propane tank for longer excursions
750 pound overhead weight capacity means you can really load up with storage
A heavy-duty roof that can handle a huge pile of snow
Cons:
There are not many downsides to this rig!
Built on a powerful Ford chassis, the Jayco brand is well known in the offseason RV community and the Redhawk 26XD is one of the favorites. While it might not be ready for the artic, it comes standard with 12V heating pads on holding tanks which is an absolute requirement before even attempting to hit the road during the winter. I also love the options for floor plans and the queen size bed. While there are plenty of rigs that feature king-size beds, the queen is plenty big for most and leaves plenty of room for extra creature comforts like a 32-inch television.
The insulation is solid, especially in the roof, but if you're looking to go into the deep country you may want to look at some aftermarket insulation. Otherwise, the Jayco comes equipped with a lot of what you'll need for longer off-season runs like an awesome auto-igniting furnace (coming in at 31,000 BTU) and a large water heater.
Jayco is very proud of its unique roof construction which is called the Magnum Truss Roof System. And honestly, they should be. Jayco screws in their plywood (instead of a simple stable), use larger studs and wider nail plates. They even tested their roof construction against an unnamed competitor with a static weight test (kind like snow) which you can see here:

While the ability to park your car on your RV's roof might seem like overkill, it's a great feature to have when you're inside your rig and expecting several feet of heavy snow.
The Jayco Redhawk comes in at a length of 28.67 feet and a somewhat modest height of 11.5 feet. It has a max sleeping count of 7 which means there's room for the whole family. You can check the entire spec list by clicking here.
2. Forest River Forester LE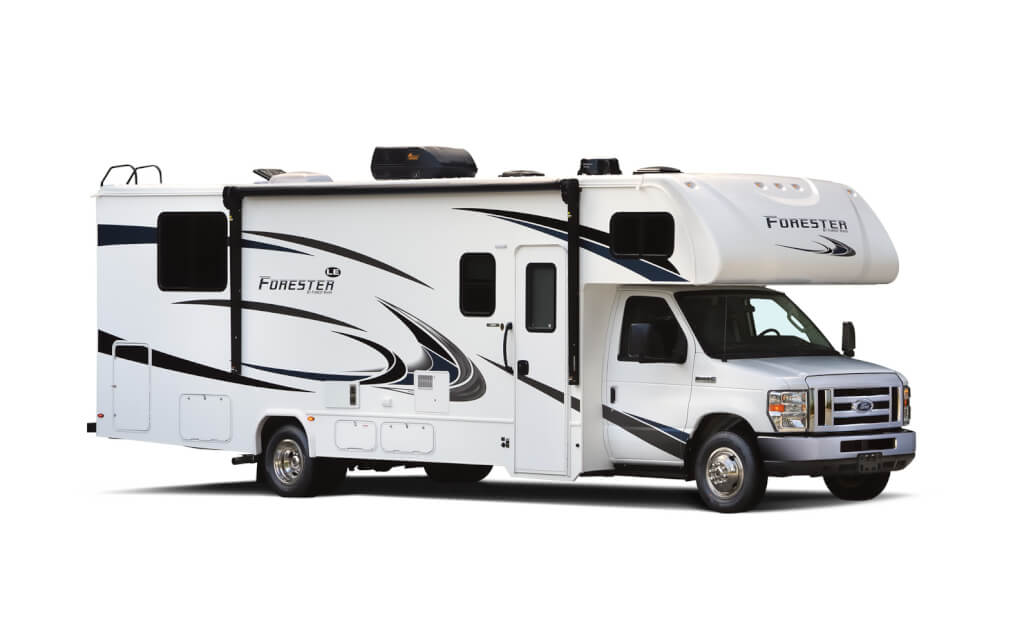 Pros:
Offers an artic package for extra winter prep
42 LB propane tank for longer excursions
Cons:
Some folks might not like slide outs and they can be a pain in extra icy conditions
The Forest River LE is built on the Ford Chassis does offer an arctic package for those who want to take things to the next level. But even the standard features of the Forest River LE will help prepare your rig for the colder temperatures.
One of the biggest differences is the use of fiberglass substrate instead of the more common plywood.
Why does this matter?
Fiberglass is water-resistant (unlike plywood which can absorb and hold water) which makes it less likely to bubble over and damage the laminate. While this might seem like a nice to have instead of a need to have during the spring and summer when you're rig is covered in a foot of snow any extra water resistance is a positive thing. But even more important is that fiberglass has a much higher R-value than plywood. If you're unfamiliar with the term, R-value measures how well a particular material insulates.
For example, a 3/4 inch piece of plywood has an R-value of 0.94 while a 3/4 inch piece of fiberglass has an R-value of 3. This can really add up across the entire construction of the RV to improve the overall warmth in the winter. Another bonus is that fiberglass is lighter which can only help with fuel efficiency.
Even though it might not have a big impact on the winter-friendliness of this RV, I love a good fiberglass roof. Not only are they easier to maintain by they're also easier and safer to walk on. While I try not to make it a habit of walking around on top of my RV, I do like the option.
I also like the thought that was put into the front cap. It has a wrap-around design that's intended to provide better wind resistance, which while always a good thing is even more important during the winter. They also have a bit of extra insulation in the front cap which can help keep the rig warm while on the road.
I'm also a big fan of the bed in the Forest River LE. It's a walk around queen bed that sits east-west and because it's a slide-out it leaves you plenty of room inside. The only downside is that in some heavy winter conditions a slide-out can become a bit of a pain.
The Forest River LE comes in at a length of 23.83 feet and a height of 11.25 feet. It has a max sleeping count of 6 but is probably best for smaller groups that are looking to head out for a longer amount of time. You can check out the entire spec list here.
3. Forest River Sunseeker 2650CDWS (Class C With Arctic Package)

Pros:
Double pane windows to reduce condensation
Extra insulation in all openings
Heated mirrors (yep, they thought of everything)
Dual heated holding tanks
Cons:
Some folks might not like slide outs and they can be a pain in extra icy conditions
The Forest River Sunseeker is built on the dependable Ford chassis and I couldn't help but include another Forest River rig on this winter-ready list. I've taken a look at the arctic package (sometimes called the 4 seasons upgrade) for this review.
The artic package upgrade includes double-paned windows which add an additional layer of insulation. In fact, double pane windows can reduce energy usage by 24 percent in cold climates (at least in the home) according to HomeAdvisor. You've also go extra insulation thrown as part of the 4 season upgrade along with a heated area for holding tanks to keep fluids in a fluid state (as they should be)!
What I love are the heated mirrors! Having an excellent mirror setup is a critical part of driving any larger vehicle and a Class C RV is no different. With heated mirrors, you don't have to worry about the winter snow fogging up or icing up your mirrors and leaving you blind.
Like the other Forest River rig on this list, you're also getting a fiberglass substrate instead of traditional plywood. Remember, not only is this more water-resistant but it also increases the overall R-value of the RV which is exactly what we're looking for when it comes to winter camping.
The Sunseeker is a little longer than it's Forester counterpart and comes in at a little over 24 feet. You can check out the full specs for all the models by clicking here.
4. Jayco Greyhawk Prestige Edition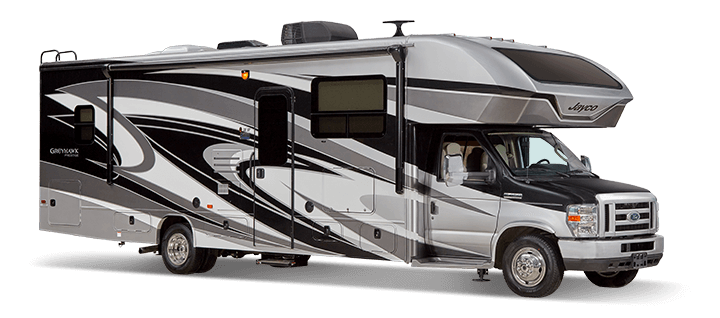 Pros:
Beautiful interior with residential quality fixtures
Extremely spacious for the size
The super-strong Magnum Truss Roof System
Cons:
A bit on the large side which some RVer's may not like
Yep, Jayco is on this list twice. That's because there's a lot to love about them! The Jayco Greyhawk Prestige Edition is another great Class C RV for cold winter weather and it features an absolutely huge living space in a 29-foot package. It's also equipped with quality residential grade fixtures and a huge fridge that really makes this rig feel like a house. This really is important if you're RVing in cold winter conditions since you'll most certainly be spending more time inside than you would during the summer.
Just like the Redhawk (number one on our list), the Greyhawks over the cabin bunk can hold up to 750 pounds of weight which give you plenty of options for longer trips. You also get the Jayco quality roof with the Magnum Truss Roof System that's able to hold A LOT of snow without a problem.
Honestly, I haven't seen a Jayco rig that I haven't liked, and this another great Class C option for the winter. You can take a look at the full list of specs on the Jayco website here.
5. Tiffin Wayfarer 25RW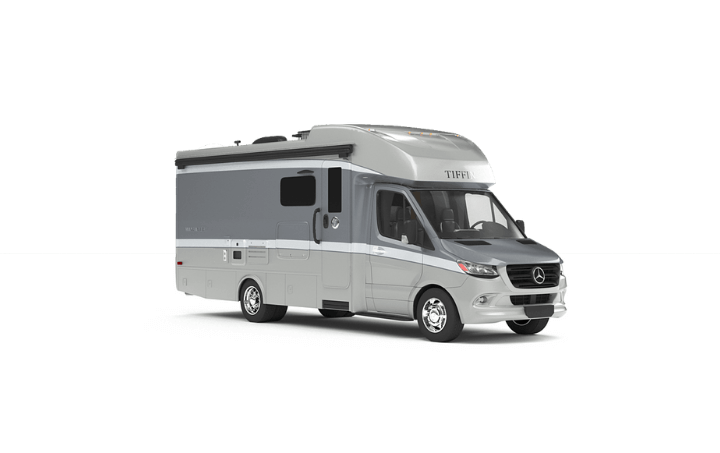 Pros:
Plumping comes with standard heating and internal mounting
Comes with a 3.2 Onan diesel generator which is a real workhorse
Awesome one-piece, seamless slide out for extra space
Single piece fiberglass roof
Cons:
Low cargo capacity means it's not great for longer trips
Built on the Mercedes sprinter chassis the Tiffin Wayfarer is a great class C RV for winter camping but because of some major capacity issues, I had to put it in the last spot on this list.
But when it comes to being winter-ready, the Tiffin Wayfarer has some nice features. First, the dump station, city water hook up, and all related plumbing is completely enclosed and heated. Keeping fluids from freezing is one of the most important parts of any winter trip. Like the Forest River LE, the Wayfarer also features a solid fiberglass roof which not only has a higher R-value, it is also easier to maintain.
I love the 3.2 Onan generator but I really wish it was on the other side of the RV since it's currently placed exactly where I'd be hanging out at the campsite.
The biggest problem with the Tiffin Wayfarer (and why I had to put it at the bottom of this list) is the occupancy and cargo carrying capacity (OCC). The OCC for this rig is a shocking 686 pounds! If you're unfamiliar with the OCC it's the weight of your passengers and all your cargo including water. With a 38 gallon tank, we immediately lose 315 pounds which leaves us with 371 pounds to go.
In most cases, the majority of that is going to come from the passengers. Let's say you and your passenger are about 150 each (which is light) that leaves you 71 pounds of cargo left. That's before clothing, dishes, food, chairs, knick-knacks, and accessories!
Honestly, I'm not sure that's even possible for anything more than a day trip and after researching online it sounds like a lot of Tiffin owners just treat this as a suggestion and continue to load up the rig anyways. I can't possibly recommend you do that and the risks just aren't worth it.
With all these problems…why is it on the list at all?
Because the Tiffin Wayfarer still checks a lot of boxes when it comes to being a winter-ready Class C RV and while it may not be as strong a contender as the others on this list, it's worth considering if you can find an excellent deal.
While there's a variation on years, most Tiffin Wayfarers run 25.58 feet in length and 11.33 feet tall. You can see all the specs for the Tiffin Wayfarer line on the Tiffin website.
How To Drive A Class C RV In The Winter
Okay, so you've picked out your rig but now it's time to actually hit the road. But driving any vehicle in the winter is more dangerous let alone your entire home on wheels! I wanted to share some tips for driving your Class C RV during the winter months in icy conditions.
1. Brake Early, Brake Slowly
You're going to need plenty of room to brake in icy conditions. Sure, your RV is heavy but in most cases, the weight is anything but balanced. While I talked about how great the Jayco over the cabin storage is if you're driving with a passenger upfront along with cargo you're going to be front heavy. That's going to change the way your rig handles and of course, there's the fact that you're driving an RV!
So always give yourself plenty of space between you and the next vehicle so you never have to brake suddenly.
2. Check Your Tires…And Your Chains
While you can absolutely put winter tires on Class C, make sure you check your existing tire quality first. Many Class C motorhomes already come equipped with snow-friendly tires and if you've opted for a 4 season set up there's an even better chance you already have what you need.
However, you will need tire chains and in many states, they're required.
3. Don't Be Afraid To Wait
Part of the beauty of RV'ing is going with the flow. But too many folks get caught up in the itinerary that they planned. While you can get away with that in the summer winter changes a lot and you need to be ready to hunker down until the roads are safe. When you have the option to enjoy your RV, why rush and take the risk of hitting the road too early?
If at all possible, avoid ice on the road. Of course, this isn't always an option when you're RV'ing in the winter but if you've got a flexible schedule there's a chance you can time your drives to avoid too much ice.
4. Don't Drive At Night
Driving during the winter is already hard enough and there's no need to add another variable into the mix! Driving at night removes all chance of ice melting in the mid-day sun and actually increases the chances of ice as temperatures drop for the night.
There's also the big problem of visibility. Snowy conditions already make it difficult to see what's in front of you on the road and darkness unless makes that worse. The other big problem at night are headlights. The white snow reflects lights and too many inexperienced drivers use their high-beams which end up blinding everyone.
5. It's All About Space
Sure, driving a 10,000 pound plus motorhome has some advantages in the snow but it also has some major disadvantages. Namely a much slower reaction time. So whether it's the vehicle in front of you, the unexpected snowbank or a turn that's sharper than you expected you need to make sure you're giving yourself time to react to all of it. And in an RV you need more time!
Does that mean you might be driving a little slower than the hummer behind you wants?
Yeah, probably.
But it's all about safety.
How To Get A Class C RV Winter Ready
If you go for the artic package, the manufacturer should cover most of what you need to get winter-ready. But keep in mind, the artic package or 4 season upgrade doesn't mean the same thing to everyone and there's most certainly some marketing involved.
So it's important you have some idea of what kind of upgrades a Class C RV would need to be winter-ready. It's also worth noting that you need to be extra careful in the winter and always give your motorhome a test run before you go out into the deep country.
But let's break down a few things you need to look for or do before you can consider your RV to be winter-ready.
Insulation Lays The Foundation
Insulation is going to be one of the most important parts of getting your motorhome winter-ready. Ideally, this is done as part of the arctic package as this be a lot more difficult to do aftermarket. Still, you do smaller things like making sure the caulking around all your doors and windows is intact. Across your entire RV, small gaps in your insulation and sealing can add up to a lot of heat loss.
You also need to make sure that you're adding insulation in often overlooked areas like the cabin and front cap. As I've already covered, there's a big difference in the insulating power of fiberglass vs plywood so you'll also need to consider what type of material your manufacturer uses. That's part of the reason why I love the Forest River Class C's for winter camping.
Skirt Your RV
One of the most often overlooked areas of insulation is the underbelly of the RV. While you can add insulation to the undercarriage another good option is using an RV skirt. An RV skirt runs along the bottom of your motorhome and protects the underbelly of your rig from colder temperatures. If you're going to be winter camping in any specific area for any length of time, it's well worth it to invest in a solid skirt
Try Double Pane Windows
Double pane windows add an extra layer of insulation to help prevent heat loss and they can make a big difference. After all, windows are often an area of major heat loss, and when you consider how thin some RV windows are it shouldn't be much of a surprise that they're often a weak point in the winter. If you're dealership or salesperson is trying to sell you an artic package without double pane windows then you should keep moving. It's that important.
Protect Your Tanks and Fluid Lines
You can have a nice and warm bed with plenty of insulation inside your rig but if all your fluids freeze, you're in big trouble. While frozen water might seem like the most obvious concern, diesel fuel can begin to gel at around 10 to 15 degrees Fahrenheit at which point you have BIG problems.
For a Class C rig to be considered winter-ready it absolutely has to have heated tanks. Our number one pick, the Jayco Redhawk comes with standard 12V tank heaters but depending on where you're camping you might need even more.
It's also important to remember that there's more to protect than just the tanks. The actual pipes and plumbing that move fluids are just as important and often represent a weak point that can easily freeze. So if you're looking at an arctic package or just trying to get your rig winter-ready on your own make sure you have no weak points in your fluid system. I highly recommend that you test this well before you go on your first winter camping trip.
Get Additional Heat Sources
Even if you don't end up using them, you always want to have multiple options for heating your RV. The last thing you want is for one source of heat to break or malfunction and then be left with nothing. If you're using your Class C rig for boondocking not only could that be uncomfortable but also downright dangerous.
My favorite additional heat source is the RV specific propane heater from Mr. Heater. You can click here to see the latest price on Amazon. What I like about this heater is that it can be wall-mounted which can sometimes not only be safer but pretty much always more convenient. Even though a Class C rig can be pretty spacious it's not spacious enough to have to walk over heaters on the floor!
It's also worthing picking up a carbon monoxide detector if you're using any kind of fuel-based heat source inside. Always better to play it safe and I recommend this simple battery-powdered one that you can find on Amazon.
Closing Thoughts
With a winter-ready Class C RV the fun never has to stop! While you can take your rig in colder weather, it's still a good idea to avoid areas like Canada during the winter. Instead, check out places like Colorado that have both snow but also plenty of sun to help clear out roads.
Let me know what you think of my picks and whether or not you'll be hitting the road this winter.