Pizza isn't the first thing you'd think eating of when visiting Texas.  But, thanks a bourbon hunting adventure and a TV show, it's what I ate my first night.  But ordinary pizza this is not, this is Dough Pizzeria Napoletana.
After checking into my hotel, I decided to rest a little and do some research.  Outside of attending my conference, my other goal in San Antonio was to find some Balcones 1 Texas Single Malt Whiskey.  A friend of mine had given me a bottle as a groomsmen gift, and my family really liked it.  And since this particular bourbon isn't sold in Hawaii, I had to find some to bring home.
The first place I looked for the bourbon was at Spec's Liquor in the northern part of San Antonio.  When I had called, they said they had it, but when I arrived, the shelves were empty.  From there I walked a mile to another liquor store, and no luck again.  Since I was very near Dough Pizzeria at this point, I thought I'd give them a try for dinner.
Why Dough Pizzeria Napoletana
I'm not a fan of fast-food pizza in the U.S.  And while I'm not a fan of Guy Fieri either, I did see this restaurant on Diners, Drive-Ins, and Dives.  He visited some great places in Hawaii, so I figured why not.  After all, Dough Pizzeria says they import San Marzano tomatoes and Italian flour, and they make their own burrata cheese and sausages.  So it sounded like a place I should like.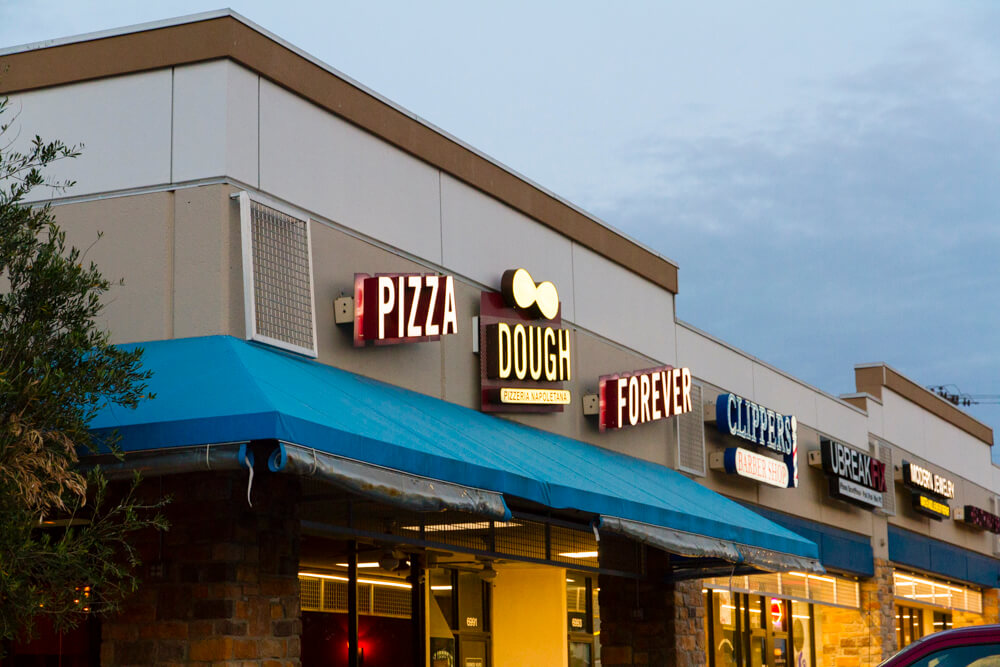 The restaurant itself is located in a strip mall of sorts.  And when I arrived, the place was already packed!  Fortunately, the bar had seats available, and since I was dining solo, this seemed like a better option anyway.
Service
First impressions were awful.  The hosts were clearly unhappy and didn't seem like they could be bothered.  It took them a while, but they finally did assist and offers the bar or a wait.  Once seated at the bar, however, things changed for the better.  The lone bartender that night, Stephanie, was slammed!  But she was always cheerful, made great recommendations, knew her stuff, and was very engaging.  Props to her!
The Food
Soon after I sit down, my order is taken.  My main objective is to try Dough Pizzeria's classic Margherita Pizza.  This should be a great indicator of how authentic the pizzas are.  I also decide to try the special bruschetta of the night.  Not being much of a drinker, I then ask Stephanie what wine would match best with my order, and she recommends a LaPorta Primitivo.
The Primitivo was a great pairing for the food.  Not too heavy; it's more on the light and fruity side for a red.  Which was a good thing, because the mascarpone, gorgonzola, hazelnut, and grape bruschetta was sweet.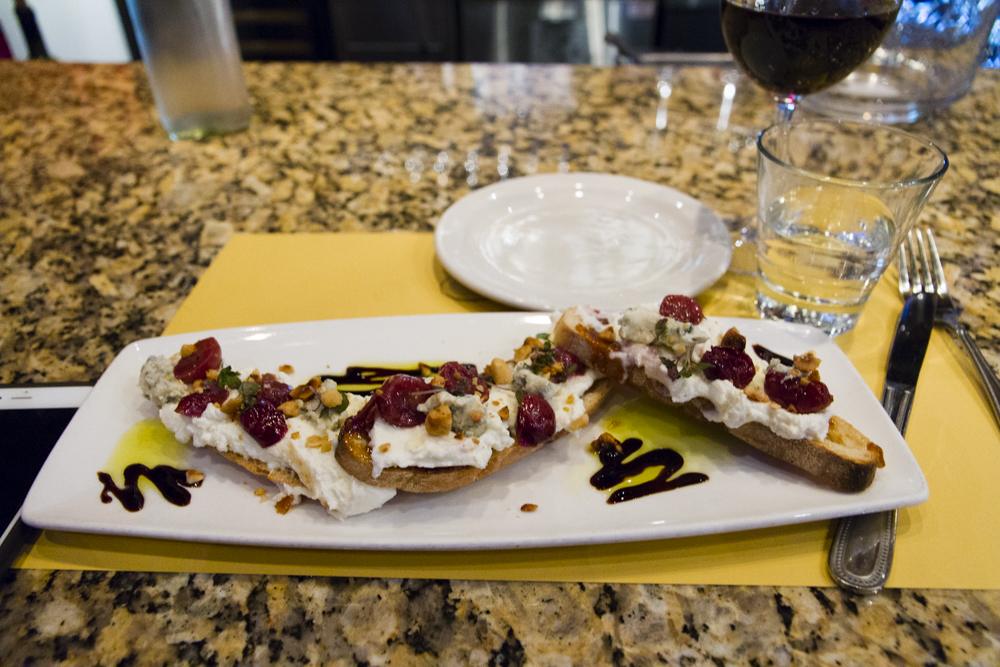 To be fair, Stephanie had warned me that the bruschetta was almost dessert sweet.  And yeah, I agree, but it was good.  Especially with the olive oil and balsamic drizzle.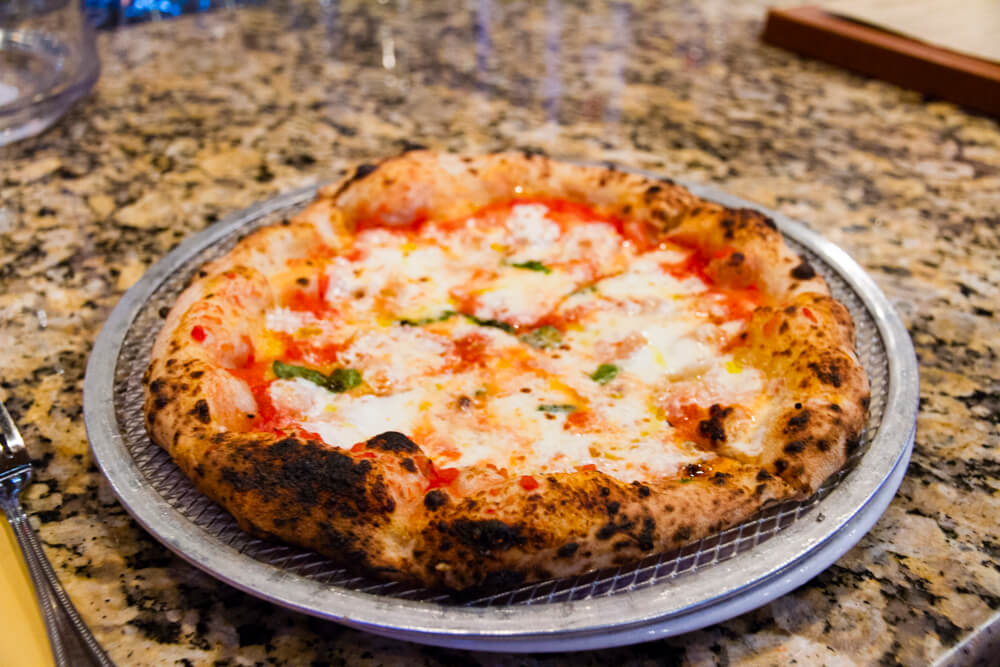 Would you look at that pizza.  It looks authentic, especially with all of the caramelization on the crust.  And the crust was certainly good, as was the cheese.  The sauce, however, I thought was a bit too bland.  Yes, San Marzano tomatoes are excellent, but I thought the sauce could use at least some seasoning and perhaps a touch more salt.
I was too full for dessert and decided to skip.  I would have ordered a Tiramisu and stuck it in my fridge to enjoy later, but the San Antonio Marriott Rivercenter doesn't have in-room fridges.
Dough Pizzeria Napoletana Final Thoughts
People seem to really like Dough Pizzeria Napoletana.  The place was packed when I got there, and while I was the only one at the bar for a while, that filled up too.  Personally, I thought Pizzeria Napoletana was pretty good.  Their pizzas are fairly authentic, but the aren't the best I've had.  The pizza I had in Rome was better, and I've had similarly good pizza back home in Hawaii.  That being said, pricing here isn't too bad and my service experience was nice.  So Dough Pizzeria is someplace I would consider returning to if I find myself in San Antonio again, or even in Dallas.