Last updated on November 21st, 2017 at 03:46 am
Are you thinking about exploring Cambodia? We spent 5 days in Angkor/Siem Reap in January 2017.
Spoiler alert…We LOVED it! Here is our trip with tips and suggestions for your visit to Angkor and Siem Reap.
A Guide to 5 days in Angkor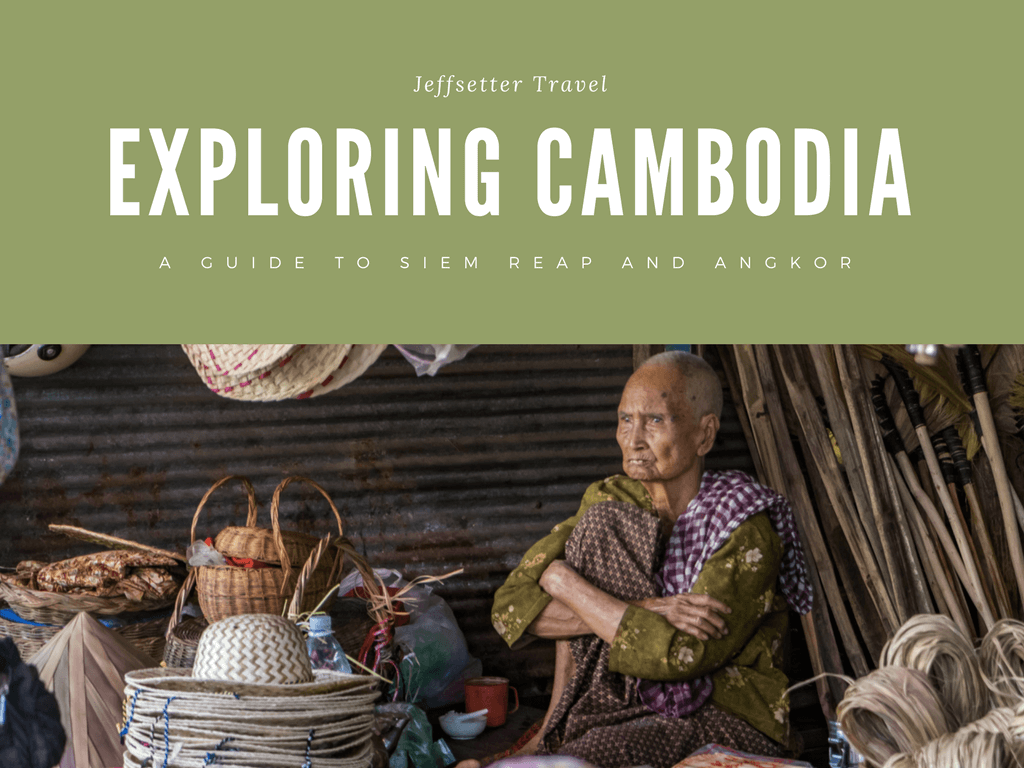 About
Cambodia is a country rich in culture, history and tragedy. In-spite of the Khmer Rouge regime (led by Pol Pot) in the not so far past, the Cambodian people some of the friendliest and optimistic people we have met on our travels.
Cambodia has seen a major uptick in tourism over the past years, and is a great destination or add-on to any Southeast Asian trip.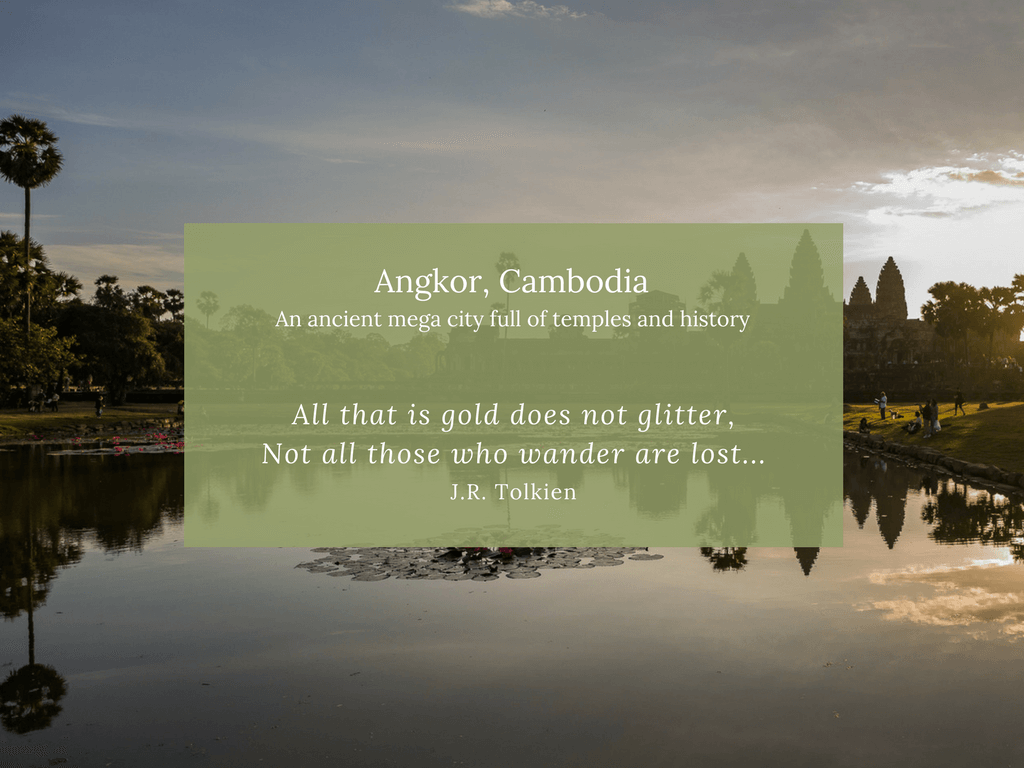 Getting There
Siem Reap is just a flight away. Siem Reap (REP) has an international airport, and there are "plans" (i.e., no dates) to replace the current airport with a new larger one to support the increased tourism.
We flew from Chiang Mai through Bangkok. Including Cambodia as part of a Southeast Asia trip is quite easy with multiple value airlines (AirAsia) and Asian airlines(Thai Airways, Cathay) in the region. As of right now, no direct flights from US or European cities exist.
We flew Bangkok Airways, it is a boutique airline that includes baggage (with some limitations), lounge access and in-flight meals as part of the ticket price.
Entry
Note, this information is based on our trip in 2017. We are US citizens traveling with US passports. You should always confirm entry and travel requirements in advance of your international trip.
A passport and a visa are required for entry into Cambodia.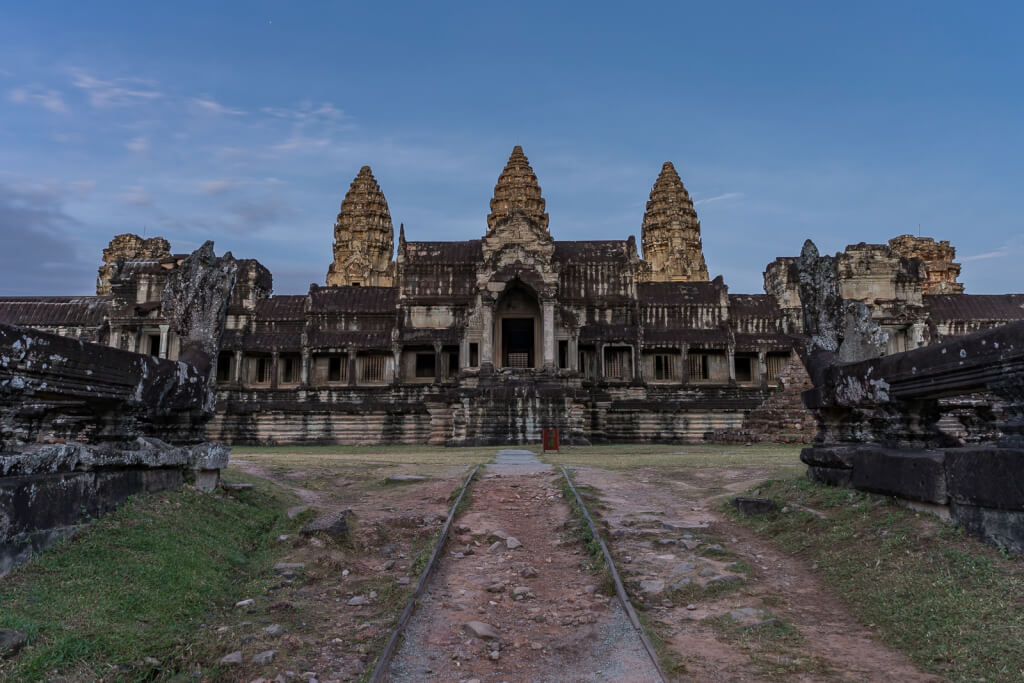 Passport
Your passport must be valid for more than 6 months after the date of your entry date to obtain a visa.
One blank passport page is required for entry. The visa on arrival takes up one full page, and they will not cover up other stamps. You can see more about this in the next section.
Mr. J did not have a full blank page because India and Canada decided they needed to stamp their own blank pages. So, his passport had two pages with just one stamp, and then several pages with one opening. Bangkok Airways made him sign a waiver of liability before he was allowed to board the plane. The waiver basically said the airline is not responsible if he is turned away at the border. (Luckily we had an e-visa and he did not need a full page in his passport for the visa sticker. He made it in, but I would not risk it.)
Visa
As a US citizen, you can apply for an electronic visa online before you go to Cambodia. It is pretty straightforward and easy to complete. If you are unsure, then we would be happy to help you or any travel agent can assist you.
You can also obtain a visa on arrival. However for visa on arrival, you have to go through a separate visa line and then go to the immigration line.
We recommend getting the e-visa if your country allows it. The extra $7 processing fee is worth it.
Vaccinations
No vaccinations are required for entry. You can check out the CDC for recommendations.
I did not have any shots before I went. Mr. J had a bunch of shots several years ago when he went to Africa. We had no problems.
Currency
Cambodian riel is the official currency. However, USD is widely used and accepted. You can even get USD (specifically crisp $100 bills) out of ATMs in Cambodia. The ATM fees are quite high especially out at Angkor where you purchase your temple pass.
If you are coming from the US, I suggest bring USD with you for your trip.
A few times, we paid in USD but received our change in CMR.
Siem Reap and Angkor
Siem Reap is the gateway to Angkor. Angkor is best known for Angkor Wat and its other ancient ruins.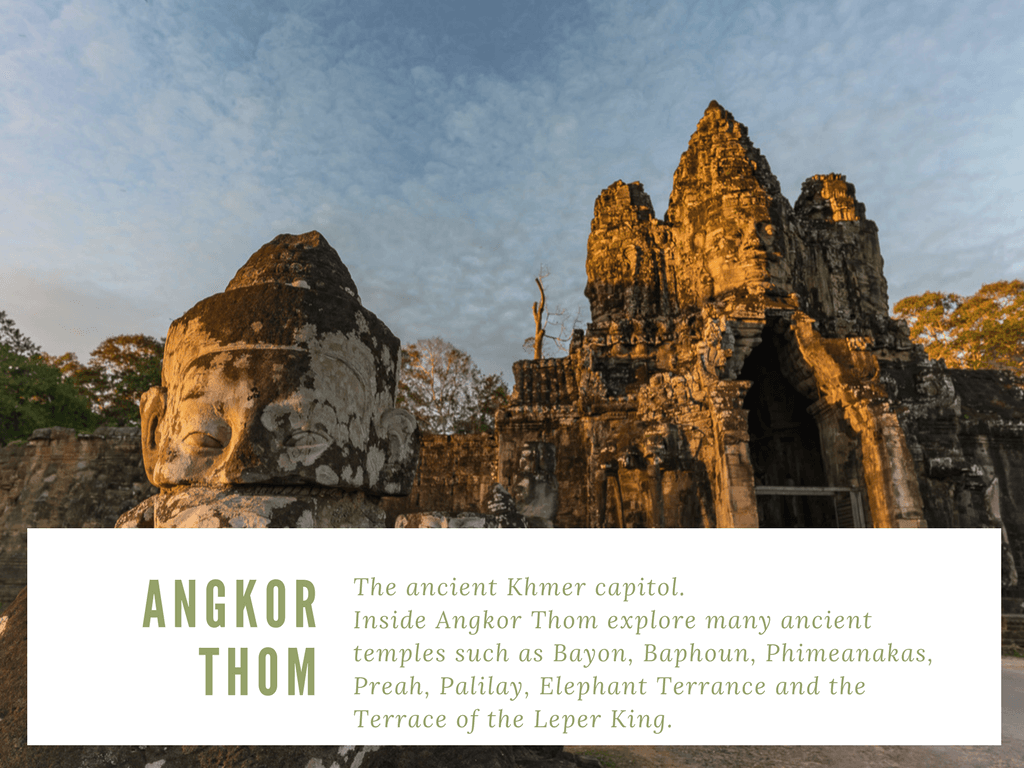 What to do
Angkor is full of temples, so many temples all of them have not been discovered. You have to be careful not to get templed out, and give yourself some time off from the temples.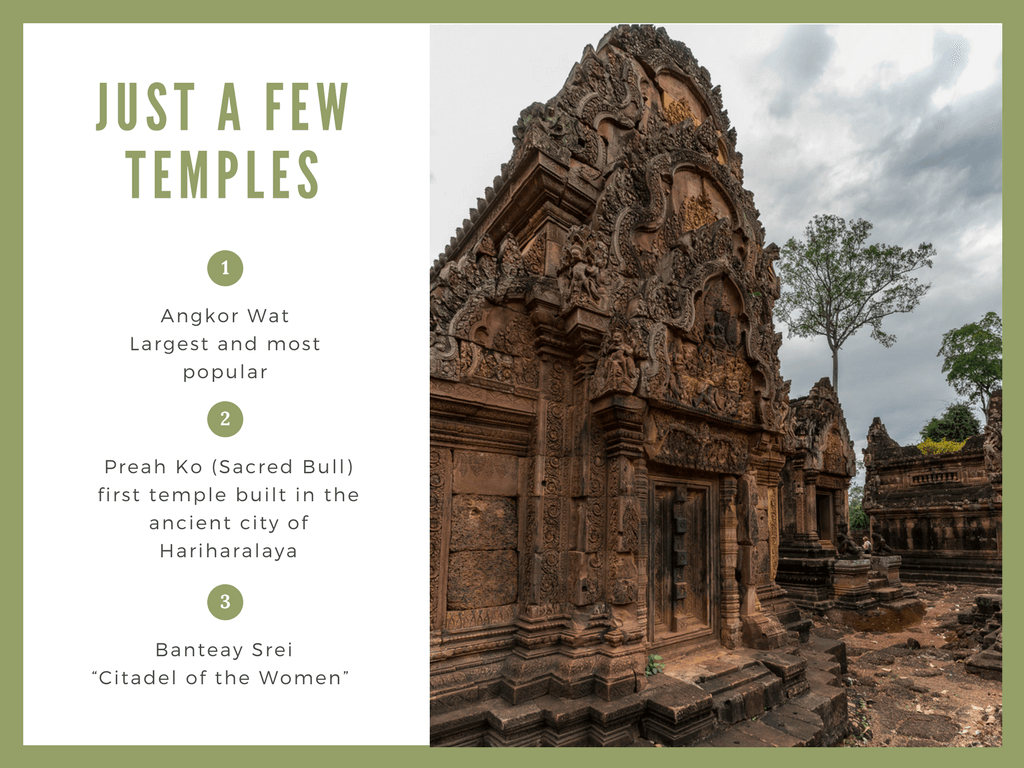 However, Angkor and Siem Reap have a lot more to offer than just temples. The area is rich in culture. We learned about this culture through not only temple tours, but also a cooking class and a photo tour.
The next section walks through our exact itinerary. My plan is to add individual posts on the temples once Mr. J has a chance to go through his photos. Please comment if you would like to start seeing his photos again!! It will help me convince him to start the daunting task.
Itinerary
Warning: we packed in a lot, but we wanted this to be more of a trip vacation where we were doing a lot of activities as opposed to relaxing on a beach in the islands.
Here was our itinerary for 5 days:
Day 1 – Arrival
We arrived late (around 8 pm after a delayed flight and immigration) and checked into the Sarai Resort and Spa.
Day 2 – Cooking Class and Temple Tour
Morning Village Cooking Class
We took a great cooking class through Beyond Unique Escapes.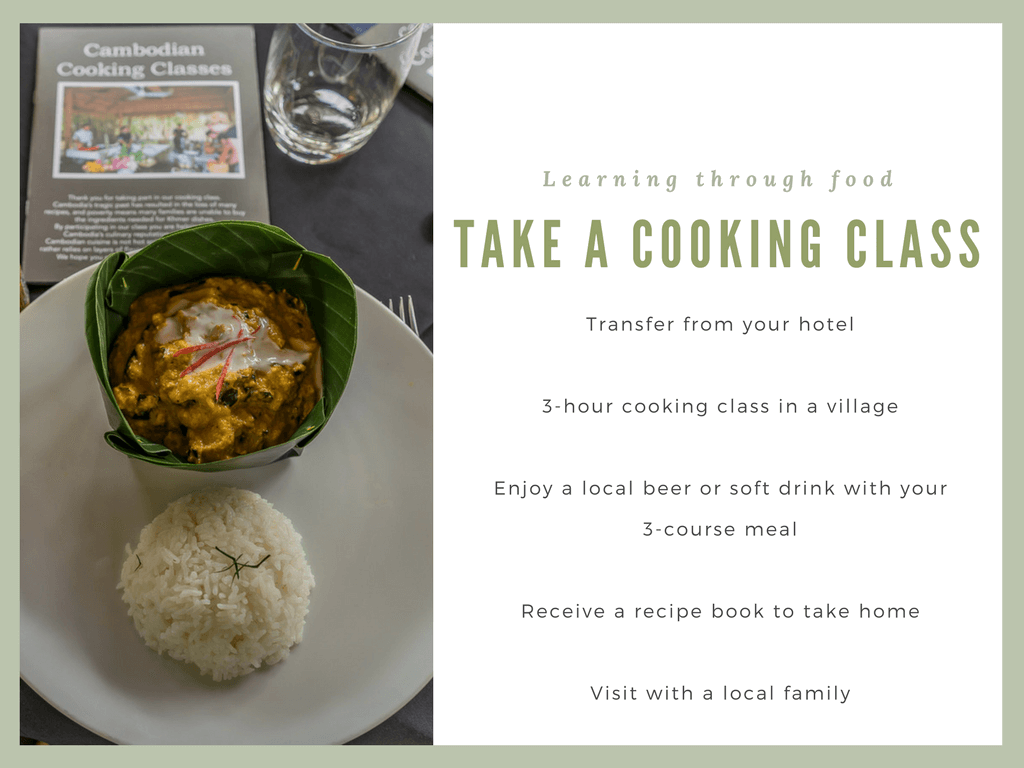 The class size is small 6-8. The chefs are great very personable and funny. They speak English well, but you would have to inquire about other languages. I have to say we made a pretty delicious meal.
Afternoon Temple Tour
In the afternoon, we booked a tour through the hotel. The Sarai Resort and Spa booked an English speaking guide. The hotel provided transportation and a driver.
This probably our most comfortable tour from a transportation perspective. We rode in the hotel's shuttle van instead of a remork or off-road vehicle.
We stopped to get our temple passes. Make sure you have cash before you get there, the ATM fees are outrageous. Then we were off to see two temples.
Banteay Srei (or Srey)
A 10th-century Hindu temple dedicated to Shiva. The temple is sometimes referred to as the citadel of women or the pink temple because of its reddish color.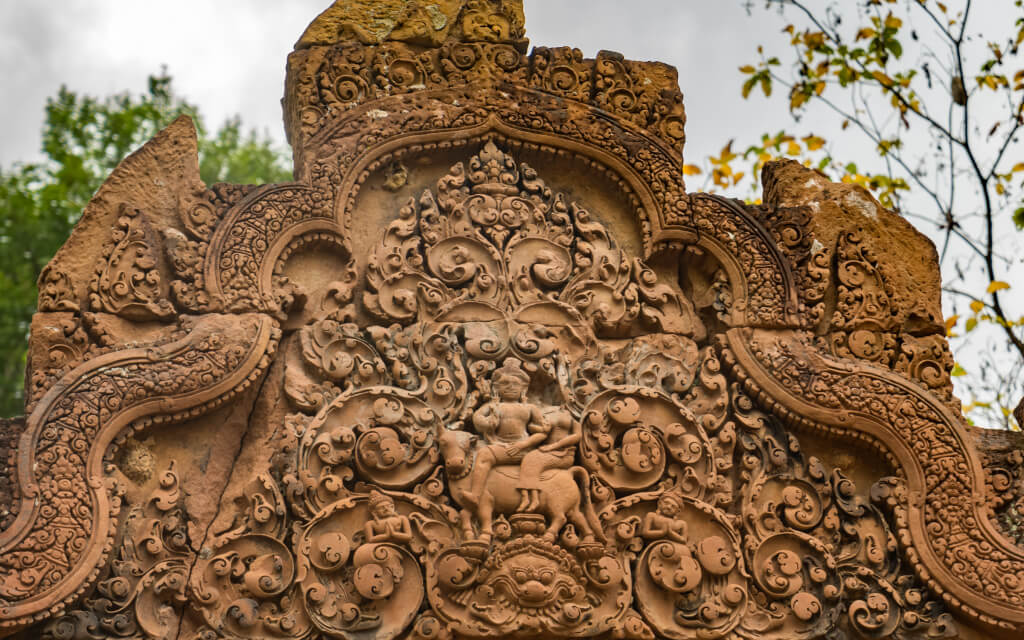 This is a more remote temple that has some of the most intricate and well-preserved carvings in Angkor.
Ta Prohm
It was pouring rain here. Be prepared to get muddy if it rains. After a while, the rain let up to a heavy mist, think of it as added ambiance.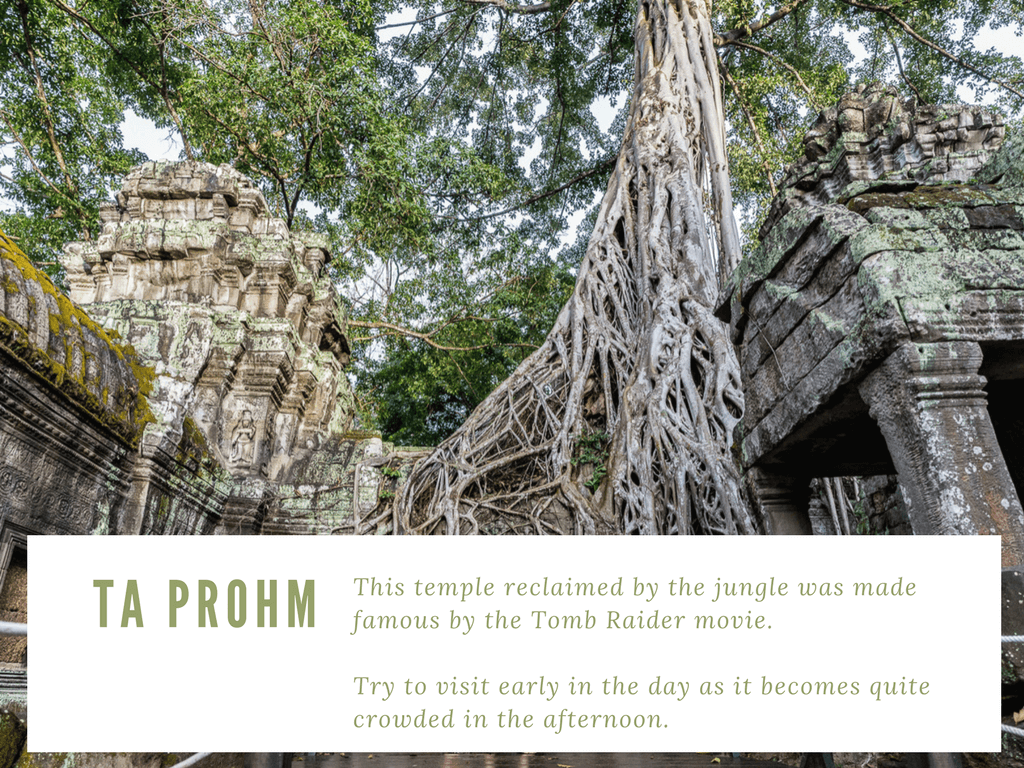 We were there in the afternoon. Super crowded and there was a couple having wedding photos taken as well. We even ran into some of the people we met at our cooking class in the morning.
Spa
We had a 45-minute foot massage included in our room rate. So before dinner, we headed down for our couples foot massage.
This was the most amazing foot massage I have had. This was more of a "limb" massage. I am not going to lie I was afraid of my feet being touched for 45 minutes. However, this "foot massage" included leg stretching and massage, then an arm massage ending with a shoulder and arm stretch.
You are dressed for this massage, so I suggest wearing loose fitting comfortable clothes.
Day 3 – Check-in at the Amansara and afternoon temple tour
We switched hotels. I would not recommend switching hotels on this short of a visit. This switch really took up some of our relaxing time, when we could have laid by the pool.
However, we wanted to visit the Amansara, but our budget only allowed 2 nights. If you read our post on the Amansara, then you know our tours were included in our room rate.
On our first tour with the Amansara team, we saw the following temples and historical sites.
Our first temple pictures are missing. I will share once we have located and processed.
We took a 4×4 jeep off-roading to get to a pretty remote temple, which it is one of two temples and once I see the pictures I can tell you which one.
Ta Keo
Ta Keo is one of the tallest temples in Angkor and is another Hindu temple dedicated to Shiva.
You are able to walk to the top on really steep steps.

You can see the temple is undergoing restoration, but this did not impede our visit.  Beautiful views and we received a blessing from a monk.
Bayon
We went on to visit the Bayon temple. One of my favorites. I am amazed at how well preserved the temples are.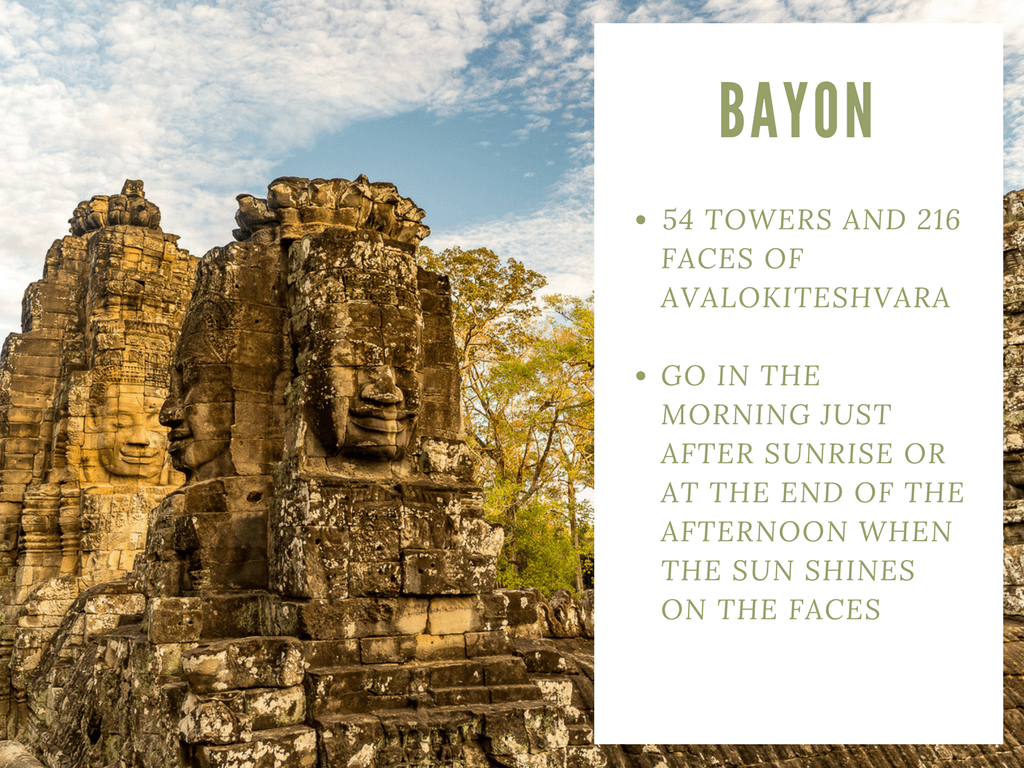 Angkor Thom (Ancient City)
We watched the sunset over the river at the city gates and did a jungle walk to another city entrance that is lesser known.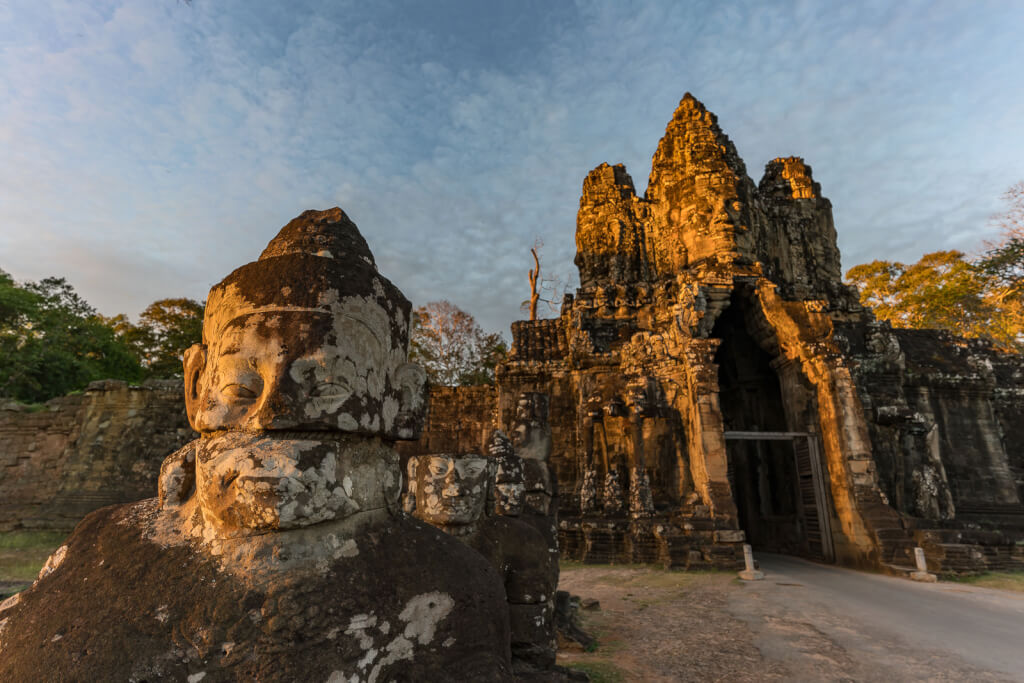 You will pass through the city walls several times as you go to various temples. The sunset was beautiful, and worth the stop. The main gate will get crowded, but it is not unbearable.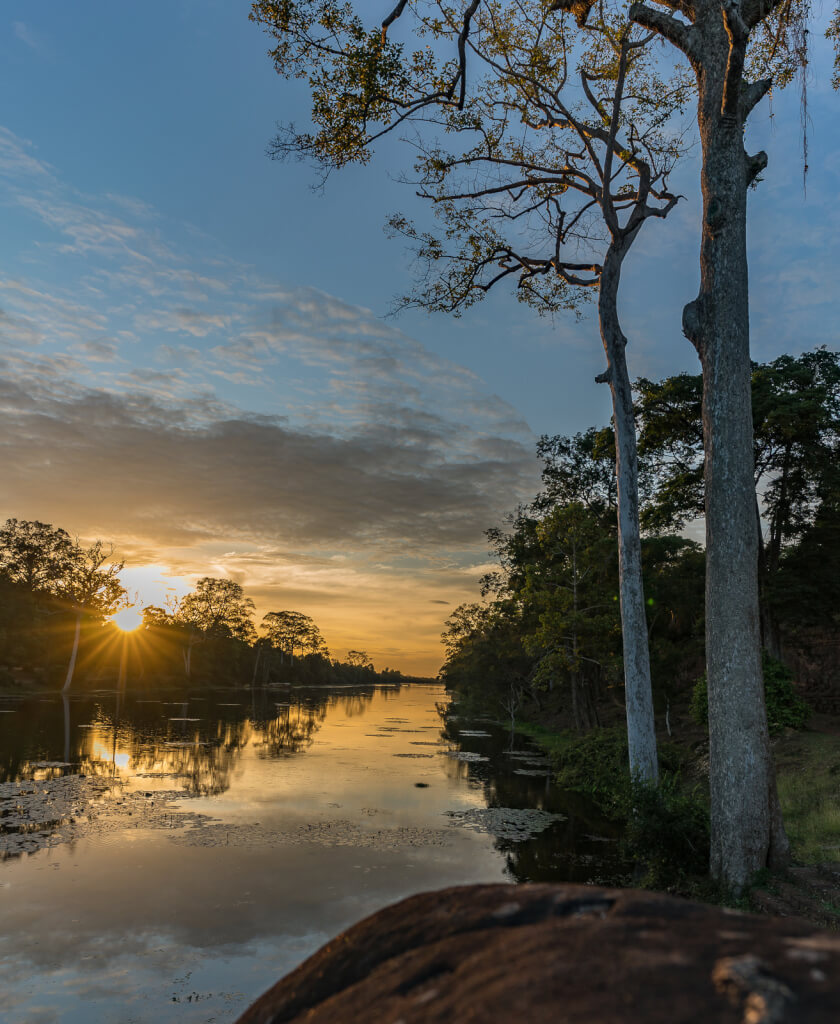 On our way back to the hotel, we stopped by the "Killing Fields" memorial. Quite somber. I really struggle with visiting places like this, so we did not go to the actual killing fields (closer to Phnom Penh). I couldn't do the landmine museum either.
Those will be for another trip when I am prepared to deal with the emotions. This trip was about taking a break from life and sight-seeing ancient Angkor.
Day 4 – Sunrise at Angkor Wat and a photo tour.
Angkor Wat
Probably the best-known temple in the area. EVERYONE goes for sunrise. You will be welcomed by tour bus after tour bus.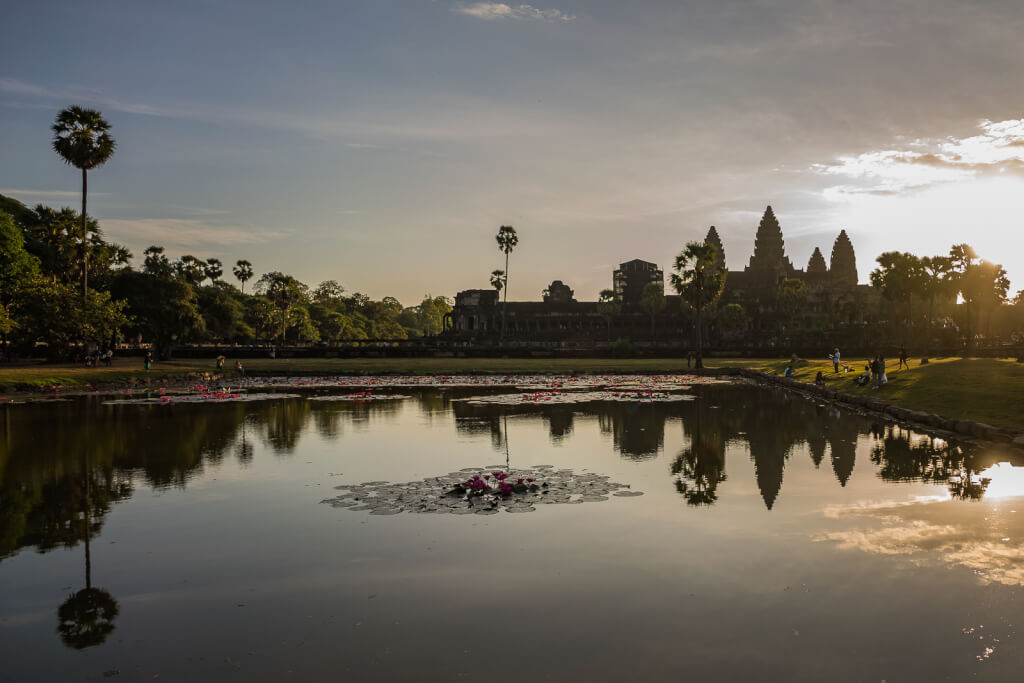 We did the sunrise tour through our hotel the Amansara.  Our guide took us to a private entrance with no crowds, provided blankets for the cool morning and great historical insight.
Amazing! However, the sunrise is not directly over the temple, so be sure you are clear with your tour guide about how you want to see the sunrise.
Then we stopped for breakfast at the Amansara Wooden House. You can read more about the breakfast in our post on our stay at the Amansara.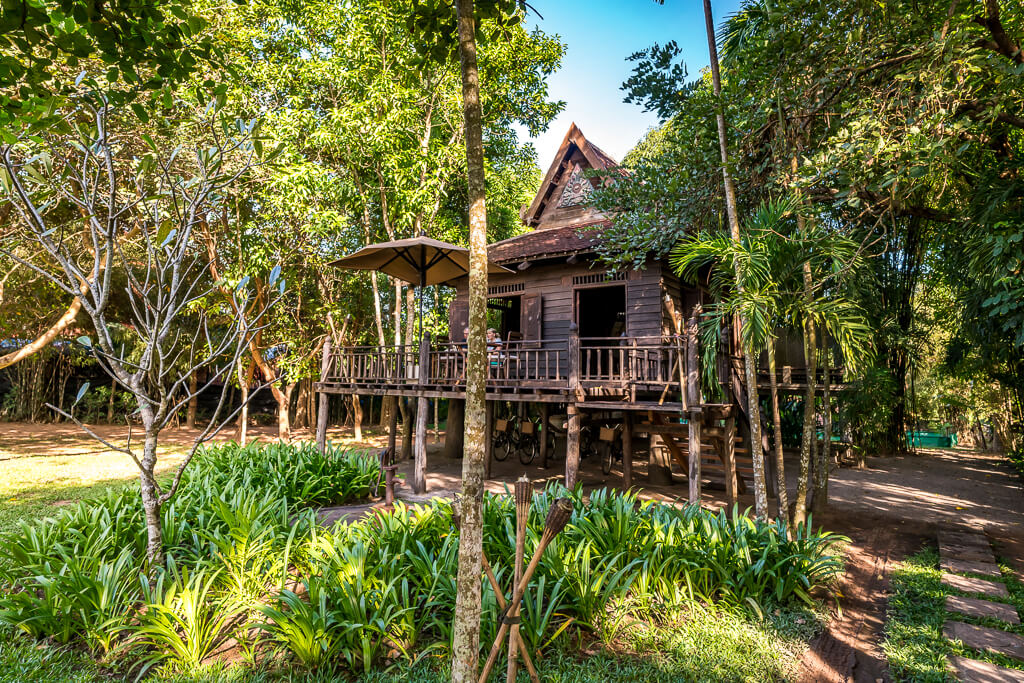 Banteay Kdei
After breakfast, we headed over to Banteay, a Buddhist temple which is also known as the citadel of chambers. This was one of our favorite temples.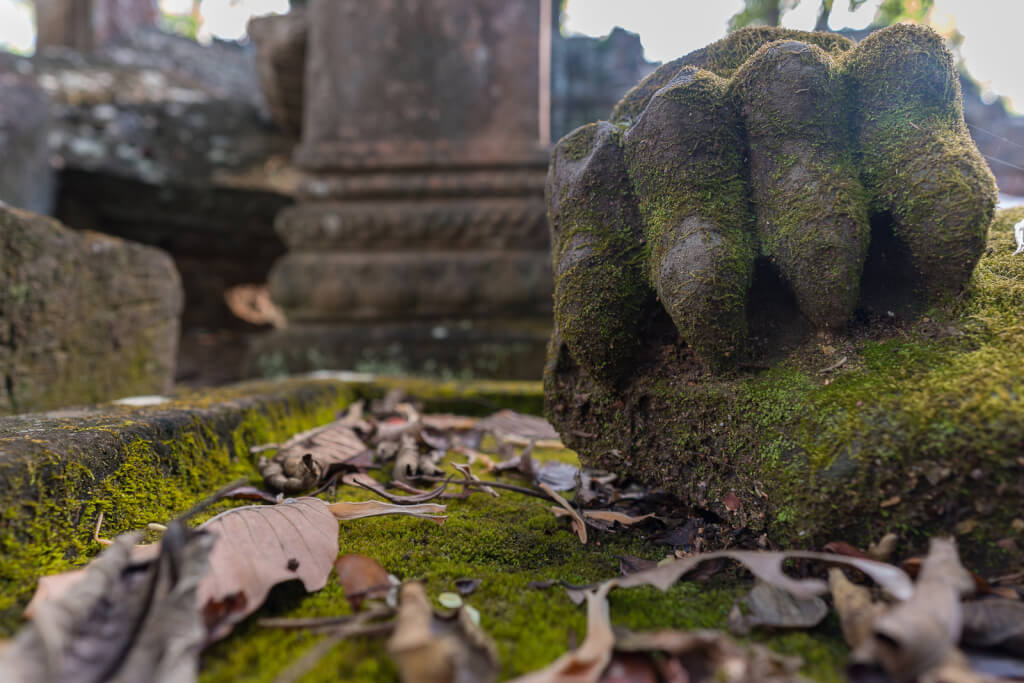 We received a blessing here as well. Around 11am, we headed back to the hotel for a nap before we headed out on our photo tour.
Photo Tour
We went on a tour with Overload+Cambodia which we booked through withlocals.com.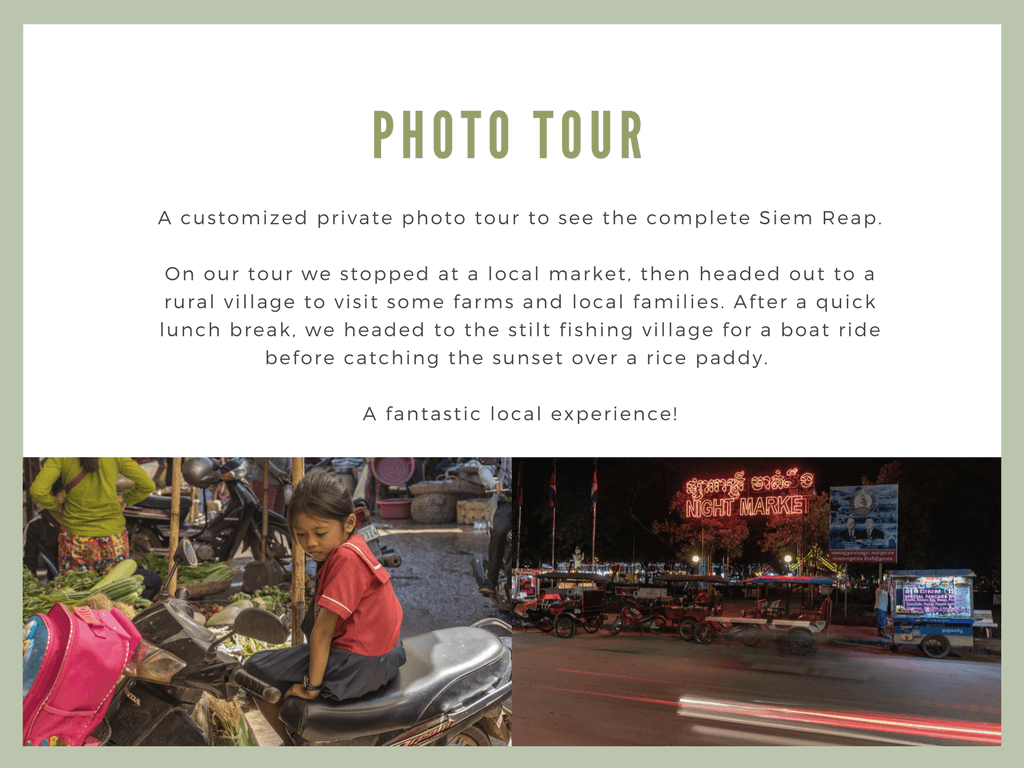 I wrote a detailed post about our photo tour. You can learn more about the tour here.
Day 5 – Departure
Had a leisurely breakfast at the hotel, lounged around for a while before heading to the airport to catch our 1pm flight back to Thailand.
Exhausting but amazing. I absolutely loved this trip, and I would highly recommend adding Cambodia to your Wander List.
Where to Stay
Hotels are located in Siem Reap, so this is likely where you will stay if you are planning a trip to Angkor.
Cambodia is very reasonably priced, and you can find a wealth of independent boutique or Asian chain hotels for $40-$60 a night.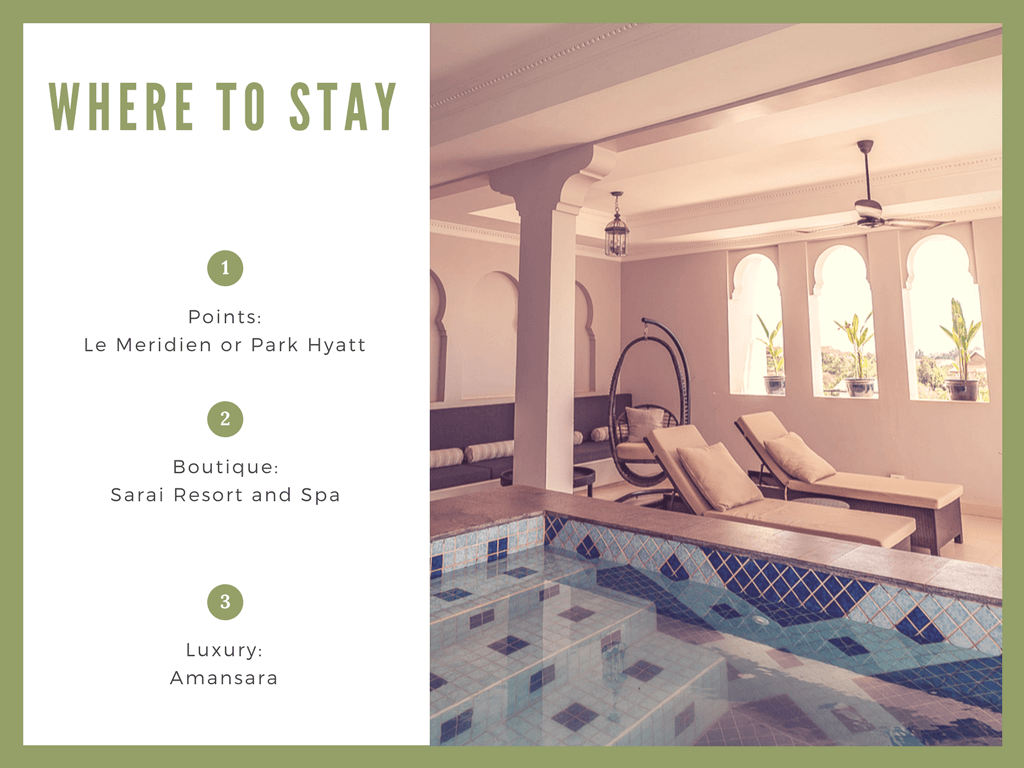 Hostels and Guest Houses
You can also find many hostels $10- $25 and clean guesthouses (think bed and breakfasts) in the $10 – $50 range. We were looking to splurge on this trip since we had been saving for a luxury vacation. So – I didn't really look at the budget hotels. However, I have heard there are some great ones.
Points
There are also a few chain hotels in the area if you are looking to use points.
We considered the Le Meridien.However, you are going to find better value for your points in other countries. I would recommend saving your points and just using cash given the number of reasonably priced hotels in Siem Reap.
The resort is huge! We decided that we wanted to go with more of a boutique feel for our trip.
We also thought about staying at the Park Hyatt, but we are planning to use our free Hyatt nights later this year. I think you can find better value for your points in other locations.
Boutique Hotels
We also found a fantastic boutique hotel, the Sarai Resort and Spa.  We stayed 2 nights in a Presidential Suite in the for $300.
I found the deal on hotels.com.

On the Sarai resort site the same room was $1200 a night.

I always check the resort site with hotels.com because a lot of times it is cheaper once the service fee is added on to the rate.
Everyone will tell you that this price is waaaay to expensive for Cambodia. As a general statement, yes it is expensive if you are comparing bananas (hostels) to kiwi fruit (5-star luxury).  But, I say $270 a night for a presidential suite is a pretty good deal when you compare it to other presidential suites. They also have different levels rooms which are in the $90 – $450 range depending on when you visit. They also run specials during the offseason (75% discounts, similar to what we got on our hotel room).
Highly Recommend!
You can find other boutique hotels in the $30-$100 range too.
Luxury
One of the best hotels in Siem Reap is the Amansara.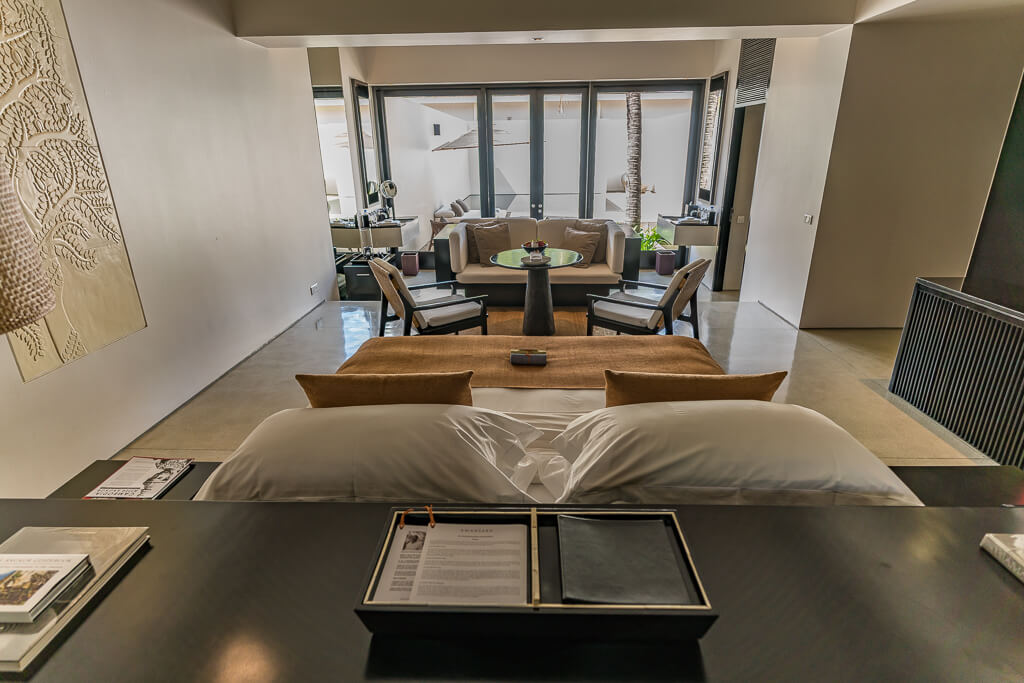 If you want 5 star luxury and detail oriented services, then look no further this hotel is amazing. As a member of the Virtuoso Network, the Amansara room rate includes tours and meals among other Virtuoso benefits. It is a very nice way to package your stay without too much thought.
We stayed here for our last two nights. Highly Recommend!
Really, it all depends on how you want to travel and where you want to spend your travel budget.
My point is Siem Reap has something for every travel style and budget.
Recommendations
Aside from just recommending Cambodia in general, I recommend deciding your travel style for this trip. Siem Reap and Angkor are cities you can easily experience as a budget traveler or in complete luxury.
I recommend using guides, they have the knowledge and access to the area. Plus, this takes all the worry out of your travel. No negotiating and trying to find someone on your own.
However,  you can hire an English speaking licensed guide for around $25-$30. This can be done through a travel agent, tour services or your hotel. You just need to be very clear about what you will be getting, e.g., does it include a driver, is it private or semi-private, what is included, etc.
I liked having a licensed tour guide because they were able to tell us about all the history and culture. I think that made the temples more special, and we could ask dumb questions.
Budget and DIY travelers, you can easily hire a remork (tuk tuk) for the day (~$5-$10 depending on where you want to go) and see all of the temples on your own.