Chef Roy Yamaguchi has been on a roll opening new restaurants lately.  For example, he recently opened a restaurant at the Turtle Bay Resort and the Wailea Beach Marriott on Maui.  Plus he now has three locations of his Eating House concept on Kauai and Oahu.  But his latest restaurant is yet another new concept, this time in Kailua called Goen Dining and Bar.
Despite liking some dishes at Eating House Waikiki, I'm admittedly not a Roy Yamaguchi fan.  The few times I dined at his restaurants, including Roy's Waikiki on Beachwalk, I always left feeling the service was ok, as was the food.  Plus, to me anyway, the value is usually way off.  Despite this, I wanted to check out Roy's new Goen Dining and Bar on Oahu's Windward side because it's a new concept meant to be more of a neighborhood restaurant.
Location
Goen Dining and Bar is located in the new Lau Hala shops in Kailua Town.  The restaurant doesn't have its own sign, but it's not hard to find.  Just look for the UFC sign from the parking lot, and you'll find the restaurant's entrance right below that.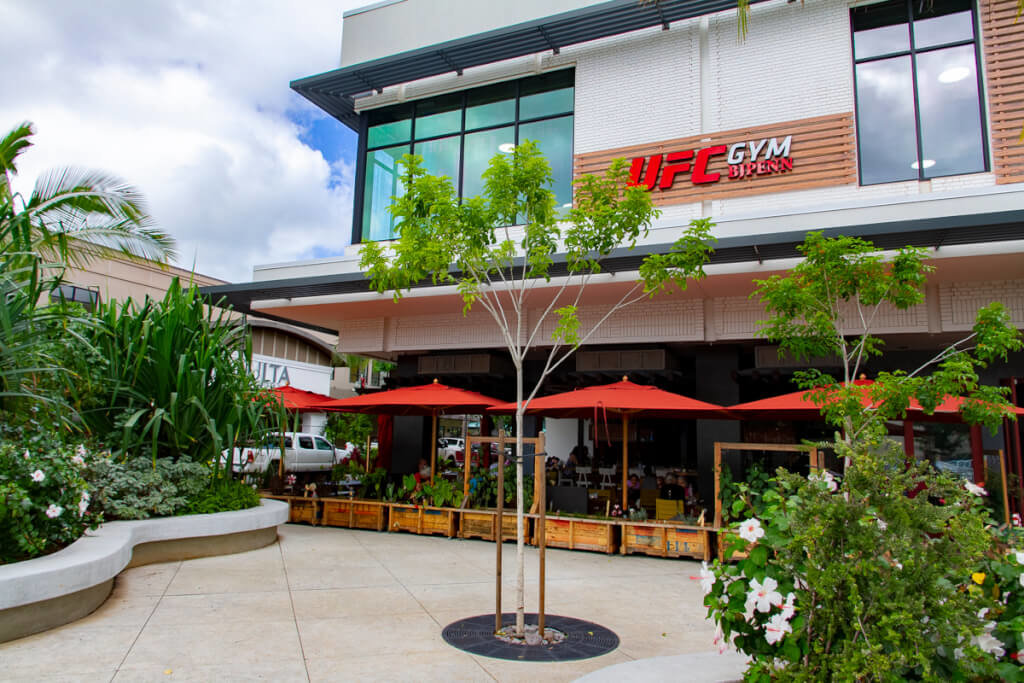 And, as you can see, the restaurant is an open air one.  The outermost seats are partitioned off from the "outside" of the restaurant with planter boxes containing veggies and herbs.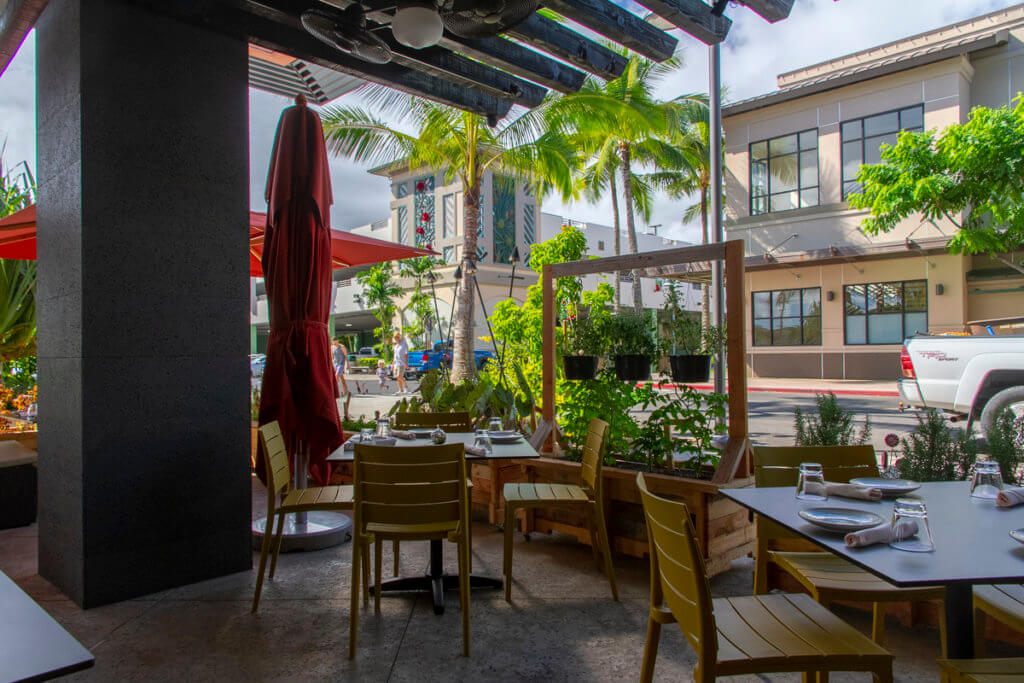 Service
For me, service at Roy's restaurants tends to be hit or miss.  However, I'm happy to report that, despite Goen's newness, service was excellent.  Our server was attentive without hovering, friendly, and personable.  And our table was set with a bottle of water and Roy's signature edamame very quickly once we were seated.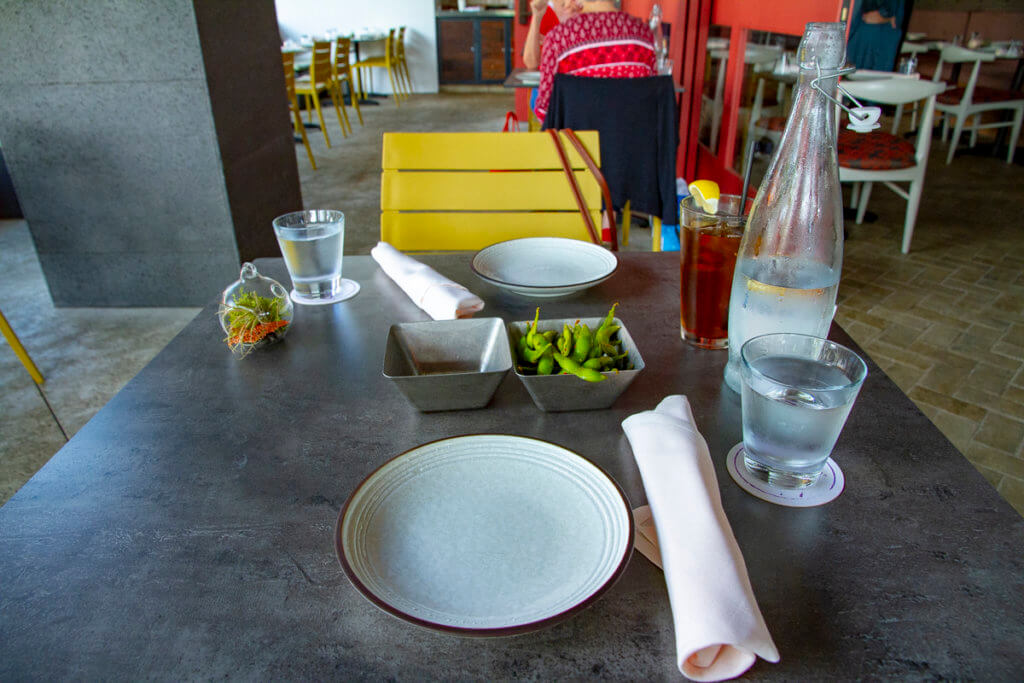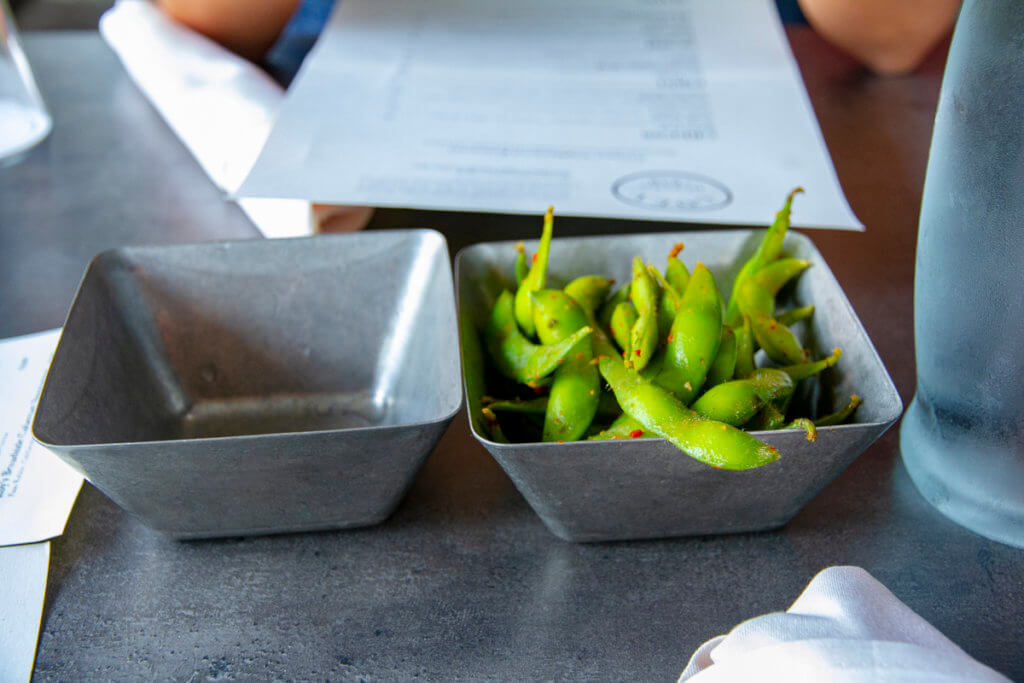 Cuisine
When I decided to check out Goen Dining and Bar, it was a spur of the moment decision based on their dinner menu.  The restaurant had been open for only a few weeks, so as one might imagine, information was a bit limited.  As a result, the lunch menu wasn't available online yet, and we had no idea what we were getting into.  Unfortunately, we quickly found out that the lunch and dinner menus aren't the same.  In fact, the lunch menu is TINY.  But the items Mrs. Island Miler and I did have were delicious.  
So, to start, we ordered the Mushroom Fries and the Beets.  The Mushroom Fries are slices of portabello mushrooms that are battered and deep fried and are accompanied by a bell pepper pesto and a garlic aioli.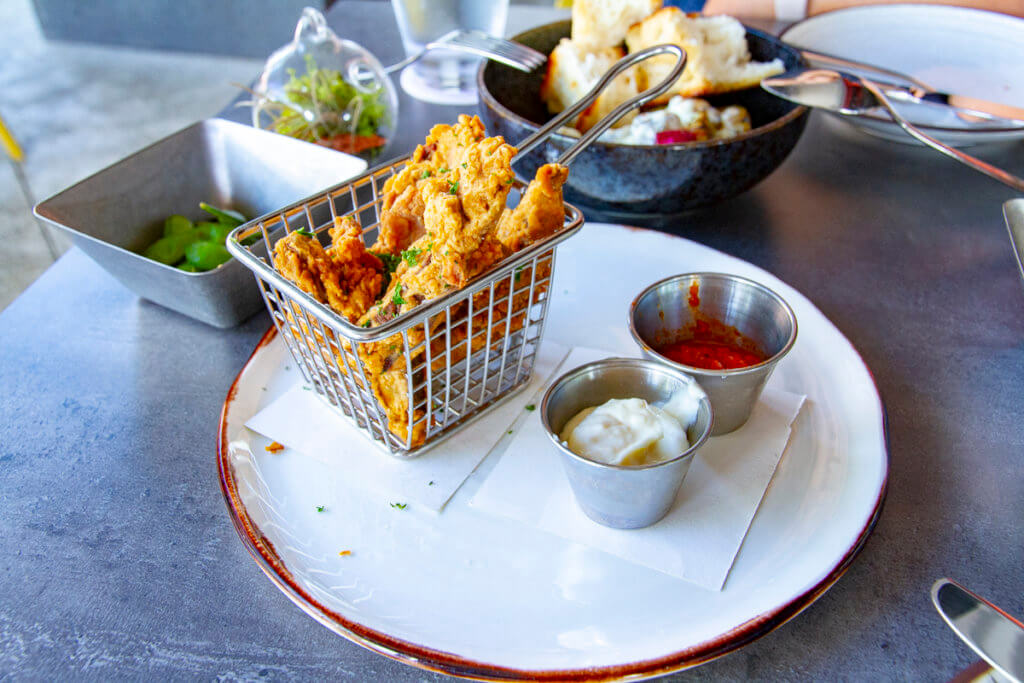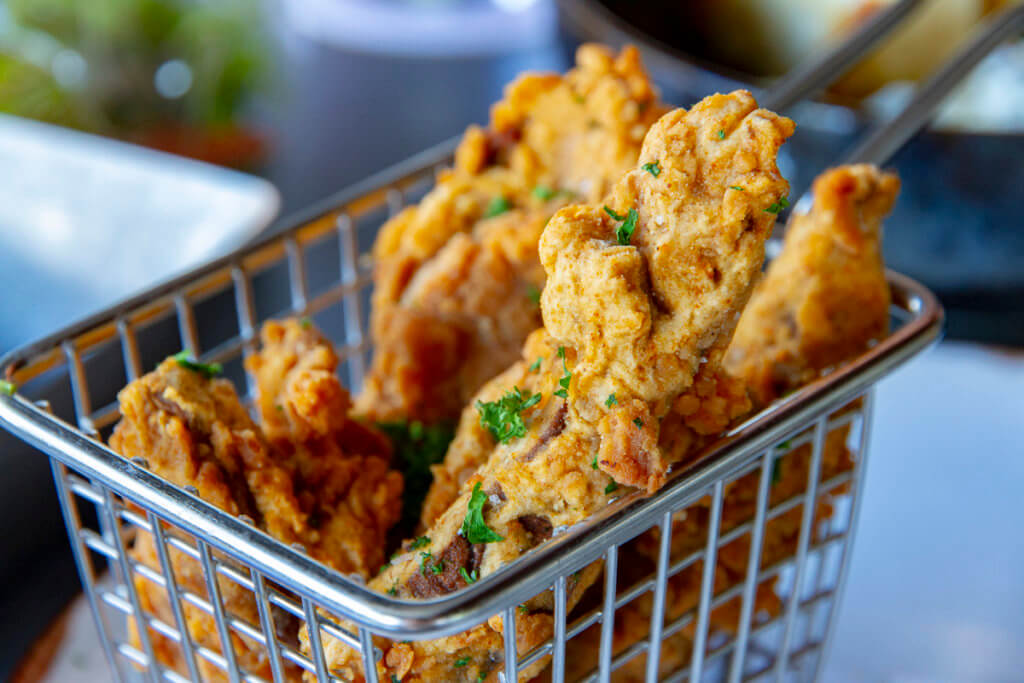 The Beets, on the other hand, are chunks of roasted red and golden beets served with a cilantro pesto, Humbolt Fog Goat Cheese, and grilled bread.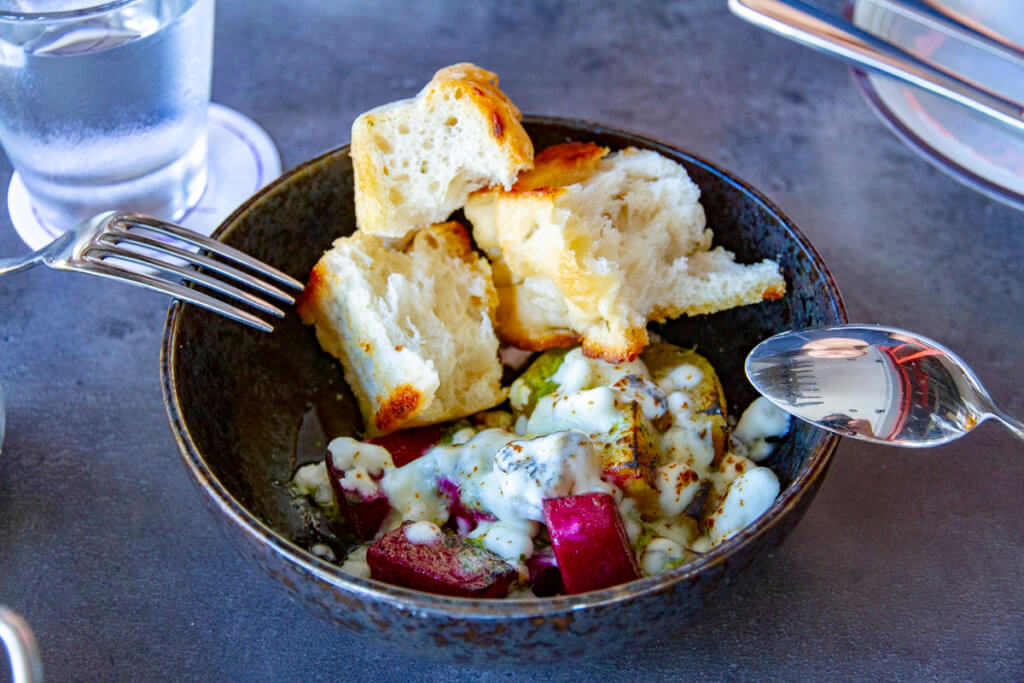 Both dishes are tasty and are ones I'd order again.  I must say, though, that I do like the mushroom fries at Appetito in Waikiki more.  And that cilantro pesto?  Couldn't taste the cilantro.
For our mains, Mrs. Island Miler decided to try the Kampachi sashimi with cilantro, savory caramel, Kaffir lime, pickled Fresno chili, and a yuzu garlic mignonette.  Me?  I went with the Catch of the day sandwich with bacon and slaw, which comes with a side salad.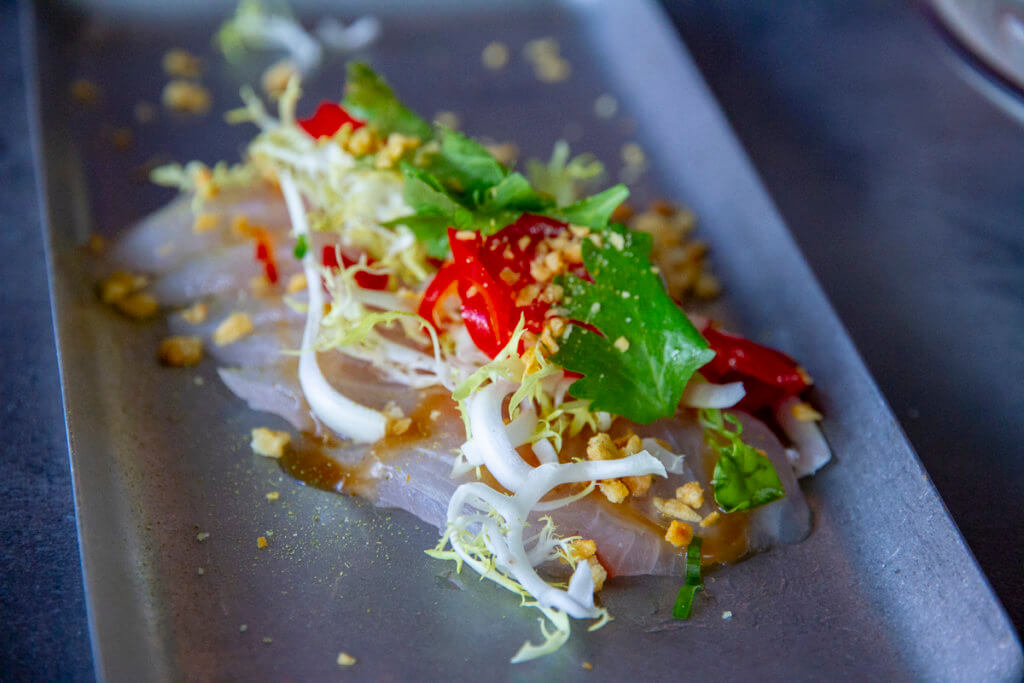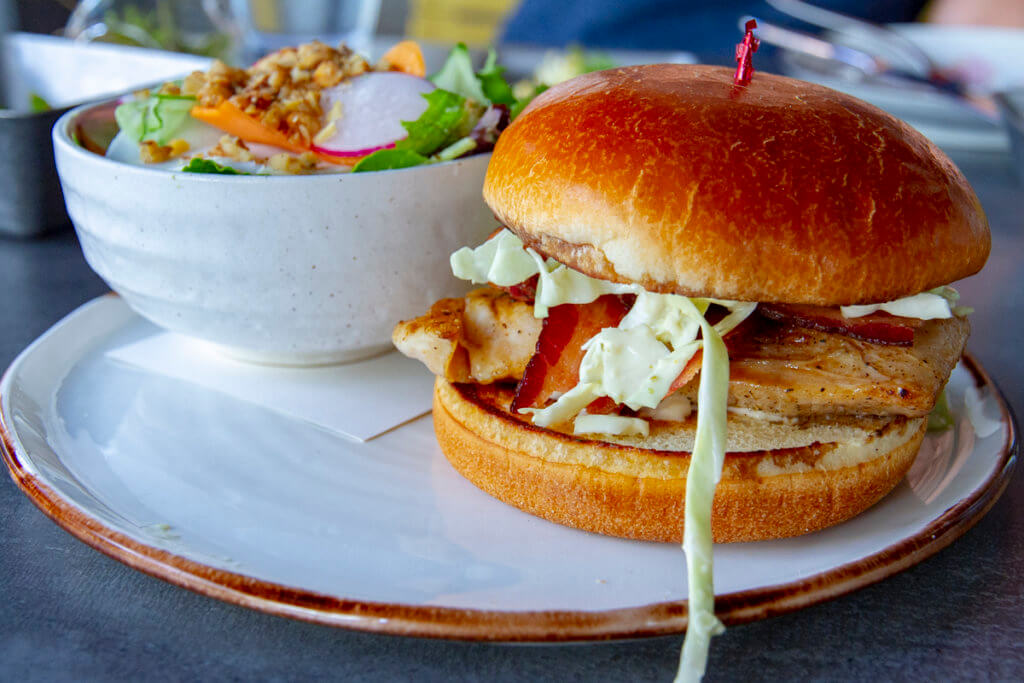 The Kampachi sashimi is delicious, but as you can see, it's barely an appetizer size!  The sandwich is also pretty good, though they didn't rest the fish long enough.  It was blazing hot when I took my first bite.  
At the end of the day, we'd order our starters again and the sashimi, though I'm not sure I'd order the fish sandwich again.  Not that there's anything wrong with it, but it isn't anything special either.  
Goen Dining and Bar, Final Thoughts
While Goen Dining and Bar is a new concept from Roy Yamaguchi, it reminds me of Roy's Eating House concept.  And I don't mean this in a bad way, as the Mrs. and I did enjoy our meal here.  But at nearly $80 for lunch for two with an iced tea, Goen still suffers from the same problem I have with all Roy's restaurants; value.  Like, seriously!  Three appetizers and a soft drink for that much money?  Ouch.  I'd rather go to The Hideout Waikiki and spend about $100 for poke tacos, a lobster frittata, and more.  But if you're a Roy's fan and can stomach the value, Goen is definitely worth a visit.