As you may recall, my last stay at The Laylow Waikiki was a disappointing one.  But you know what didn't disappoint?  Dining at The Laylow's signature restaurant, which is always a pleasure.  And now, The Hideout Waikiki brunch service, which started just a few months ago, is one of my top picks on Oahu.
I'm not going to go into too much detail about the restaurant itself this time around.  If you want to learn more about the location, ambiance, and service, you can read my previous review here.  And trust me, not a lot has changed in the past year in those areas; service is still excellent.  I'm sure the lunch and dinner menu are still fantastic as well, though we didn't partake this time around.  Instead, we focused on morning meals at The Hideout.
What's New
As far as morning meals are concerned, The Hideout has an entirely new service now: brunch.  This, might I add, is entirely different from the regular breakfast menu, though that continues to be available too.  Brunch just adds more options, though it's only available on Sundays from 10 am to 2 pm.   And, as you might imagine, the brunch menu is a mashup of the standard breakfast menu, as well as the lunch and dinner menus.  But, it also includes a few unique items, as well as signature cocktails and bottomless mimosas.  I'm not going to go over everything, as the menu is quite long, so you can review it yourself here.
Day 1: Breakfast
On our first morning at The Laylow, we had the standard breakfast.  It was Saturday, so it's not like brunch was an option anyway.  And, if you read my last review on The Hideout, it's of no surprise that I ordered the Fried Rice Skillet once again.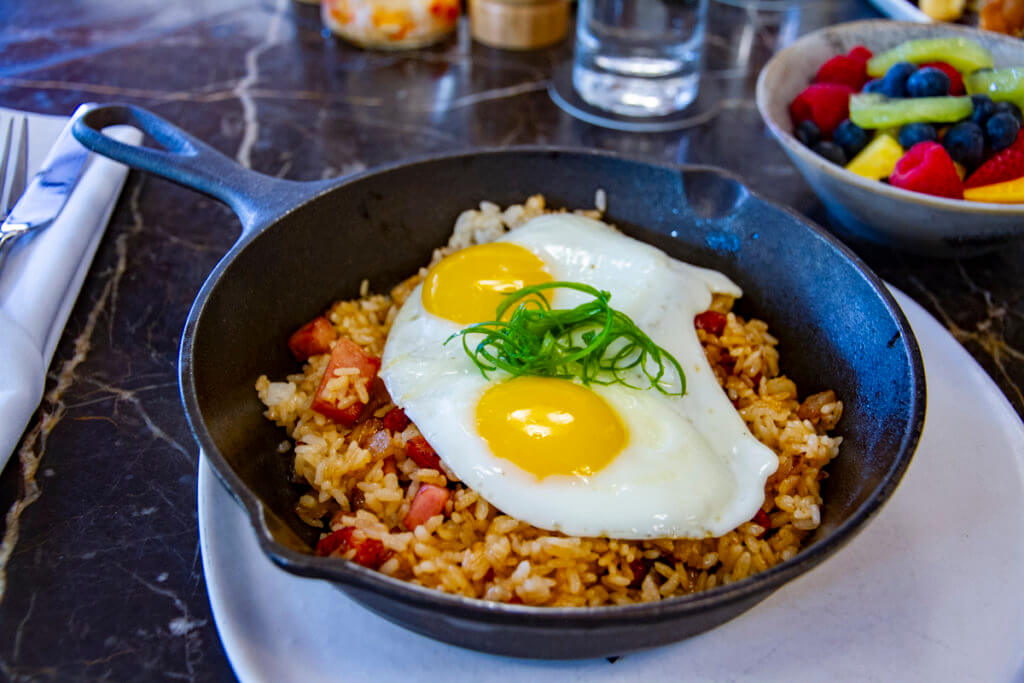 And, as you might imagine, it was just as good as it was on our last visit.
Mrs. Island Miler, however, didn't do a repeat order like I, and instead opted for the French Toast.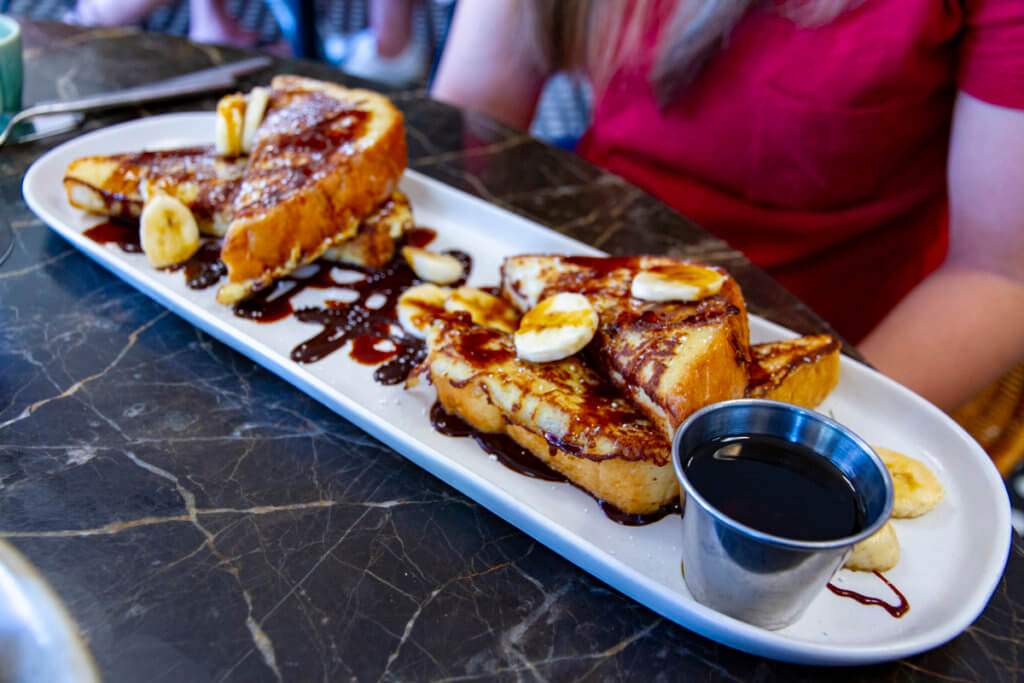 Covered in bananas, Nutella, and rum sauce, The Hideout's French Toast is tasty without being too heavy or too sweet,  We'd definitely order this again.
And because we had to have something healthy, I decided to order the high-quality, but overpriced ($9) bowl of fruit.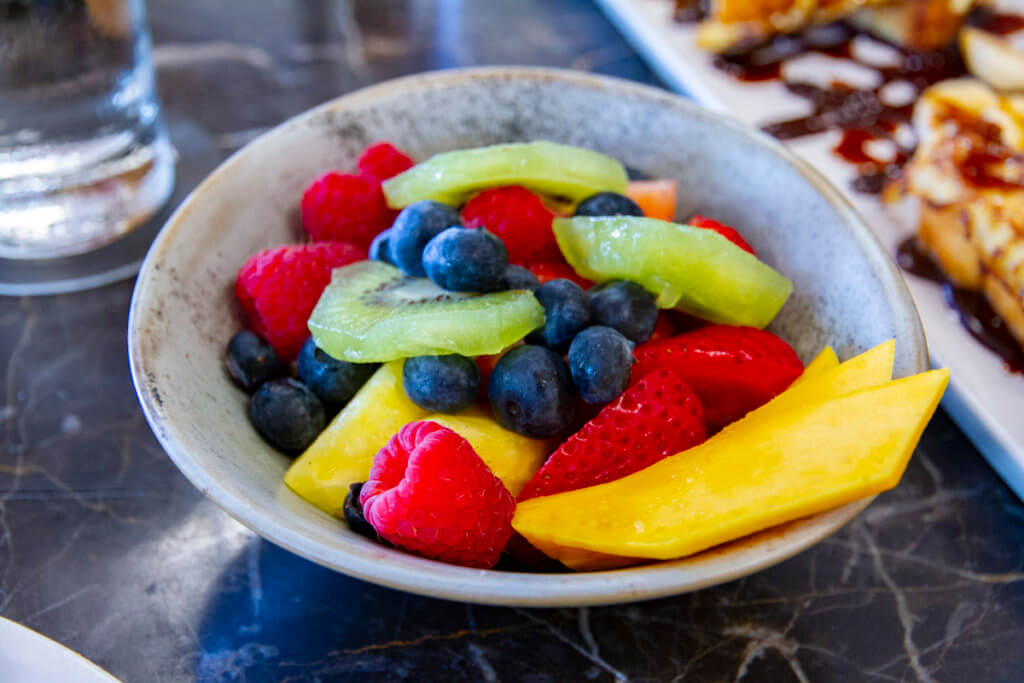 In it were slices of mango, pineapple, kiwi, blueberries, raspberries, and strawberries.  Nothing was too ripe, nor was anything underripe.
Day 2: Brunch
And now, the real reason for this post; the brunch.  Didn't feel like drinking that morning so we started with tame drinks like a POG (passion-orange-guava) and a virgin Bloody Mary.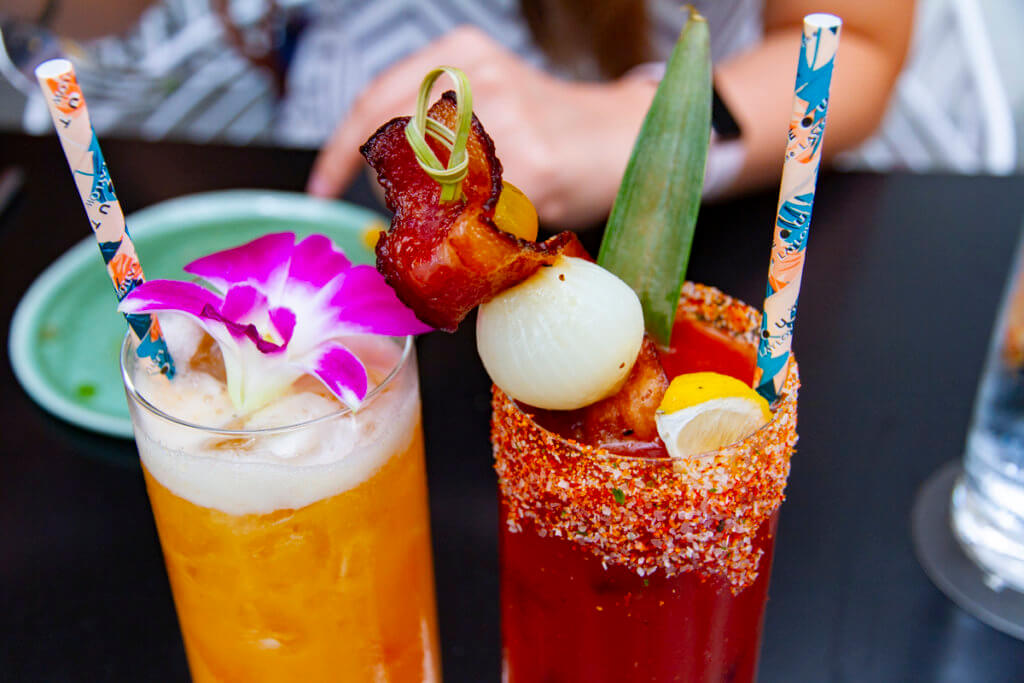 The juice is juice.  What can I say?  But Mrs. Island Miler did enjoy the Bloody Mary, which came with A LOT of toppings, including cherry tomatoes, cocktail onions, bacon, and lemon, as well as a shichimi + salt rim.
For our food starter, the Mrs. and I decided to go with the Poke Tacos.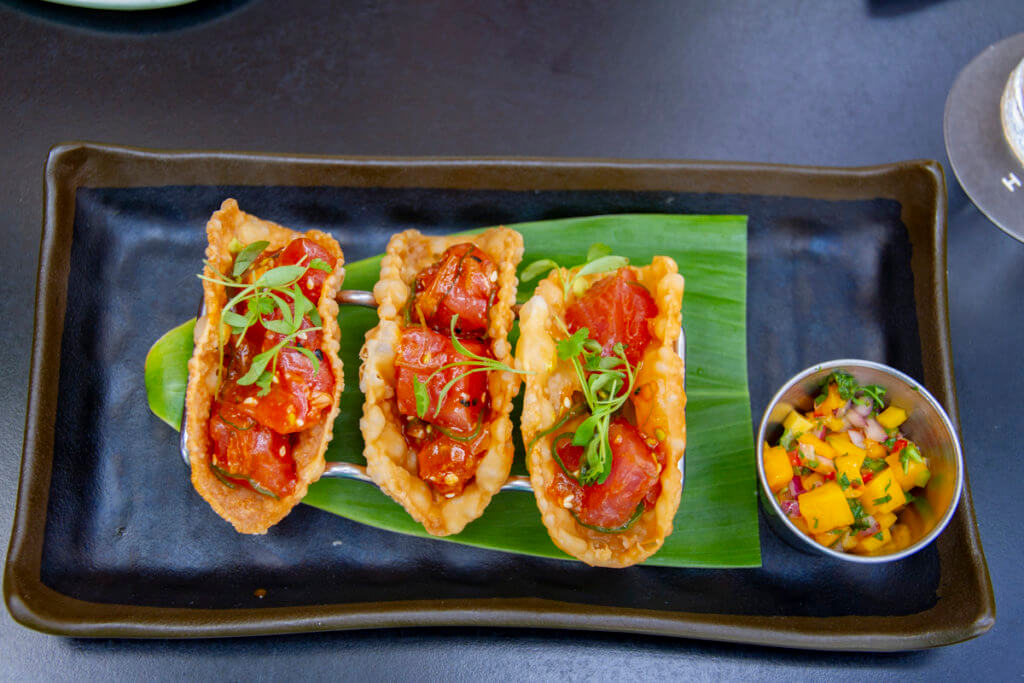 Looks pretty ordinary or even plain, right?  But that's kind of the point.  The poke uses high-quality fish with perfect texture and perfect flavor.  The seasoning was just right now, neither being overpowering or bland, while the mango relish added a lovely bright, fruity, savory, herbal component to the whole thing.  We both agree that we could eat these things all day long.  They're that good.  
For her main, Mrs. Island Miler once again ordered a new-for-her dish, going for the Smoked Salmon Toast.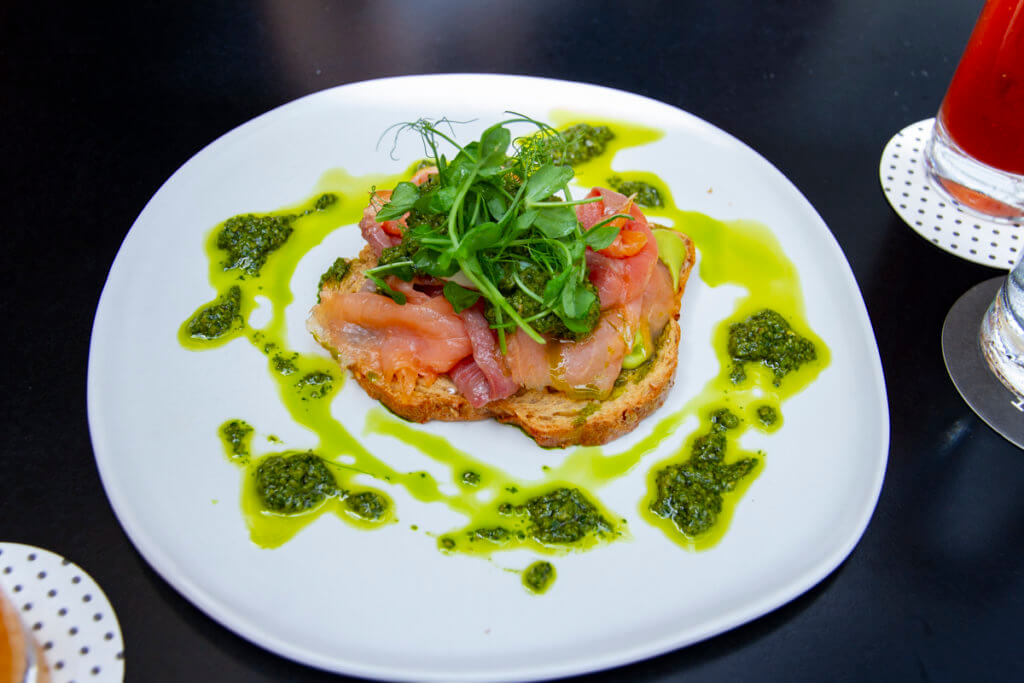 Yup, that's avocado toast with smoked salmon, pesto, and micro greens.  But the pest here is different; made with capers and cilantro, this isn't your ordinary pesto.  It's lighter, more herbal, and has an acidic bite to it that balances nicely with the rich salmon and avocado.
Me?  I skipped on my beloved fried rice and decided to try the Lobster Frittata.
Admittedly, I was apprehensive about ordering this dish, even though The Hideout is an excellent restaurant.  Lobster is, after all, easy to screw up, has huge variations in quality, and is often overhyped.  But none of those issues plagued this excellent dish.  The eggs were creamy but firm, while the lobster was sweet and succulent.  And that sweetness paired perfectly with the herby Boursin cheese, the bit of the green onion, and the mild heat of the chili pepper oil.  It's a perfectly balanced, well executed, and fiendishly delicious dish.  I highly recommend it; forget the fried rice.
Review: The Hideout Waikiki Brunch, Final Thoughts
The Hideout is one of my favorite places to eat in Waikiki.  Yeah, the prices are on the high side, as is typical of hotel restaurants, but it's worth it.  There are real winners on the menu, such as the Poke Tacos, the Lobster Frittata, and the Brussels Sprouts, among others.  And I can always rely on a good time at The Hideout, with unique and fantastic drinks and wonderful service to accompany the amazing food.  So while I may not be able to recommend The Laylow as a place to stay anymore, but I highly recommend dining at The Hideout.