In a first for the state, a Hawaii hotel operator announces a vaccine mandate for all employees, guests, and patrons. Company executives say Safe Access Oahu helped influence this decision, as did a desire to keep guests, employees, and their families safe.
Vaccine mandates are becoming an ever more common thing across the US. Some companies, particularly restaurants and bars, even have vaccine mandates for their customers. But, as far as I knew, no company in the travel sector enacted such mandate – at least until now.
Hawaii Hotel Operator Announces Vaccine Mandate
With so many hotel operators in Hawaii, I know the biggest question most of you have is which one is instituting this policy. Well, it turns out, the company implementing the first vaccine mandate for guests isn't one of the big three, nor is it a locally owned chain either. Rather, the company implementing the mandate is Highgate Hawaii – a division of New York-based Highgate. Being an operator of hotels from major chains, in addition to its own portfolio, though, this decision does have some impact on guests of two big chain hotels. Before we get into that, though, let's talk about the mandate.
The vaccine mandate from Highgate requires all employees, guests, and patrons to be fully vaccinated to access their properties. There is no testing alternative under this mandate. Of course, children under 12 are exempt as they are currently ineligible for vaccination, as are a limited number of employees with religious and medical exemptions. However, Vice President of Hawaii Operations, Kelly Sanders, states that guests who cannot or will not provide proof of vaccination will not be allowed to stay at their properties. In those cases, Highgate will do its best to find alternate accommodations for these guests.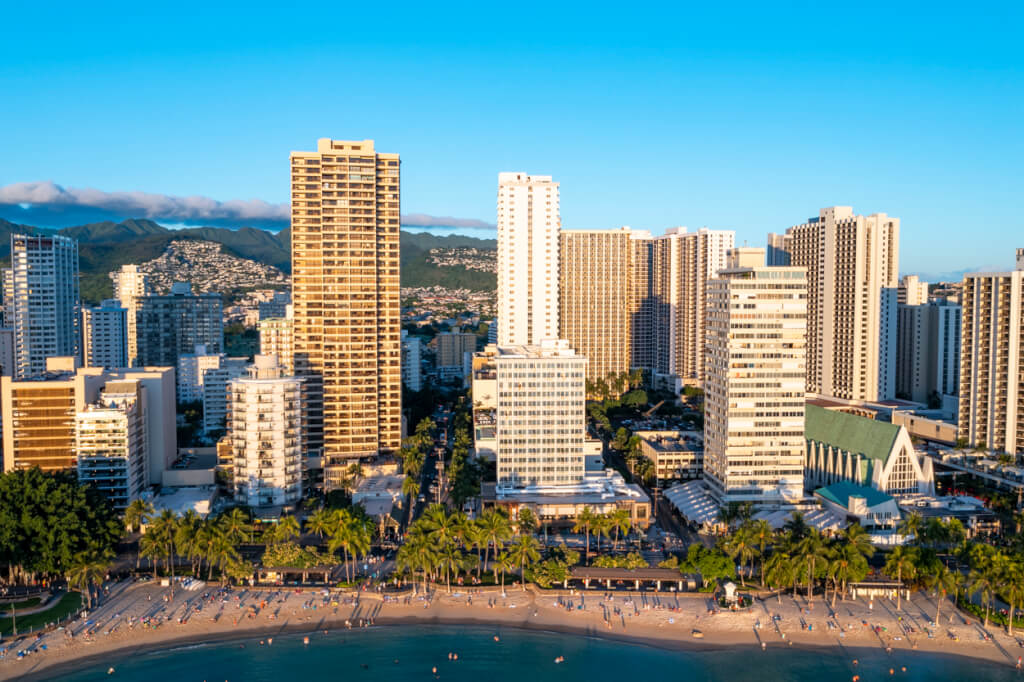 Why?
Now, I know the COVID-19 vaccine is an extremely contentious issue. So, why would a company implement a policy like this? While Sanders acknowledged that this decision would make things difficult, he also states, "I've got over 1,000 employees in my hotels and my responsibility is to them first."
To that, I say bravo! This is the way it should be. Sanders is putting the safety of his employees first before profits. That said, the mandate could also be a boon for business. Sanders hopes that implementing the mandate will help feel guests that continue to come to feel safer. That, in turn, could boost patronage from those that prefer being around other vaccinated people.
What Hotels Are Impacted by the Mandate?
Highgate is a relatively new operator here in Hawaii. They've been in business since 1988, but only recently did they begin acquiring properties here. And, at least for now, all seven of their Hawaii hotels are in Waikiki. The most notable of these is, of course, the Alohilani Resort. This swanky hotel, which is home to my favorite place for pasta and ice cream in Waikiki, is a trendy option among locals and visitors alike. Other hotels under Highgate Hawaii are the Ambassadors Waikiki, the Aston Waikiki Beach Hotel, the Park Shore Waikiki, and the Pearl Hotel Waikiki.
Oh, and those two big chain hotels under Highgate? Those are the Courtyard by Marriott Waikiki Beach and the Hilton Garden Inn Waikiki Beach.
Hawaii Hotel Operator Announces Vaccine Mandate, Final Thoughts
Highgate's vaccine mandate goes into force on October 15 – just over a month from now. In the meantime, Highgate officials say they'll be reaching out to all impacted guests, as well as their travel partners. I'm sure there will be some pushback or cancellations. But, overall, I don't see this causing too many issues for Highgate. In fact, this new policy will make it much easier for them to adhere to Safe Access Oahu's requirements. Plus, this move could really turn the hotel into a magnate for those that want to travel but are concerned about COVID.
It takes guts to do something like this, especially in the times we currently live in. So, to Kelly Sanders and the rest of Highgate Hawaii's executive team, I say bravo!